« The Morning Rant: Minimalist Edition
|
Main
|
Oregon Democrat Staffer Arrested for Rioting in Portland »
September 10, 2020
Fake Jake Tapper Caught Straight-Up Lying About Trying to Do Democrat Conor Lamb a Favor by Dissuading Sean Parnell From Running Against Him
VETCON 1 ACHIEVED
A few days ago, Breitbart broke the story that CNN's Democrat Operative "Fake Jake" Tapper had tried to convince Sean Parnell -- a Republican veteran and very strong candidate -- not to run against Democrat Conor Lamb in Pennsylvania.
Fake Jake suggested that Parnell should run in a "safe" district -- that is, a Republican district. And he shouldn't try to take a seat from the Democrats.
Oh by the way, Fake Jake did his election interference in Twitter DMs BECAUSE OF COURSE HE DID.
He is omni-online.
Richard Grennell asked him if Fake Jake, allegedly a neutral newsman whose job is to cover events, not shape them behind the scenes, had in fact told Parnell not to run against Democrat (and likely Tapper Twitter Buddy) Conor Lamb.
Jake Tapper flatly denied the story.
And then the DMs in which Fake Jake urged Parnell not to run against Lamb were released, proving Tapper to be a fucking lying snake.
: CNN anchor Jake Tapper tried to convince Republican Sean Parnell not to run against incumbent Democrat Rep. Conor Lamb for a Western Pennsylvania House seat, according to a Twitter direct message obtained by Fox News.


Tapper suggested that Parnell, a U.S. Army combat veteran who recently delivered a speech at the Republican National Convention, would be better off running in a safer district for Republicans, according to a source close to, but unaffiliated with, Parnell's campaign who feels the CNN anchor was unethically participating in political activism.

Fox News obtained a Twitter direct message that Tapper sent Parnell's @SeanParnellUSA account on Nov. 8, 2019, after he officially declared his candidacy for Pennsylvania's 17th congressional district against Democrat Rep. Lamb.


"And best of luck in your race. For the record, I wasn't trying to talk you out of running -- I was trying to talk you into running in a safer R district! Lol," Tapper wrote to Parnell.

...

CNN did not immediately respond to a request for comment.
Sean Davis says that Jake Tapper will be moving to VETCON 1 any moment.
I bet you any number of dollars he does just that. Not kidding-- he always starts musing about veterans, showing what a Good Guy Greg he is, when he's caught in a lie.
It doesn't matter that people know this Pivot to Vets strategy. We've long commented on it -- I accused him to his Twitter-Face of doing it, years ago-- but he has continued doing it.
Below, tweets containing the DMs proving this former Gun Control, Inc. spokesman and Democrat staffer to be a liar and a behind-the-scenes Democrat operative.
Update: VETCON 1 Achievement Unlocked: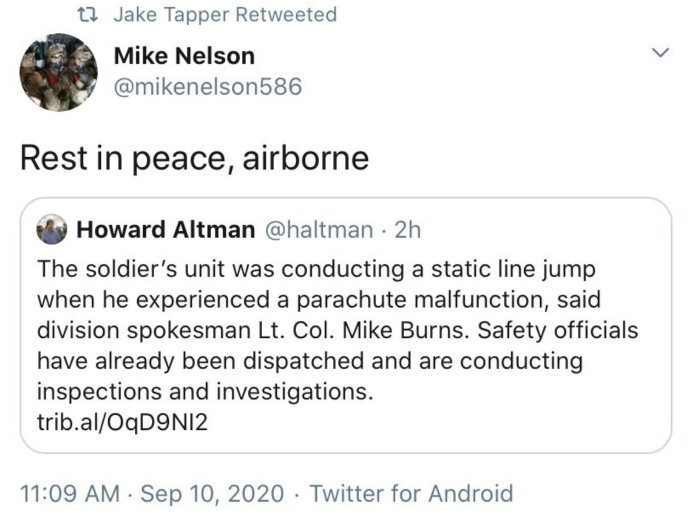 Like I said: He doesn't even mind that people know the game he plays with the Pivot to Vets crisis communications strategy.

Update:
30 "I will s#ck your c@ck if you don't run."

Posted by: Jake Tapper

Update: Yaarrrh.