« September 12 [KT]
|
Main
|
Ace of Spades Pet Thread »
September 12, 2020
Saturday Gardening and Puttering Thread, September 12, 2020 [KT]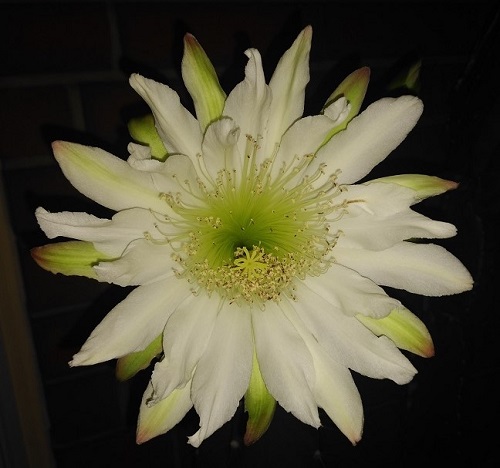 Hello gardeners, putterers, dreamers and fugitives from fire and weather! Today we're starting off with an ethereal cactus flower from Bonecrusher:
A gift from my very old cactus. It has lived in this pot for over 20 years. The flowers only last 1 night. When I move the plant, sometimes it topples (DAMMIT!) and breaks off an arm, these get shoved in the ground where they live or die of neglect. The fence is 5 feet tall so you can get some perspective.

I really enjoy the gardening thread and am downright giddy when I can contribute a beauty like this one.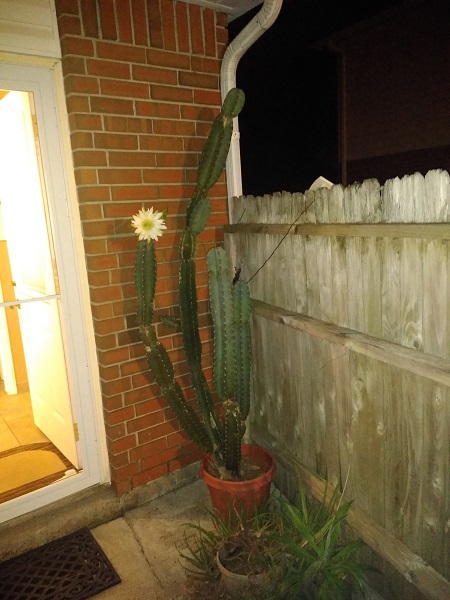 I love that!
Weather, Gardens and Nature
Many of us have been preoccupied with wildfires lately, but there have also been high winds in Utah that have caused significant damage. The winds are similar to Chinook or Santa Ana winds. The cause of the winds is different than in the recent Derecho winds in the Midwest. Similar wind speeds in many areas.
The damage is not as extensive as the current fire damage around the West, but still.
Last week, my cousin canned 59 quarts of peaches from her little peach tree. Made her tired.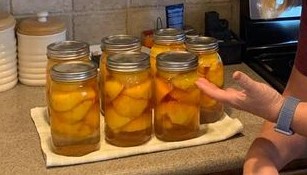 This week, her little peach tree blew over, and she cut it up with her little chain saw. She is the cousin who puts the geraniums in the basement for the winter. She put them in the garage when the winds were forecast. Might have had to leave them there for an early frost forecast. A local nursery owner tells people who ask about over-wintering geraniums about her.
I think the oldest is about 15 years. I usually retire some every year. If they don't look good in the basement, I might take some cuttings and plant some more but I usually end up with about 20 pots of geraniums. I am by no means an expert, but I've had a lot of beautiful flowers over the years. They like my third level basement and I know most people don't have that in their home.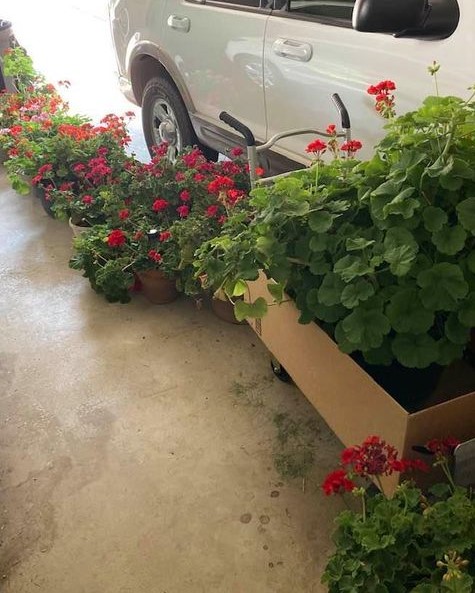 The winds also took out a big tree at my nephew's house (doesn't seem to have hurt the house) and a tree branch took out the power line to my mother's house and the electric meter. The storm took out the power to a niece's house. Hard when they have a new baby. Thousands of trees downed across the impacted area, from what I have read.
Are you doing anything to prepare your plants for changing weather, or even fire? Planning on planting a tree? Maybe we need to review some guidelines.
Indoor Plants
If it seems easier just to leave plants indoors, here is some advice on a bunch of low-key succulents and other houseplants. Quite a variety. Some we know. I don't know how "low-key" orchids are. Maybe some orchids are more "low-key" than others.
I had never heard of a ZZ Plant before.
Science

Is this the Corn of the Future?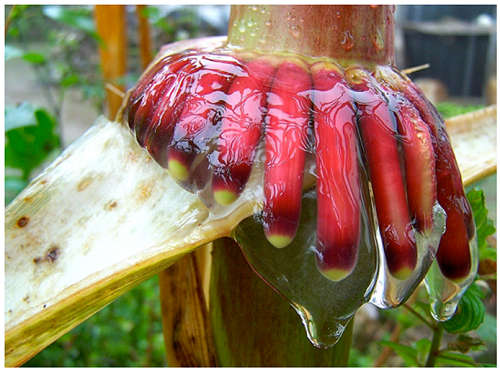 The corn variety Sierra Mixe grows aerial roots that produce a sweet mucus that feeds bacteria. The bacteria, in turn, pull nitrogen out of the air and fertilize the corn. If scientists can breed this trait into conventional corn, it could lead to a revolution in agriculture.
Looks delightful. Mars, Inc., the outfit that makes Snickers Bars and Uncle Ben's Rice, is researching this. Seems like a lot of people are researching nitrogen fixation in connection with all sorts of plants.
Here's another piece on landraces of corn. Ancient genetic engineering.
Gardens of The Horde
Note to Captain Josepha Sabin, who had the insect question a couple of weeks ago: I have a message from another member of The Horde. Seems legit if you want to shoot me an email at the address below.
Tom Servo sent in the following:
These are two shots I took in my backyard this morning, I think only the close up looks good, beautyberry can be a messy bush. Most of the plants in my yard I have bought and placed, but this is a native that came up Volunteer, and I have taken care of it ever since. It always is at it's peak in early September.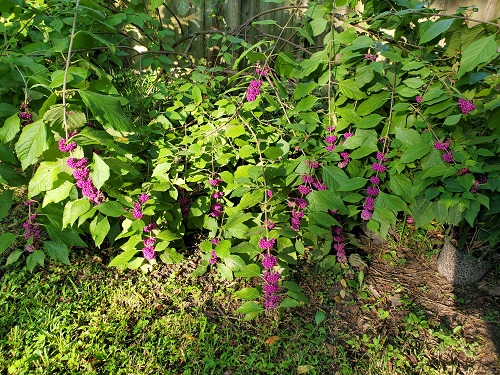 Looks kind of like a native volunteer.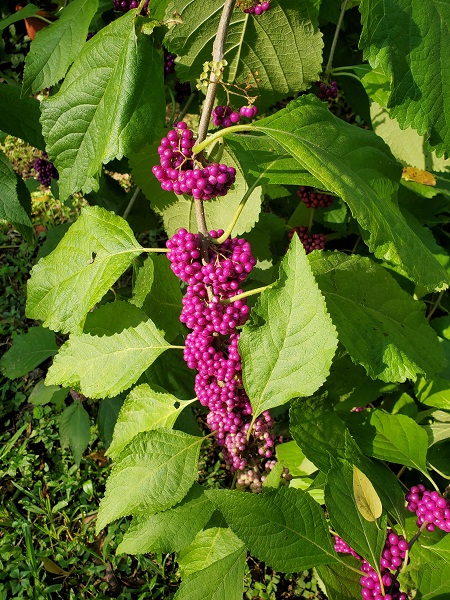 You can see why they call them "Beautyberry".
There are several species. Useful for wildlife plantings.
From a lurker:
Gave up on tomatoes this year. Z1nnias and butterflies galore. George
Beautiful! Can you identify the butterfly?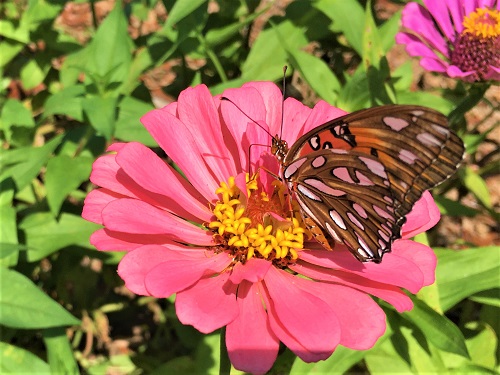 Hello, TimInVirginia here. Attached are some pictures from my backyard, which has effectively become our "garden". One picture is our beautiful patch of bee balm, with the workers doing their thing. And the other is my 12 year old mimosa tree which makes me smile just to look at.

This tree was started from a seed. I have documented its life from seedling to this point, including times when it would have served as a double or Charlie Brown's Christmas tree.

Thank you for your work on the gardening thread.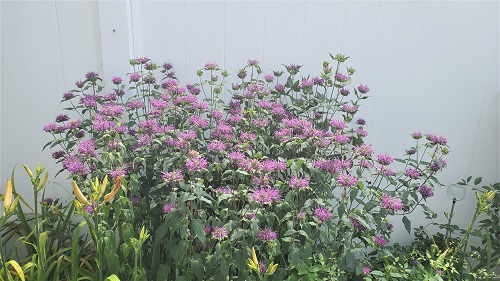 That bee balm towers over the daylilies!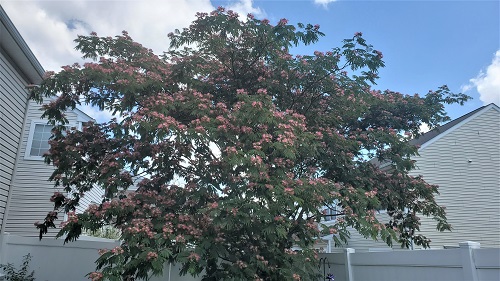 Impressive for a seed-grown tree, don't you think?
More daylilies:
These are more photos of Hemerocallis blooms in our garden beds from this summer. We have nearly a dozen different varieties from several sources -- Viette Nurseries in Fishersville, VA, donated plant sales, and from previous owners of our properties -- spread around eight different beds that I am presently in the process of rearranging to create more organized and pleasing displays. All these blooms are from 2-1/2 to 3 inches across. I do not know the varietal names for most of them, unfortunately.


These two are unknown varietals that we obtained from Viette Nurseries nearly twenty years ago. I no longer have the bill of sale that would identify them. The Viette Nurseries are well worth visiting in late June through July if you are interested in Day Lilies, as they cultivate and sell hundreds of different varieties of them. They may still sponsor or host a gardening radio show on Saturday mornings, to which I used to listen when I lived nearby in Waynesboro back in the day.

Best regards,
Krebs v Carnot
Fancy ones. This one would be especially nice with Tim's bee balm above: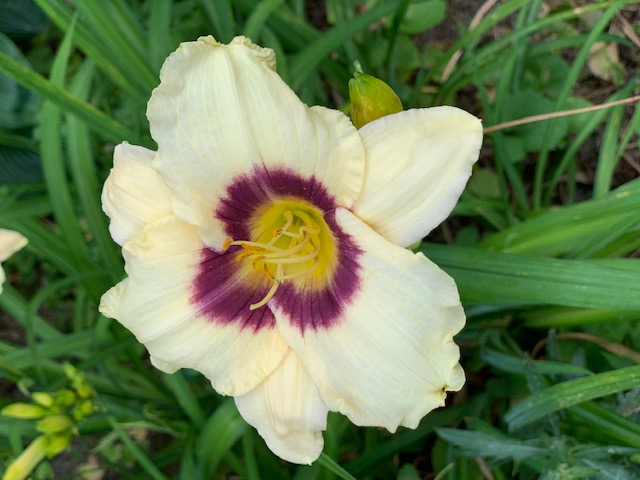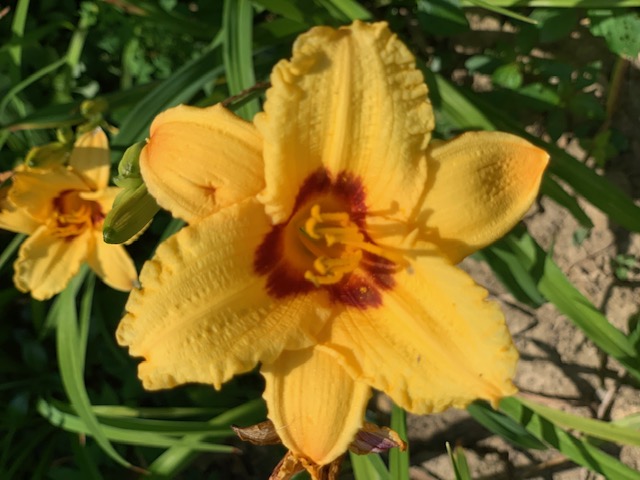 If you would like to send information and/or photos for the Saturday Gardening Thread, the address is:
ktinthegarden
at that "g" mail dot com place
Include your nic unless you want to remain a lurker.

posted by Open Blogger at
01:14 PM
|
Access Comments