« Saturday Gardening and Puttering Thread, September 12, 2020 [KT]
|
Main
|
Saturday Afternoon Chess thread 09-12-2020 »
September 12, 2020
Ace of Spades Pet Thread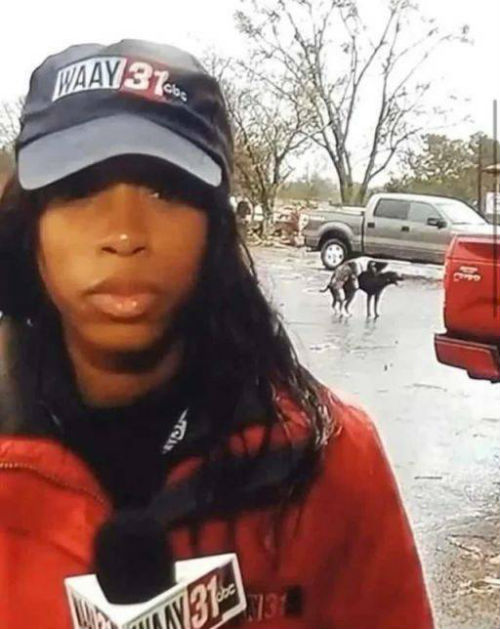 ***
Good afternoon and welcome to the almost world famous Ace of Spades Pet Thread. Kick back and enjoy the world of animals.

***
A Little of This. A Little of That.
Some interesting history on cats.
***
Meet The PetMorons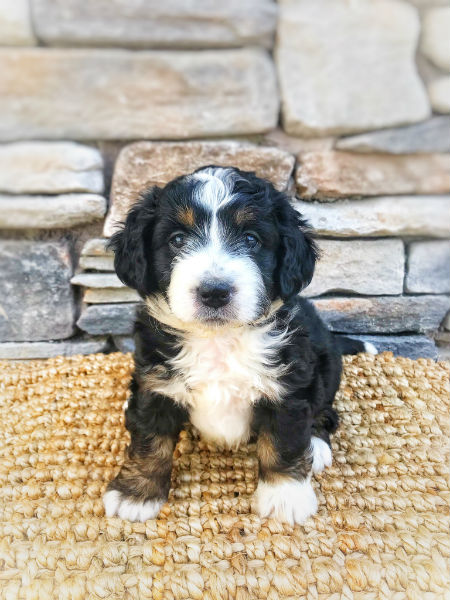 &&&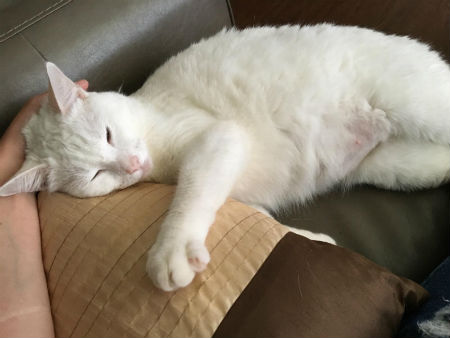 Hi, Mis Hum!

Just wanted to share a picture of the newest addition to our family. This is Pepper, our new granddog. She is a Berniedoodle, just a few weeks old. SIL has allergies, and BDs are supposedly hypoallergenic. We'll see.

(I wanted a grandbaby, but I have been told by our daughter that I have to be patient....)

We are heading out to California in a couple of weeks for a visit. I am sure I will hate to leave the little munchkin when we head back home!

This is Big Momma (or Momma Cat) our version of everyone's favorite meme cat, Smudge.

We inherited her when our daughter passed away 3 years ago. She was half feral, and Michelle always told us that she didn't like to be held or petted, but that wasn't gonna fly in our house.

We insisted on treating her like all of the other cats, and now she jumps up on the couch for hubby to pet her, then she snuggles up right next to him and demands to share his space. I always tell him that Michelle is coming to visit him in cat form, so he puts up with the intrusion (he's a big softie).

She doesn't look it when she is walking, but Momma is a HUGE kitty, and all muscle!

We also inherited her daughter, Mocha, but she likes to be outdoors whenever possible. We don't let Momma outside, though - with her white fur, she would be too tempting a target!


Teresa in Fort Worth
So do you overfeed the grandbaby extra T-R-E-A-T-S? That's a grandparent's job isn't it? Sounds like you have succeeded with taming Big Momma. Safe travels to CA and thanks for sharing your "family" with us today.
***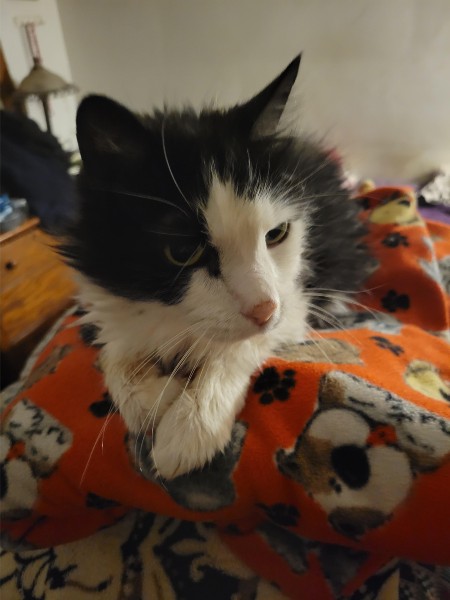 Hey Misanthropic Hum,
Here is my daughter's new pup, Rowan. He is a stray pit bull mix that she adopted yesterday. So far he is a little bit of an attention whore but he seems to enjoy being around people so I think he's going to work out great. I always enjoy the pet threads so thank you for doing them. - Mike
Hey back Mike, thanks for the photo. Good luck to your daughter with her new addition. Pups are work, but with the right work and love she'll have a great companion.
***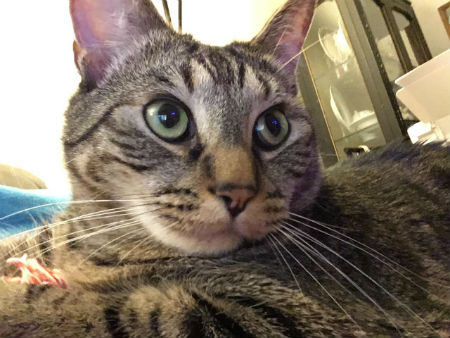 This is Teach. Full name "Edward Teach, the Dread Pirate Tabbybeard, Scourge of the Seven Seas". Born in a boat, kidnapped from his mother, and rescued by my wife and I just as he opened his eyes. We are firmly entrenched as his Mommy and Daddy. Also known as "Stinker", always on the lookout for any trouble he can get into. - Teachs Pet Monkey
We aren't sure you are telling us the straight skinny. How could that cute kitteh be such a stinker? Gorgeous cat. Thanks for your contribution today.
***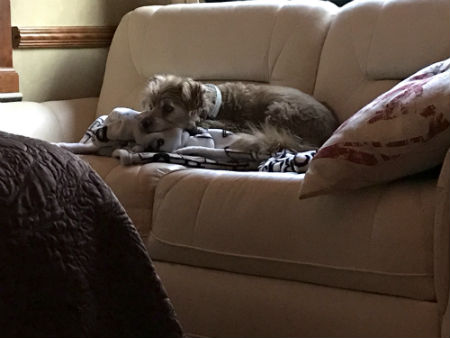 Miss. Hum,

I finally decided to search through my pics to find a good pic of our dogs. In the process I first came across one I took last week of my buddy's dog, Oscar (the family's name is Meyer, so...). He is (they think) a cocker-poodle-Shih-Tzu mix. He was the inspiration for our family to get our two dogs.

We first were introduced to Oscar when our kids were just toddlers. He was so good with them, we knew we needed to find a dog like him right away. Now, even at 17 years old (yes, 17) he has a lot of life and energy. Here in this pic he's a little sad because it's just him and me while his owners were away.

Thanks for the thread. And yes, my dogs next time. - Chin music
What a cute little snuggle buddy. Quite the impression he made on you to go out and get your own doggehs. Yes, next time, your dogs, ok?
***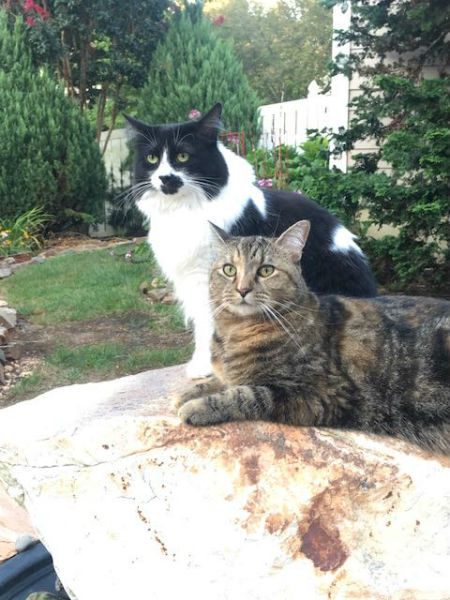 This is Judy (the black and white) and Daisy, two of our favorite felines. Judy and Daisy were graced by being in the pet thread awhile back and they have been avid followers ever since. You can tell from their looks of consternation they have been a little disappointed in the feline appearances in the pet thread recently, so they asked us, "What are you going to do about it!" Being the low ranking members of their pride we would like to encourage other cat people to give our girls something to look forward to on a lazy Saturday afternoon by sending their cat pics and cat stories into the pet thread.

Shaquerone and BionicBack (lurkers in the Great Free State of South Carolina)
What a pose. I'm curious as how you did that. Do you herd cats as well? Lovely cats you have there. Thanks for sharing with us today.
***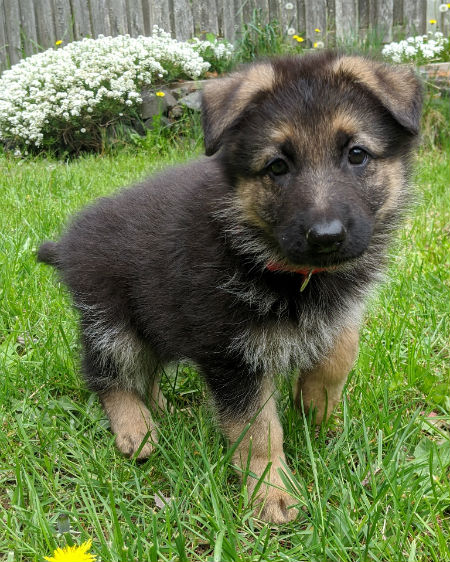 &&&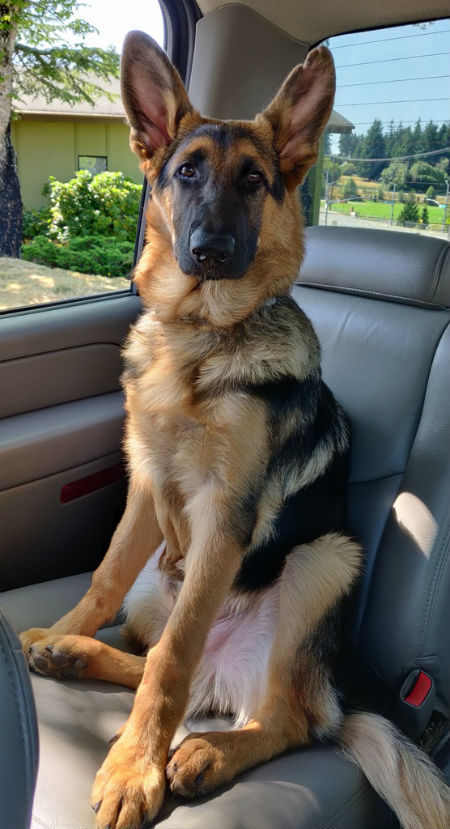 Hello MisHum!

Some time ago, I submitted our beloved rescue GSD "Noble" for the pet thread. He (and my daughter) were thrilled to be featured, but alas, he has passed on and is now chasing squirrels in heavenly pastures. He left us around the middle of April, making my birthday the worst I've ever had. I had convinced myself (and my wife) that I was done with dogs for a while, but then the loneliness of not having that constant companion set in, and I brought home another little furball, only a few weeks later. I humbly submit "Tucker". He came home at 7 weeks, and is now about 5-1/2 months (yes, that's the same dog!). He had an unfortunate run-in with a black lab who stole his bone, and earned a few notches in his ear for his trouble. Now, he doesn't like black dogs (is that racist?). Otherwise, he's a loveable goofball, but already developing into an intimidating protector for our family. I think he is already aware that he has some big paw prints to fill!

As usual, love the pet thread! But, chalk me up as a vote for more bats, less cats!

Best regards, Shepherd Lover
My, they certainly grow up fast. The current photo of Tucker cracked me up. He needs some filling out. Is he klutzy? Glad you found a new companion. Good luck.
***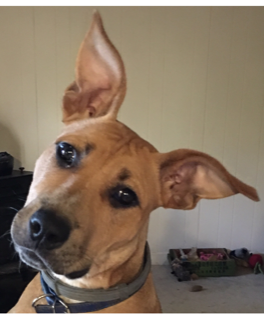 This is sweet River. She was living in a junk yard as a puppy when a rescue group picked her up. My son adopted her and she stayed at our house until he could move. My husband kept asking when he was going to come get his dog. Now we say to my son "you will never get this dog." We love her so much! She's smart, funny and just so adorable. Living in that junk yard made her clever and crafty, both traits that are irresistible.
Thanks for sharing her with the world! - Tracy
That's a frequent story, "Mom, Dad, watch my pet, please." Next thing you know the pet belongs to Mom & Dad. Congrats on your new addition. He certainly is a cutie.
***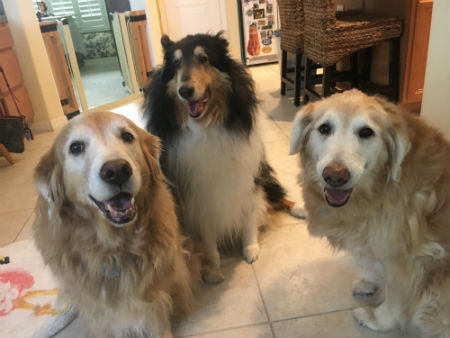 This is Dave in Fla. I mentioned two weeks ago that I need to send a picture of out tri-color collie, Star.

She was bread to be a guide dog, and we raised her from a puppy, then sent her back to the school for training and placement. She failed training (at least 50% of dogs do) and we were asked to give her a permanent home with our two goldens (also retired guide dogs).

As of a few weeks ago she became an only child and is now 12 years old. She is in good health, but starting to slow down. She is always happy when it is bedtime.

The picture is of her and her sisters Yager and Press, who we miss a lot.
Dave you have a stronger constitution than I do. There is no way I could raise a puppy and give it to the program. That is special my friend. Gorgeous family of dogs you have in this photo. Thanks.
***
Great Morons, great PetMorons. Thanks for all of your contributions today. If you have something animal/pet related you would like to submit, contact us here at petmorons at gmail dot com.
Have a great week!!!


posted by Misanthropic Humanitarian at
03:00 PM
|
Access Comments