« Update On Absurd Lies About "Losers:" John Bolton, a Neocon and Trump-Hater, Already Recounted the Decision to Not Got to Belleau Woods.
The Call Was Made by the National Security Staffers Based on the Danger of Rain.
|
Main
|
Washington Cops Arrest All the BLM "Protesters" Illegally Blocking Commuters From Going Home »
September 04, 2020
The "Independent" Press Asked Joe Biden Nothing But Tee-Up "How Bad is Trump?" Questions, and Biden Still Had to Read from His Prepared Notes
Look at this Murderer's Row of killer questions. Will Trump get similar questions, say, about Biden's r@pe?
Questions compiled by Byron York, who cautions these are the notes he wrote down during the alleged Q&A, and are not verbatim quotes: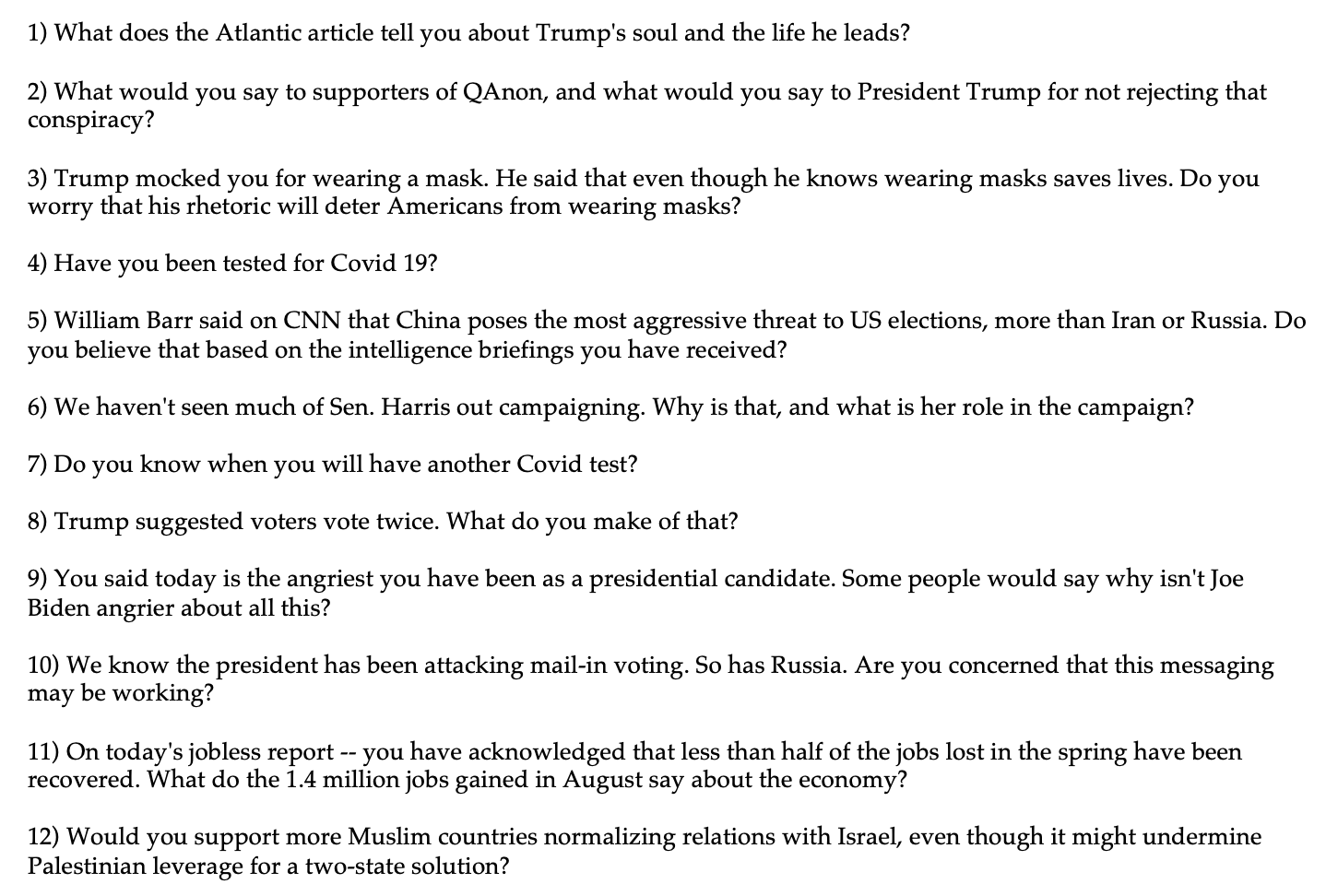 Why did Biden's Alzheimer's Memory Helper notes provide him any help for questions he supposedly wasn't expecting?
Were the questions pre-arranged?
Or, as seems likelier: Did they simply know what the press would ask because they're fwiendz with DC reporters and know how partisan and drearily predictable they are?
The press' performance was so spectacularly hackish and partisan that even liberal NeverTrumper Chris Stirewalt was shocked by it.

Meanwhile, Sundown Joe says "Go fuck yourself, San Diego!"
Just two days ago, Sundown Joe became Ron Burgundy when he proved he would read an-ny-thing-guh written on the teleprompter.
The teleprompter read "topline message," alerting Sundown Joe that this was the big-ticket takeaway item he was to stress, but instead, Sundown Joe didn't just read "Topline Message" aloud.
And now: he reads "End of quote" at the end of a quote.
We're not going to talk about the fact that he stares at the teleprompter like a dog staring at a steakbone, and reads everything on it including the stage directions, and cannot answer the simplest set-up question from a coconspirator "reporter" without having to read from his prewritten Stock Answer note-cards?
155 The "topline message" is extra concerning as that was supposedly an interview... but obviously his handlers are giving him cue card answers in real time because they know he can't remember and talk about policy stuff on his own. This situation is really fucked up.
Posted by: Serious Cat