« Pelosi's Coiffure – Recalling the 1990s House Bank and House Post Office Scandals [Buck Throckmorton]
|
Main
|
Oh No! Latest Media/Democrat/Deepstate/NeverTrump Political Op Is Failing! »
September 07, 2020
Report: Financial Analysts Will Not Be Returning to New York City Until April 2021
That's a very long time for companies to test out their new, government-ordered "no need for expensive commercial real estate" plan.
And their "absolute destruction of blue cities' tax base" plan.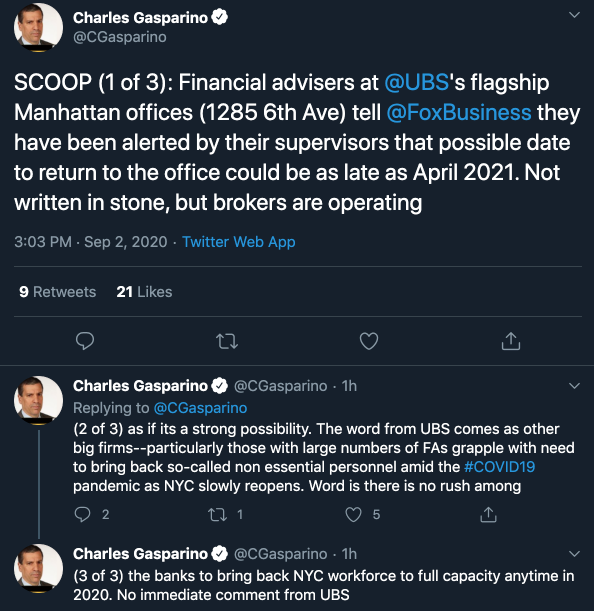 Not only won't the Financial Analysts not be working in NYC,but a lot of their support staff will be furloughed as well. Assistants will keep working, but people associated with physical plant and human resources won't.
And this is a barometer for all other industries' workers' return to NYC.
If April 2021 is the return date -- what the hell does NYC do for a full year of trashfire tax income?
And what happens when 80% of those businesses then decide never to return, but to put many workers on permanent home-office duty, and build a smaller office for seeing clients and in-person meetings in a cheaper suburb?
Every single business is conducting statistical evaluation to determine what level of lost productivity and lost earnings can be attributed by having an at-home workforce. As I've said a hundred times: If those losses are less than the cost of very expensive NYC commercial real estate, goodbye, NYC, hello, some industrial park outside Rumson, NJ or Greenwich, CT.

The communist supervillain who destroyed New York is about to slash the city's payrolls by 2,200 workers
Not because he want to, of course.
But because he has to. The former wealthiest city in history is now out of money.
And I bet those 2,200 fired workers are just the star.
New York heavily relies upon its bustling commerce, entertainment and social activities to draw in and keep people. Without restaurants, concerts, museums, sporting events and people commuting into Manhattan from the other boroughs (New York City comprises of five boroughs), the city has quickly changed. Residents have fled the city.

As people ceased commuting into New York, worked remotely, businesses shut their doors and social activities have halted, revenues to companies have plummeted. As businesses of all sizes saw their profits evaporate, the city government received significantly less in tax collection.

With considerably less money rolling into the city's coffers, it pushed de Blasio into a precarious position. He's left with no good choices and has to select from the least-worst options. The mayor will have to cut thousands of municipal jobs to save money. This means that there will be far fewer police officers, firefighters, garbage collectors and teachers.
Meanwhile, in North Gommorah, Pinterest has paid a huge amount -- $89.5 million -- as a get-out-of-lease-early payment.
If you think the property you're renting is going to hold its value or appreciate in the future, you keep it. You can always lease the space.
But if you think the property you're leasing is about to fall drastically in value, you might be willing to pay $89.5 million to skip out early.
Pinterest, a social-sharing site popular for pinning recipes, home inspiration and more, has canceled its large San Francisco office lease.

The lease was for 88 Bluxome, a high-rise complex to-be-constructed near Pinterest's existing San Francisco headquarters. The company cited a shift to work-from-home due to the coronavirus pandemic in its decision. Pinterest will keep its current city offices, however.
In Minneapolis, business owners are deciding that there is no longer any point attempting to farm the land in a city that deliberately breeds and welcomes Locusts.
That helpless feeling grew throughout Wednesday night, as Steffes watched surveillance video of looters ransacking her store.

"We had several windows broken. And we had a lot of looting. They stole things. They stole all of our computers and technology," Steffes said. "We are a family-owned business. It's just not worth it anymore being downtown. And we all grew up working downtown."

...

Chad Laux has run Greenway Chiropractic at 811 LaSalle for 17 years. He first lost customers to COVID-19, but Laux says downtown crime has made things worse.

"We've lost six people in this building already," Laux said.

His first client Thursday cancelled, with a reason he's heard far too often lately.

"She's lived downtown for at least 10 years. She called me up and said, 'Let me know when you move.' She's not coming. She lives about six blocks over. She's not coming downtown anymore," Laux said.

Laux says he's been emailing Minneapolis City Council members for months about his concerns, but only Lisa Goodman has returned his emails.
He wrote to the city council for months, and only one of them bothered responding to a local business owner.
It is time for wicked things to die.

Start spreadin' da news...

posted by Ace at
04:51 PM
|
Access Comments