« Sunday Overnight Open Thread (8/30/20)
|
Main
|
Mid-Morning Art Thread »
August 31, 2020
The Morning Report - 8/31/20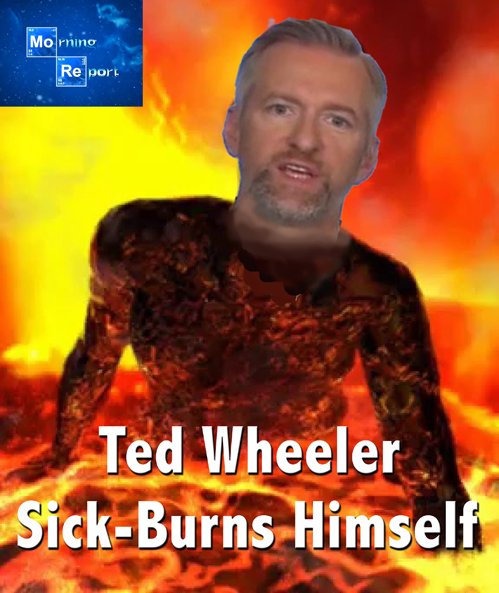 Good morning kids. Monday and the last day in August. At the top of the heap is the continued Democrat-promoted and sponsored wave of terror sweeping through or major cities. Of course now that it, like everything else they've inflicted on us for the past four years has backfired, and spectacularly, they are naturally disavowing it. Most galling, if not completely unsurprising, is that they are blaming the President as well as the non-existent bogeyman of "white supremacists" for being the cause of it all.
Well, after Kyle Rittenhouse took out three of the terrorists, all of whom had serious criminal records, in a clear act of self-defense, the terrorists shot and murdered a peaceful pro-cop pro-Trump counter-protester in cold blood.
On Saturday night, a day after Portland Mayor Ted Wheeler again refused President Trump's offer to help end the violence and mayhem in the city, a pro-Trump and Blue Lives Matter supporter was gunned down in cold blood.

Friends say Jay Bishop, whose real name was Aaron Danielson, was the man gunned down in the streets of Portland Saturday night. Bishop was a pro-Trump supporter and alleged member of Patriot Prayer, a group advocating for free speech and small government. The group is known to stage rallies in liberal-dominated areas.

Journalist Andy Ngo reported that while the shooting remains under investigation and no suspect has yet to be identified, "the alleged shooter based on videos says he is antifa in his writings [and] has been at many of the Portland riots."
The orgasmic glee with which the terrorists and their supporters have been defecating on the poor man's memory is beyond painful.
Meanwhile in Southern California, shots were fired at a caravan of Trump supporters as they were driving in Woodland Hills. Despite a SWAT team and helicopters, arrests have yet to be made. In the midst of all of this, the President is heading to Kenosha tomorrow to inspect the damage and try to comfort the afflicted. Naturally enough, hack governor Tony Evers does not want Trump to come and his cohorts, as stated, are blaming him as the cause of all the trouble, to which I say "fuck you."
It is becoming quite clear that the more heated the anti-Trump, anti-American rhetoric becomes, the more desperate the Left is that they are both fearful of losing the election and, more crucially, the Democrats as champions of the underdog that has kept them in power for many decades. Much of that power also came from controlling the news media but, with reporters insisting that the protests are peaceful while their hair singes from a flaming building right behind them, that illusion has gone up as well.
If you take a gander at the Crime and Punishment section, two links jump out at you that underscore what I hope is a Gotterdamerung of the American Left. A woman was almost raped on a midtown NYC subway platform at midday on a Saturday while five people were shot at restaurant in Chicago yesterday afternoon, along with 9 others for a grand total of 14 for the weekend. Say their names, Lefties. And back in New York, as Bill DeBolshevik brought back 1970s Needle Park by dumping drug addicts and derelicts on the Upper West Side, residents have had enough. Adding insult to injury, the Legal Aid Society has called residents racist for objecting! Hard for me to feel sorry since most residents of that neighborhood, and Manhattan in general, consistently vote Democrat.
Moving trucks were out in force on Manhattan's Upper West Side on Saturday -- leaving Guardian Angels founder Curtis Sliwa practically tripping over them.

"The mass evacuation of Upper West Siders from NYC is in full effect," Sliwa, who lives on W. 87th Street, lamented, blaming the city's decision this summer to house hundreds of emotionally disturbed homeless and recovering addicts in neighborhood hotels.

A mayoral candidate, Sliwa has been organizing and often leading Guardian Angels patrols of the area.

"They were stacked up," Sliwa told The Post of the four trucks he saw as he took a morning walk on Saturday.

Stopping at each truck, he was told each was heading out of state.

No sooner had Sliwa stepped out of his apartment building -- where nine out of the 12 units are empty -- than he saw the first moving truck of the morning.

It was the eighth truck he's seen on his block in less than two weeks.
The big question is will those fleeing the city bring their voting habits with them? Sadly, when you look at places like North Carolina and Georgia, as well as Arizona and Montana, you have to go by history and say yes. But the political landscape has undergone tectonic shifts in the age of Trump, especially since the phony Peking Pox pandemic panic and even just since the death of that Floyd person. Old habits die hard, for sure. But the murder, madness and mayhem in Portland, Seattle, New York, Chicago and now especially in Kenosha may be one of those seminal moments that changes a lot of perceptions for a lot of people.
* * * * * *
Other things to take note of:
- An alarming report from a career Democrat voting fraudster.
- I know it's polling but this may really be the year Black voters liberate themselves from the Democrat plantation.
- John Ratcliffe hinting at further coup indictments.
- Military tensions heating up between Greece and Turkey in the Med.
- Boeing addresses recent technical failures by going the diversity route.
- Victor Davis Hanson on the race to commit cultural suicide
Have at it.


ABOVE THE FOLD, NOTEWORTHY, BREAKING
NOTE: The opinions expressed in some links may or may not reflect my own. I include them because of their relevance to the discussion of a particular issue.
ALSO: The Morning Report is cross-posted at CutJibNewsletter.com if you want to continue the conversation all day.
Follow us on Twitter: @CutJibNews


posted by at
07:33 AM
|
Access Comments