« Food Thread: Sous Vide And MoMes!
|
Main
|
Sunday Overnight Open Thread (8/30/20) »
August 30, 2020
Gun Thread: Happy 2nd Gun Thread Anniversary! [Weasel]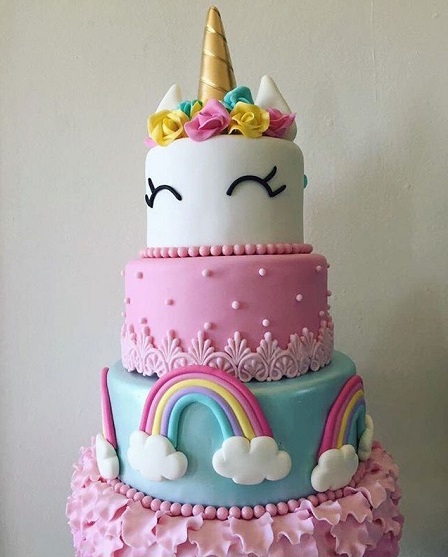 Happy 2nd Anniversary! Can you believe its been two years? Two years! Well, the time has flown by, and all of the commenters and contributors should take a bow for making this a fun place to talk about one of our favorite subjects. I'm constantly amazed you all continue to show up week after week, and I appreciate it bigly. No kidding. Seriously even! I really do look forward to hanging out with "you people" Sunday evenings and talking about guns and shooting.
Post-NoVaMoMe 2020 Discussion & Analysis
As I write this on Saturday, I'm getting ready for the social event of the season, the 2020 NoVaMoMe. Fortunately, our pal bluebell is doing all the work, so I pretty much only have to show up and be charming and witty. It's going to be so classy and luxurious! By the time you read this, it will be in the history books. Feel free to discuss and analyze in the thread below!
Anyhoo, the Gun Thread show must go on, and let's get to that below, shall we?
I made it down to the farm last week for the first time in ages. The grass had to be beaten back, but otherwise all was good and I managed to get a little shooting and video work done. Link HERE for those on a mobile device.
As I mentioned in the video, this is a rifle I put together with the intention of shooting in mid-range matches, but never got around to doing that. Still, it's a fun rifle to shoot, especially when you remember to bring all the right gear. I forgot to bring the correct rear bag for the rifle and had to improvise, which is evident in the group shown near the end of the video. It is illustrative of an important point, however, in assessing your shooting. Any time you see vertical stringing on target, it's almost always due to a goofy rear bag setup.
I plan to bring this rifle to the TXMoMe in October and if you're there, you're welcome to try it!
******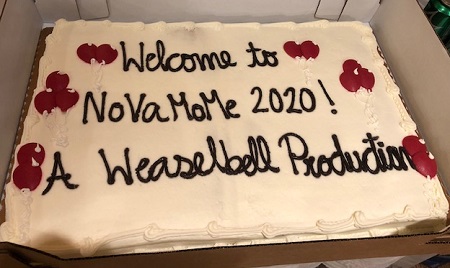 photo courtesy hogmartin
Statement on the 2020 NoVaMoMe from bluebell and Weasel


Holy Crap! Was that ever a good time, or what? We want to take the opportunity to thank each and every Moron who attended last night. Whether this was your first MoMe, or you're a grizzled veteran, our evening together only served to underscore what an amazing group of people you all are. Special thanks to our pal Moki who set an impossibly high standard in creating the gift baskets for the raffle, and Muad'dib for once again providing nametags for everyone, as well as fantastic items for the raffle too numerous to count. A number of others, including OpenChannel D, Vendette, Ben Had, Jewells, Eris and hogmartin all made significant contributions to the fabulous prize table. There were most certainly others we've left out whose contributions were no less greatly appreciated. Finally, thank you to all those who helped at the check-in and raffle ticket tables, and those who arrived early and stayed late to pitch in with the set-up and clean-up. Again, we're probably forgetting a lot of names, but Rocky & Cori, Mr. & Mrs. JTB, no good deed, Ladyl, nurse ratched and Mrs. Berserker were all enthusiastically helpful! We really couldn't have done it without you all!. A special thanks to those travelling from around the country to attend our little get-together, and a huge thanks for all of you who were so generous in purchasing raffle tickets.

If you have never been to a MoMe, you should try and attend one if you can. They're held around the country and advertised on the main page, left sidebar. Whether a large event or small, you will not regret it.

Finally, I want to thank my friend bluebell. She is charming, poised and calm under pressure, and her hard work and planning made all the difference last night. Her husband, Mr. bluebell, is a great guy who provided essential logistical support with his customary smile. They are two very special people and we are all very lucky to count them as friends.
Please feel free to discuss your 2020 NoVaMoMe experience in the comments.
******
Texas MoMe Rifle Clinic
Which leads us to the Texas MoMe! Bluebell won't let us shoot at the NoVaMoMe, citing "rules against that" so we'll have to make do in Texas. As we did last year, we will again offer a rifle clinic to about a dozen or so shooters on Friday, October 23rd beginning around 8am. The clinic seemed to be well received last year, so we're taking what we learned, tweaking it a little, and applying it to this year. As of now, the plan is to spend a few hours in the morning reviewing some basics, including among other things zeroing rifles, then working on targets between 100 and 500 yards. I'll be there throughout the day to answer questions, make funny jokes, lend some encouragement, and discuss more specific and advanced concepts to anyone by then not already tired of my bullshit. The next day, Saturday October 24th, we'll have a rifle range open for those that cannot make the clinic on Friday. We'll probably keep that open until about noon, with targets between 100 and 500 yards, and I'll be around that day too. If you're interested in the Friday clinic, please email Ben Had to reserve your space. Once we have the slots filled I will follow up with an email to the participants regarding necessary gear and ammo which will be fairly basic. We had a really good time last year and try to design the clinic so there is something for all levels of shooters. For those mental defectives shooting handguns only, there will be a lot opportunities during the TXMoMe for you too, including an expanded range with more complex target arrangements. Stay tuned for details and I hope to see you on the range in Texas in October.
A few spots for the clinic are still available so if you are interested, let Ben Had know!
******
Have you ever wanted to take a peek inside the Federal Ammunition plant? Well your wait is over! [h/t JT]
Link HERE for those on a mobile device.
******
Our pal Sua Sponte continues his .22 LR testing and sends us the following update:
Finally had some free time to head back out onto the range and do a little more testing. Not sure if it was just the weather or what, but it just didn't seem like everything was falling in line. More than likely it's due to it being so long since the last time I did any ammo testing nearly a month ago. Anyhow, just as with much of my previous testing using the (Ruger 22LR Precision with Caldwell bipod, Tandemkross Game Changer Comp and a UTG 6-24 x50 scope), today I broke out the Norma TAC-22 40g LRN (1100fps), Aguila 40g SE SV LRN (1130fps), CCI 40g SV LRN (1070fps) and a new one to the testing pool, Geco 40g LRN 22LR Rifle (1083fps), all from fifty yards.

Normally I would do five whole targets with five smaller targets per (100 rounds total) for each type of ammunition, but, seeing as how some supplies have been limited, I kept it down to one target per for a total of 25 rounds.

Previously, the Norma TAC-22 was exactly that, a tack driver, with 100 rounds the overall average was 0.8025. Today, maybe not so much. 25 rounds and the overall average was 1.45.

Aguila 40g SE SV LRN; 25 rounds and the overall average was 1.666

CCI 40g SV LRN; 25 rounds and the overall average was 1.36

Geco 40g LRN 22LR Rifle; 25 rounds and the overall average was 0.966

So, what do I attribute this all to? A need to spend more time on the range as with even the best ammo available, those long breaks will show.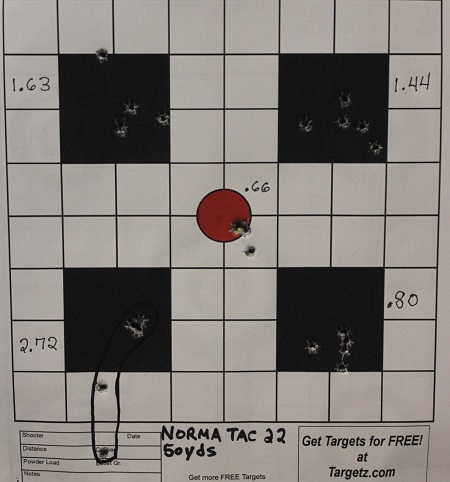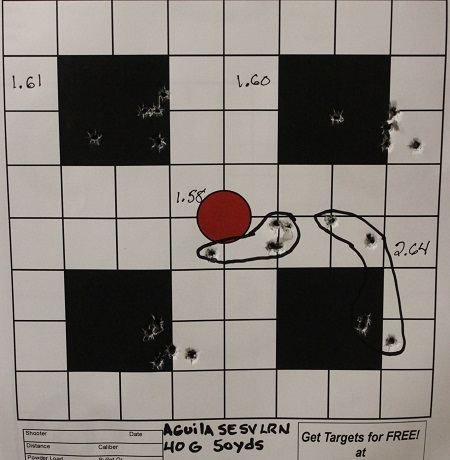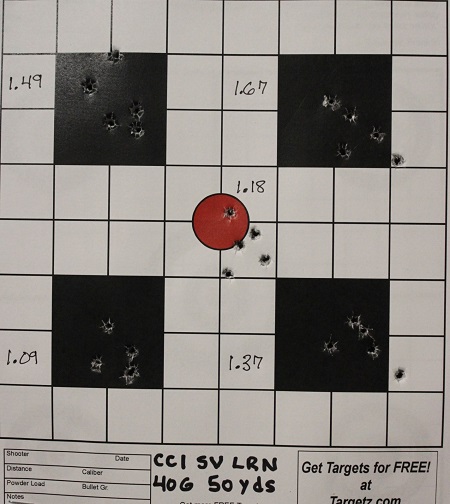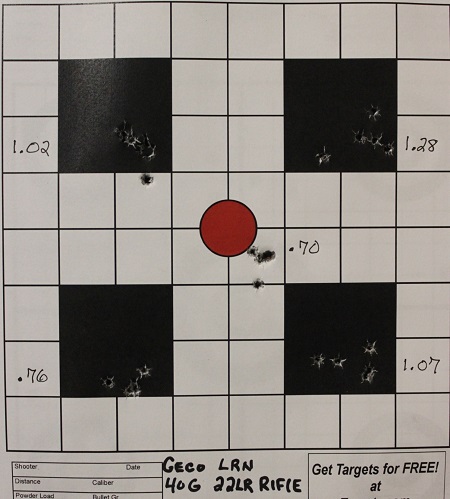 Great report, thanks Sua Sponte! Yep, being off the range for a while can definitely show up on the target the first time back!
******
Next, our pal PacosMojo sends us a picture and description of the glorious .475 BSM, or Bishop Short Magnum.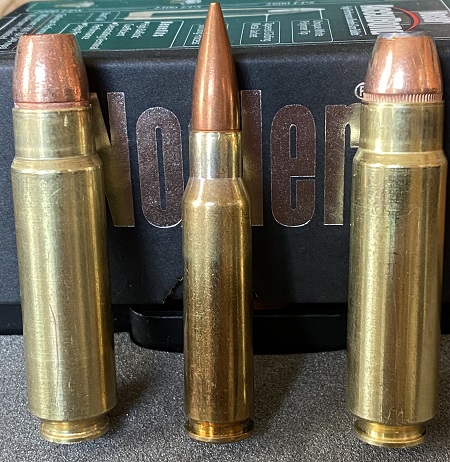 7.62X51 NATO flanked by 475 BSM round (left 275gr. Barnes HP, right 400gr. SP)
PacosMojo tells us a little about this cartridge:

I'm a big fan of weird and frankly impractical AR calibers, and this one definitely fits the bill. According to the cartridge's inventor, Dianne Bishop, Bishop Ammunition, the 475 BSM is the largest cartridge capable of fitting into the chamber of an AR-10. The 475 BSM employs a unique case incorporating a rebated rim matching the diameter of a 7.62X51 NATO round, thus the cartridge will function in an unmodified AR-10 bolt. Published ballistics claim the 475 BSM will propel a 390gr. bullet at 2,510 fps, generating 5,600 fpe at the muzzle. So I just had to have one! After waiting about six months for the complete upper to be delivered, I attached it to a hand built lower and headed to the range with 20 rounds of fresh off the press hand loads. At $150 for 20 factory rounds, hand loading isn't optional. Dies, brass and bullets are included in the price of the upper. I didn't quite observe the published ballistics, but my loads still managed 2,400 fps, which equates to just under 5,000 fpe. That's 458 Winchester Magnum territory out of an AR platform. Given the superior ergonomics and recoil mitigation afforded by an AR compared to a typical bolt action rifle, I'll take it. Now I just need save up enough cash to take it along on a buffalo hunt!
Wow! Very impressive. Thanks PacosMojo!
******
Stabby Things
Our pal Diogenes sends us not one, but two stabby things!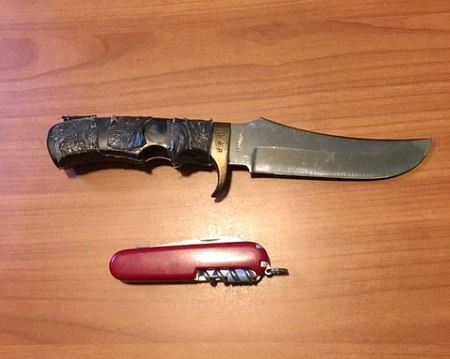 The top is custom made by Ozekes, a small knife shop in Sinop Turkey. He is a true craftsman and even after all these years, it is as sharp and keen as the day I picked it up. I had given him a picture and he produced it from that. I wanted something that could cut and skin and it does both well. You can still see the tape I put on in Somalia. They cover up the brass in the handle.

The Swiss Army knife is classic. I've carried it through three wars and it is perfect for all the little chores and needs of field living. And yes, you can see the little cork screw that has opened many bottles. As you can see I still have the little screwdriver plus the toothpick and tweezers.
Very nice! Thanks Diogenes!
******
Link-O-Rama
I'm really very seriously not kidding around anymore. Buy Ammo
AmmoSeek - online ammo search tool
GunBot - online ammo search tool
SG Ammo
Palmetto State Armory
Georgia Arms
AmmoMan
Target Sports USA
***Mail Bag***
Look at that smile!!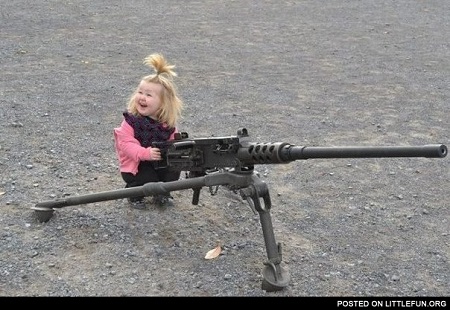 ******
Please note the new and improved gmail account morongunthread at gmail dot com. An informal Gun Thread archive can be found HERE. If you have a question you would like to ask Gun Thread Staff offline, just send us a note and we'll do our best to answer. If you care to share the story of your favorite firearm, send a picture with your nic and tell us what you sadly lost in the tragic canoe accident. If you would like to remain completely anonymous, just say so. Lurkers are always welcome!
That's it for this week - have you been to the range?


posted by Open Blogger at
07:00 PM
|
Access Comments