« First-World Problems...Part Lua Sefulu Lua
|
Main
|
Gun Thread: Happy 2nd Gun Thread Anniversary! [Weasel] »
August 30, 2020
Food Thread: Sous Vide And MoMes!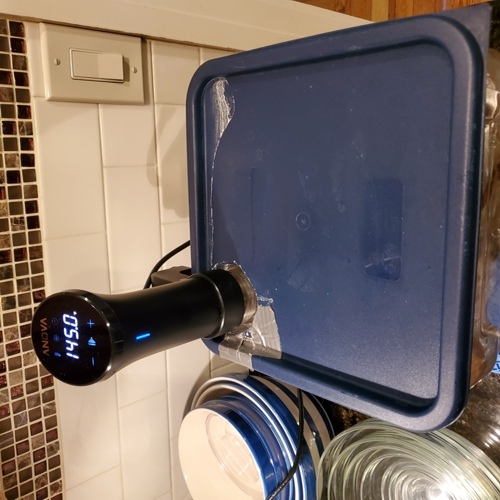 That is a typical scene in my kitchen. Right now that's a rack of pork ribs cooking for 48 hours at 145 degrees. Preparation? Trivial. Peel the membrane, sprinkle a nice coating of whatever dry rub floats your boat. Cut it in half so it fits in the container, vacuum seal the two halves, and...that is it.
When those are finished cooking I will put them in the refrigerator because I have other plans for dinner tonight. On the way back from the NoVaMoMe I stopped at a pizzeria in Bel Camp Maryland for my favorite crab cakes. Yeah, that sounds really stupid when I write it, but they are excellent.
Anyway, those ribs can go into the refrigerator for several days without any worries. In fact, they are essentially sterile, so i am not sure why they won't last for months. And when I feel like having ribs, I'll open the bags (saving the juices for barbecue sauce), sprinkle a bit more rub on them, and grill them for several minutes to heat them and give a nice crispy crust.
So what is the advantage of Sous Vide over a conventional low temperature cook on a grill or in a smoker? Well, the meat comes out perfectly moist and succulent, and the cartilage and connective tissue and fat has softened and liquefied and basted the meat for the entire cook. Ribs don't get any more flavorful and tender. And timing them is pretty easy. It takes a long time to ruin food in Sous Vide cookery. So a few extra minutes isn't going to hurt. Contrast that with some of you maniacs cooking beef brisket, with multiple temperature probes and humidity sensors and cooling fans for the smokers and all sorts of worry and panic.
That is not to say that it is a superior technique for all foods, or even most foods! I don't bother with steaks any more, because I can do just as good a job on my grill. And fish? Yes, it works very well, but the hard part is still done in a pan...crisping and browning the surface of the fish, and that requires just as much attention as conventional techniques.
I use Sous Vide for pork...always! For chicken? Yes, but mostly the breast, because it is relatively sensitive to temperature and isn't fatty, so it can dry out more easily. And tougher cuts of beef do very well too. I made beef short ribs last month, and they were absolutely spectacular. Incredibly beefy and tender and rich, but without the mouthfuls of fat that one sometimes gets with that cut.
I know I sound like your OCD second cousin when he starts reciting baseball statistics, but Sous Vide really is a significant new (for home cooks) cooking technique that actually delivers on the promise...for most foods.
But there is a downside, and that is the chaotic mess of information about it. There are lots of amateur cooks posting authoritative-sounding recipes that are crap. And even some of the so-called professionals are often off the mark. So there will be a learning curve if you choose to dip your toes in, so keep good records of what you cook, and trust your own experience more than the internet!
******
Bluebell and Weasel hosted another Northern Virginia Moron Meet-up, and it was a resounding success. And one reason was that Bluebell, who seems to know her way around entertaining, was smart, and chose perfect party foods. Fried chicken, brisket, pulled pork, and two sides...beans and cole slaw. Then a nice sheet cake for dessert.That's it! And that's smart. Keep it simple, and it's still difficult to feed that many people. Make it complicated and you will be overwhelmed.
The second best part? The food was good. The best part was meeting some new and interesting people, and seeing some old faces too.
So...a tip of the hat to Bluebell and Weasel, and thanks to all of the Morons who pitched in to help out with the raffle gifts and the set up and prep work and cleanup.

******
******
Commenter "Mishdog" asks a good question, and one that is surprisingly complicated. That's Dildo shorthand for, "Hmmm...I'm not sure."
Hey CBD, that prosciutto wrapped halibut looks amazing. Is there a way to make it without using an oven? I only ask because my wife and I have access to an apartment in Spain and go to there every few years. We pretty much eat only Jamon and fresh fish while we are there. This looks like a great thing to try there. The only issue is the oven doesn't work in the apartment...it trips the breaker after a few minutes. Any tips on ovenless preparation is much appreciated!(UoNvf)
I would cook it as I began in the video (two minutes then one minute) but then turn down the heat and flip it every minute until the temperature in the center reaches about 130 degrees. The goal with the high heat is to crisp the prosciutto, but then the low heat simply cooks the fish through, but gently. I think if you use high heat for the entire time it will make the fish tough and overcooked on the outside.
******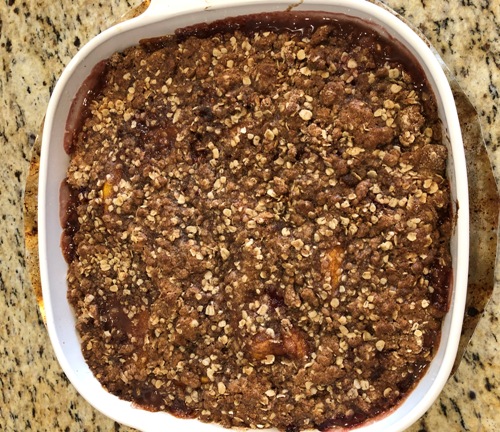 From commenter "Legally Sufficient" comes a fun-looking peach cobbler recipe. But...she cheated and used really good peaches.

This cobbler is one that I modified from a family recipe, adding oatmeal, brown sugar, cinnamon and cloves where there was none previously. It's a good dish for company and is always well received. The attached photo shows the final product. You cannot tell from the photo, but the edges are bubbling where the wonderful peach nectar is oozing up through the topping.

This year the renowned Palisade, Colorado peaches were in very short supply, so I had to make do with softball-sized peaches from Leeds in southwestern Utah. (Multiple Morons will attest to the outstanding quality of the legendary Palisade peaches.) As much as it pains me, I have to say that these Utah peaches give Palisade a run for their money! Other areas of the country have flavorful peaches as well, making this recipe a "soon to be favorite" in many households.
Crunchy Peach Cobbler
5 cups sliced peaches (other fruit may be used)
1/2 cup flour
1/2 cup oatmeal (I used quick oats)
1/2 cup sugar
1/2 cup brown sugar
1 Tablespoon cinnamon
1/8 teaspoon ground cloves
I egg, well beaten
1 stick butter, melted
Preheat oven to 375 degrees.
Place sliced peaches (or other fruit) in an oven proof dish.
Mix flour, oatmeal, sugars and spices in a separate bowl.
Stir in beaten egg to the flour mixture.
Sprinkle mixture over the fruit, spreading to cover the fruit completely.
Drizzle melted butter over the topping as evenly as possible.
Bake at 375 degrees for about 45 minutes.

******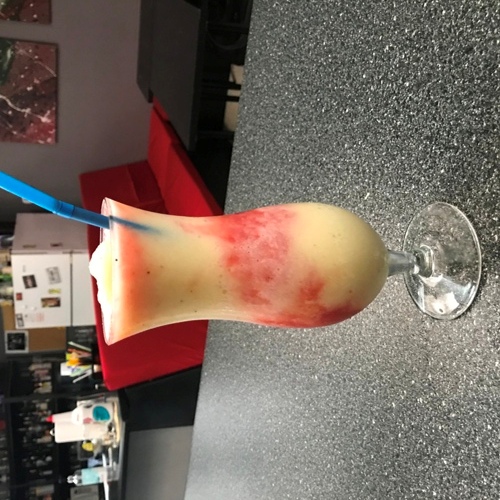 I think Bitter Clinger has too much time on his hands...

Eating healthy and being health conscious has never been more of a thing than right now, where seemingly the entire nation have become experts in the field of epidemiology, virology, PPE efficacy, and statistical modeling.

Personally, I think with any virus the only thing you can do is prepare your body to fight it off on its own through proper nutrition and foods that promote a healthy immune system.

But if you are like me, sometimes you struggle to get in all those servings of fruits and vegetables that are recommended. The solution? Moar cocktails!

This delicious drink delivers two healthy servings of fruit and one healthy serving of buzz! It's a Hawaiian classic that has been around for ages. The recipe makes two drinks, so that you can make one for the Missus too, which is also good for your health, especially if you want to steer clear of Bluebell's shiv!

Lava Flow

2 oz Amber Rum
2 oz Coconut Rum
8-10 Extremely ripe strawberries

2 Extremely ripe bananas
4 oz Pineapple Juice
3 oz Coco Real Coconut Cream
2 cups of Crushed Ice

Put the first three ingredients in the blender, buzz them up until smooth. Reserve in a cup to the side.

Rinse your blender, then combine the last four ingredients and blend those up.

Pour both mixtures into a glass at the same time, giving the strawberry mixture a bit of a head start to create the cool lava flow effect.

Pro-tip: If you drink four of them, you'll be four times as healthy!

Cheers,

Bitter Clinger, Now with More Healthy Antioxidants

******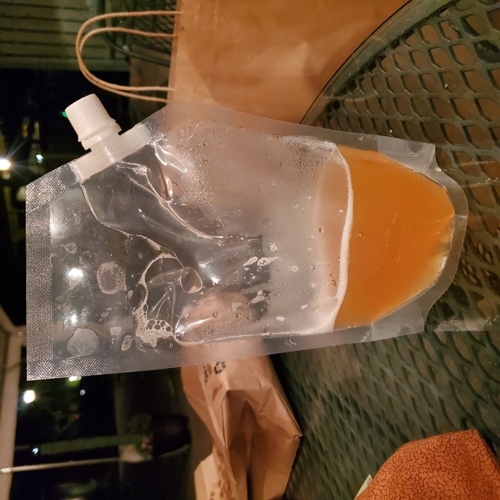 Yes, it looks like a urine bag, but that is actually a takeout bag for tap beer!. A Kane Head-High IPA, made in New Jersy!. it's one of the better IPAs I have had, mostly because it isn't a hoppy, mouth-puckering monster.

******
Food and cooking tips, Large-breasted Muscovy ducks, young wild pigs, bartenders who use vermouth in Martinis (but not too much), pork belly that doesn't have 5-spice, low-temperature-roast chicken, and good tomatoes that aren't square, pale pink and covered with Mestizo E.coli:
cbd dot aoshq at gmail dot com
. Any advocacy of French Toast with syrup will result in disciplinary action up to and including being
nuked from orbit.
And yes, shaking a Manhattan is blasphemy...it's in the Bible!

posted by CBD at
04:00 PM
|
Access Comments