« First-World Problems...Part Kakskümmend üks
|
Main
|
Gun Thread: More Basic Information Edition! [Weasel] »
August 23, 2020
Food Thread: Mussels, Whole Lemons And Crappy Wine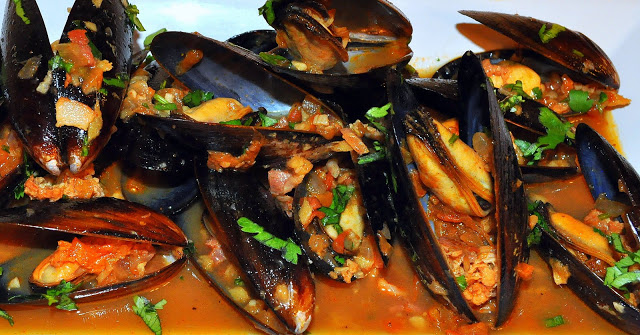 Mussels are ubiquitous on the menus of Italian restaurants around here, but they are usually a pedestrian presentation without much in the way of flavor. But yesterday I had a plate of mussels in a spicy light tomato sauce, and they were fantastic. Starting with really good mussels obviously helped, but it wasn't ridiculously spicy, and the sauce wasn't thick and gloppy. In fact, it was served over some rounds of bread so that the sauce had somewhere to go...a touch I would have rejected immediately had I known, but it worked out really nicely. The bread soaked up some of the sauce and added a bit of oomph. And it wasn't toasted, so it was right on the edge of breaking down, which made it even weirder.
There are so many versions of wonderful foods that turn out to be thoroughly boring, so it is a real and rare pleasure to find a common dish that is done exactly correctly...and is a cut above the rest.
Their meatballs were damned good too. Better than mine, and that really pissed me off!

******
I figure I am about 15 years too late, but since I am usually behind the times, the timing is perfect. Below is my first attempt at a video, so be gentle.
I got a lot of good advice from Weasel, and he also whipped up the intro in about 10% of the time it would have taken me!

***
It's a work in progress...I have to figure out which perspective makes the most sense. I have a face made for blogging, so facing me while I pontificate is right out!
The point is to see the technique and the food, so I 'll just play around and see what works.

******
I love lemon in cooking. The juice adds brightness and contrast to lots of different foods, and the zest is fantastic in drinks and salads and even steaks. Yeah...a squirt of lemon, some finely minced zest and a drizzle of olive oil over a steak is a fine way to eat.
But this recipe is new to me. Using the whole lemon in a lemon meringue? Sure. I mean...why not? I would peel the pith out of most of them, but aside from that it looks intriguing.
Anyone ever make anything even remotely like this? whole lemon meringue pie bars.
So...who goes first? Take a shot!

******
The ultra-aged steaks seem like a waste of time, but the other dishes are fun to read about.
The weirdest ways people around the world cook steak
. But the best part is the next section, which rates steaks from worst to best. They are hilariously full of shit, and any serious steak eater will just laugh and laugh.
[Hat Tip: JT]

******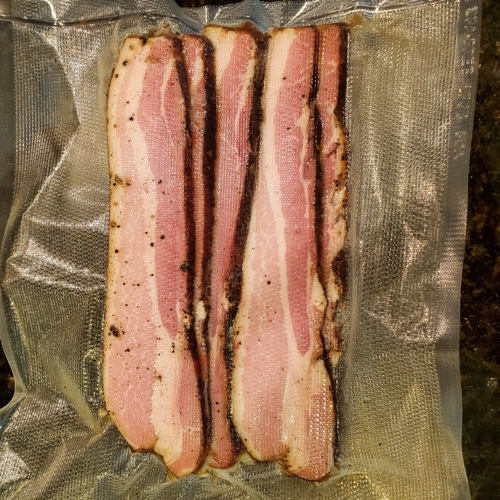 A friend of mine stopped by a couple of hours ago and dropped off two packages of his latest batch of bacon. Why is there only one package in the photo? Because we ate the first one with great glee!
Fantastic. Far better than store-bought bacon, and I really like all bacon, so that isn't a criticism of commercial stuff, just the recognition that sometimes homemade really is better.
And it's not complicated: Cure. Smoke. Chill. Slice. Eat.
He has recently become obsessed with smoking pretty much everything, and I think his experience has allowed him to smoke the bacon with subtlety, rather than just bombing it with tons of smoke.

******
Long-time commenter and chef extraordinaire artisanal 'ette sent this along, and it sure does look good! I am an okra nooby...the last time I ate okra it was pickled in a Bloody Mary, so I will defer to those with experience.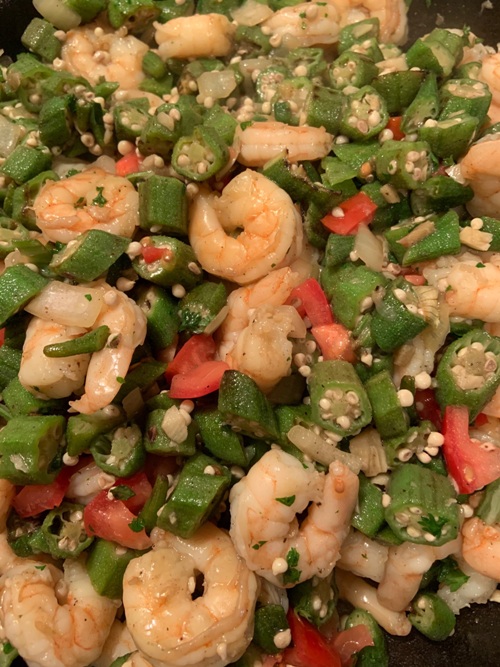 We loved it. I used 2 lbs of shrimp, and about 2 pounds of okra. The only time consuming part is cutting up the okra, but not too bad. I did use more than it called for. My book says 2T of chopped parsley, and 1/2 tsp of thyme, but I would use more. I used extra garlic and ginger as I always do. And I used a jalapeno from my garden. Thyme, parsley and jalapeno from my garden.
This of course makes me jealous of people who can actually grow things. My basil was pathetic, and the thyme simply never appeared.
******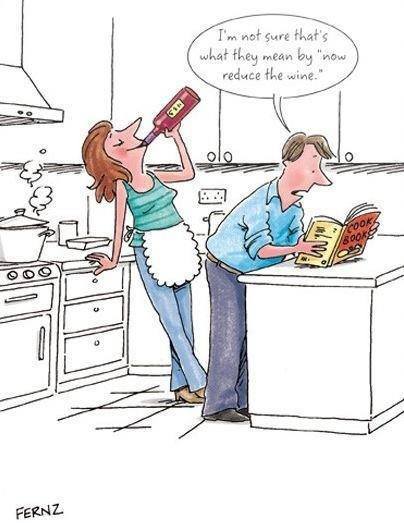 This reminded me of a recent family party. I usually have a bottle or two of red and white wine on the bottom shelf of the refrigerator door. That's where I keep my cooking wine. It's usually the dregs of bottles and stuff that was too crappy to drink and stuff that sat undrunk anf forgotten in the refrigerator for a few weeks until it was..um...shitty. But for cooking? All of that stuff is just fine, and don't let the cooking snobs tell you any differently.
Anyway, I walked into the kitchen and there was one of my nieces, happily pouring herself a second glass of the cooking white and exclaiming, "This is really good!"

******
Food and cooking tips, Large-breasted Muscovy ducks, young wild pigs, bartenders who use vermouth in Martinis (but not too much), pork belly that doesn't have 5-spice, low-temperature-roast chicken, and good tomatoes that aren't square, pale pink and covered with Mestizo E.coli:
cbd dot aoshq at gmail dot com
. Any advocacy of French Toast with syrup will result in disciplinary action up to and including being
nuked from orbit.
And yes, shaking a Manhattan is blasphemy...it's in the Bible!

posted by CBD at
04:00 PM
|
Access Comments