« The Future Of America Can Be Seen In California, And It Is Poor, Nasty, Brutish And Short
|
Main
|
Food Thread: Mussels, Whole Lemons And Crappy Wine »
August 23, 2020
First-World Problems...Part Kakskümmend üks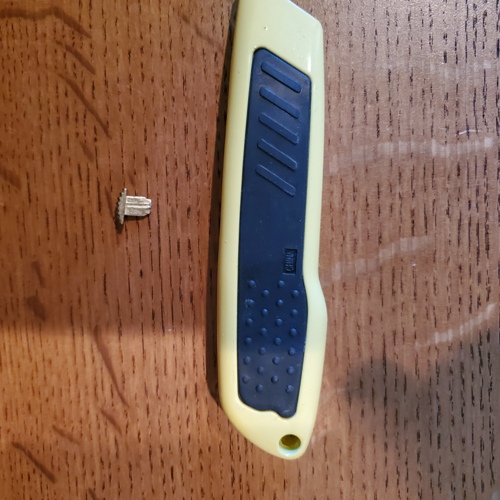 That's the thumb slide for the utility knife, and it is much less effective when it breaks off! Crappy pot metal combined with lots of use yields a short life span for the tool.
How much extra would it cost to use better metal? The enclosure can be cheap, but that little piece of metal that is exposed to lots of force could be just a little bit better, and the tool would last a lot longer.
How did that happen? Luckily it was after I needed the utility knife. I put it back into my tool holder and...SNAP! Is it too much to ask that the knife lasts longer than the first blade?
What is the corollary to Murphy's Law that governs the propensity for tools to break just as we really need them?
Judging the quality of a tool isn't always easy. Many of us go with brand names and previous experience, but that doesn't always pan out. Craftsman tools is a good example of that.
And this can be extrapolated to most mechanical assistants. How often have we discussed washing machines in these august pages?
So: good tool stories, bad tool stories, and everything in between!
And below the fold; a tool I want but should never, ever buy.

posted by CBD at
02:00 PM
|
Access Comments