« College Student: Montana Governor and Democrat Candidate for Montana Senator Steve Bullock Sexually Assaulted Me
|
Main
|
Tuesday Overnight Open Thread (8/18/20) »
August 18, 2020
Recap of Democrat National Convention, Night 1
I'm told this actually happened today. This was the Native American Caucus Meeting -- for real: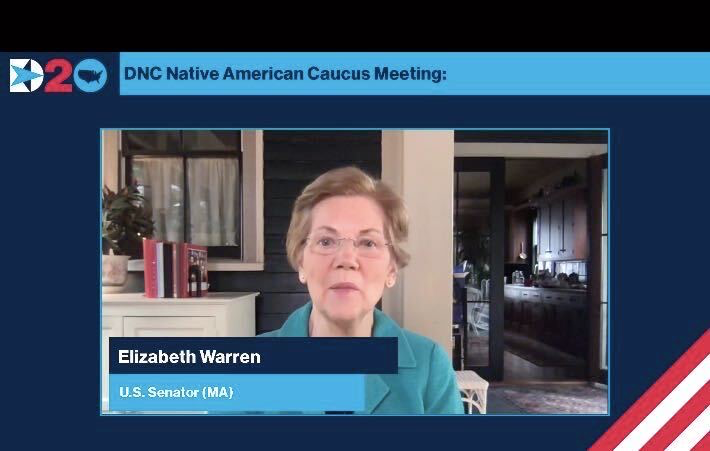 The Heap Big Balls on that one, huh?
I hear last night was 25% worse than the Holocaust.
Even former candidate Marianne Williamson made fun of it:
"No I'm sorry but they did not address racism," she said. "They showed a lot of beautiful pictures of POC and made references to BLM, but there was not one mention of an actual policy to help end systemic racism. It's like binge watching a Marriott commercial."
Last night Michelle Obama tried to blame her own husband's "children in cages" policy on Trump -- a lie so egregious even the AP had to fact-check it.
Michelle Obama assailed President Donald Trump on Monday for ripping migrant children from their parents and throwing them into cages, picking up on a frequent and distorted point made widely by Democrats.

She's right that Trump's now-suspended policy at the U.S.-Mexico border separated thousands of children from their families in ways that had not been done before. But what she did not say is that the very same "cages" were built and used in her husband's administration, for the same purpose of holding migrant kids temporarily.

....

THE FACTS: The reference to cages is misleading and a matter that Democrats have persistently distorted.

Trump used facilities that were built during the Obama-Biden administration to house children at the border. They are chain-link enclosures inside border facilities where migrants were temporarily housed, separated by sex and age.

...

At the height of the controversy over Trump's zero-tolerance policy at the border, photos that circulated online of children in the enclosures generated great anger. But those photos -- by The Associated Press -- were taken in 2014 and depicted some of the thousands of unaccompanied children held by President Barack Obama.

When that fact came to light, some Democrats and activists who had tweeted the photos deleted their tweets. But prominent Democrats have continued to cite cages for children as a distinctive cruelty of Trump.
Son-of-a-mailman John Katshit spoke last night. Chris Christie said he persuaded absolutely no one.

posted by Ace at
07:25 PM
|
Access Comments