« Displacement [KT]
|
Main
|
Ace of Spades Pet Thread »
August 22, 2020
Saturday Gardening and Puttering Thread, August 22, 2020 [KT]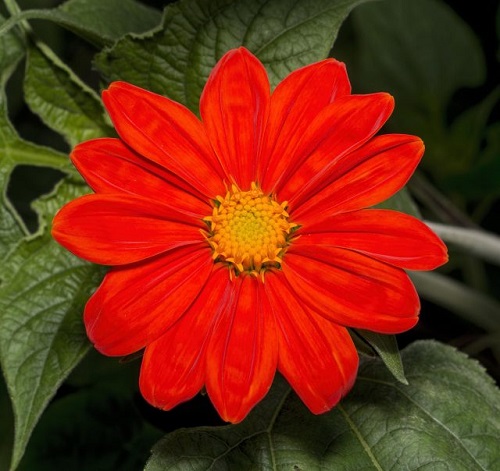 How are all our gardeners, putterers and dreamers now that it's August? We have smoke in the air from wild fires here in Central California. But we persist.
Don in Kansas wrote a post this month on the flower colors in his garden. The Tithonia above is especially bright, but there are other lovely flowers at the link. Tithonia (Mexican Sunflower) is especially attractive to butterflies. The wild version grows pretty tall.
Last Week
We enjoyed the photos from Jerry in Alaska last week. In particular, Not From Around Here said:
Between the fireweed and the Moose's Tooth t-shirt, I'm homesick for Alaska now. Awesome garden!

This year in Texas, I have managed to keep half my herbs alive, and the tomato plant produced one tomato that made it past the ants, caterpillars, and birds to actually be eaten. This is an improvement over last year, but I still haven't gotten the concept of gardening in 7b instead of 4a.
This provides us an opportunity to present some companion plants for Jerry's Maltese Cross that can survive in Zone 3 as well as in Zone 7.
Maltese cross companions.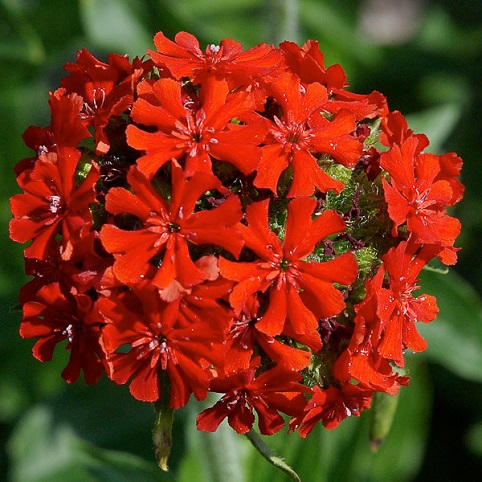 Maltese Cross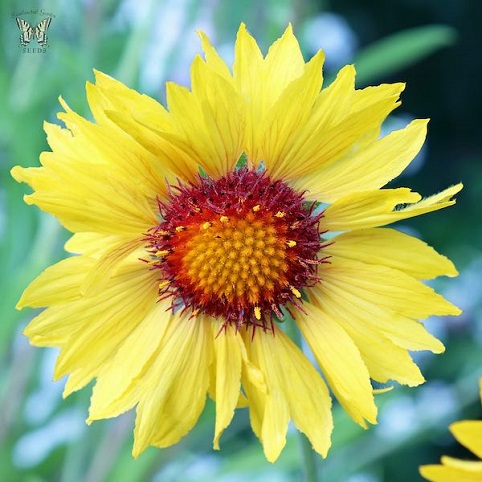 Gaillardia 'Amber Wheels'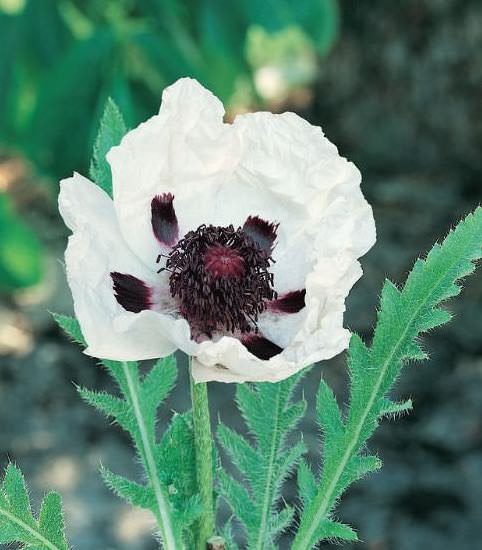 Royal Wedding Oriental Poppy
Well, actually, I'm not sure how the Poppy would do in Zone 7, but I would go for the Gaillardia. Seed is cheap, though, if you want to try the poppy.
We also have some additional Alaskan photos from Jerry:
The Ornamental crab apple is an amazing early season bloomer. The bees LOVE it and the entire tree is buzzing for weeks before we see what looks like a late snow fall when the petals drop off.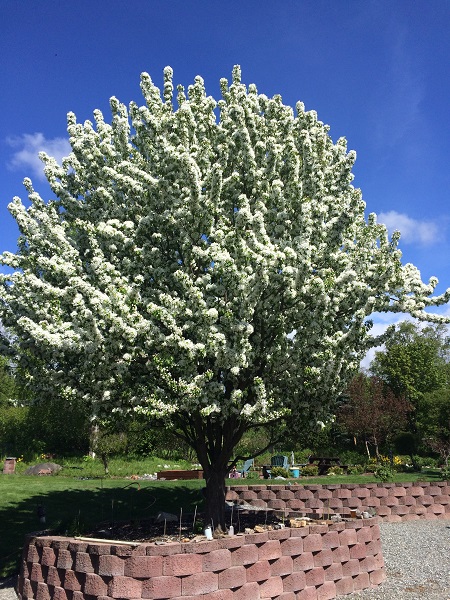 Ornamental Crab, Full Bloom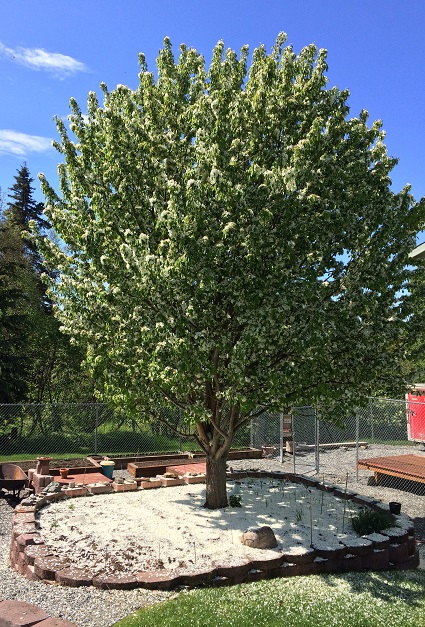 Ornamental Crab, Petal Fall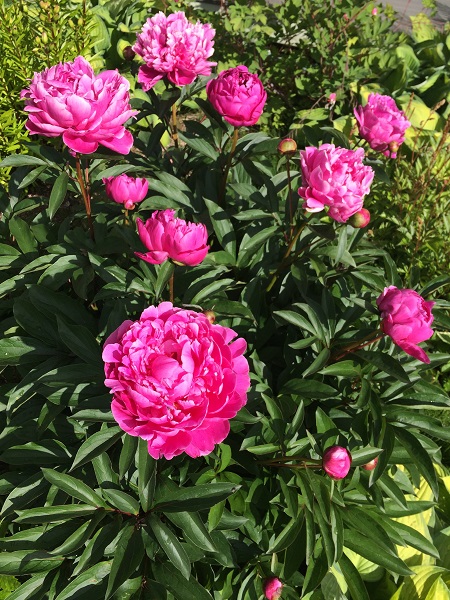 Peony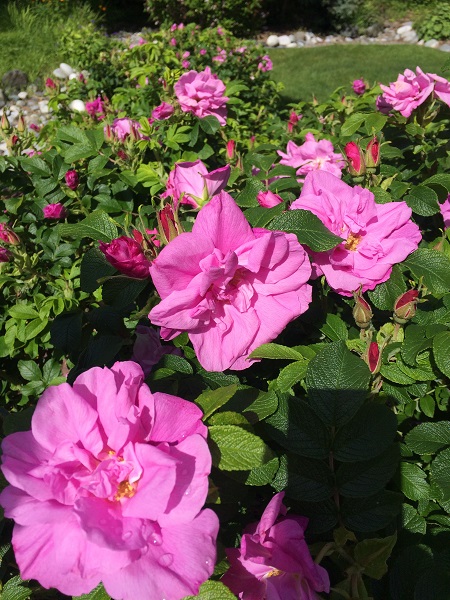 Rugosa Rose (want some rose hip tea?
Also last week, Illiniwek had some pond advice:
on the pond ...last week someone noted that fish would probably control the mosquitoes. Seems to work for me.

There is probably some formula for size of pond and how many acres your land should drain. My little ditch became a pond, drains about 25 acres. It must depend on how much rainfall you get as well. Probably need to drain at least 12 acres for a one acre pond, around here.

Assuming they are hiring someone to do the work, that bulldozer person would have a decent idea on site requirements. One neighbor of mine put one in and she only had seven acres of drainage ... never held enough water. Hitting rock can also mean the pond would leak ... there are some solutions for that too .. it all depends on the site.
You remember that Illiniwek has a pond, don't you?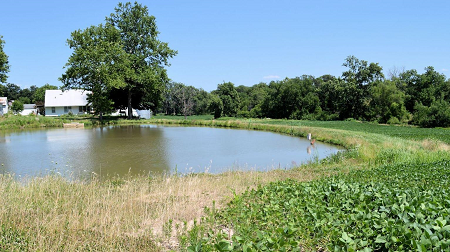 The Edible Garden
I liked NaughtyPine's comments from last week:
While I was away in a cabin, the zucchini and delicata decided to make a run for it. Vines everywhere, but not much squash started.

I introduced myself to the new over-the-fence neighbors and invited them to take the ones that are on their side of the chainlink fence.

As of today, the big producer - that stayed in a nice mound formation - is the Black Beauty zucchini. Three last week, one today. I also picked a small delicata because I have a taste for it today.
Can't put in all of the comments from The Famous Pat*, but:
From Idaho's Treasure Valley, Boise area: We've realized that we can plant the little onion starts they sell for green onions, leave them most of the season, and they'll turn into something, well, *almost* like real onions. They don't have the papery skin of yellow onions, and I doubt they'll overwinter, but the bulbs are large enough to cover at least part of our onion usage.

I'm continuing to feed the last leaves of bolted lettuce to my neighbors' chickens, but this is probably the last week of doing that. (The escape artist chicken had her wings trimmed, so now she stays at home instead of visiting our backyard!)

We're still harvesting bush green beans, and the second variety of corn (we think we'll increase the percentage of this one next year compared to the first variety, because the plants look stronger and are more productive). The red raspberries are starting their main summer season.
40 miles north grew some San Marzano tomatoes from seed. A challenge. Ready for pizza?
I think I grew 16 of them from seed, and replanted 15 when they looked healthy enough. These were two of the more successful plants: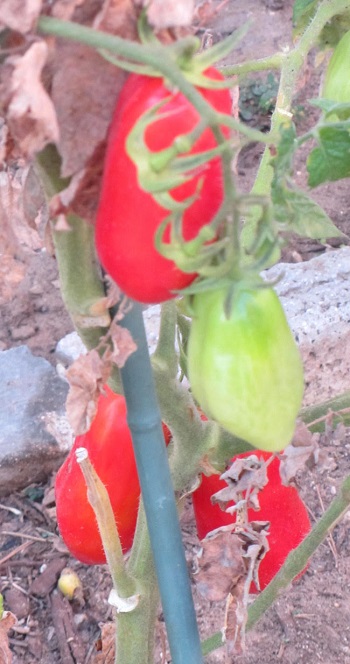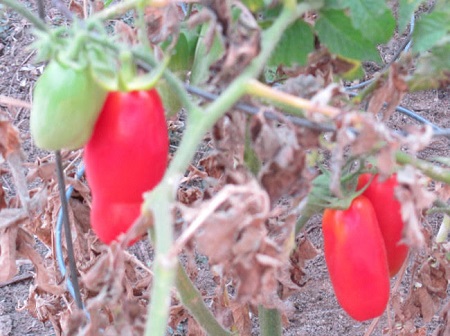 Gardens of The Horde
Here in the Central Valley of California, we're mostly staying indoors, although I did extirpate some late goatheads early in the week, before the wildfires made ti too smoky to do much of anything. They were not on our property, but rather on city property, where they popped up after the fire hydrant was flushed. Used a shovel and a bucket. Interesting that you usually get a cluster of taproots when you dig up what looks like one plant.
What weeds have you been battling?
I took a photo. True to life. There are nicer ones here. Including close-ups. With descriptions of the problems they can cause for people, pets and bicycle tires. Tribulus terrestris, AKA "puncturevine". Hate them.
"Don't let them go to seed!" Easier said than done. Once you see flowers (in the morning) you probably have seeds, too. They seem to sprout after most weeds around here, but mature fast!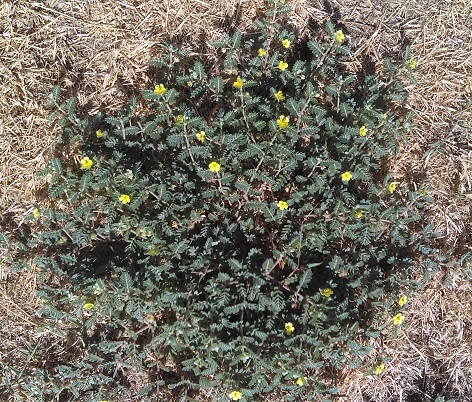 Here's a nicer photo from our friends. For salsa. Got a recipe?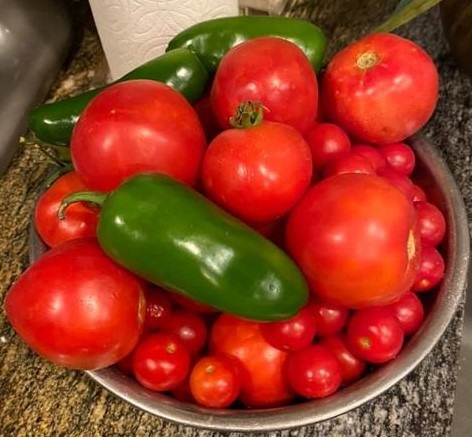 Found a photo from the "garden" part of Illiniwek's farm, from July:
Sunflowers are mostly blooming, and a variety of deer resistant flowers.

Some cantaloupe look good center left.
Hope you got to harvest some, Illiniwek!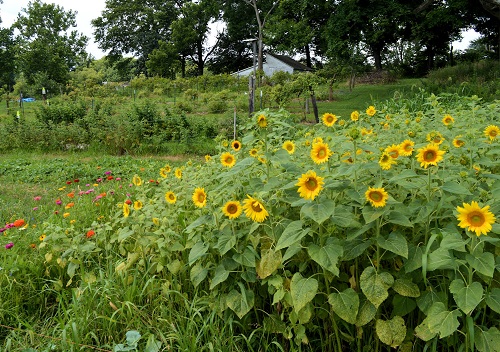 If you would like to send information and/or photos for the Saturday Gardening Thread, the address is:
ktinthegarden
at that g mail dot com place
Include your nic unless you want to remain a lurker.

posted by Open Blogger at
01:25 PM
|
Access Comments