« Saturday Gardening and Puttering Thread, August 22, 2020 [KT]
|
Main
|
Saturday Afternoon Chess thread 08-22-2020 »
August 22, 2020
Ace of Spades Pet Thread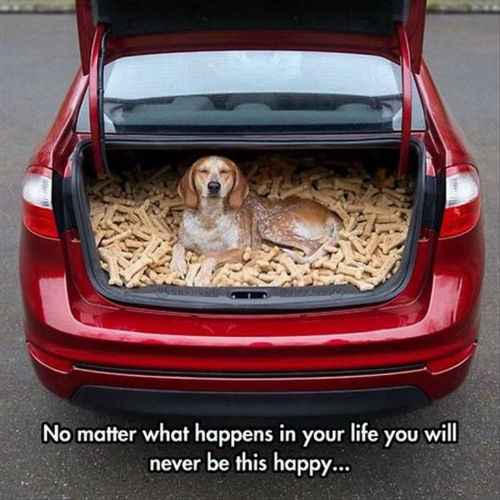 Good afternoon, welcome to the almost world famous Ace of Spades Pet Thread. Why not slack off for a couple of hours this afternoon and enjoy the world of animals.
***
A Little of This. A Little of That.

Quite the voice............

(H/T Miley)
***
Meet The PetMorons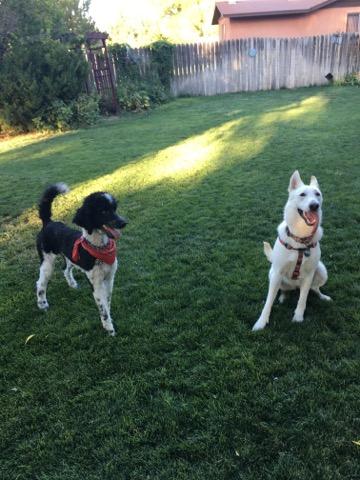 My daughter's white shepherd, Sunflower, and my Irish tuxedo poodle, Charlie. They've been best friends since puppyhood. -Anonosurus Wrecks
Not only are they cute, they also appear to be quiet the trouble makers. Great photo. Thanks for sharing.
***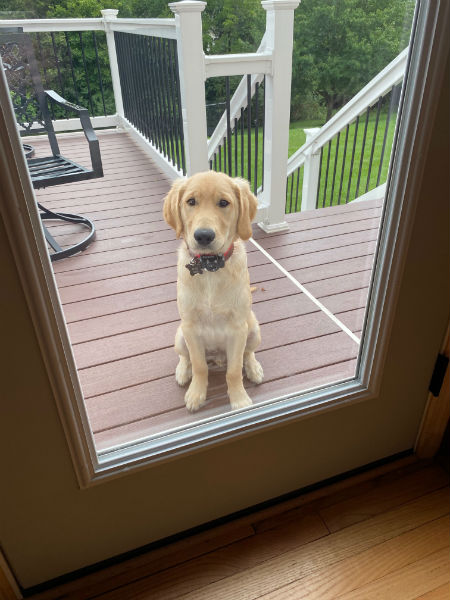 This is Riggs. He is our first Golden but probably not our last. He's been a dream to train and is oh-so-friendly. We wanted a companion for our older Cavalier mix Cooper, who's been featured here before, so the quarantine seemed like a good time for a puppy. I love the Pet Thread and have lurked daily at AOS since 2010. Thanks and keep up the great work of sharing fellow morons' great pets!

Beck P

I can hear Riggs now, "C'mon out and throw the ball for me Mom!" Puppies are just too cute. Thank you for your lurking and your submission today.
***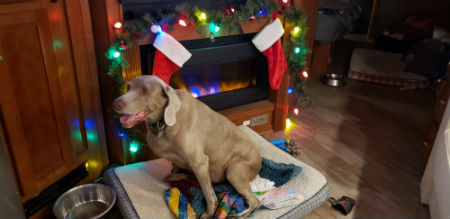 This is our pup Abby, taken in front of our fireplace in our rv. I have shared pictures of Smokey but never Abby. She has had a tough year. First Smokey went to the rainbow bridge, then she fell down the steps of the rv injuring her back and legs, then got bitten on the foot by what the vet said was probably a brown recluse spider. She had surgery 2 weeks ago and I took the stitches out and she's feeling much better. She's 12 so I hope her year gets better for her. She is my constant shadow and I love it. Thanks for letting me show her off. - Peggy

Awww, that poor pup Abby has had it rough lately. Many happy trails for you folks as you travel in the RV. Thank you for contributing today.
***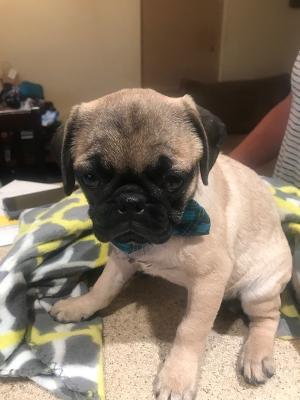 Hello Mis...you may recall some weeks ago I sent in a pic of my daughter's two Huskies (Hank and Nadine) that are temporarily living with me...you were kind enough to post it...I showed it to my daughter and her hub, along with your comment along the lines of "who says you have to give up the dogs when they move out?" Well that thought musta struck a chord with them, because a few weeks later they brought this little guy home for me...the 3 kids and their spouses had a naming contest and my son's "Pugsy Siegel" won out (it's funny if you know your Mafia history)...it took a few days before Hank and Nadine realized he wasn't a squeak toy, but between my own Big Dog Bark and my Patented Stink Eye, they have have now adopted him. He is a total, lovable goof-hoot! Cannot thank you enough for "stimulating" my kids into this! Keep up your fine work here, Mis!
Lurker PatrickS...

Oh my PatrickS, somebody listened to me? Well, now I'm disappointed you didn't name that cute little guy Misanthropic Pugalicious. Oh well, maybe next time. Glad you have a new buddy.
***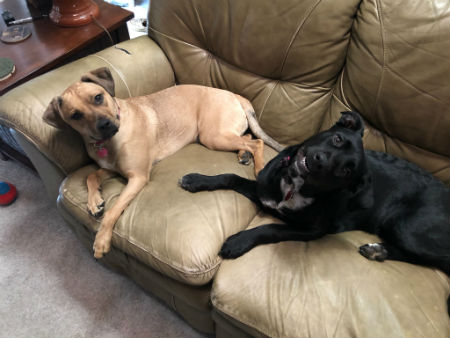 Mis Hum,

Long time lurker and really enjoy the Pet Thread. These two lovely ladies are Jolene and Peach.

My wife and I rescued Jolene from a shelter in the Midwest in early June. She is a 10-month old Pit/Boxer mix with a few other varieties thrown in for good measure. We've been without any dogs for a couple of years since we had to put our last two down due to illness. My wife retired last year and really wanted a companion to share her day with since I continue to work. Jolene is the most laid back dog we have ever owned. She loves tossing her rawhide chewy up and then attacking it.

Peach is our daughter's dog. They live in Georgia. Peach was rescued in March from a Georgia shelter. She is an 8-month old Lab/Rottweiler mix. Jolene and Peach just spent a week with us and Peach thinks Jolene lives at a dog park because of our fenced-in yard. They never stopped playing the entire week. You can see how happy Peach is by the big smile.

Great job on the Pet Thread, it's a nice break from the insanity we are currently living in. - PirateDogz
What a wonderful story for both of those pups. They certainly seem very happy hanging out on the couch together. Thank you for being a lurker and contributor. I also appreciate your kind words, "Thanks".
***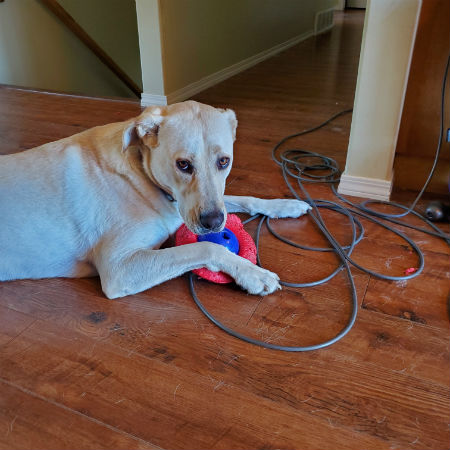 Hi MisHum
This is why I call her Paisley the Destroyer. Indestructible toys are barely an inconvenience to her

I know you've run lots of pics of Paisley.
Love the pet thread. - Northernlurker

I just run photos in the order I receive them. Besides, it's always fun to hear about Paisley. Thanks.
***
MisHum,

Here are our two girls Poppy, the Golden Doodle on the left and Mouse the Labish rescue something or other on the right. Poppy is 2 and very much still a puppy. Pure energy until it is nap time. She delights in harassing Mousse for entertainment. Mousse is 11 and is tolerant of her younger sister…to a point.

Thanks for the thread. Long time lurker. Mike.

Two good looking dogs you have there Mike. For the pose did you hold a T-R-E-A-T in front of them. Thanks for lurking and coming in out of the shadows.
***

Fantastic critters today. Thanks PetMoron owners for contributing today. If you have something you wish to share with us here, reach out to petmorons at gmail dot com.
Have a great week!!!

posted by Misanthropic Humanitarian at
03:00 PM
|
Access Comments