« Saturday Morning Coffee Break
|
Main
|
Saturday Gardening and Puttering Thread, August 22, 2020 [KT] »
August 22, 2020
Displacement [KT]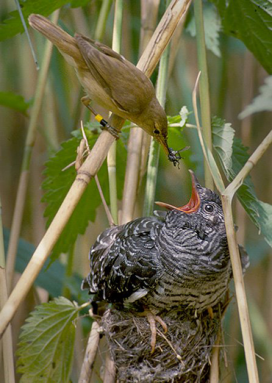 Displacement by a cuckoo chick
I found an interesting little piece, an editorial, in the "Powerline Picks" yesterday. There have been several notable examples of displacement in our politics and culture lately:
The title of a book by Pierre Manent, Democracy Without Nations, cuts to the heart of the European Union's folly. The day may soon be coming when someone has to write a companion volume about the United States called Democracy Without Community. Place has always been the organizing principle in American self-government. This is true in a formal sense, with the country divided into states and localities with governments of their own. But it has also been true in an informal, cultural sense: different places have had different personalities and have held different conservations with themselves, most often through the medium of local newspapers. In 1840, Alexis de Tocqueville famously observed in the second volume of Democracy in America:

The number of newspapers must diminish or increase among a democratic people in proportion as its administration is more or less centralized. For among democratic nations the exercise of local powers cannot be entrusted to the principal members of the community as in aristocracies. Those powers must be either abolished or placed in the hands of very large numbers of men, who then in fact constitute an association permanently established by law for the purpose of administering the affairs of a certain extent of territory; and they require a journal to bring to them every day, in the midst of their own minor concerns, some intelligence of the state of their public weal. The more numerous local powers are, the greater is the number of men in whom they are vested by law; and as this want is hourly felt, the more profusely do newspapers abound.
The consequences of America's recent trend toward displacement are thus far-reaching indeed. Social media is not place-based the way newspapers were. Walmart and other vast national chains were once the nemesis of localists, yet now the retail economy has become even more placeless with the rise of Amazon. COVID-19 has shown that information-economy employment also has little necessary tie to geography. And the virtual economy has been the less vulnerable economy amid the pandemic crisis. . .
The identities of identity politics are not localized and cannot fit the pattern of traditional American self-government. Perhaps unsurprisingly, progressives now call into question not only the Electoral College but also the principle of equal representation in the U.S. Senate. And when they refer to the "popular vote" in House elections, what they mean is not the vote in each congressional district, but the overall national vote for one political party or the other.
Antifa didn't do so well at Sturgis. No wonder they don't want localized interests heard. Back to our editorial:
Democracy as Americans have known it is impossible without localized politics because without such politics there are no channels through which to convey the great multiplicity of thoughts, interests, and values that matter to the public. To put everything in one venue, with more than 300 million people in the country, amounts to trivializing most voices, and empowering only the most organized, powerful, and media savvy. The result of that, as Tocqueville would have expected, is both centralization and atomization, frustration and hopelessness, and administrative tyranny. It encourages talk of secession, though secession itself is meaningless without the organization and personality of place.

All is not lost--even in Europe, nations have proved willing to reclaim democracy. America needs a Brexit: secession not from the Union but from the displaced bureaucracy and progressive church.
Secession. Hmmmm.
The editorial above is short. You should probably read the whole thing. What do you think? I think we don't pay enough attention to local politics. One thought: maybe we should all check to see if there is a candidate for district attorney in our local district who is backed by money from George Soros.
Displacement by "philosopher activists"
Mike Nayna is the Australian filmmaker who did documentaries, available on YouTube, on the Grievance Studies hoaxes and on the Evergreen State debacle.
This week, he wrote the Twitter thread linked at the section heading above comparing postmodern identity politics "philosopher activists" to cuckoos and their chicks:
Liberal institutions across WEIRD society are going through an ideological coup set in motion by philosopher activists. Observing these organisations succumb to teleological capture I'm reminded of the Cuckoo. Thread.
WEIRD society = Western, Educated, Industrialized, Rich, And Democratic.
A Cuckoo lays its egg in the nest of another species. In this analogy, a postmodern activist is employed by a liberal organisation. Like a Cuckoo egg, the postmodern worldview looks enough like the liberal one for it to go unnoticed. 2/6
The postmodern activist's worldview, much like the Cuckoo, is designed to extirpate competition. Other perspectives are by default immoral & colleagues are shamed into conversion, silencing themselves, or leaving the organisation. 3/6
There's a remarkable little video here, at the Twitter link, comparing the behavior of a cuckoo chick to behavior of activists at Evergreen. There's another showing the "begging behavior" of cuckoo chicks (students).
Eventually what you're left with is a shell organisation that has diverted its attention from its primary functions to the cultural engineering enterprise of philosopher activists. 6/6
I got a tip from a friend that this was a lot like "Entryism". Here's a little BBC piece on Trotskyists. It includes some information on "Entryism" in the UK, with a guest appearance by Vanessa Redgrave:
The "entryism," or "entrism" as it is sometimes called, that Mr Watson and others have warned about is the practice of entering another group, taking it over, and using it as a way to gain power.

Trotsky himself advocated entryism, advising his British followers, in a 1936 letter, to form a "secret faction" in the Labour Party to push his revolutionary agenda.
The practices of the new "philosopher activists" seem to me to be more advanced than Trotsky's model.
Other forms of displacement
I can think of some other disturbing examples of displacement which are evident in our politics and culture today. How about you?
This is the Thread before the Gardening Thread.
Serving your mid-day open thread needs
Hope you have a good weekend. Maybe you could visit with a neighbor for a while.

posted by Open Blogger at
11:17 AM
|
Access Comments