« Saturday Morning Coffee Break
|
Main
|
Saturday Gardening and Puttering Thread, August 8, 2020 [KT] »
August 08, 2020
Race and (Trans)gender, Race and (Trans)gender [KT]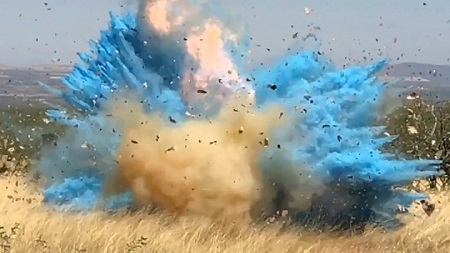 It was only January when we first posted the photo above of a gender reveal that went too far. Since then, there have been many other instances of people going to far regarding race and gender. There is one bit of good news. We need it.
Going too far: Race and Music Theory
This is happening at the University of North Texas College of Music:
UNT's Journal of Schenkerian Studies is under investigation following calls from around the country for it to be shuttered and for one of its advisers, UNT music theory professor Timothy Jackson, to be fired. The journal's sin? Following criticism by scholar Philip Ewell that 19th century music theorist Heinrich Schenker, whose influence on music theory is "hard to overstate," was an "ardent racist and German nationalist," the journal presented an edition including debate among scholars on racial issues and music theory. . .

The graduate students claimed that Jackson had used the journal "to promote racism" by defending the music theorist after Ewell wrote that Schenker's "racist views infected his music theoretical arguments." Jackson's article, one of several defending the composer in the 2019 edition of the journal, contextualized Schenker and his changing views on race, which were partially due to the rise of Nazi Germany. (Schenker was Jewish; his wife was arrested by the Nazi regime and died in Theresienstadt concentration camp.)
You can now cancel a college professor for suggesting that music theory (based on writings of a Jewish guy whose wife died in a Nazi concentration camp) is not as white supremacist as another college professor claims?
How did we get to this point? Of course, "cancel culture" has been going on against conservatives for a long time, but it's kind of a new thing to see liberals and leftists suddenly becoming targets.
Critical Social Justice
Helen Pluckrose is one of the liberals involved in the series of hoax studies which was intended to reveal the corruption of the field of "grievance studies". Late last month, she did an interview for Spiked in which she discussed the dangerous explosion of critical social justice. She did a brief synopsis of how this ideology developed:
These ideas arose in the late 1960s, when people from different disciplines suddenly started saying they were sceptical of meta-narratives, that knowledge was a social construct, and that language could not convey meaning reliably. There was a critical attitude towards everything we thought we knew. This was a really aimless development, because if you do not believe language can meaningfully convey anything, you cannot really use language to change anything. As a result, this movement burnt itself out by the middle of the 1980s.

But around 1989 there was another flood of new writing, in which people . . . all started saying postmodernism had some useful tools, but was not very good for activism. There had to be some kind of objective truth, if we were going to say certain people in a certain place are disadvantaged. They all wanted to use the idea of social constructivism, but also identified power structures that they felt were objectively real. That was a dramatic change. Then came intersectionality, queer theory, critical-race theory and later disability studies and fat studies. . .

. . . We have gone from a scepticism towards meta-narratives to a social justice meta-narrative. And that has been escalating, particularly in the last five years, and especially this year.
spiked: What are the most revealing examples of this trend?

Pluckrose: One key example is cancel culture. We have had all these different marginalised identities for a little while. But in the last year or so, things have been refining, and now we are really looking at two key identities. Activists are not so worried about women as a sex anymore. This is evident from all the Karen memes. Similarly, activists feel gay men are not consistently being intersectional, and have lost some of their interest in the gay identity cause. What we have ended up with is race and transgender.
Ed Driscoll picked up a sensible point from The Dispatch this morning. It focuses on the Washington Post's decision to capitalize both White and Black as "distinct cultural and ethnic groups". Totally binary.
At some point in the future people will look back at how the left made two contradictory arguments at the same time. When it comes to sexual identity, the word has gone forth to oppose "artificial" categories, "false binaries," etc. People can define themselves sexually without any regard to medical science, never mind tradition or political or cultural orthodoxy. I've lost count of how many genders there are now. Just last week, CNN was so scared of using the word "women" it tweeted that "Individuals with a cervix are now recommended to start cervical cancers screening at 25 ..."

Meanwhile, when it comes to race, it's all about new artificial categories and enforced binaries. White people who pretend they're black are committing theft. Heck, white people who cook non-white food or pay homage to non-white art forms are committing theft. Cultural appropriation is evil. But gender appropriation is something to be celebrated. Biological males can collect all the women's track and field awards and that's fine. But don't you dare wear dreadlocks if you're not black? . .
A little good news on the transgender front?
There may be some signs of actual thought about this issue coming from the UK, reported in Quillette. It's about time:
In recent months, a sense has emerged that the tide might finally be starting to turn in the gender debate: Things that most everyone believes to be true, but that no one has been allowed to say, are now increasingly being said by writers, lawmakers, and litigants.

Certainly, the battle is still far from over. CNN is referring to women as "individuals with a cervix." Last month, J.K. Rowling was trolled yet again for stating ordinary views about men and women (though thankfully, the media is no longer getting away with defaming her). And best-selling children's author Gillian Phillip has been sacked by her publisher, Working Partners, because she added the hashtag #IStandWithJKRowling to her Twitter bio. But at least now, in mid-2020, these acts attract growing criticism.
J. K. Rowling did take some heavy hits recently. Some of them quite hysterical, to use an old sexist term. Someone wrote that her transphobia put me in danger.
"Transgender women are women," he wrote. "Any statement to the contrary erases the identity and dignity of transgender people and goes against all advice given by professional health care associations who have far more expertise on this subject matter than either Jo (Rowling) or I."
NPR suggested that her tweets made the magic of Harry Potter fade. And the NYT suggested that fans try to reimagine Harry Potter's world without its creator.
Back to the Quillette piece. The author, Julian Vigo, does an overview of how thinking about transgenderism got so extreme. Very much worth reading. The ACLU has not been the friend of the American family on this issue. The universities have not been the only culprits.
Then come some signs of change:
That's why it's significant that the website of Britain's National Health Service (NHS)--the umbrella group for the country's publicly-funded healthcare systems--has removed the prominent, once-numerous references to Mermaids from its online materials. Mermaids is a charity that has long identified its constituency as "transgender children" and their parents, but which long ago focused on pushing for the most rapid possible transition of the highest possible number of children, with the fewest number of safeguards. As the notorious case of a seven-year-old boy who was removed from his mother's care shows, there really seems to be no line the group won't cross in this regard. (One particularly memorable Mermaids moment came when the organization promoted an article on transgender children supposedly written by two academics named Natacha Kennedy and Mark Hellen. It later turned out to have been written by a single person, who, bizarrely, then appeared under two different names on the Goldsmiths University of London website--one male, the other female, naturally.)

Look for any mention of Mermaids today on the NHS site, and you're likely to find the pages are gone. The BBC, too, seems to have wiped away references to Mermaids from its list of "Gender Identity" "Information and Support" resources, which listed Mermaids prominently until last month. This has unfolded during the same period when the Tavistock and Portman NHS Foundation, which provides mental-health services to children, is facing a lawsuit from a former patient who says she was rushed into an aggressive, and ultimately destructive, program of hormone therapy. A former psychiatric nurse at Tavistock is making related legal claims, alleging the provision of drugs to children as young as nine. Numerous clinicians have resigned in protest at such policies. And it may be the case that lawyers at the BBC and NHS are simply seeking to protect their clients from legal exposure.
LEGAL EXPOSURE. That seems to me to be a key to the change. But there is much more. Changes have been occurring on several fronts. Take a look.
Which brings us back to J.K. Rowling, who recently responded to an article describing women as "people who menstruate" by Tweeting, "'People who menstruate.' I'm sure there used to be a word for those people." The fierce onslaught she received has served as a wake-up call, even for those who have not been following the debate closely.

In a culture war, which side are you going to pick--the beloved children's author tweeting common sense, or the angry mob demanding that women be defined in language according to their bodily discharge? It's what some feminists now look back on as their "peak trans moment"--that instant when you realize that we are being gaslit by extremists who rely on hyperbolic language, pseudoscience, exaggerated suicide statistics, and social-media mob campaigns, all the while pretending to represent the forces of universal love and toleration. . .
The way this struggle has developed has been so stupid. I saw some of the recent attacks on Rowling myself on social media. They attacked her even for her responses to attacks on her.
It's not over . . .
Gendered dancing:
Hope you have a good weekend. Considered cutting a rug?
This is the Thread before the Gardening Thread
Serving your mid-day open thread needs

posted by Open Blogger at
11:16 AM
|
Access Comments