« First-World Problems...Part Hemeretzi
|
Main
|
Gun Thread: Post Hurricane Madness Edition! [Weasel] »
August 09, 2020
Food Thread: Food Thread...Food Thread...
I've never been a fan, for many reasons. First of all, those skewers get hot, or if you use wooden ones they burn. And why jam all of that food together and miss out on the best part of the grill...the smoke and flame hitting the food...on 1/3 of the surface of the food? It doesn't make sense. And then we arrive at the silliness of cooking all of that stuff together, for the same amount of time with the same amount of heat. This is not cooking; this is laziness.
But the photo is gorgeous, so what the hell...
That's the problem with a lot of the food photography that I find on the internet. It's of food that doesn't interest me much, but it looks so damned good that I am tempted to use it anyway. And the alternative is to take my own photographs, but as many of you (Bluebell!) love to point out, half the time they are upside down.

******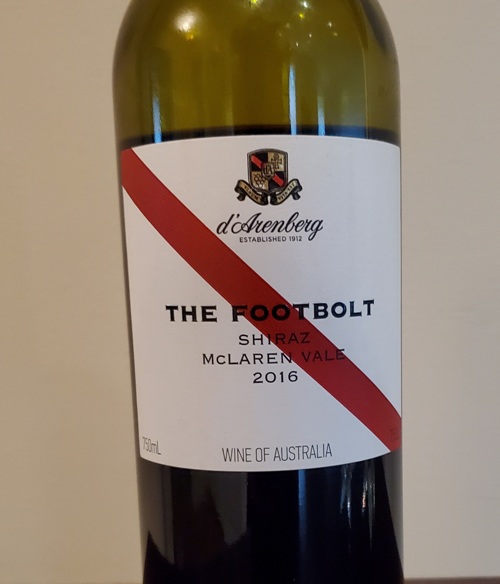 I have been touting Australian wines for years, and my luck ran out. I read the reviews, which described this wine as a pretty standard Aussie Shiraz, which is definitely in my wheelhouse. So I bought four bottles, figuring that it would be pretty much just like the other 1,000 bottles of Australian wine I have drunk, which means big and fruity and pleasing to the palate.
But this one was crap. On the thin side, with way too much tannin and not nearly enough fruit. But I figured that the first bottle was an anomaly, so I opened another a few nights ago. And much to my chagrin (talk about first-world problems) it was just as crappy as the first one. I'll struggle through it, because it is drinkable, especially with food, but I am going to steer clear of this winery for a bit.
The worst part of this sad and tawdry story? I think I bought a bottle of this a few years ago, and didn't like it much. But I failed to document it and promptly forgot. That's the trouble with having thousands of wines at our fingertips...how do we differentiate; how do we keep track?
I have a wine cellar management program, but I rarely use it because the last thing on earth I want to do after dinner is run over to my computer and update the database.

******
Miley brought up an interesting point.
I was reading an old Nero Wolfe mystery last night (as you may recall, he was an epicure and had a world-class chef). One of the dishes included chervil. I haven't seen any mention of chervil in decades (I last used it in a bearnaise sauce in the early 80s, before the days of internet recipes. I think it was from The Women's Day Encyclopedia of Cooking, or the Time-Life Books cooking series, which is where I got most of my recipes back then).

Some herbs and spices wax and wane in popularity, don't they? Have you come across any recipes lately that call for chervil?
I'll answer the question first, and get to the interesting observation later.
Chervil is sort of gross, and just like Miley, the last time I used it was in a Béarnaise sauce a long, long time ago. As I suggested to Miley, I think that Béarnaise was invented just so that some chef could gt rid of all of that chervil in his garden, since nobody wanted it anywhere near their food otherwise.
But the waxing and waning of herbs and spices, and to extend it further, liquor and wine varietals and foods, is driven by lots of things, most of which are fickle. Sure, some foods become popular because producers figure out how to grow it more cheaply and get it to market faster. And some things become popular out of necessity and smart marketing. Look at Chilean Sea bass! Patagonian Toothfish was a garbage fish that nobody wanted, but the fishing industry was running out of product and figured that renaming an ugly looking prehistoric monster would give them a shot at selling some of them.
Yup...I have no idea.

******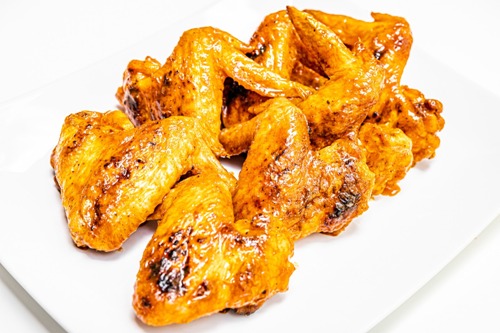 I like wings. Every flavor, every different preparation is fine with me. As long as they aren't overdone I will eat them, happily and messily. Cooking them is another issue entirely. I have pretty much stopped frying stuff because I just hate the mess. I will fry the occasional chunk of fish for tacos, or some breaded thing like Scotch Eggs (Love 'em!), but that's really what restaurants do well, and I am happy to pay them for the pleasure of them cleaning up after the fry cook.
So Grilled Chicken Wings sure does sound like a good idea. It's nothing earthshaking, so don't get too excited, but it seems like a solid recipe, so I'll try it and get back to you, unless I forget, like the wine.

******
I tried maple syrup on a grilled pork chop. SHUT UP! I usually Sous Vide pork chops (the thicker the better) and then coat them with a Dijon mustard glaze and finish them on the grill. But a few nights ago the chops I bought weren't very thick, and I wanted a bit more sugar in the glaze so that they would caramelize quickly and not overcook. So I used maple syrup on one of the chops, and it did indeed caramelize nicely and quickly. But it didn't taste nearly as maple-y as I expected.
******
I love what they call this
Ground Pork Stir Fry
dish in Taiwan..."flies' heads." it looks great, and it looks easy. Too much of what passes for Chinese cooking is unnecessarily complicated, with too many ingredients. I like this dish because it is simple and ingredient driven.
******
I was at a loss for cooking ideas last night an stumbled past the poultry display case at my local Whole Foods. And before you pillory me for stepping foot in one, the prices have come down considerably, and with the recent closing of my favorite supermarket (a victim of Sino-Lung-AIDS and lousy management), it has become much more difficult to find good stuff!
Anyway, I bought a roasting chicken, mostly without thinking. It was a big one too, and when I grilled it (at low temperature) I realized that it was just a bit too long in the tooth for anything other than a liquid braise. The meat was neither tender nor pleasing texturally, and while it was certainly a relatively good meal for certain definitions of "good," in the future I will avoid fast cooking techniques for big chickens like this one.
And now for a chaotic segue...I ate this monster and immediately thought about buying a truly old chicken from lmy local poultry farm and making Coq Au Vin. That is a perfect dish for an old and tough chicken!

******
Food and cooking tips, Large-breasted Muscovy ducks, young wild pigs, bartenders who use vermouth in Martinis (but not too much), pork belly that doesn't have 5-spice, low-temperature-roast chicken, and good tomatoes that aren't square, pale pink and covered with Mestizo E.coli:
cbd dot aoshq at gmail dot com
. Any advocacy of French Toast with syrup will result in disciplinary action up to and including being
nuked from orbit.
And yes, shaking a Manhattan is blasphemy...it's in the Bible!

posted by CBD at
04:00 PM
|
Access Comments