« Food Thread: Good Bars, Scotch Eggs And Panda Hash
|
Main
|
Sunday Overnight Open Thread (8/2/20) »
August 02, 2020
Gun Thread: Nagging You to Practice Edition! [Weasel]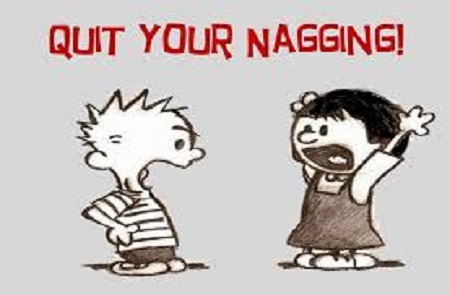 The heat wave on the East Coast has let up a little, and now the problem is rain. Lots of it. And if the hurricane rearranging things in the Caribbean makes good on the forecast to track up the coast, then we're in for a bunch more this coming week. So the excuse for not getting to the farm and making a new video this week is going to be the rain. There is still, however, mucho gun stuff of which to speak, so let's get to that below, shall we?
WeaselRule 1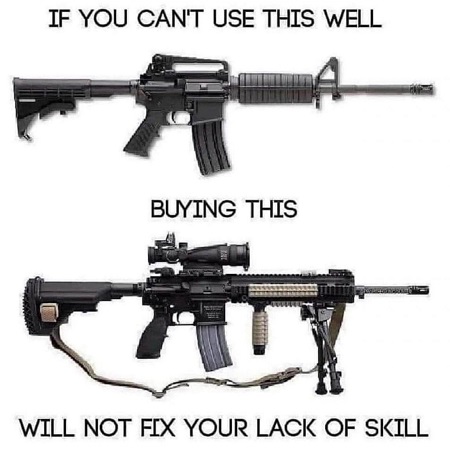 Second only to buying ammo, one of my favorite topics for nagging you guys and gals is about practice, and no, I'm not going to stop. By now you may have noticed a recurring theme on the ol' Gun Thread is going to a range and practicing your skills, and a very large part of the buy ammo business is so you will have something to shoot when you get there. Another is practicing with a purpose and an objective.
You may also have noticed that I am not a big proponent of going to the range and then only plinking at a static target. It's fine to do that on occasion to practice fundamentals, but unless your ultimate goal is to convert money to small groups at a fixed distance on a stationary target you might not be accomplishing as much as you think you are, and it's likely not going to prepare you for using a weapon for self-defense. It's not to say that it isn't fun, but it shouldn't represent your entire training program. You need to start with good fundamentals and then practice with practical applications in mind. You need to practice whatever you want to be able to do with a weapon, and plinking does not equal the stress and movement likely to occur in a self-defense situation. Again, if your goal is to earn a spot on the U.S. Plinking Team then you're well on your way. If your goal is to have both a hobby and to acquire the skills necessary to protect yourself and your family and your stuff, then a little bit more is needed.
Our pal MikeCLT recently sent in some thoughts for the first time buyer's guide, and I since it illustrated what I'm talking about perfectly, I'm including it here this week:
I started shooting about 2-1/2 years ago. It is something I do with my son, now 15. We both greatly enjoy shooting and hunting. My son started a sporting clays club at his HS this year. Today, we spent the day doing chores at the hunt club we joined two years ago. Shooting is something that brings my son and I together. The responsibility of handling a gun also greatly aids maturity.

I don't claim to be an expert but the following is based on my experience learning to shoot.

If you are a new shooter go take instruction from a good range. My son and I took the NSSF First Shots course. Safety must be a priority. We actually had safety competitions when we were shooting. If either of us violated a safety rule, i. e., trigger discipline or pointing gun down range at all times, we forfeited a turn to the other. As you can imagine, my son was happy to catch his old man and take his turn. But more importantly it made us cognizant of safety at all times and helped us develop good range and gun habits.

I also strongly suggest new shooters take lessons. It really helps you to figure out what you are doing wrong. Take a course that gives you a practice routine for a few months. Never be afraid or embarrassed to ask questions. People at the range are happy to answer your questions and to help you become a better and safer shooter.

As you tell your readers, Practice Practice Practice. And practice with a purpose.
Thank you MikeCLT! It's great to know people are listening!
So, training and practice. MikeCLT has addressed both. He sought out training opportunities and practiced what he learned, all while having fun and spending quality time with his son. Training doesn't need to be a huge time or economic commitment, either. There is almost no limit to the classes you can find, from beginner to advanced, in cities around the country. Virtually every gun range, and certainly all those I'm aware of, offer some level of shooting instruction. Are you in a shooting rut? Do you feel like you have reached a plateau and are no longer improving? Why not take advantage of local training opportunities and sharpen your skills? I will tell you the reason I began match shooting at the club level in the first place was because I was getting lazy and complacent with shooting at long range. I'd barely nick a target at 500 yards and tell myself that was good enough. Bullshit. You cannot hide from a poorly executed shot when the target comes up.
When I was coaching I often worked with promising shooters either new to competitive sports, and sometimes those just beginning to compete at the national level. Many had a fair amount of previous experience and were ready to up their game. Almost without exception, they seemed to think I was going to give them some secret formula, or magic beans, or my lucky rabbit's foot and transform them overnight into a world-class competitor. Most were disappointed to learn that although there were some things we could work on together, or gear they might think about upgrading, it really came down to solid fundamentals and practice. It's never a popular message, but if you want to be good at anything, you must be willing to devote your time and energy to pursuing it. Reading gun blogs (this one is OK) and stopping by the range semi-annually for a half hour and 50 rounds isn't going to get it.
Getting started on the right foot is key. The best money you will ever spend is in not acquiring bad shooting habits in the first place. After your fundamentals are solid, start training to a standard and with a purpose. Set goals and keep track of your progress. Score your own targets and record the results. Review your previous scores at each range session and try to beat your personal best. Never stop practicing.
I am not advocating shaving your head and dressing in robes and devoting your whole life becoming the world's greatest shooter. I am, however, suggesting you practice and to practice with a purpose. Figure out what it is you want to do with your shooting hobby, and then practice that. If you want to be a competent shooter and be able to defend yourself with a gun, then you need to practice moving and shooting.
******
Have I Said Enough on Practicing With a Purpose? No.
Last week we talked about ways to practice more dynamic shooting skills, and the International Defensive Pistol Association, or IDPA, and the United States Practical Shooting Association, or USPSA, were mentioned. Again, I am not beating this particular dead horse (sorry, Ben Had!) to turn everyone into a competitive shooting nut, but I think this is an excellent way to accomplish much of what I am talking about with very little investment other than some time, and to have a little fun in the process.
Don't just believe me, here we have our very own pal blake demonstrating what an IDPA match is all about.
Beginning to see the difference? Moving, shooting, reloading, all with an audience and a timer. It incorporates many of the self-defense elements in which you need to demonstrate proficiency.
A company I use from time to time for reloading supplies is Widener's Reloading and Shooting Supply and they have a good article on the basics of IDPA and USPSA programs.
Again, I realize not everyone has a place to shoot on their own and are at the mercy of what's allowed at a public or private shooting range. These places are businesses and by the very nature of the service they offer, must protect themselves from the inherent risk and liability associated with shooting sports. It's no wonder many do not allow even drawing from a holster by the general public. The very same places, however, will often host IDPA and USPSA matches with the appropriate additional liability releases and range supervision. If you want to improve your skills, then I strongly encourage you to add practical instruction and training to your range time. If you can simply get past the initial performance anxiety, I can almost guarantee your shooting will improve. And once you get started, it's fun!
******
A question I must get at least five times a week is:
"What will happen if I use a hose clamp to fix a live .50 BMG round to a post and then shoot the primer end with a .22? Also, please provide the answer in Spanish."
Well I guess it's time to finally answer the question, in Spanish, and put the matter to rest.
Happy now?
******
Our pal and frequent Gun Thread contributor redc1c4 sends this explanation of the difference in Direct Impingement and Piston Driven AR systems, helpfully titled Direct Impingement vs. Piston Driven AR-15 from Classic Firearms.com
Nice, concise explanation! Sort of a "same thing, only different" kind of dealio. Thanks redc1c4!
******
Our pal Deplorable SOB Van Owen shares an NRA American Rifleman article on Royal Tiger Imports
Very cool! Thanks Deplorable SOB Van Owen!
******
Guess who went to the range! Why, our pal WTM went to the range! Actually he went to the range some time ago, and I forgot to post his trip report. Sorry! Anyhoo, let's take a peek and see what he's been up to.
In retirement, I had planned on going to the range at least once a week, but that hasn't worked out so well for me due to a panoply of health issues. Memorial Day weekend, I wrenched my back and was hors de combat for all things firearms until this last Thursday, when I could again endure the 45 minute drive to American Shooting Center in NW Houston. And sit upright at a shooting bench.

This trip I took only long guns - a Savage Axis .308 and a Ruger AR-556. The Savage came with a 3x9 Burris scope, which the gun shop, Carter's Country, bore sighted for me at time of purchase some few years ago. And here my troubles began.

To a shooter, there are few things more infuriating - and embarrassing - than to repeatedly not be able to get on the paper at 50 yards, but that is what has happened with me and that rifle until this last week. I've been out with it numerous times and had never been able to register a hit with it - and this from someone who's been shooting long guns regularly since 1975 and reloading for them since 1979. With other of my long guns, I have always managed to be on the paper first shot, even with something like a .300 Winchester Magnum. What was going on? Spoiler alert - back then I always did my own bore sighting.

I bought my own laser bore sight and tried again. Although it seemed to have been sighted in perfectly in the garage, the first shot at 50 yards was to the right and almost off the top of the paper. So maybe I shouldn't be too hard on Carter's Country. Below is the target, using 110gr HP spitzers that I had loaded for the occasion. The scope was far, far off but I did finally get into the 10 ring and there are even a couple of keyholes. And this after over 100 rounds previously fired in vain while trying to ascertain a POI. Success at last, albeit belatedly!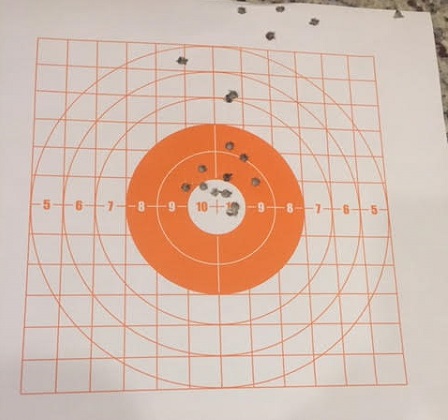 Having finally sighted in at 50 yards with the 110gr, I then tried 1) my usual plinking load of 180gr HC bullet over some 4895 and 2) Federal factory ammo of 147gr. This target is below.

Several surprises here: I had expected a much tighter and centered group, based on the first target, and I could not distinguish between the two different loads insofar as the target was concerned. Yes, the 110gr of the first target had a higher POI, but that was to be expected. The 180gr hard cast ammo should have had its POI at the lowest point, being slowest and heaviest, and the factory ammo had a somewhat lighter bullet and much higher velocity. I also don't understand the to-the-left placement of the group of the second target when I had zeroed on the 10 ring with the 110gr just prior to firing these.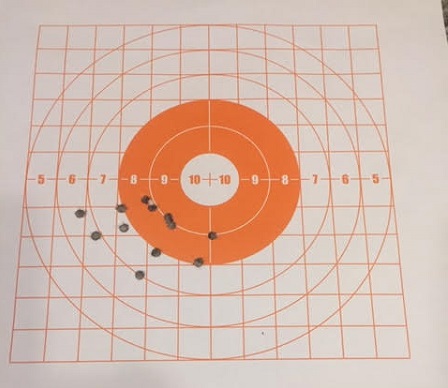 Kind of a moot point, for this next week, I'll be going back out to the 100 yard range with yet another load, 168gr FMJ, that I have loaded in bulk to prepare for the coming insurrection. That will be my baseline load and all others will have to be referenced to it. If this session proves to be of interest, I'll be sending Weasel the goods.

In my old age, with trifocals, I really cannot use the open sights on any AR-15 platform that I have tried. Thus I bought a R/G reflex sight for the AR-556 and tried it out after finishing with the Savage .308. Again, even though I had matched laser bore sight dot and reflex reticle perfectly in the garage beforehand, I could not get on the paper at 50 yards.

That evening after it was dark enough such that none of the neighbors could see me aiming an AR-15 in the back yard, I tried the laser bore sight again, this time using the back wall of a neighbor's house about 100 feet away. At this time, I found that windage wasn't bad but the reticle was way high. I matched them up with major reflex sight adjustments and will try the AR-556 again this coming week too.

And once I get done with these two, I need to do the same with my vintage Mini-14, which now boasts its own reflex sight. But I won't bore-sight it in the garage.
Nice report, WTM. Thanks for sending it in! I agree on letting things settle down with a baseline ammo and a solid zero, then tweak things from there. The patterning differences you see on the target with different loads isn't terribly surprising. In a perfect world, your zero really needs to be re-established each time you change the load for maximum performance, but as you mention you can determine a proper zero with Ammo A, and just keep track of the offset with Ammo B and C. Keep up the good work!
******
ATTENTION NoVaMoMe 2020!!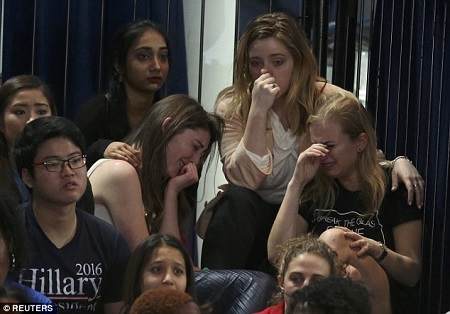 Sad people who cannot make the new NoVaMoMe date of August 29th
Due the Chinese Cooties hysteria in Virginia, the NoVaMoMe 2020 has been postponed until Saturday, August 29th. The time and location remain the same. If you haven't already, please check your email and let the Central Planning Committee know if you are able to make the new date. If not, your registration fee will be refunded and we will open your spot to those on the wait list. Questions? Just email us at NoVaMoMe2020 at gee mail dot com. Thank you!
******
Link-O-Rama
I'm really very seriously not kidding around anymore. Buy Ammo
AmmoSeek - online ammo search tool
GunBot - online ammo search tool
SG Ammo
Palmetto State Armory
Georgia Arms
AmmoMan
Target Sports USA
***Mail Bag***
Our pal JT came through for us again this week. Why didn't I think of this?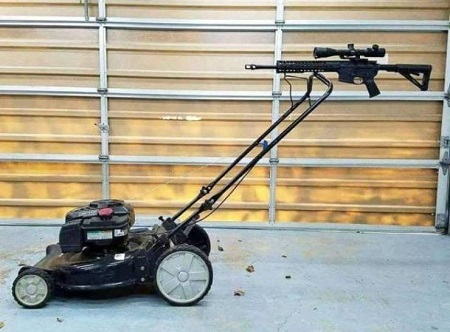 ******
Please note the new and improved gmail account morongunthread at gmail dot com. An informal Gun Thread archive can be found HERE. If you have a question you would like to ask Gun Thread Staff offline, just send us a note and we'll do our best to answer. If you care to share the story of your favorite firearm, send a picture with your nic and tell us what you sadly lost in the tragic canoe accident. If you would like to remain completely anonymous, just say so. Lurkers are always welcome!
That's it for this week - have you been to the range?


posted by Open Blogger at
07:00 PM
|
Access Comments