« First-World Problems...Part Deunaw
|
Main
|
Gun Thread: Nagging You to Practice Edition! [Weasel] »
August 02, 2020
Food Thread: Good Bars, Scotch Eggs And Panda Hash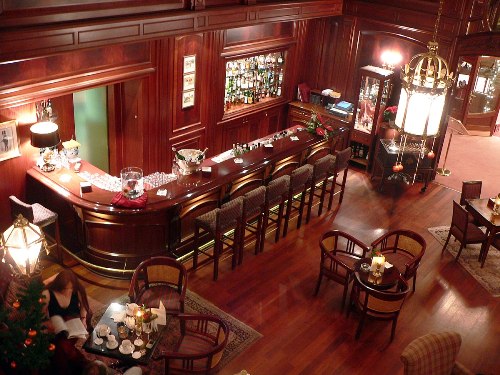 What makes a great bar? Commenter "Mookie" asked the question in an ONT this past week, and with the current hysteria I have been thinking about bars pretty much nonstop.
Obviously college bars are out. I have no interest in sitting in a loud, odoriferous dungeon with a few hundred half-drunk idiots eating crappy burgers and drinking even crappier beer. And the chain restaurants are almost as bad. I find those places to be depressing and boring. I'll take a dive bar where the most complicated order is a shot and a beer, over a chain with plastic-covered drink menus and lousy appetizers straight off the Sysco truck.
But I have been in lots of great bars, and while there are a few things that most of them had in common, the big one is obvious...a good bartender. That doesn't necessarily mean a slim-hipped hipster with sleeve garters, wry facial hair and 18 different kinds of bitters, although I have had my share of good cocktails made by someone who looks like an extra in a movie.
No...a good bartender obviously knows how to make good drinks, knows the beer he's pouring and can tell you something about the wines (if it is that sort of bar), but he also gives off a certain vibe that is friendly and serious and broadcasts that he is in control. The worst thing to have happen on a date or a simple night out is to stand or sit there for 15 minutes while the bartender catches up at the service end (where the restaurant table drinks are made) or shoots the breeze with his friends, or is just overwhelmed and can't catch up.
Let us grant a good person behind the bar. So what else do you require? I want stools with backs, and not too many of them. I want a dedicated room or alcove for the bar, so the restaurant patrons aren't milling around behind me, bouncing their coats and bags and children off the back of my seat.
And how about a nice display behind the bar? Hide the damned dishwashers and other paraphernalia. Make the booze and wine and beer displays look good. Have something interesting on the bar and on the walls. Not too much...just something to gaze at while your date powders her nose.
Good lighting really helps. Interesting hanging lamps are my favorite, but anything that will cast a soft (not too bright) glow on everything will work fine. Bag hooks under the bar are non-negotiable, as is a foot rail. And make sure those stools have foot rails too.
I could go on and on. What about you? What's the first thing you look for in a bar? Where are your favorites? What's the worst one you have ever been to?
******
Shorten the supply chain and revamp the regulations, and we will have better food, more of it, for less money. What's the downside? Well, those big lobbying firms that specialize in bribing FDA and Department of Agriculture regulators will be out of jobs, and the big food producers will have to compete on an equal footing with the little guys.
Meat-Inspection Regulatory Reforms Could Help Avert Future Shortages, Experts Say

Jayson Lusk, professor and head of the agricultural economics department at Purdue University, explained at a recent Heritage Foundation webinar, "The Meat Supply During the Pandemic and Beyond," that poorly crafted regulation has created unnecessary barriers to market entry for small slaughterhouses and processing plants.

Overregulation has led to fewer processing facilities, which results in many farmers and ranchers having to transport their livestock and poultry further to be slaughtered, he said.

It's important that "we don't have laws and regulations preventing entry of new competition and entrepreneurship in this space," Lusk said.
******
Why didn't I think of this myself? I have a few gadgets for biscuit cutting, one of which works pretty well. It makes six-sided biscuits, so I don't have as much unused dough between the cuts. That works pretty well, but I like this technique even better, and I haven't even tried it yet?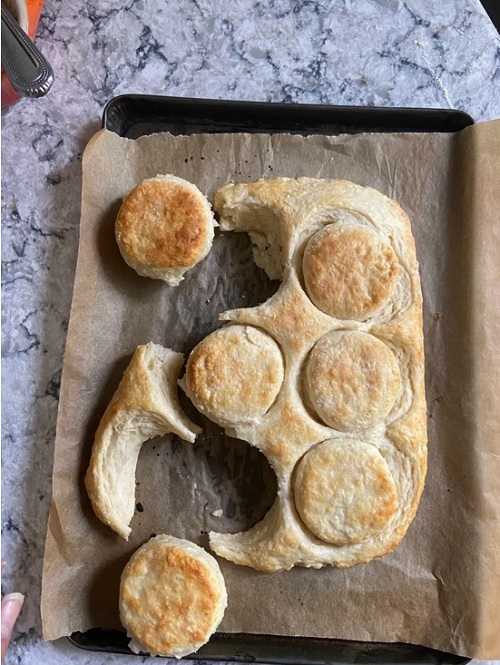 One Genius Trick To Make The Most Of Your Biscuits

******
A new (to me) commenter sent this along, and I think I am going to try it tonight. It looks good, although the tomato jam can be replaced with ketchup in a pinch.
Roasted Sicilian Cauliflower with Quick Tomato Jam

PS -- The recipe calls for dried basil which is an abomination, so I omitted it and doubled the amount of dried (Sicilian) oregano. I still garnished with fresh basil and oregano.
[Hat Tip: jix]

******
Speaking of smokers and grills...This was sent to me by a lurker, who swears by the brand.
Klose Grills
are not inexpesnive, but they look to be very well built.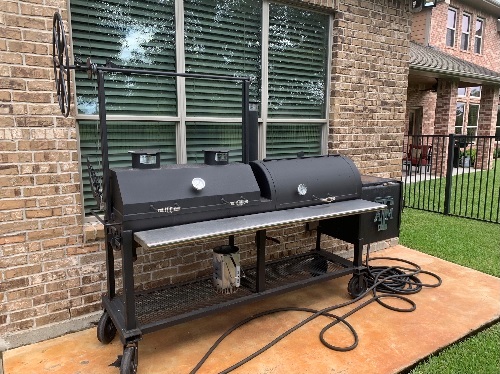 Yeah...it's a little small, but I guess it will work in a pinch.

******
Scotch Eggs are glorious, but they really are a pain in the ass. Here is "Food Wishes" version, which is actually pretty simple. Not as simple as he makes them out to be...I have tried making them and it is a skill to mold them evenly.
Of course I would much rather just fly to the UK and eat them there with pints of their glorious bitters, but in the meantime...
Scotch Eggs
******
From the earlier discussion of Gropin' Joe's economic plan...
Just think Venezuela with snow.

Your food thread could feature recipes involving zoo animals.

Posted by: Deplorable Jay Guevara at August 02, 2020 12:29 PM (YqDXo)
I would like to point out that I submitted a recipe for
Panda Hash
to the Moron cookbook editors, but for some unfathomable reason it was rejected.
Zebrazier burgers

Quesagorillas

Rhinoceroast

Chimped beef on toast

Posted by: Muldoon at August 02, 2020 12:33 PM (Fc5rx)
******
Food and cooking tips, Large-breasted Muscovy ducks, young wild pigs, bartenders who use vermouth in Martinis (but not too much), pork belly that doesn't have 5-spice, low-temperature-roast chicken, and good tomatoes that aren't square, pale pink and covered with Mestizo E.coli:
cbd dot aoshq at gmail dot com
. Any advocacy of French Toast with syrup will result in disciplinary action up to and including being
nuked from orbit.
And yes, shaking a Manhattan is blasphemy...it's in the Bible!

posted by CBD at
04:00 PM
|
Access Comments