« Mid-Morning Art Thread [Kris]
|
Main
|
Snitch Culture: Las Vegas Announces They Have 100 "Compliance Ambassadors" Ready to Narc On Any Business Not in Compliance With This Week's Covid Rules »
July 30, 2020
The Morning Rant: Minimalist Edition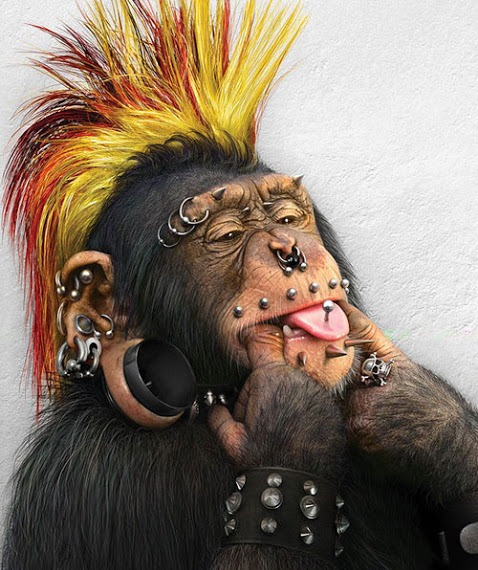 The destruction of the traditional nuclear family is one of the goals of the progressive movement in America. How else can they create a society in which government is the primary caregiver? Push the wife into the job market, feed the kids at school, and be sure to teach them anal sex and how to put on condoms. Make them dependent on government for healthcare and food and shelter, and minimize religiosity, and what is the purpose of the family?
And when people flee the cities, which are ground-zero for this monstrous remaking of culture, where do they go? The suburbs, where zoning laws limiting high density housing, and the cost of living, prevent most wards of the state from exporting their dependence.
And we can't have that! It's just not fair that only blue cities have to accommodate the consequences of three generations of the welfare state!

Joe Biden's disastrous plans for America's suburbs

Biden's plan is to force suburban towns with single-family homes and minimum lot sizes to build high-density affordable housing smack in the middle of their leafy neighborhoods — local preferences and local control be damned."
Luckily President Trump ended the Obama catastrophe-in-the-making: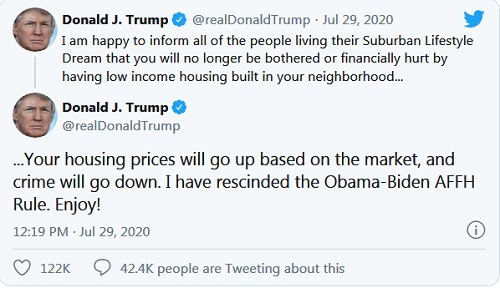 This morning I brought the garbage to the curb, because my little town changed its procedures for pickup because of Chinese Lung Rot, and they don't go into people's yards to get the trash.
I noticed two teenagers running down the street, probably cross-country team members or maybe just out for an early morning run. They happened to be Black, which in my lily-White town is unusual. But not by design...unlike in the 1950s and 1960s when the real estate agents carefully avoided selling homes to Blacks and Jews. No, it's unusual simply because it's expensive to live in the NYC suburbs, and American Blacks have been hamstrung since the Great Society of the mid-1960s. For all I know their dads are venture capitalists or owners of their own businesses or garbagemen who worked two jobs to afford to live here. I don't know and I don't care. They and anyone else who can afford to live here are welcome. Because this is America.
Having government force zoning changes to accommodate high-density housing on the very people who worked to flee high-density housing is vile. Forcing private developers to build some percentage of low-income housing whenever they develop anything may be even worse.
Allowing communities to develop organically isn't up to government. Controlling how and where people can live doesn't just feel like totalitarianism; it IS totalitarianism. What's next? Government permits to relocate? Licenses for more than two children? Forcing empty-nesters to take in boarders from the slums?
This is disgusting social engineering, and I applaud President Trump for finally ending it. If you want a clear difference between Trump and Biden; here it is. I hope Trump hammers this home in every speech and campaign event. MAke those soccer moms who love their idyllic suburbs with carefully manicured lawns, and lots of space between houses, and clean safe schools, and no crime other than the occasional TPing of a house to face up to the undeniable fact that Biden and the Democrat party will destroy their way of life to regain the White House.
This is a perfect talking point. It's not a matter of race, it's a matter of hard work and perseverance and the desire to better one's self and one's family. Have a couple of minority families from the suburbs on stage with him while he extols the virtues of the American Dream, and then ask them why they live where they live? If they are recent arrivals then it may be because the idea of the Crips or MS-13 or a bunch of crank-dealing thugs roaming and owning the streets was unacceptable. And if they are 2nd or 3rd generation suburbanites it is because grandpa got out before LBJ's Great Society destroyed Black America.
But either way, shove Biden's dream to destroy traditional America down their throats. Alinsky was a smart man, and his techniques can be used by both sides!

posted by CBD at
11:00 AM
|
Access Comments