« Saturday Gardening and Puttering Thread, July 11, 2020 [KT]
|
Main
|
Saturday Afternoon Chess thread 07-11-2020 »
July 11, 2020
Ace of Spades Pet Thread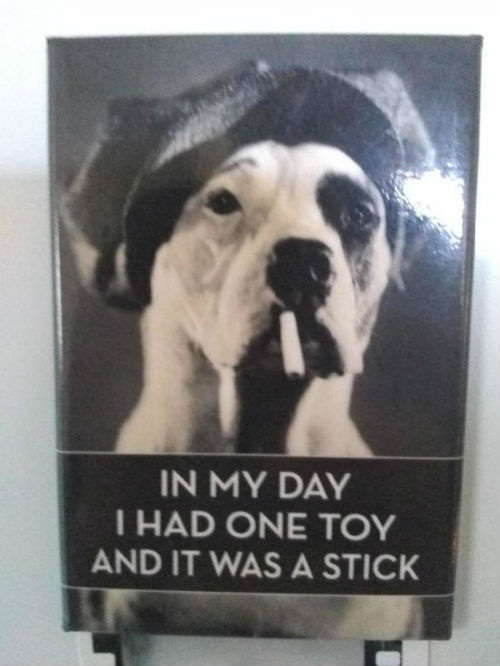 ***
Good afternoon and welcome to the almost world famous Ace of Spades Pet Thread. You're probably busy on this Saturday afternoon. However, kick back, relax and enjoy the world of animals.

Let's leave the world and its problems at the front door?
***
A Little of This. A Little of That.
Didga -- The World's Most Talented Cat (and Guinness World Record holder) H/T Shain
***

From our friend Nurse Ratched...............

Saint Francis of Assisi, for Our Pets
Good St. Francis, you loved all of God's creatures. To you they were your brothers and sisters. Help us to follow your example of treating every living thing with kindness. St. Francis, Patron Saint of animals, watch over my pet and keep my companion safe and healthy. Amen.
***

I knew this all along.........Your dogs manipulate you. H/T KT
***

Last but not least from our pal Hrothgar. A feel good story.
***
Meet The Pet Morons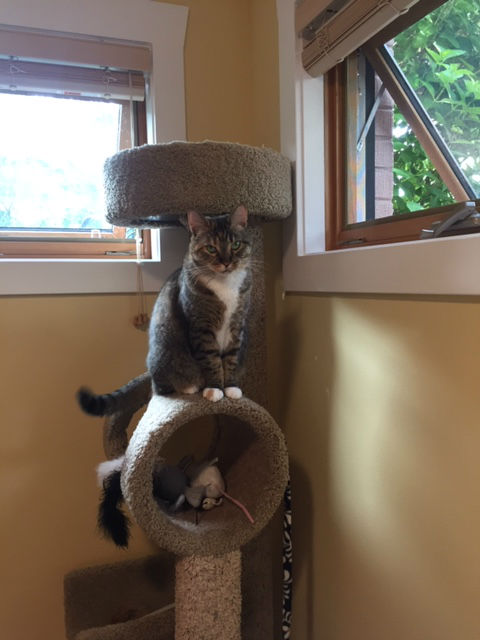 So here's Lucy in our new spot. We moved at the beginning of the end of the world as we know it, from 2400 sq ft to 400. She has her cat tower, and a small window to chatter at the birds. I'm so thankful she's my sweet friend. - Nurse Ratched.
Quite the pose of Lucy. So how many T-R-E-A-T-S were involved with that maneuver? It looks like she is adapting well to her new digs. Thank you for sharing today.
***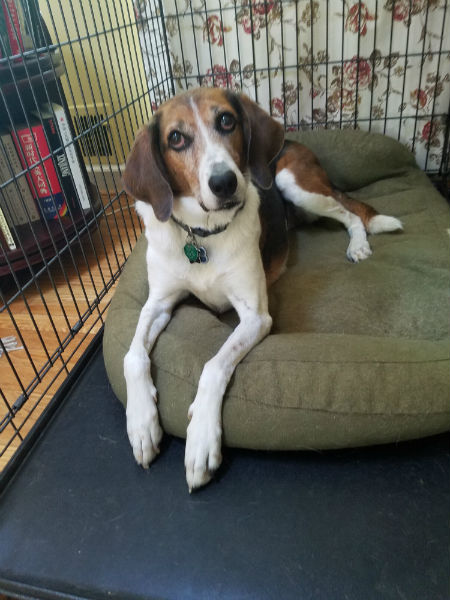 Hi, Mis Hum!

Long-time reader of both Ace of Spades and the nearly-world famous Pet Thread. In these crazy times, this is a real oasis. Thanks for posting the various pics and stories!

This is our doggeh Memphis. She was born in a shelter, so she's a rare example of a rescue dog whose birthdate and previous owners are all well known. We got her as a puppy, and she's been bringing us smiles (and snores) ever since.

She's incredibly smart, incredibly well-mannered. Known to leave a bag of pork rinds on the floor UNTOUCHED because she knows that they're not for her. Slowing down a bit, as she is now 11, she also used to be very, very fast. Still pretty quick off the mark, when squirrels show up on the back deck.

Thank you again for the wonderful Pet Thread!

(Please withhold name/email address.)
Of course I'll honor your request. And I'll thank you for the kind words and wonderful story about Memphis. With those eyes, how you can you say no to her?
***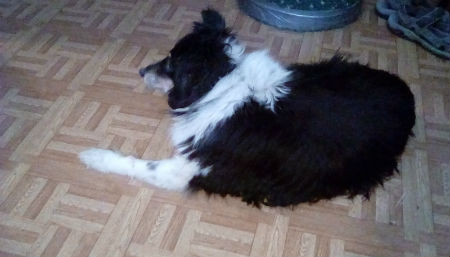 This is Remy, part Sheltie, part heaven only knows. Prior to Remy, I had two pure bred Shelties and both of them had what's called "gay ears", that is ears that stood straight up, which is a defect that disqualifies a Sheltie from being a show dog. This mutt I got from the pound had absolutely perfectly conforming ears.

Remy was four when we got her. She was a bundle of energy. I'd take her down to the back yard and she would race in figure eights til I swore she should be dropping over with fatigue, but she'd just keep running. She had two faults: she'd bark her fool head off with little to no provocation and she was terrified of loud noises -- both typical Sheltie issues. I sat up many Fourths of July til three in the morning. Then, one day, I had a senior citizen on my hands. Sadly, she developed cancer on one of her hind legs. It didn't seem to bother her although after a few months I started giving her a pain killer every night, more for my sake than hers I suspect. The cancer interfered with her ability to pee properly, so every night I had to wipe down her rear end and the tumor. Finally the tumor won and we had to put her to sleep. Both the XO and I cried through the entire process. A few days later, she came back home in a little wooden box. A stone with her name on it sits in the front yard with far too many stones with other names. - Captain Josepha Sabin
Remy was so fortunate to have a human like you in her corner. You can see the love for her in this "letter to the editor". So sorry she didn't get to spend more time with you. We appreciate your story of Remy.
***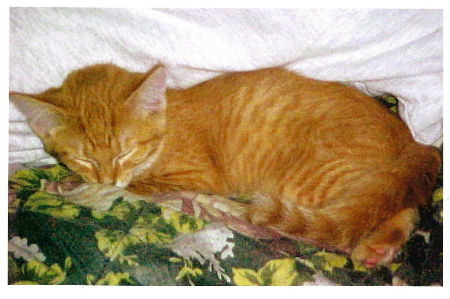 Story:
My wife and I were out for a walk after sunset on a summer evening. As we passed a wooded area, my wife said she could hear a crying sound. I did not hear it, and suggested we continue on our way. However, she persisted. So, I walked into the wooded area. The ground was covered with heavy undergrowth, which reached above my knees. Progress was almost non-existent. As soon as I began plowing through the area, I could hear the crying. Sounded like a pathetic small animal. This motivated my push through the undergrowth.

Eventually, I could see this tiny orange vision in the dark. It was having more difficulty clawing through to me than I was in crunching toward it. Its little legs were caught in the vines and brush. When I picked it up, it put its little legs around my neck as much as it could. Continued to softly cry in my ear. What a walk we had on the way back home.

The little critter was a female kitten. We called her Orange Girl in tribute to Orange Guy (a feral male cat who adopted us years ago). After a couple of days, we found she had a blow fly larvae in her lower jaw. Veterinarian extracted it, but she became extremely ill. Barely alive, we cared for her twenty-four hours a day, until she began her recovery. Found her to be extremely intelligent, with a sense of humor -- which manifested as a dickens of a personality.

Mentioned her to our neighbor. Discovered that the neighbor was looking for a companion for their cat. We passed her on to the neighbor. Orange Girl (they renamed her 'Fluffy') and the resident cat became best friends. They chase each other all through the house from two to three o'clock in the morning. They, also, formed an alliance to torment the resident dog. During the day, she sits in front of a porch screen window with a small hole in it, where I can 'boop' her nose.

A possible tragedy turned into a fantastic life story for this little girl. We are all thankful for my wife's persistence.- French Jeton
Talk about some people with big hearts!! Wow, what an amazing story with such a happy ending. Thank you for submitting this great story.
***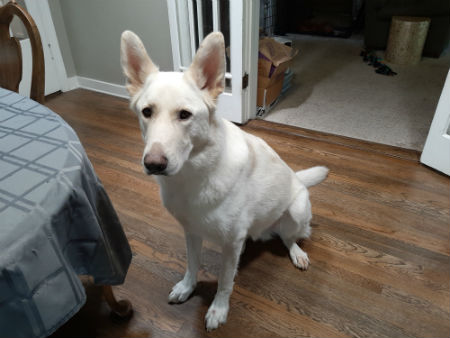 Hi, MisHum -

Attached are a couple pics of Calvin, my 3 and 1/2 year old German Shepherd. He weighs somewhere north of 100 lbs, and as you can see he has a nice set of teeth. His nicknames include "Dingus", "Fluff Butt", "Moose Dog" and "Arctic Land Shark." - PabloD

Calvin is a handsome lad. How do you keep him so white? At 100# bathing seems like a big job. Thanks for sharing with us today.
***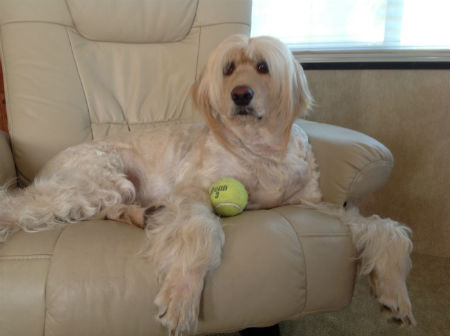 Lucy the Labradoodle, Daily reader, not a commenter, lurker.
This is my sweet little girl, spoiled rotten and prissy, a dog when she needs to be, protective an fearless
We appreciate your support. And thank you for stopping by and contributing your Lucy's photo and story. She appears to be an abused doggeh. She has a nice chair. Thank you again.
***

From a regular lurker, Leicestersmom.

I lurk. I lurk a lot, under the name Leicestersmom. I don't know if you can post this, but here is a TikTok featuring my awesome foster kitten. He's been preadopted, I just have him a few more weeks before he's big enough to be neutered and move to his forever home. I pulled him from a local shelter 3 weeks ago and he was very ill with an eye infection and URI. Fortunately, he recovered quickly and you can see he's a happy, active boy.
***
Thank you for the various links and your pet stories and photos. Once again the in-box is full and we do appreciate your patience while we get to your submissions.
If you have something you wish to share you can reach us here at petmorons at gmail dot com.
Here's hoping you have a great week!!!


posted by Misanthropic Humanitarian at
03:00 PM
|
Access Comments