« From Segregation to Isolation [KT]
|
Main
|
Ace of Spades Pet Thread »
July 11, 2020
Saturday Gardening and Puttering Thread, July 11, 2020 [KT]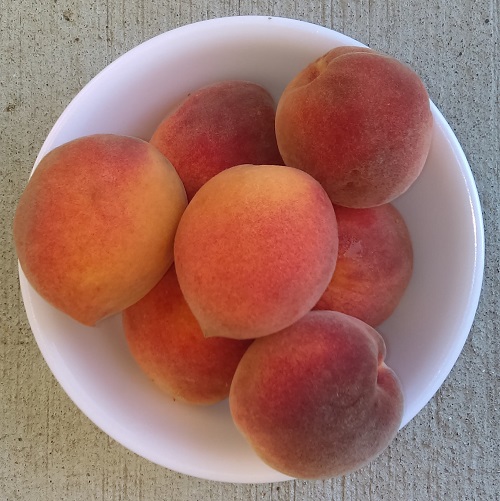 Happy Saturday to all Gardeners, Putterers, Outdoor Enthusiasts and Dreamers. Today, I am starting with a photo of my own, for a change. The peaches above are July Elbertas. There are actually two varieties of peaches called "July Elbertas. This is the California one.
They are delicious this year. I tried to water them more. Peaches need more water than apricots or plums. This is an old-fashioned variety that melts in your mouth when tree-ripened to sweet perfection. Aromatic, with some zing. Juice drips off your chin. Not very good if picked before it is ripe. If you want a crunchy peach, choose one of the newer super-sweet varieties.
Below, my cousin supplies evidence that her geraniums made it through the winter in Utah in her basement.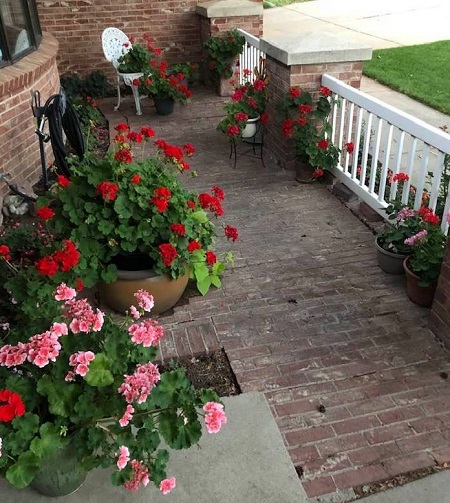 With an ornamental sweet potato: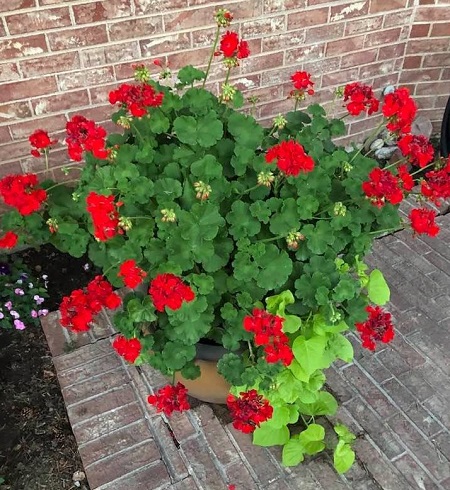 The mountain in the background caught fire last year: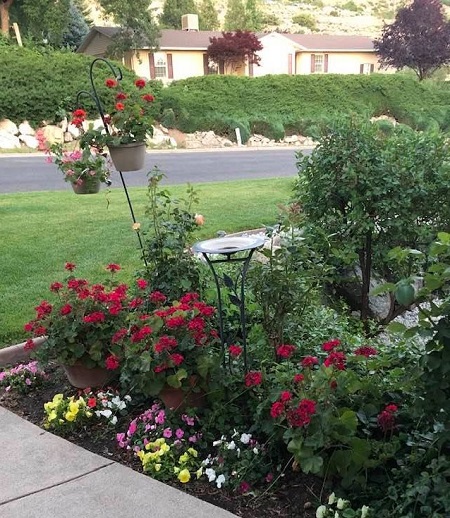 Outdoors
A California friend of ours recently went biking in the Cache National Forest, either in Utah or Idaho. Here's a nice photo. You been engaging in any outdoor activities lately?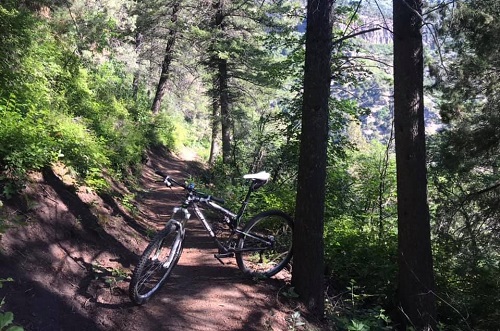 Speaking of forests, nature is hazardous to itself. Jumping worms from Korea and Japan may be even more detrimental to forests than other earthworms. "The great global worming".
Natural/Edible Gardening
Sometimes nature provides some extra interest in our edible gardens, as Iliniwek shows us:
These tiny peeps were in my grapes, nest about the size of a baseball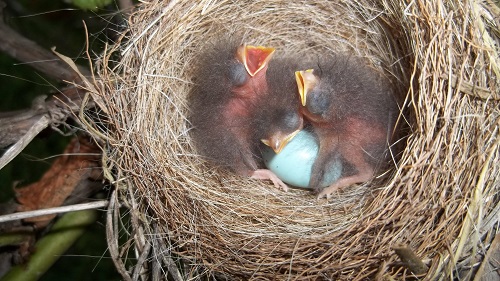 Here is the mom, no idea on ID.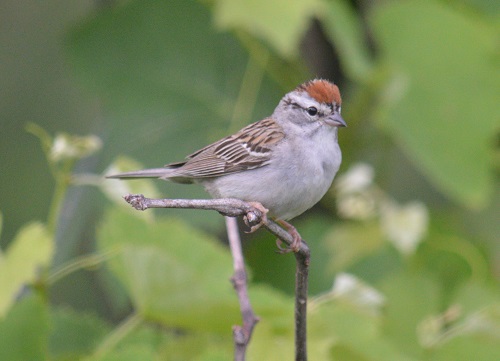 Tiger swallowtail, sharing the milkweek with the monarchs and the bees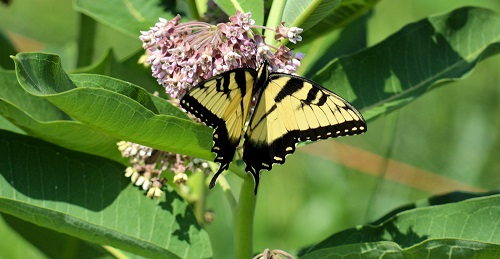 A hillside full of blackberries, (could be wild raspberry maybe).???? Corn is starting to tassel, a deer food plot in the top left.

I mowed a lot of honey locust and weeds, but tried to keep the berries?? ... to feed some wildlife, and to keep my prepper options open.?? Ha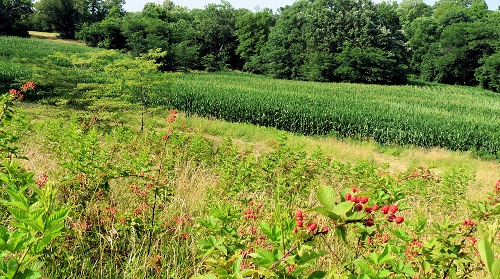 Plant Nutrition
Gordon sent in the following, with a photo of a bumblebee in his comfrey:
Comfrey compost tea is supposed to be really high in key minerals. I will be starting some this week.
Of course, the minerals have to be in the soil to get into the comfrey.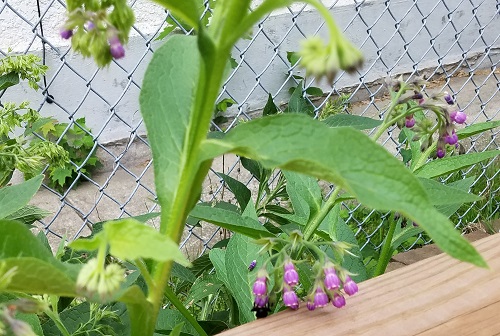 Gardens of The Horde
Found some photos from NaughtyPine that I missed last August:
The hosta was rescued from a bed of lilies and was tiny until this year. It likes its new home at the end of the driveway.

I transplanted two pot-bound coralbells (which I grew up calling "Cora Belles") and they were the same size. The variegated leaf one stayed the same, but the other took over the entire huge pot (in preparation for the world, if I put it in the ground.)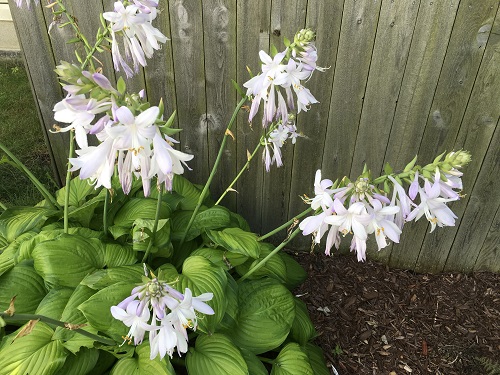 The pale foliage is striking with its companions: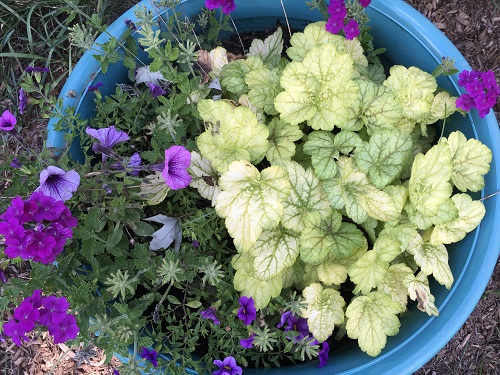 Taking over. What is growing with it?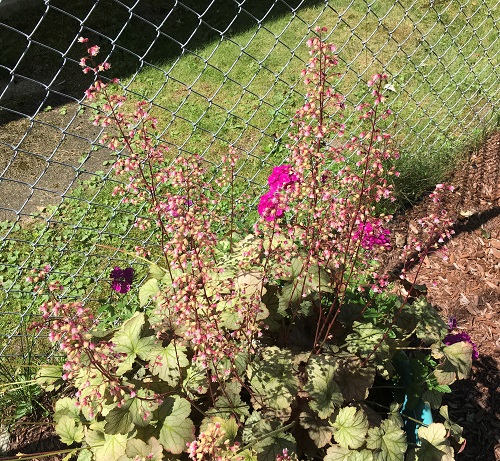 If you would like to send information and/or photos for the Saturday Gardening Thread, the address is:
ktinthegarden
at that g mail dot com place
Include your nic unless you want to remain a lurker.

posted by Open Blogger at
01:11 PM
|
Access Comments