« Food Thread: A Lamb Chop A Day Keeps The Doctor Away
|
Main
|
Sunday Overnight Open Thread (7/5/20) »
July 05, 2020
Gun Thread: Day After Independence Day Edition [Weasel]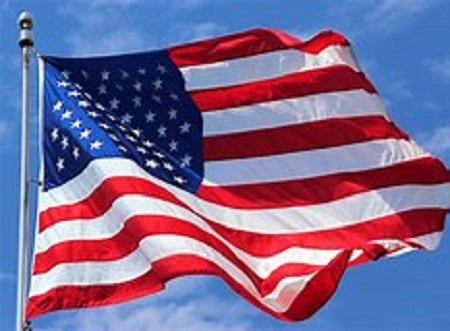 I pledge allegiance to the flag of the United States of America, and to the republic for which it stands, one nation under God, indivisible, with liberty and justice for all.
Let's take a look at some gun stuff below, shall we?
So on Thursday evening, our pal Ace posted a thread which included this video of a confrontation taking place earlier in the week in Lake Orion Michigan.
Later in the comments of the subsequent thread, our pal Jen the original made the following comments and observations.
In response to the previous post about the couple at Chipotle in Lake Orion Michigan I will say this.

I do a lot of shooting sports and I carry every single day. I take that responsibility seriously. Besides taking shooting clinics, classes, etc. I also regularly attend legal seminars in regards to use of force. Specifically for the state I live in and when I travel I review the laws of the states I'm traveling in to know what I can and cannot do in each state.

Something that is emphasized over and over in legal and in tactical classes is NOT turning into the aggressor. The law in Michigan is clear, if you are in imminent danger of harm you can defend yourself with deadly force. That includes in your home. There is no duty to retreat, but there is an implied duty to descalate whenever possible.

I personally do not want to shoot anyone, nor do I want to spend hundreds of thousands of dollars and a year in court trying to defend myself, or worse, end up in jail. And to prevent all of those things, you must have a clear plan at all times on how you are going to get out of a situation without using force.

I have no idea if the precipitating event that started this even happened. But once the screaming started, MO woman had quite a few better choices than what she made. She could have kindly apologized for any perceived issue. If that didn't work, she could have told black women that she was not interested in arguing with them and left. If they continued to block her, she could have immediately gone to the manager of Chipotle and told them she was being harrassed and felt in danger and let Chipotle handle these women who were likely doing this on a dare. Once she got outside, if they were blocking her from getting to her car, THEN she should have either called 911 or gone back into the Chipotle and let them call. Once she got in the car, she should have stayed in the car. If they started to surround the car, call the frickin' police.

You are in a state you don't reside in, you're pregnant, and instead of calling for help, you decide to escalate the screaming match like you're going to educate these assholes about racism, then you jump out of the car screaming, and whip out a gun and point it at the women, while standing there like you're Deputy JimBob, going to hold them under arrest until the local law gets there. There is almost no scenario in Michigan where that is legal.

It won't matter if they face trial or a judge, she at least is going to do some time in Michigan for this. And they both are going to lose their guns, including their home protection weapons in Missouri while this legal battle goes on.

Was it really worth it, over being called a racist white lady by some 15 year old black brat?
As Jen was typing (thanks Jen!), I was thinking pretty much the same thing. I was also thinking this was a great case study to start a conversation I have wanted to have here for some time. That conversaton is about our responsibilities as gun owners, and more specifically our responsibilities as gun carriers.
This sort of random confrontation has happened as long as there have been people, with the liklihood even greater in today's social climate. How would you handle the situation if it were you? First, let me preface the discussion with the acknowledgement that each state's law differs, sometimes significantly, with respect to self defense. Also, the video doesn't show everything that ocurred between the two parties, so there could easily have been important aspects of the exchange which we don't see. Having said that, I didn't observe anything even remotely approching a threat of grave bodily harm which would cause me to draw a weapon if I were in the same situation. What I did see was extremely annoying and even provocative behavior on the part of the 'aggrieved" party, and ultimately a disproportinate and unproductive escalation by Gun Lady.
As long as I've been writing the Gun Thread, I have implored everyone to do two things; to buy ammo, and to carry a weapon for self defense everywhere they go. However, carrying a weapon comes with significant responsibility. I'd argue it requires you to be much more circumspect in just this sort of confrontation. You significantly limit your options when you introduce a gun to the equation, period. Drawing a gun from it's holster is an act of last resort, and just one very final step away from pulling the trigger. It's that serious. A gun is not on your hip to intimidate or to teach someone a lesson by waving it around.
So Gun Lady went from a situation that might have only been infuriating, upsetting and then forgotten in a day or two, to jail. She likely faces some very serious charges, and will probably spend an enormous amount of time and money on her legal defense because she couldn't simply walk away from the situation. That's right, all she had to do is get in the car and leave. That might have been somewhat humiliating, but it's a much better trade than jail time and all of your life savings.
As Jen said, do you think it was worth it? How many of you think she is regretting her choices now? Gun Lady, now Former Gun Lady, had an assload of better options than drawing her weapon, none of which would have been particularly difficult. Do not let your pride and ego take over your critical thinking and make choices for you.
All of you, I hope, are familiar with the work of Attorney Andrew Branca, the author of the popular book The Law of Self Defense, and a recognized subject matter expert in the area of self defense law. Mr. Branca has an informative website and devoted his July 2nd Q&A Show to an analysis of the incident in Michigan. The show is about 40 minutes long and well worth your time (later) to see how this real world event is viewed from a legal perspective. After watching his presentation, you may be surprised at how your view of the incident changes.
Finally, you have to know the laws in your state and anywhere else you go while armed. It's your responsibility as an armed citizen, and the butt you save may very well be your own. Always be thinking and always have a plan. Sometimes that plan should simply be to un-ass the situation.
*****
So there has been a lot of general commentary and discussion lately regarding the implications of the use of deadly force. As usual. it seems like there are two sets of laws, one for the "peaceful protesters" and another for the property owners whose shit is being destroyed by them. I think it safe to assume the law is going to land on you with both feet in the event, God forbid, you have to defend yourself with a firearm. It was in this context the other day when someone wondered if their homeowners policy, specifically a liability umbrella policy, would start spewing cash in a self defense shooting. Our ever alert pal ibguy sent in this helpful information on concealed carry, self defense and insurance.
ibguy adds emphasis to the following from the article:
"The policy extends coverage for this type of claim, but then excludes those claims that arise due to intentional acts. In this case, it's pretty clear that you intended to shoot your attacker, so it seems as if you're on your own."
This seems academic until it's your freedom and potentially all of your assets at risk. If you're going to place yourself in that situation, you owe it to yourself to have a damn good reason for doing so.
*****
We don't have a Gun Thread video this week, but it occurs to me I have been filming a lot of rifles lately featuring the M1907 sling. If you have one, it's not only for carrying the rifle on your shoulder, but serves a purpose in stabilizing the weapon to the shooter. Here's a helpful video on how to put one on your rifle so you don't look like a dork.


*****
As with most everything in the shooting sports, one thing leads to another as our pal C K is finding:
Well getting the chronograph led to a series of things. I had to get a better scale, a trickler a funnel etc. Now I'm working up test loads that are very precisely measured. Man, that's a lot of work, I can see why you guys shoot bolt guns. The good news is after much testing my Lee dispensers vary less than a gn so when I decide on a load I can deal with a gn variance.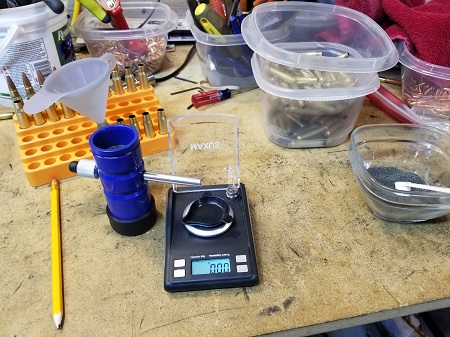 Keep up the good work, C K!
*****
Next or pal Butch sends the following picture of a way too orderly and uncluttered workspace and an interesting project:
Here is a picture of my humble work bench and a picture of my current project gun, rebuilding a Lee-Enfield No 4 Mk1. The barrel is totally shot out and I have to send it off to get a new barrel installed & head spaced. Next project is building an M1917, starting with just the receiver and other minor bits and bobs.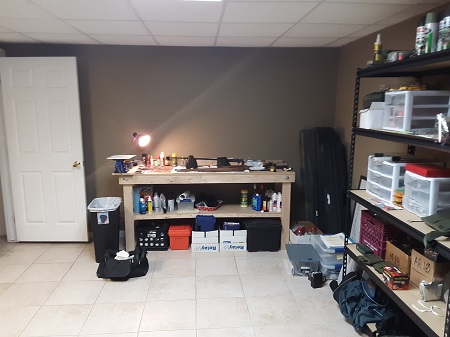 You doing rocket surgery in there?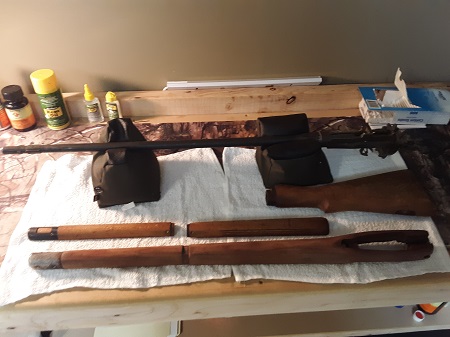 Looks nice, Butch! Thanks for sending them in!
******
Virginia
A slew of restrictive gun laws went into effect in Virginia on July 1st. Here's a recap courtesy of Virginia Citizens Defense League.
******
ATTENTION NoVaMoMe 2020!!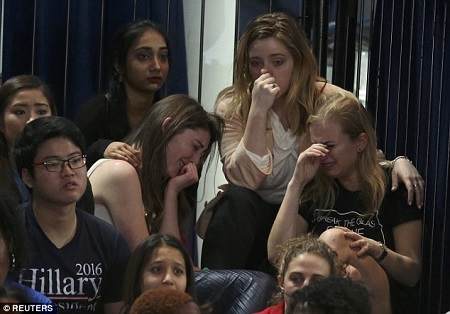 Sad people who cannot make the new NoVaMoMe date of August 29th
Due the Chinese Cooties hysteria in Virginia, the NoVaMoMe 2020 has been postponed until Saturday, August 29th. The time and location remain the same. If you haven't already, please check your email and let the Central Planning Committee know if you are able to make the new date. If not, your registration fee will be refunded and we will open your spot to those on the wait list. Questions? Just email us at NoVaMoMe2020 at gee mail dot com. Thank you!
******
Link-O-Rama
I'm really very seriously not kidding around anymore. Buy Ammo
AmmoSeek - online ammo search tool
GunBot - online ammo search tool
SG Ammo
Palmetto State Armory
Georgia Arms
AmmoMan
Target Sports USA
***Mail Bag***
Commenter TX Marko sends us (via CBD) this great video from Black Rifle Coffee Company. Both their coffee and sense of humor are Weasel approved! Thanks TX Marko!
******
Please note the new and improved gmail account morongunthread at gmail dot com. An informal Gun Thread archive can be found HERE. If you have a question you would like to ask Gun Thread Staff offline, just send us a note and we'll do our best to answer. If you care to share the story of your favorite firearm, send a picture with your nic and tell us what you sadly lost in the tragic canoe accident. If you would like to remain completely anonymous, just say so. Lurkers are always welcome!
That's it for this week - have you been to the range?


posted by Open Blogger at
07:00 PM
|
Access Comments