« First-World Problems...Part Còig-deug
|
Main
|
Gun Thread: Day After Independence Day Edition [Weasel] »
July 05, 2020
Food Thread: A Lamb Chop A Day Keeps The Doctor Away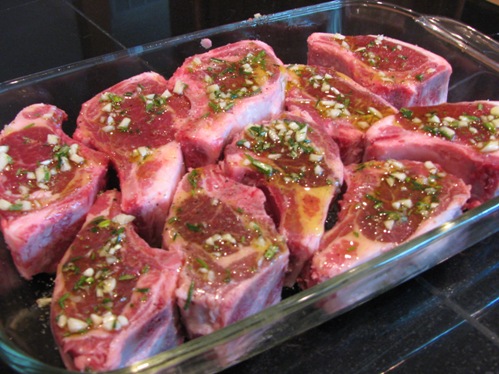 Lamb takes to garlic and Rosemary quite well, and as I have recently discovered, Sous Vide makes those loin chops particularly easy to cook. One of the challenges with them is that they are small and cook fairly quickly, so small variations in thickness or fat result in inconsistent doneness. But with Sous Vide those inconsistencies disappear because every bit of each chop is heated to the same temperature. And a relatively long cook time gives the lamb fat extra time to soften and melt and become unctuous rather than remain sort of hard and faintly greasy. Yeah, I have eaten badly cooked lamb (not in my kitchen!) and that is a deal breaker. Well, I'll still eat it, but I'll sulk afterward.
The chops I bought on a whim were fairly thin, so I was concerned that simply grilling them would require careful attention, and with several other things on the grill (hot dogs, ribs, asparagus) I didn't feel like worrying about it. The large Gin & Tonic had nothing to do with it.
So I popped them into a vacuum bag with garlic and fresh Rosemary, salt, pepper and a splash of olive oil. Then into the water bath at 131° for about 90 minutes. They came out ugly and gray and perfectly cooked! On to the grill for about five minutes and I was rewarded with juicy medium-rare chops that disappeared far too quickly. Next time I will get a double portion and have some leftovers.
One of the many advantages of Sous Vide cooking is the ease of timing. Everything was cooked in advance and required just a quick trip to the grill to be ready for dinner. And it doesn't even have to rest!
One thing I have noticed though, the more fat the better the results. That's why pork ribs turn out magnificently, but leaner cuts are good but not great. That may also be a function of my inexperience with the technique, but I think I am onto something.
******
I saw some ridiculous headline about "Food Insecurity," and it struck me anew how lucky we are that the hysterical soft left has to be ever more inventive with their crisis fomenting because let's face it, one of the biggest problems among the poor in America is their weight...a surfeit of it. It's difficult to convince any sentient American that there are millions of people starving when any drive through even the poorest neighborhoods in America yields a fair number of fatty sightings.
Diabetes, heart disease, stroke, and several other problems are highly correlated to excess weight, so maybe we can blame the Federal Government for its decades-long program of HIGH-CARB IS GRAND messaging.
Eh...just a thought.

******
From commenter "vendette" comes an uncomfortable confession and an even more uncomfortable description!
I'll admit that the only way I eat pineapple is if it's accompanied by pork products and presented in the form of a pizza.

This, though...

There's a restaurant in the DC area that serves a lot of pizzas. The Hawaiian pizza has an olive oil base instead of pizza sauce (that's OK). Then there are the toppings: mozzarella cheese, ham, pineapple, mandarin oranges, and shredded coconut.

I don't know know what to think about this. And no, I haven't tried it.

I know exactly what to think about it, but this is a family blog and I must protect your tender sensibilities.
******
I think I have seen this video before, but it's still an interesting walk through a bit of Americana.
A History of American Barbecue
is interesting, if a bit pedantic. Fun stuff.
[Hat Tip: Curmudgeon]

******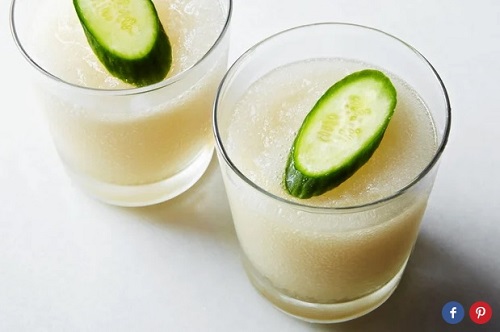 I made this a couple of times, because I do the heavy lifting so you don't have to. It's good, but the ice separated from the booze very quickly. I am no expert when it comes to frozen drinks..in fact I usually screw them up, so if anyone has some advice for me and the Horde it would be much appreciated.
By the way, that tonic syrup is really expensive, but really good too.
[Hat Tip: Misanthropic Humanitarian]

******
This may be the dumbest thing I have ever seen.
******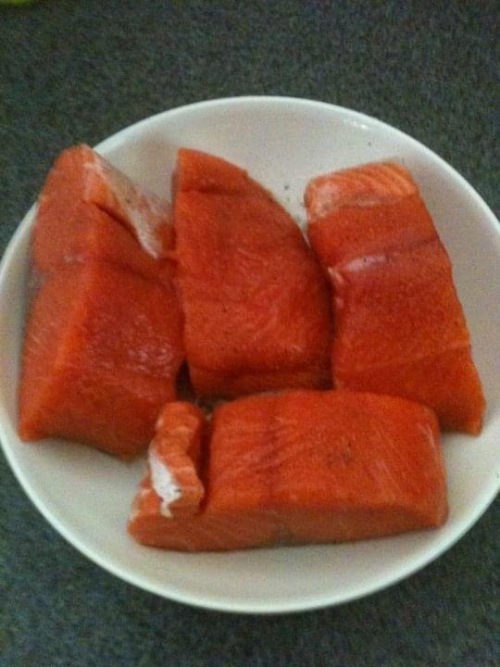 From commenter "Lurker Lou Here for Five Minutes,"

So this one time our team flew from subarctic Alaska all the way to a meeting in Charleston. Took us a red eye and 12 hours and arrived to be boarded in a boutique hotel where the rooms were decorated with a female version of the haunted Vigo portrait from Ghostbusters 2.

She watched us.

Among other adventures we had a late and crappy breakfast, some tense meetings, and then went to the lunch conference where we were greeted by...

Three olives
A sprig of arugula
Yellow sauce swoopdy woops
And sad sad sad farm salmon "fresh from Alaska"

Now we can all admit people think Alaskans are bumpkins, that we are somehow an unholy alliance of Deliverance for the lifestyle, the Clampetts for the camp, Palin for the flannel, and mushroom eating hippies...

But we know our fish. We starved for several more hours as you can imagine.

I am attaching a not so great but still impressive pic of fresh king salmon (one day outta the water, was a long drive). Now thatsa fish!

As to your recipe, perhaps lose the crumbs, add soy sauce for umami and brown sugar for caramelizing and grill it...(salmon not my favorite so the internet might be better on recipes, although strong yes to the mustard. If fresh, salt and pepper is all you need.)
Sigh...everyone is a critic! I stand by my recipe and challenge "Lurker Lou" to make it and then get back to us.
If you still don't approve, I'll toss in a Platinum Membership with Troll-B-GonTM and ampersand utility. But only one year...

******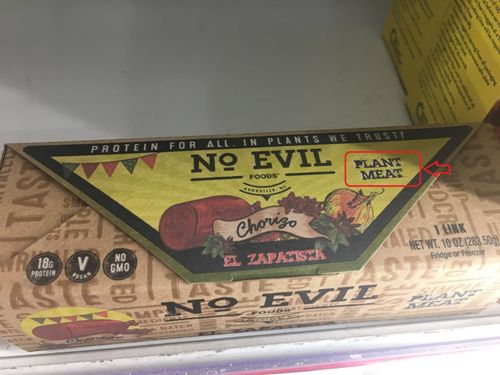 Why? What is the point? At first glance it is just a silly affectation, or a food company trying to pick up a few extra sales. But on further examination I suspect it is also a component of a concerted effort to demonize animal products; part of the environmental lobby's attempt to decrease our standard of living. Seriously!
[Hat Tip: ibguy]

******
Long-time commenter and chef extraordinaire "artisanal 'ette" sent along an interesting recipe for a coffee-based dry rub. it's simple:
Cowboy Java Rub


1 Tablespoon Brown Sugar

1 Tablespoon Ground Coffee

1/4 Teaspoon Cinnamon

1 Teaspoon Crushed Black Peppercorns
She used it on pork tenderloin, which is a good idea, because it is a mildly flavored cut of the pig and needs a bit of a kick to get the most out of it. I usually make it with an herb rub, but this sounds good!
******
Food and cooking tips, Large-breasted Muscovy ducks, young wild pigs, bartenders who use vermouth in Martinis (but not too much), pork belly that doesn't have 5-spice, low-temperature-roast chicken, and good tomatoes that aren't square, pale pink and covered with Mestizo E.coli:
cbd dot aoshq at gmail dot com
. Any advocacy of French Toast with syrup will result in disciplinary action up to and including being
nuked from orbit.
And yes, shaking a Manhattan is blasphemy...it's in the Bible!

posted by CBD at
04:00 PM
|
Access Comments