« It's Independence Day! [KT]
|
Main
|
Ace of Spades Pet Thread »
July 04, 2020
Saturday Gardening and Puttering Thread, [KT]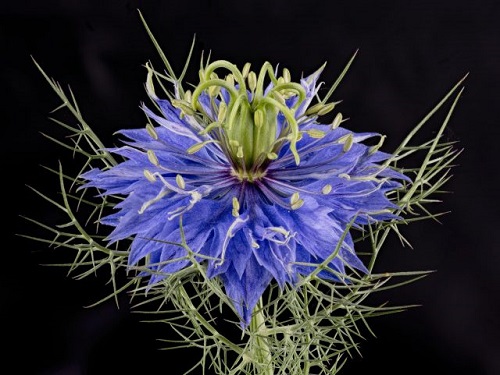 Happy Independence Day to all gardeners, putterers, outdoor enthusiasts and dreamers! Don in Kansas has posted a Garden Report that includes the photo above. It sort of reminds me of fireworks. There are more at the link.
The Nigella damascena flowers are pleasingly complicated and alien-looking, but nearly all of them are either white or blue. Blues are always welcome, but the package promised purples and reds as well. At least a third of them are single, and Nigella is one instance where double flowers are preferable. It's probably time for the seed producers to re-select their stock.
To go with that blue flower, here are some red and white geraniums. Remember our Swiss Garden Dog Guide? Her American Dog Cousin lives at the home where these geraniums are in the window.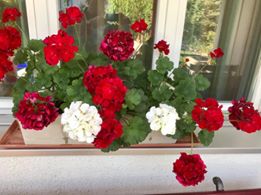 And here are the geraniums in Gioia's window in Switzerland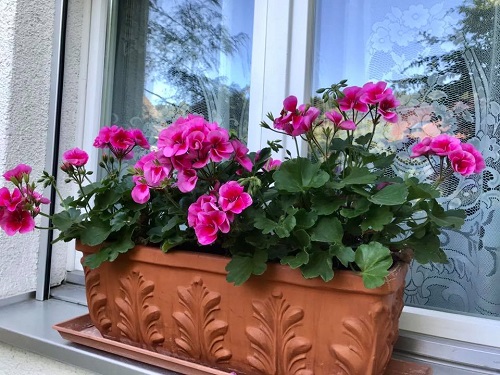 In addition to loving gardens, Gioia is a nature lover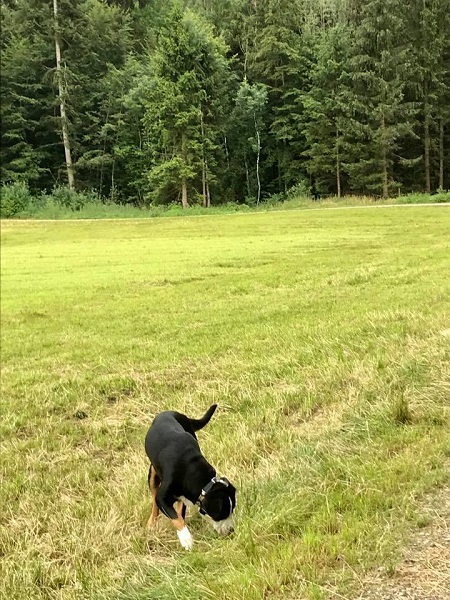 And a cow lover.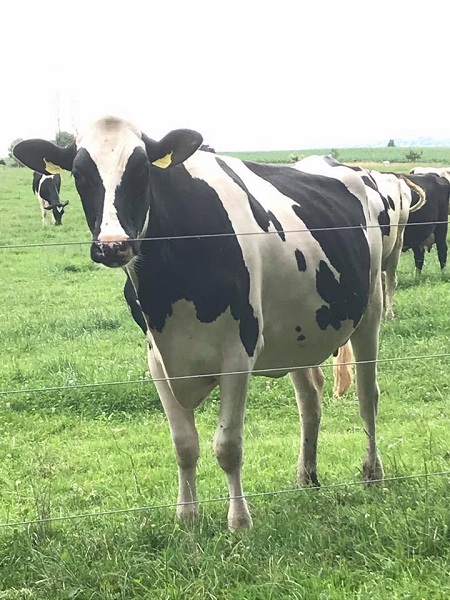 Speaking of large hooved animals, a note on last week's crippled deer from Admirale's Mate:
I noticed, in the comments, that there was some concern the deer had Chronic Wasting Disease (comments 26, 27, 36, and 42). My sister had the following response:

The year before last, the dear was probably shot in her back left leg which left it useless. Then last summer it seemed she may have been hit by a car and her right front leg is pretty crippled, leaving it very difficult for her to get around. We contacted the game commission and even sent them pictures, thinking they would put her down, but no..............then, somehow, she got bred. I will never know how she was able to get bred, but now has a little fawn with her. She has such a time getting around, I am sure between that and feeding the fawn, she is literally wasting away, but does not have chronic wasting disease. Very sad indeed. She could never protect herself or her fawn if she had to, as deer rear up on their hind legs and strike with their front feet. Not an option for her. I expect that we won't see her next year.
Nature can be hard . . .
Plant that sounds edible
Last week, we discussed mushrooms and their prospective edibility. This week, another plant, thanks to Misanthropic Humanitarian:
I have planted grapes, but no wine.

We grew up with a huge veggie garden. After leaving the house never had the urge. Now flower beds are a different story. Someday we might have some nice ones.

Our move from 2018 has been interesting. Rabbits, deer, crappy soil & incredibly short growing season.
Sounds challenging. Then there are slugs: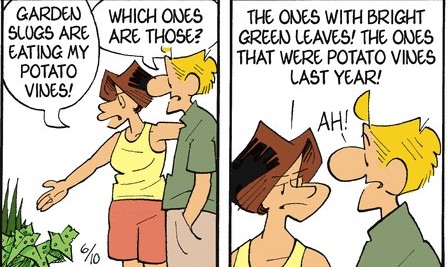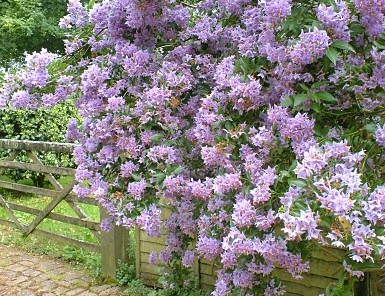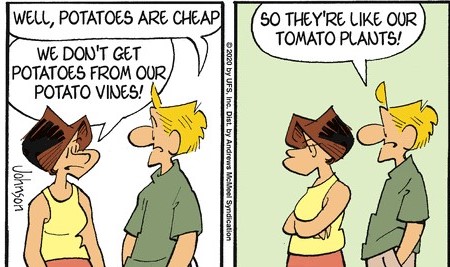 So, growing potato vines, the kinds that don't make potatoes, Solanum jasminoides, S. laxum or the one above, S. crispum.
Winter hardy to USDA Zones 9-11 where it is best grown in organically rich, medium moisture, well-drained soils in full sun to part shade. Also does well in average soils. In St. Louis, it may be grown in pots/containers overwintered indoors or as an annual vine. Grow from seed started indoors 6-8 weeks before last frost date. Pots may be overwintered indoors as houseplants in bright sun rooms with reduced watering or as dormant plants by cutting back stems and placing in a cool, dark corner of a basement or frost-free garage. Cuttings may also be taken in late summer for overwintering.
Makes little fruits, but they're not edible.
Actual edible things from the garden
Gordon promised to send us a photo:
The remains of the second strawberry rhubarb pie, and strawberry balsamic jam, strawberry jam with Jamison's Irish whiskey, and strawberry jam with half sugar/half stevia for a diabetic friend.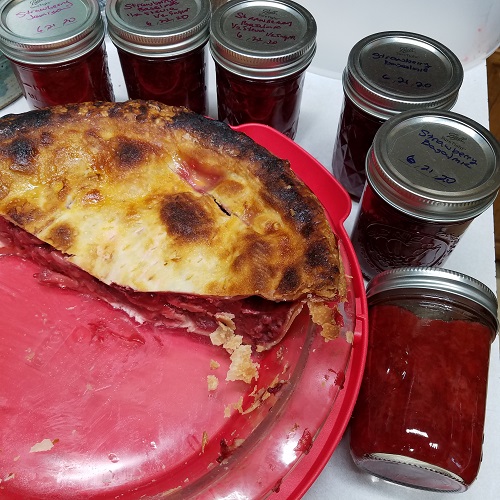 And from his garden:
This patch is finally starting to propagate. Last year I harvested enough for four half pints of jam. This year there should be much more.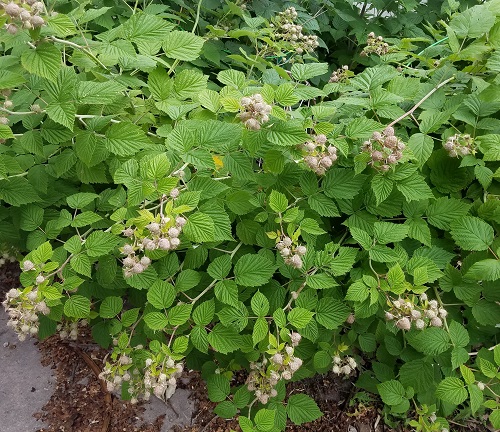 Mmmmm.
And here's a fruit report from the desert, too. From the end of May:
Thought I would send a few pictures I took while puttering around this morning. I have a ton of fruit on the go in the yard. Mulberry season has just ended, but I got a bumper crop this year and froze some as well. I managed to make a mean Mulberry Margarita out of some of them.

I am getting a nice crop of Kaffir limes this year, and the Dorsett apple is doing itself quite proud.

I am going to get a few Mangoes as well which is nice because the last two years the Mango got damaged in the frosts but this year we managed to get through the winter unscathed and get some Carrie mangoes.

I am finally getting some Asian pears, I have had this tree for about 9 years, moved it twice and then heard that you need two pear trees to get fruit, and so last year I put in another Asian pear and I hand pollinated and am finally getting some fruit.

This is also my first year to get nectarines, the tree is about 4 years old so it must have needed some time to settle in.

It also looks like I will be getting my first Sapote fruit. It has started fruit before but they all fell off when quite small but I am finally getting a few that are getting bigger so hopefully they will get to full size this year.

Lastly my peach tree is putting on a spectacular show. Last year the frost/snow late in the spring took away all but 20 of my peaches. It is certainly making up for it this year. I have a feeling I will be freezing a lot of peaches and I may have to just make a batch of peach margaritas.

Wee Kreek Farm Girl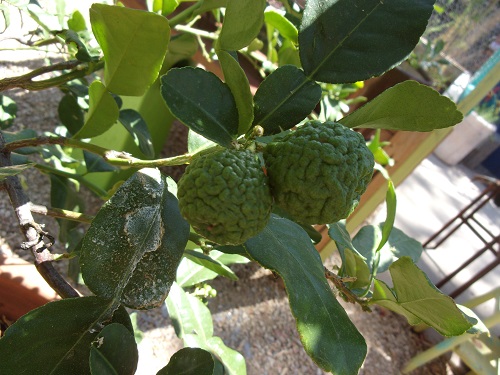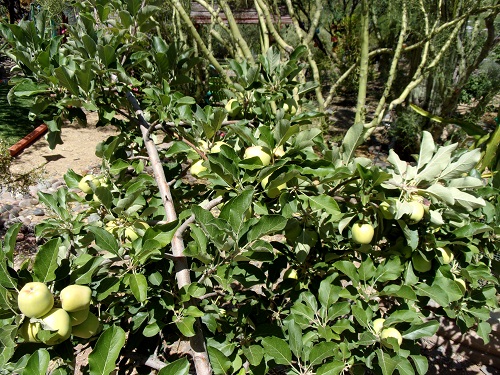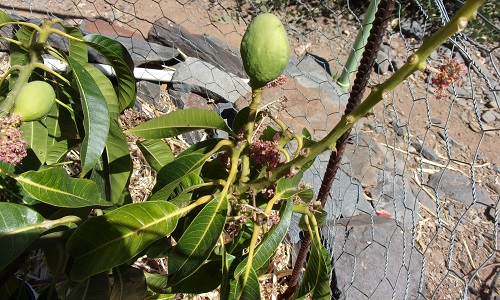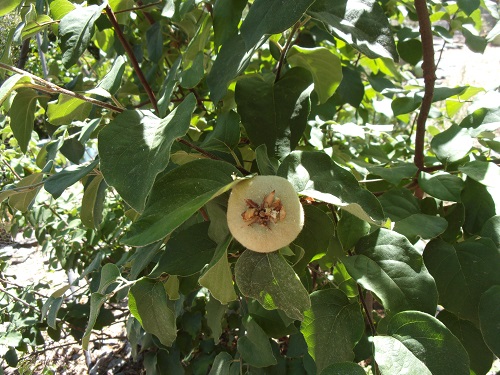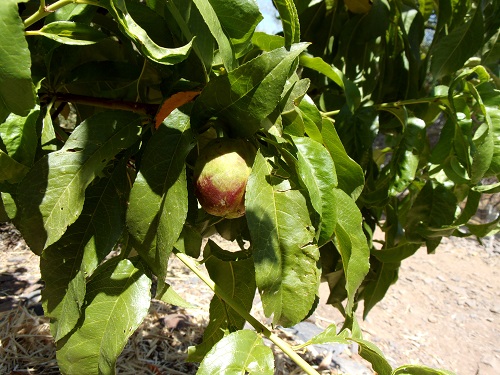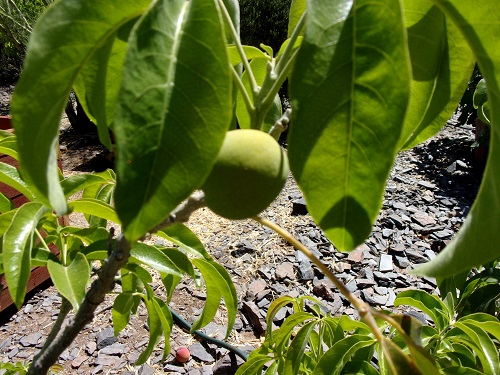 I asked about the Sapote:
The fruit get to be about as big as a lemon, but rounder, if that makes sense. The fruit has a custard type consistency and the flavor is kind of like a peach banana maybe a hint of vanilla and pear you eat the skin and flesh and there are seeds inside. The tree itself can get to be 15-20 ft tall. Mine is a white sapote. The fruit is still hanging in there so I am hopeful.
Gardens of The Horde
Jewells sent in some photos:
One is a my prickly pear cactus in bloom..so beautiful! The other is something that was here when we moved in in 2008 and I never could figure out what it is. It grows quite tall at 3-4 feet.
Anybody want to I.D. the last plant?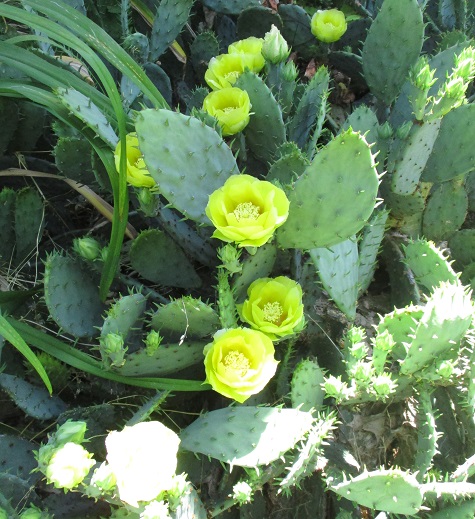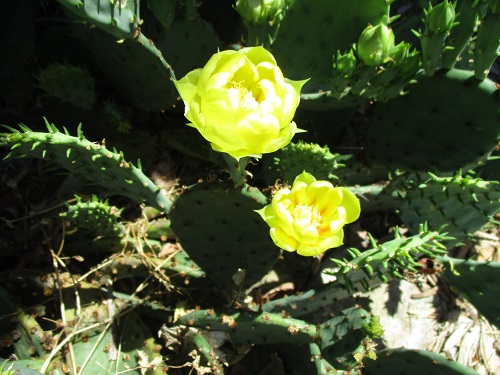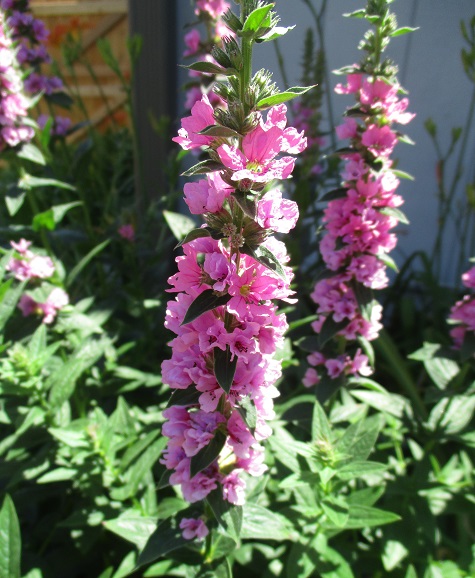 Here in the Central Valley, our first slicer-sized mater is ripe today. Anything going on in your garden?
If you would like to send information and/or photos for the Saturday Gardening Thread, the address is:


posted by Open Blogger at
01:07 PM
|
Access Comments