« Food Thread: Eat Salmon, Mind Your Business, And Smash That Burger!
|
Main
|
Sunday Overnight Open Thread (6/28/20) »
June 28, 2020
Gun Thread: Not My Best Work Edition! [Weasel]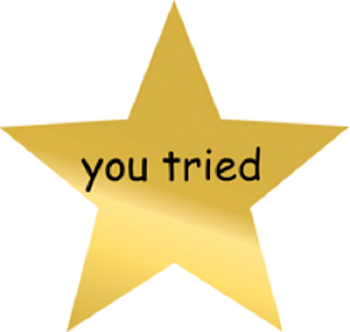 So I take a couple of rifles and my steadily growing pile of video crap to the farm for a few days with all sorts of plans to come home with a ton of material for the Gun Thread. Well, things didn't go quite as planned. I ended up doing a fair amount of vigorous organic tree farming which cut into my creative time as an independent filmmaker, and I only managed to shoot one of the two rifles. I promised "you people" an M1 Carbine video next, but that's going to have to wait for next time. Let's take a peek below and find out what I did shoot, shall we?
Not My Best Work
Okey-Dokey. As I mention in the video, the M1A is one of my favorite rifles to shoot, which is probably why I started filming it first this week. Unfortunately, the WeaselAcres rifle range was angry, and I seemed to have one of those days, group-wise, as you'll see in the video. But I tried really hard!
As much as I'd like to blame it on the iron sights, the ammo, or my socks being too tight; truth is I just pulled a shot and it's sitting out there to the left all lonely and by itself, mocking me, and I own it. It was round #4, and as I set up for the shot and started to squeeze the trigger, I knew it didn't "feel" right, and I should have backed off and started over. If you look closely at the video, you can see me squirming all over the place trying to get the proper setup behind the gun. Instead, I forged bravely ahead, clearly not set, and ruined the group. It didn't need to happen.
There are a couple of lessons to learn here. First, if it doesn't feel right, stop what you're doing and regroup. If you need to, put the gun down and walk around flapping your arms singing God Bless America, then go back and start over. You see this type of thing in competitive shooters new to the sport. They get in a hurry or try and cheat a wind change, then blow a shot left or right. Do not be in a hurry and do not go all Rambo on the trigger instead of focusing on fundamentals. A lot of poorly executed shots do not equal one well executed shot. I don't know how many rifle shots I've taken, but it's in the neighborhood of a gazillion, and shooting has become second nature to me. Don't ignore the little voice telling you something isn't right, like I did. Trust the fundamentals.
Second, unless you're defending a hill under assault and low on ammo, get over it. Refocus and regroup, and get back to making well executed shots. I have seen otherwise decent shooters take themselves completely out of contention in a match by not being able to recover after one errant shot. Don't get so flustered by a bad shot number 4, that you screw up shots 5 through 20. Everyone has a bad day at the range. Everyone. Sometimes the breaks go your way and sometimes they don't. Don't compound your misery by letting a poor shot get into your head. Shake it off and get back to work.
'Nuff said.
*****
First up, our ol' pal Blake sends us the following nifty item:
I was cleaning my 1911 and M1 on my new cleaning mat and it came to me: Photo Op!

I went looking for a cleaning mat, as I am averse to grease and oil on the bench I also use for wood working projects. With a bit of searching, I found this cleaning mat featuring the "Greatest Battle Implement Ever Devised." It took a bit of searching, as there are a lot of cleaning mats featuring scary black rifles with the chainsaw bayonet attachment, thingy that goes up and 10 zillion round clip. Take that, scary black rifle owners! Any of you ever had an AR called, "The Greatest Battle Implement Ever Devised" by the most politically incorrect general who ever lived?

I thought so.

-Blake - semi lurker in marginal standing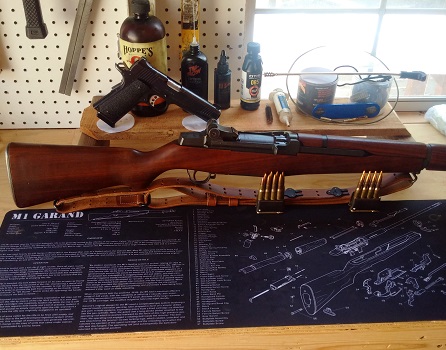 Nice M1 and 1911, bro! And a very cool cleaning mat. And your bench is way too neat and clean and tidy.
*****
Next, our pal C K sends us the following pictures of how a normal work area should look:
Thought I'd send some pictures of a not so perfect gun shop, but it's perfect for me.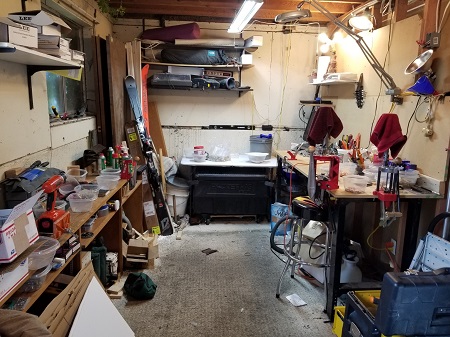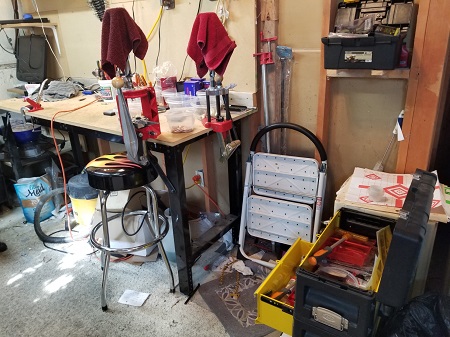 C K goes on to tell us about some load development work with his new chronograph.
Also, I snagged a Caldwell chrono for $61 on Amazon. I put 60 rounds of 75gn 223 (too slow 2600fps) and 50 rounds of 150gn 308 (too fast 3050 fps) through it without a hiccup and it kept track of everything on my phone. I think I'll bump the 223 up to around 2750 and slow the 308 down to 2900 or 2950. My brother and SIL visited from Cal so another scary black rifle went back to the former Golden State.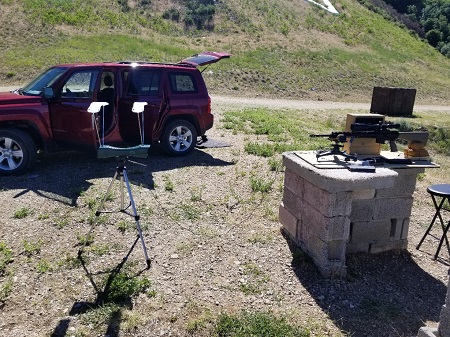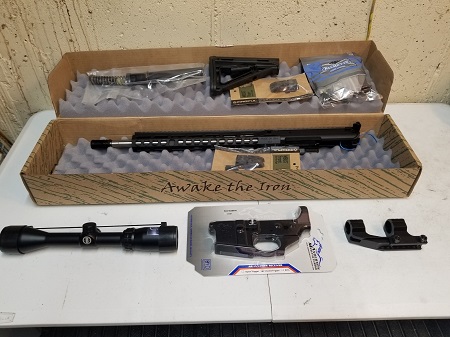 Thanks C K! I think you will see good results with the 150 gr .308 between 2900 and 2950 fps. Don't forget, once you find a stable load in that range, tune the load for seating depth. You can generally see impressive performance gains this way!
*****
Next, our pal Long Running Fool sends us the results of a range trip with his new precision setup.
So I put together that precision rifle system - Ruger Precision in 6.5 Creedmoor, Athlon Cronus BTR scope, Magpul bipod, Hornady 147 grain match ammunition. None of it terribly expensive for the precision world; in the normal world, it's a chunk of change, but of good quality. Took it for a test today. Outdoor range, 100 yards. The second picture shows the last five rounds I fired. I'm more than happy especially since this only my second time ever working with a precision rifle.

Ps. Now have set meetings every week with 2 sets of newbies to teach some basics. One is my nephew, he's just about ready for some good classroom/range training and I've told him I'll spring for the cost.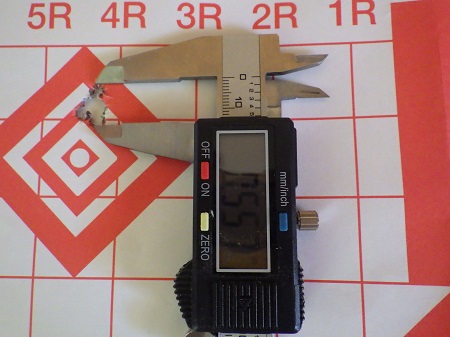 Nice work, Long Running Fool! Thank you for the report on the Ruger. How do you like the 6.5 Creedmoor so far? And especially good work on introducing new shooters to the sport. I cannot overemphasize the importance of this to you all. Please follow Long Running Fool's example and take someone shooting!!
*****
Finally we have a really slick case cleaning tool made by our pal Neon Madman
Here's a pic of a something I built up a year or so ago out of some spare parts in the workshop and a few pieces from the hardware store. I generally use it for primer pocket cleaning, you can see an RCBS primer pocket brush chucked in the business end. With other brushes, it also works well for inside-the-case brushing and revolver cylinder cleaning. Saves wear and tear on my arthritic old hands. One of these days I will build up a motorized version. Yes, I know that I can buy various "Case Prep Centers", but all of them cost well north of $100 and I am thrifty which my wife pronounces as "cheap".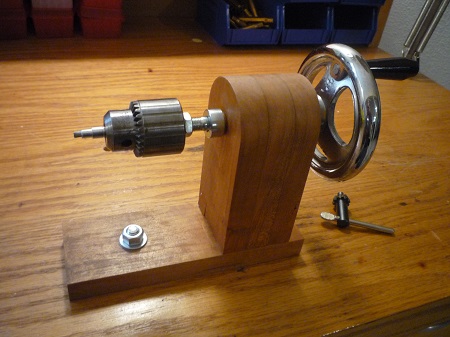 Very nice, Neon Madman! That's an excellent way to put your skills to use, make something useful, and save a few bucks in the bargain! A cordless screwdriver might be a good solution for a motor. Very cool.
******
Virginia
Well isn't this special?
Virginia state police runs illegal background checks on Virginians courtesy Virginia Citizens Defense League
******
ATTENTION NoVaMoMe 2020!!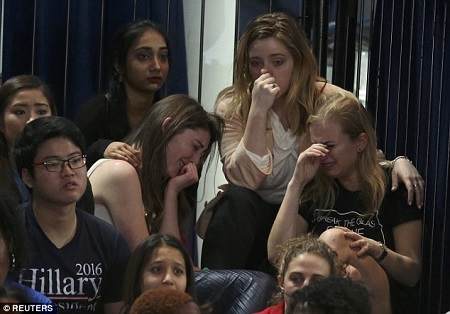 Sad people who cannot make the new NoVaMoMe date of August 29th
Due the Chinese Cooties hysteria in Virginia, the NoVaMoMe 2020 has been postponed until Saturday, August 29th. The time and location remain the same. If you haven't already, please check your email and let the Central Planning Committee know if you are able to make the new date. If not, your registration fee will be refunded and we will open your spot to those on the wait list. Questions? Just email us at NoVaMoMe2020 at gee mail dot com. Thank you!
******
Link-O-Rama
I'm really very seriously not kidding around anymore. Buy Ammo
AmmoSeek - online ammo search tool
GunBot - online ammo search tool
SG Ammo
Palmetto State Armory
Georgia Arms
AmmoMan
Target Sports USA
***Mail Bag***
Our pal Anonosaurus Wrecks, Tyrannosaur Wrangler posted this in another thread, and it's an inspired product for the challenging times we're all living in together! [h/t Hrothgar]
******
Please note the new and improved gmail account morongunthread at gmail dot com. An informal Gun Thread archive can be found HERE. If you have a question you would like to ask Gun Thread Staff offline, just send us a note and we'll do our best to answer. If you care to share the story of your favorite firearm, send a picture with your nic and tell us what you sadly lost in the tragic canoe accident. If you would like to remain completely anonymous, just say so. Lurkers are always welcome!
That's it for this week - have you been to the range?


posted by Open Blogger at
07:00 PM
|
Access Comments