« First-World Problems...Part Quatorze
|
Main
|
Gun Thread: Not My Best Work Edition! [Weasel] »
June 28, 2020
Food Thread: Eat Salmon, Mind Your Business, And Smash That Burger!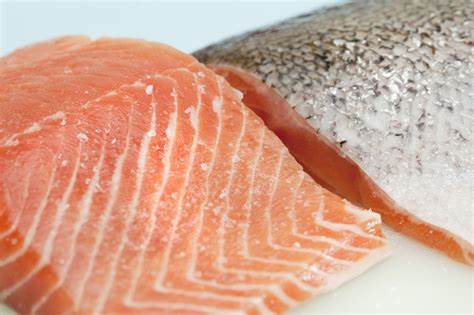 One of the advantages to living in the NYC metropolitan area is the access to the Fulton Fish Market, or whatever they call it now. Well, I don't actually have access to the market, it is a wholesale market and I don't have much use for a case of sea urchins or 80 pounds of turbot. But stuff comes into the market from all over the world, and some of it is of very high quality, so discerning buyers can get really good stuff. Luckily my local fish market has buyers with good eyes and noses for excellent fish, and because of the Wuhan Flu dempanic I have been buying all of my fish there, in part to support the local guys and in part because it's fantastic stuff!
Salmon is a hugely popular fish, and it is being farmed all over the place. Some of that farmed salmon is (how to say this politely?) shitty. Fatty and flabby with no real flavor. But some of it is pretty damned good, and while I am no expert I think it approaches the quality of the wild stuff I used to buy and occasionally catch on the North Coast of California.
I have been cooking it very simply, and have gotten it down pretty well. The recipe is a modified version of the one in the Balthazar Cookbook (I have mentioned it before), and the big change is a much more moderate temperature. They call for 450 degrees, and that's just too hot. The fish is a bit overdone on the edges and a bit underdone in the middle.
Anyway, I salt and pepper both sides of the fillets, then put a thin coating of Dijon (or honey mustard if you like your fish on the sweet side) on the flesh side, then unseasoned breadcrumbs on top, patting them down gently so they stick. Then into a medium hot pan with lots of vegetable oil (I use corn oil), flesh side down for two minutes, then flip and cook for one more minute, then into a 350 degree oven for 8-10 minutes depending on how thick the fish is.
It's quick and easy and good. The mustard cuts the richness of the fish, and the option of a sweeter mustard may entice your rugrats to eat their brain food!
******
We are immersed in the news cycle of riots and pestilence and leftist insanity and Republican backstabbing, and many of us retreat to non-political interests just to preserve what little equanimity we have remaining. But even the sort-of-squishy food sites I frequent have jumped on the SJW/BLM/Antifa bandwagon. One site that I read occasionally has splashed across its front page directions for supporting Black-owned restaurants. How utterly offensive! Are they seriously suggesting that I should ignore my local places that have been crushed by the overreach of government, and be explicitly racist in my economic decisions? I guess so, but I'm not going to find out, because I deleted the link to "The Infatuation" and won't be returning.
Here's Dildo's Business Advice...stay in your lane. I have no interest in your sophomoric virtue-signalling or your dorm-room political insight. I visit your websites for food news and interesting recipes and fun restaurants and innovative techniques. It is a leisure activity, and when you inject your politics into my time I will respond by leaving. It's as simple as that. You will attract no additional readers with your mob-pleasing antics, but you may very well alienate a bunch, and risk the mob casting its violent and unforgiving eyes in your direction if you are insufficiently woke and your knees aren't bleeding from kneeling.

******
As much as I enjoy a traditional "smash burger," or what I would consider an upscale fast food burger, this is a bit too fussy for what should be a simple and tasty meal. Gelatin? Egg? What the hell?
But they sure do look good....
Revolutionise your Grill Game with Smash and Trash Burgers
If you watch the video it will take you to a bunch of other people trying to make the perfect smash burger, and that is a rabbit hole in which I could spend hours and hours...

******
Commenter and cook extraordinaire "artisanal 'ette" has been busy trying to use up the jars of stuff she bought for "emergency supplies," and has been quite inventive. I sometimes buy those tiny little jars of pesto when I find a recipe that calls for one tablespoon of pesto. And it's February. And there is no basil to be had. And it usually sits for a long, long time until it becomes an impromptu microbiology experiment. But
"grilled veggie sandwiches garnished with pesto"
is a much better idea. And this one is intriguing too:
"Paul Newman's Alfredo with garlic sauce and no boil lasagna - veggie lasagna corn relish - on fish and fajitas."
I don't usually buy packaged sauces, in part because I'm sort of snobbish about them, and in part because pan sauces are really easy to make and my repertoire is pretty limited. But this isn't a pan sauce, requires a fair amount of work to make, so a jar in the pantry seems like a pretty good idea as an emergency supply.
Oh...she made steel-cut oats bread in her bread machine...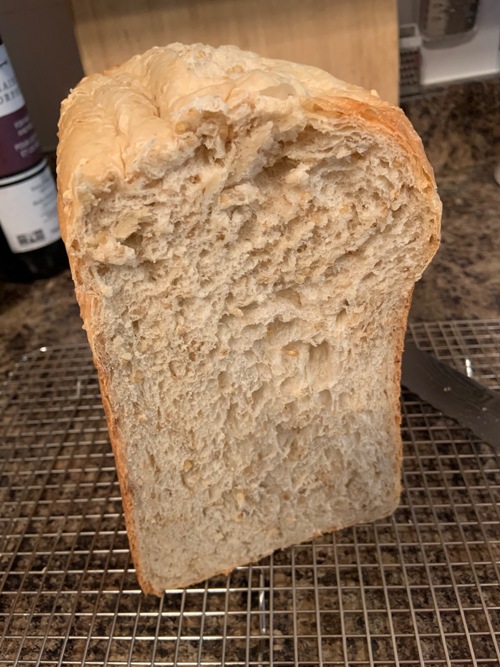 That looks pretty damned good for sandwich bread. Maybe even for those veggie sandwiches with pesto!

******
Flatbread. No idea why they have to speak in tongues. Can't they just call it a tortilla like civilized people? Or a pita?
But it does sound good, and I like the bright flavors of the herbs and peppers with the lamb. By the way, has anyone noticed how well lamb takes to heat? I have mentioned before one of my favorite spicy dishes..lamb and cumin from a local Chinese restaurant that blows the top of my head off with its heat, but it's so good I keep eating and eating and eating...
Lamb and pepper flatbreads with caper dressing
Actually, I'll bet pork would work with this recipe, and maybe even pulled pork. And I was sort of joking about the tortillas. I think a fresh flatbread or pita would be spectacular with this dish.

******
I'll give you a hint who teased me with this cake...blueberries are blue.
Lemon Blueberry Layer Cake
looks spectacular, especially with a cream cheese frosting. Which I love.
But...making cakes is one of many skills that has eluded me. I can make the cake, but that whole -- slice the tops off, then put it on your cake stand and do magic with a frosting knife so it looks beautiful and not like Frankenstein's monster -- part is what stumps me.

******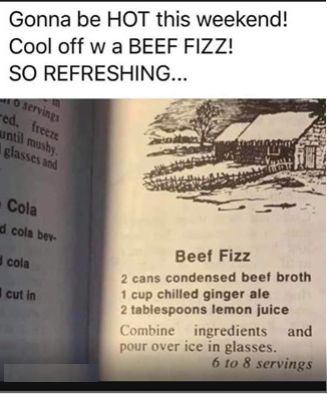 [Hat Tip: ibguy]
******
Food and cooking tips, Large-breasted Muscovy ducks, young wild pigs, bartenders who use vermouth in Martinis (but not too much), pork belly that doesn't have 5-spice, low-temperature-roast chicken, and good tomatoes that aren't square, pale pink and covered with Mestizo E.coli:
cbd dot aoshq at gmail dot com
. Any advocacy of French Toast with syrup will result in disciplinary action up to and including being
nuked from orbit.
And yes, shaking a Manhattan is blasphemy...it's in the Bible!

posted by CBD at
04:00 PM
|
Access Comments