« May I have a word with you? [KT]
|
Main
|
Model Trains, Planes, Woodworking, Painting, and Bodging Thread »
June 20, 2020
Summer Solstice, 6/20/2020 [KT]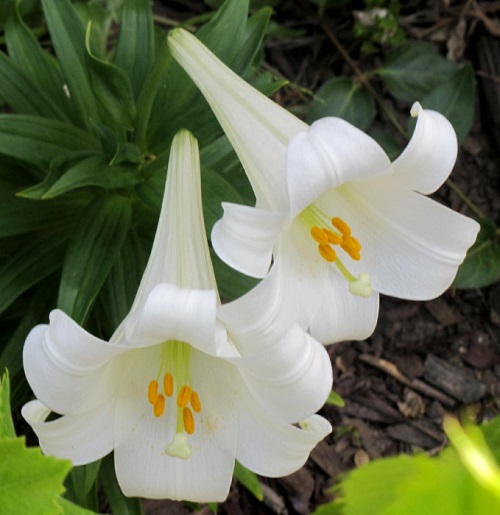 Happy Summer Solstice! Be on the lookout for revelers. And welcome to the Gardening and Puttering Thread!
Did you know that there is also an annular solar eclipse today? You can watch a live, virtual version of the eclipse right from your phone or computer. The scientific consensus is that this does not mean the world will end today. Other predictions, like the Mayan one, are briefly described at the link.
The Trumpet Lily above and the lily below were sent in by 40 miles north. The lily below is from a different species (or maybe it is a hybrid). An Asiatic Lily, in any case.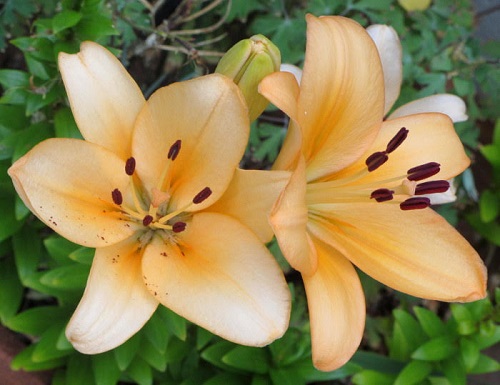 Science
After our Japanese Maple feature last week, Gordon sent in a piece about a Minnesota-hardy Japanese Maple that was discovered in someone's yard. It has weeping branches.
Here's a link to a story about a cold-hardy version that created itself. . .

The US dairy industry resulted from the work a farmer did in Chaska, in the southwest metro. He took lucerne seed, which we know as alfalfa, and planted it. Those plants which survived the first winter were used for more seed. It took a few years but he wound up with alfalfa which could handle Minnesota winters. When wheat crops in Wisconsin exhausted the soil, farmers switched to dairy, with the cow's non-milk output returned to the fields as fertilizer. And in winter, with the cows indoors, there was dried stored alfalfa hay for the cows to eat.

Of course that is artificial selection.

Hay is about as unsexy a crop as there is, but it is very important. There are some interesting videos on mowing and gathering hay on the sides of steep slopes in Switzerland.
Gordon knows lotsa stuff. I'm not sure if Gordon means Swiss wild hay, but cows are a big cultural thing in Switzerland. Video and photos at the link.
The real Swiss supermen

For centuries, farmers in alpine regions have made superhuman efforts in order to harvest hay from the most remote spots in the mountains. Every summer, they would climb from the deep valleys to their pastures high up in the Alps to manually cut grass for hay production. Thanks to its nutritional value, this 'fancy' hay was used as animal feed during the long, cold winters.
Here's a shorter video:
Now you know how to be a Swiss Superman. Wanna give it a try in a vacant lot near you?
Critters
BeckoningChasm sent in the following photo of a spit-bug:
I used to see these all the time when I was a kid. They're insects that secrete a web of bubbles around themselves. Actually, according to Wikipedia, the spit is formed by the larval form. When they're adults, they're leaf-hoppers. Leaf-hoppers jump so fast it almost looks like they've teleported.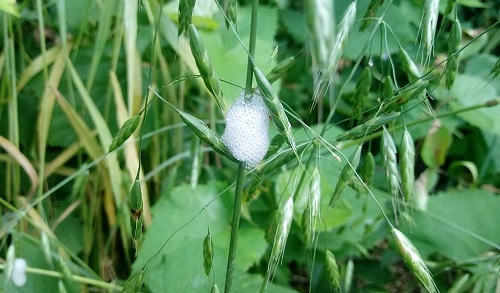 And here are some shots of bees from a member of the Niece Network in Washington State. Recognize the flowers?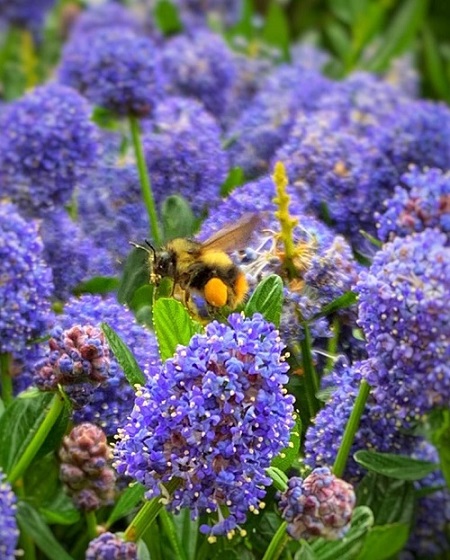 Gardens of The Horde
Got my first tomatoes yesterday, from over-wintered plants. We haven't tasted them yet, but they look good. Kinda small, for beefsteak types.
BeckoningChasm sent in some flower photos:
I think people mostly hate mimosas (mimosae?) because the flowers make a big mess when they fall, but when the light hits them they look pretty spectacular.

I've also attached a pic of a Queen Anne's Lace. Another really pretty flower.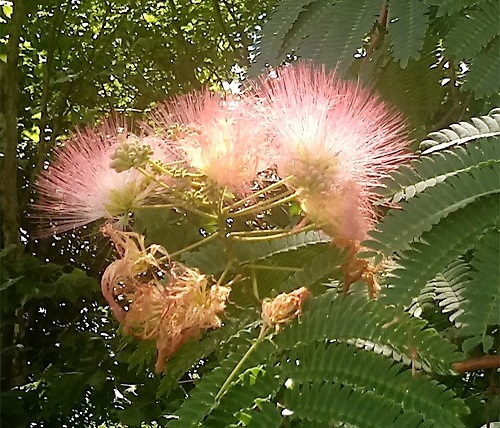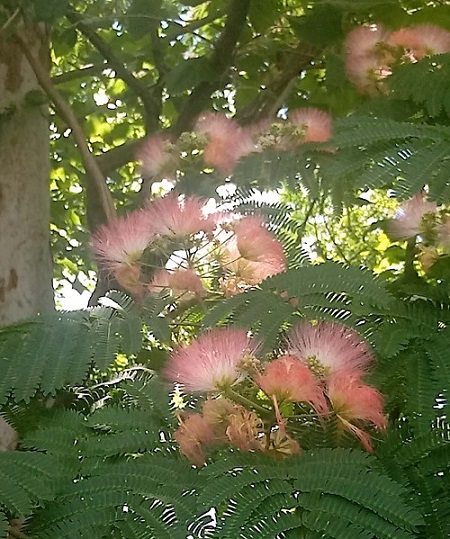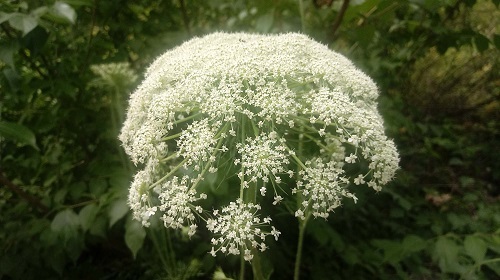 Anything going on in your garden?
If you would like to send information and/or photos for the Saturday Gardening Thread, the address is:
ktinthegarden
at g mail dot com
Include your nic unless you want to remain a lurker.

posted by Open Blogger at
01:33 PM
|
Access Comments