« Open Thread
|
Main
|
Summer Solstice, 6/20/2020 [KT] »
June 20, 2020
May I have a word with you? [KT]
Good morning.
Without thinking too hard, can you spot any logical flaws or bad assumptions which might lead one to question this meme from Peter Frampton?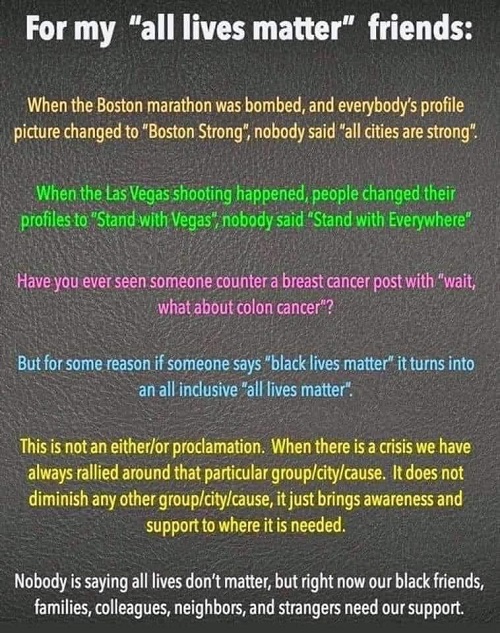 I've been thinking about that Twitter thread on how, during the Korean War, the ChiComs got American POWs to cooperate with them by encouraging small concessions. And I've noticed that people are starting to pay more attention to the Marxist training of the activists who started BLM.
Could that have anything to do with people feeling manipulated by the phrase, "Black Lives Matter"? Could it have anything to do with people losing their jobs for saying "All Lives Matter"? Why all the efforts to explain why it is necessary to repeat the mantra, "Black Lives Matter"?
I had some thoughts written up, but they seem to have disappeared yesterday as the blog went "2020", so you are on your own in answering those questions.
Going a little deeper, there is no way to have a rational discussion with someone who has really accepted the linguistic manipulations that are common in leftist academia today. Language should be real.
Asking for evidence is racism? Science is, therefore, racist?
Students can build on what they have learned, too. Notice the faculty members who just go along with the accusation by a student that "your silence is white violence".
Elsewhere, self-described progressive Bret Weinstein has declared that it is better to remain silent than to try to defend yourself against one of these mobs. Even if they consider your silence to be violence.
When a historically oppressed group engages in actual violence, however, it is not violence.
"Those who can make you believe absurdities can make you commit atrocities." - Voltaire
Listen to the woman at the end of the video. She knows what she wants to destroy. She doesn't have any idea what would replace what she destroys.
Interesting piece via Instapundit, in which James Lindsay uses the descriptive term for the theology of a new religion, Critical Social Justice, which has been identified by some of its adherents. He suggests that there are some cult dynamics involved:
to sign up for Critical Social Justice requires a commitment; a lifelong commitment to an ongoing process that results from a personal awakening to a critical consciousness. That is, it's a faith. It's a faith that requires not only penitence but evangelism, since it can't yet apply torquemada (except metaphorically and applied in a social fashion).

Critical Social Justice is a kind of religious worldview that seeks to enforce Critical Social Justice and produce more activists for Critical Social Justice. These will be critical theorists and activists who claim to be about social justice when they are, in fact, about critical theories. Rather than a God to worship and serve, the upside-down postmodern faith of Critical Social Justice offers an Enemy--systemic injustice--to destroy, and whatever remains or gets erected in place of what it deconstructs will then be subject to the same fate.

This probably isn't what you think you're defending when you, as a good and decent person who cares about people and the problems of society, defend social justice. .
It's a long, detailed, interesting piece.
Be aware. Fortify the children against these ideologies.
Hope you have a good weekend. Try to ignore these people for a while at some time during the day.
This is the Thread before the Gardening Thread

Serving your mid-day open thread needs

posted by Open Blogger at
11:43 AM
|
Access Comments