« Overnight Open Thread (06/14/2020)
|
Main
|
Mid-Morning Art Thread »
June 15, 2020
The Morning Report - 6/15/20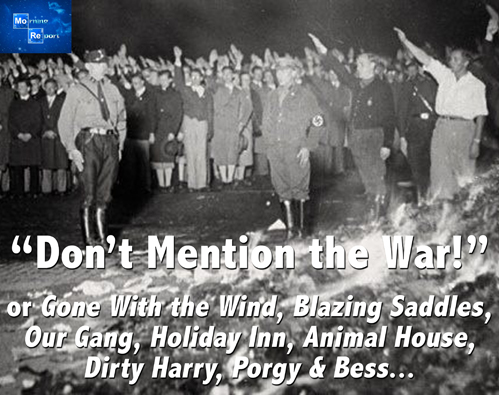 Good morning, kids. Monday. Same shit, different week. This time, it's Atlanta's turn to burn over the death of a black man at the hands of a white policeman. Despite the rather salient point that these types of incidents happen less frequently than white persons shot by white cops, and more horrifically, black-on-black violence in Democrat cities as a result of 60-plus years of catastrophic Democrat-Leftist social engineering, the meme must never be challenged. To do so would threaten our glorious destiny as a communist gulag, but I digress.
The other rather inconvenient fact is that the raw bodycam footage of the officer in question seems to throw cold water on the narrative of a rabid racist white cracker with a badge executing an innocent-as-the-day-is-long, non-threatening black man. Seems the latter, after having failed a field sobriety test suddenly went for what he thought was the cop's gun (it was his taser) and then after an altercation and resisting arrest was shot. He later died at the hospital.
No matter. The damage to our society is done and along with rioting, looting and burning in Atlanta, the officer in question was immediately fired and his partner placed on administrative leave. Look, I'm no special pleader for law enforcement; considering the damage Democrat-Leftists have done to that profession at every level - yes the Obama/Clinton abuse of the FBI, DoJ and IC is directly related to local police incompetence and malfeasance - it's no wonder that the profession these days has too many people in uniform who shouldn't be. Then again, when Democrat-Leftist social engineering creates a vast underclass of generationally abused "victims," with a concomitant "culture" that reinforces the notion of being victims of a nation and a dominant race that controls a system that keeps them down, is it any wonder we are living through this?
The victimhood swindle/big lie is insidious from top down. It's also mind-numbingly hypocritical. Year after year we hear Leftist politicians and teachers unions - but I repeat myself - shrieking about how black students are left behind for lack of proper funds (racist!) while black youth are mind-raped by scum like Chuck D., Snoop-Dog and Spike Lee about being race traitors for adopting white values, i.e. American values. And that pressure is kept up by their peers. Bastardy, drug abuse, derision of education, criminality and sloth puts you in with the in crowd. You go against that at your own risk in the hood. But in spite of all that, urban charter schools that are not controlled by Leftists and Leftist bureaucrats and unions are performing miracles by actually educating black youth to give them the tools they need to become members of American society. It also helps that they have parents who are desperate to free their kids from the virtual gulag of doom the Democrats want to consign them to. No wonder the plantation owners are screaming bloody murder, and doing all they can to shut them down.
Meanwhile, far from the inner city, figuratively if not literally, Indoctrination Inc. has churned out at least two generations of Marxist-Leninist automatons instead of free-thinking Americans who are now the foot soldiers and enforcers of a new cultural revolution. And they are everywhere now, from corporate board rooms to small businesses and right in your own home at your dinner table, to shame, hector, coerce and even force you to confess your sins and take a knee, as it were.
Yes, the danger is real and it's all around us. But there are signs of hope and rays of light. The 28-year slumber that began at the end of the Reagan years, interrupted by 9/11, lulled us into a sort of zombie-like state of complacency, resigning us to the fate touted by Obama, that America's best years were behind us and that we should finally embrace our inevitable socialist overlords. And then came Donald J. Trump. America was heading for a political and cultural reckoning. Trump just caused all the masks to be dropped.
2020 is a time for choosing. But unlike 1964 when Ronald Reagan intoned those words in his great speech, the choice has never been more stark. Forget the riots, the looting, the burning and now the complete ripping open of wounds that Obama tore at and are now bleeding out onto the pavement. Those who seek our subjugation will not stop at that. You can dismantle monuments, you can burn books and films, you can rename streets and buildings, you can rewrite history, you can force people to kneel before you and even, G-d forbid overthrow the nation, but that can never be enough. The reason is that there is still a collective memory of American culture. Remember that to these people, racism is not just "structural." So-called "critical race theory" states that it's genetic all non-persons of color. Ultimately, there is only one solution... and it's final. Sound familiar?
I think people see this and not just the Trump base, but people who have had enough. All of this is anecdotal but if ordinary people have the stones to walk through the "border" of CHAZmania with American flags and protesting the filthy criminal terrorists, if George Floyd's own brother can condemn the rioting and the police abolition movement, if what I feel is a silent majority of blacks who are now "woke" to still being nothing more than figurative an literal cannon fodder for Democrats, then there still is reason to hope for a reborn America. It won't happen overnight. It may manifest itself in unexpected ways. But a change is coming. I pray it's for the better.


CIVIL WAR 2.0: LEFTIST REIGN OF TERROR, CRIMINALITY
- Bodycam footage of Atlanta cop who shot Rayshard Brooks shows altercation, victim going for cop's gun.
- Atlanta Wendy's burns after another black male shot and killed by cops.
- Masked woman suspected/wanted for torching Wendy's.
- "Chaos, arson follow police shooting of Rayshard Brooks.
- "As tragic as every officer-involved shooting of a black person is, not all of them are worth burning down a Wendy's for. For radical activists and their enablers, this act is getting old fast."
- Atlanta shooting: Officer Garrett Rolfe terminated, Officer Devin Brosnan placed on administrative duty.
- These guys are either incredibly brave or really stupid as they confront the CHAZ-tards.
- Overwhelming majority of truckers polled refuse to deliver to cities with no cops.
- Pull her fingernails out and make her talk.
- CHAZtopian neighbor scared out of his mind.
- What they got away with in Seattle not flying elsewhere, much to the Left's chagrin.
- If some Chicago cops did refuse to act, all things considered, I can see why they wouldn't.
- Maybe if problematic cops weren't trained by Democrats in Democrat cities, Rep. Clyburn.
- Tell Bro-Fo that the rot at the "root" of the problem is Democrat-Leftist policy and rule.
- "Apparently, it's fine for protesters to turn violent, as long as it happens for the 'right' reason."
- Herschel Walker rips Joey Sex-Knuckles a new one for outrageous comparison of Floyd to MLK jr.
- "What Black Lives Matter has really done with its mountains of donations."
- Angel-of-Death Cuomo plays word games with "every life matters." Except the unborn, of course.
- Terrorists better think twice about targeting the Alamo.
- "Lenin would be proud" of today's Leftist's exploiting Floyd death to foment revolution.
- "There is today an air of illegitimacy and political thuggishness about the increasingly illiberal Democrats who seem bent on destroying both logic and the evenhanded rule of law."
- Find the subhuman miscreant who did this and chop his hand off.
- Counterterrorism expert states the obvious.
- Buffalo teen restores a bit of faith in humanity and the younger generation.
- Protestroria est omnis divisa in partes tres
- "Everything unique to an individual, whether physical things or rights of conscience or data, belong to the individual. A government created out of the consent of the governed that fails to protect these rights is an unjust government."
- "In George Floyd, our neo-communists found their own Sacco and Vanzetti, but much better."
NOTE: The opinions expressed in some links may or may not reflect my own. I include them because of their relevance to the discussion of a particular issue.
ALSO: The Morning Report is cross-posted at CutJibNewsletter.com if you want to continue the conversation all day.
Follow us on Twitter: @CutJibNews


posted by at
07:25 AM
|
Access Comments