« Tonight's ONT Has GTT
|
Main
|
Mid-Morning Art Thread »
June 05, 2020
The Morning Report - 6/5/20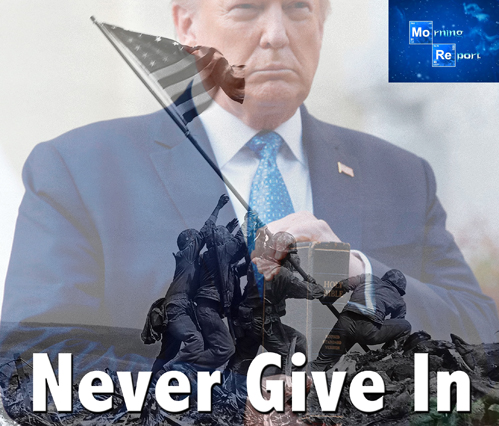 Good morning, kids. Friday and before I get into my thoughts for today, I want to apologize to all for a comment I left yesterday in a late afternoon thread. I do not want to rehash it, and would appreciate it if those who saw it and reacted would not either. It was distasteful and not reflective of who I am and you all are. It came out as a result of the gun we are collectively under; that's an explanation, not an excuse. You deserve better from me and I shall endeavor to persevere in that light.
Now, back to putting our head under the gun as it were. Yesterday, I confided that I was not only depressed but actually felt genuinely terrified about what we have been going through over the past eight days. I'm not going to be a Pollyanna about things because this nation is arguably facing the greatest threat to its existence in its history, even greater than that of the Civil War and World War 2. At least in the latter, despite our divisions and differences we shared common values, heritage and belief in the founding principles. One can perhaps argue that that existed even with the former.
Not today. America has effectively been cleaved in half. On one side we have those who believe in this nation, the righteousness and divine providence of its founding, and with all its many flaws that it is still the last best hope for humanity and the greatest nation that will ever exist in this world. On the other side, we have in essence, a hostile foreign power that believes the polar opposite. But it is not a foreign power at all, as Abraham Lincoln so presciently predicted in 1838:
"...At what point, then, is the approach of danger to be expected? I answer, If it ever reach us it must spring up amongst us; it cannot come from abroad. If destruction be our lot we must ourselves be its author and finisher. As a nation of freemen we must live through all time, or die by suicide."
Let's get real here; if G-d forbid Joe Biden wins this November, the nation ceases to exist right then and there. Oh sure, the riots will magically stop and the lockdowns and quarantines will be lifted. But the Democrats and their all-too-willing Renfield-icans will finish the job that somehow Obama's 8-year Reign of Error miraculously failed to do.
But if Trump wins, as I still feel he will, you can expect open warfare even worse than what we have seen, and without the corpse of an unfortunate black man to wave around as a talisman. The rot within the vitals of our nation to paraphrase Lincoln's words will still be there - in Washington, in the courts, the agitprop media and worst of all in the schools, where we are reaping the Gramscian whirlwind that Bill Ayers sowed decades ago. They can neither be reasoned nor bargained with. They will not cease, they will not stop. I believe that four more years of a Trump presidency could and should turn around even this disaster, in terms of the economy and getting real Americans back to work. But it cannot last forever. The Democrats can never again be allowed to wield power and yet eventually they will.
Even with that said and on top of what I admitted to you yesterday, I feel a sense of optimism. What cannot go on will not go on. There are only three options: 1) a national divorce where we are geographically and politically split into some sort of North American version of the former Yugoslavia, 2) America completely subsumed by the Maoists or 3) defeating the Left, if not completely (which I think is impossible given the circumstances) then to the extent that they can no longer threaten to overthrow the nation while still participating in governance (almost as impossible as a total defeat).
Given the fact that they are who they are, with a fundamentalist belief in a perverted sort of "manifest destiny" as it were to conquer the world that parallels their Muslim fellow travelers' weltanschauung, I don't see how they would ever surrender, nor even agree to a split. They would never leave us alone for several reasons. First, it would be painfully obvious in short order that as free America flourishes and grows, New Antifaria would turn into a hellish nightmare that would make Zimbabwe a paradise in comparison. And that contrast would completely counter their worldview and expose them for the liars they are and always were. They cannot countenance that. Just like the Jews and now Christians. If Israel did not exist and there was only one Jew left and he lived on the other side of the universe, Islam would expend every ounce of its strength to build a spaceship to travel to him so they could cut his head off. Ditto for the Left and the last real American standing.
Wherever we are, however we are, they will not sleep until we are wiped off the face of the earth. That is the challenge we are facing here and now. I don't have a crystal ball, I cannot see the future. But freedom is never free and it never will be. We have to fight for it. Most of our lives, it was in a rhetorical sense. Now the wolf is at our throat and it's the real thing. But it's worth fighting for. And President Trump is worth fighting for. The only reason we are seeing this is because, unlike previous Republican presidents and politicians who roll over, HE FIGHTS BACK. I stand with him.
Yes, we will be stabbed in the back and in the heart by the likes of the Deep Staters, cucks, RINO flunkies and traitors. Accept that and go forward. I think in spite of everything, and even in spite of the grim choices/scenarios I have laid out, events have a way of unfolding that we cannot predict and that can work out in our favor. Tet Offensive and all that. The fire that has been set by the Left may very well blowback and burn them in profound ways that we cannot see. If nothing else, just fight back because it pisses the Left off that we are here and we are not going anywhere.
In the words of their hero Joe Stalin "not one step back."


CIVIL WAR 2.0: NATIONAL RIOTING/INSURRECTION
Frankly, I think we're making a mistake like we did with the Islamic terrorists and turning this into a law enforcement issue. We're facing an uprising by an insurrectionist movement that is part and parcel of the Democrat Party that is allied with if not funding and protecting an almost paramilitary force of violent terrorists. This is a war and it should be fought as such. Do we even have counterinsurgency elements in our own armed forces? I hope we do because now is the time to break the glass and get the fire axe.

Looks like terrorists had the Richmond Federal Courthouse in their literal sights and no doubt others around the country, equally culpable IMHO as the terrorists hurling Molotov cocktails are the vile, filthy, traitorous words of Pee-Air Defecto and the Alaskan Snow-Blower who praised Lord Haw-Haw Mattis' backstabbing of the President to the hilt. Those two, and everyone pretending to be on our side are every bit the enemy as the Leftists. Both John Dowd and Jeffrey Lord shred Mattis, another essay on whether or not Trump should invoke the Insurrection Act to quell the rioting. I think that's what the enemy wants so they can call him a dictator and blame the unrest on him since he'll own the subsequent reaction to it, which may make the past eight days seem tame by comparison. As I stated, time to go after the ringleaders and the financiers out of the spotlight. Deep State traitors and leakers notwithstanding.

America's pus-laden bedsore Al Sharpton was the featured speaker at Wellstone Memorial 2: Death-to-America Boogaloo which I'm sure will be just as helpful to Biden this November as the original was to Kerry 16 years ago now, and the invaluable David Horowitz has his response to the Sharpton blood-libeling of America, Bill DeBolshevik set upon by his own minions, NYPD finally enforces the curfews with arrests across the city, the idiocy and a soupcon of Lysenkoism from the city council, Mikvah Waters sez rioting is negative language hurtful to black rioters or something (the new "N" word), aren't we sick of the reruns already, women gets the Donald Sutherland pod-person finger-point for daring to erase graffiti, Larry Elder on the sham of BLM considering the year-in-year-out black on black carnage no one dare mention, and Barack Obama opened his mouth and sang his rendition of "I Me Mine" for the umpteenth time.

As an aside, I would not be surprised to learn that what we are witnessing was orchestrated in whole or in part inside the Kalorama Kommie Kompound - just like the original Russia Collusion hoax and even the blue state lockdowns.