« Saturday Gardening and Puttering Thread, June 13, 2020 [KT]
|
Main
|
Saturday Afternoon Chess thread 06-13-2020 »
June 13, 2020
Ace of Spades Pet Thread
***

Good afternoon and welcome to the almost world famous Ace of Spades Pet Thread. Why not take a break from what you are doing and enjoy the world of animals.
While we are enjoying the world of animals, let's leave the news and current events outside the front door.
***
Meet The Pet Morons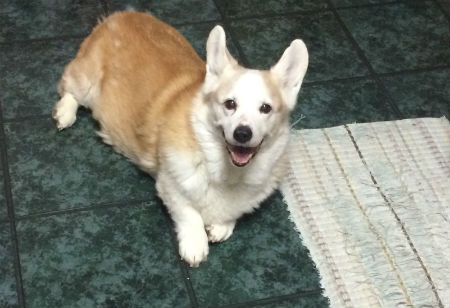 Occurred to me today while reading the Pet Thread that its been a while, and whaddaya know - its been 5-1/2 months! :-)
The pic I had sent previously was when he was a young one year old whippersnapper. This one is from when he was an older and wiser 12 or 13. But he still had that "Let's find some trouble to get into, Dad!" look on his face. - Long Time Lurker
Handsome dog. It has been awhile since we heard from you. So have you gotten a new pup?
***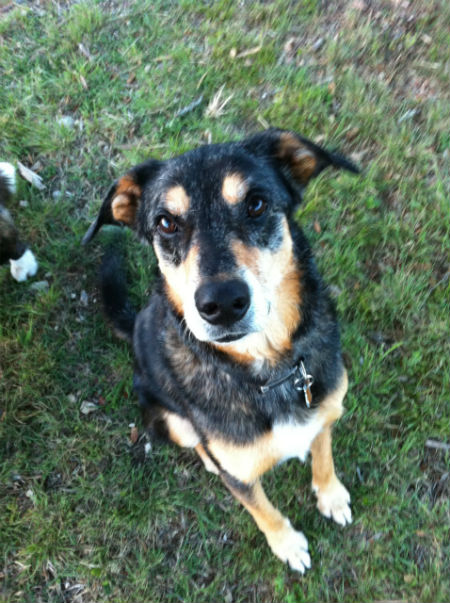 t saddens me to report that I lost Woofie, my 13 1/2 year old Catahoula, a few days ago. He didn't suffer much and went out bravely. I buried him out on the trails near my old apartment complex here in Austin. He loved it out there. I posted a picture of him here a few years back and I've attached another one. He was a magnificent companion and my best friend. - No name provided
So sorry to hear about Woofie's passing. Those 13.5 years flew by. He was a handsome lad.
***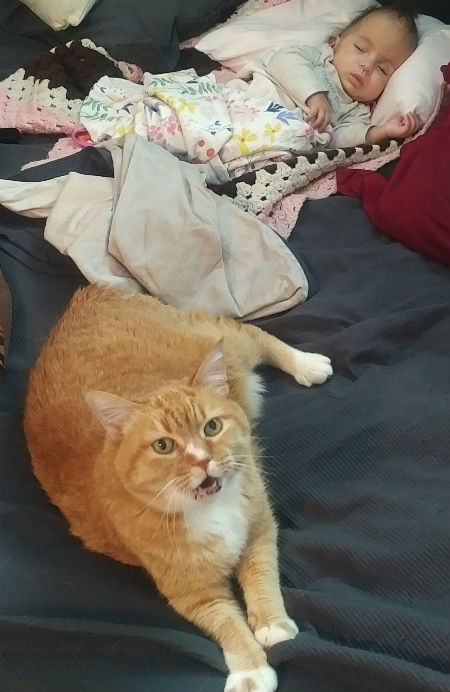 "Luna Guards The Baby"

This is a cool and weird thing Luna does. If the baby is in her crib or playpen or with one of us, she'll just ignore her. But if she's on the bed or couch, Luna jumps up and sleeps next to her, and gives the evil eye to interlopers. In this photo, I snuck up and surprised her, so she snapped awake to hiss at me.

I think she's trying to repay me for the nine kittens I helped her care for -Yudhishthira's Dice
So this is the adorable daughter we have heard about. She's a cutie and that Protection Cat you have is awesome. Best of luck in the future YD. And thank you for sharing today.
***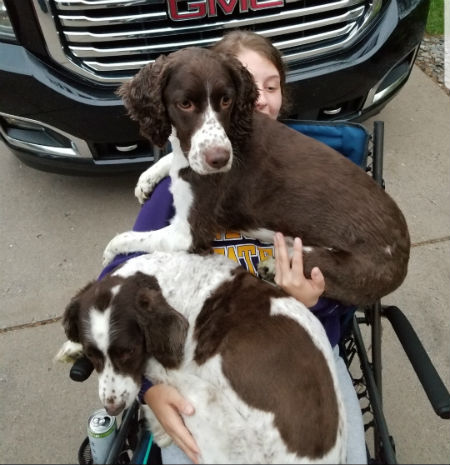 Our Springers are the best family, hunting, and sometimes half-a-brain-cell personalities we have ever had. Love the thread!!

Have a wonderful and peaceful Memorial Day!! - No name provided
I can't speak for the rest of The Horde. But not giving those dogs their own recliners is very abusive. They've resorted to a life of lap dogs. Thanks for the contribution.
***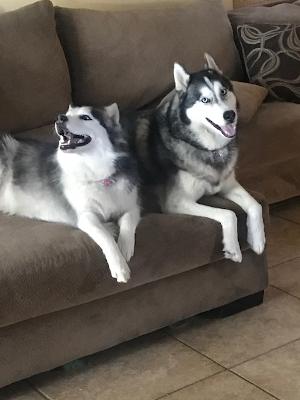 Hello there,
Daily lurker/rare commenter here (knowledge never entered my mind through my open mouth)...with all the crap going on today your pet thread is a refreshing break...so without further adoodoo, meet Hank and Nadine. My daughter's and her fiancee's hounds, staying with me until they buy a home. Sweetest, biggest clowns I've ever seen...being an empty nester/widower, gonna be tough to give them up...
Thank you for your kind words regarding the Pet Thread. They are greatly appreciated. I have a question for you, who says you have to give them up?
***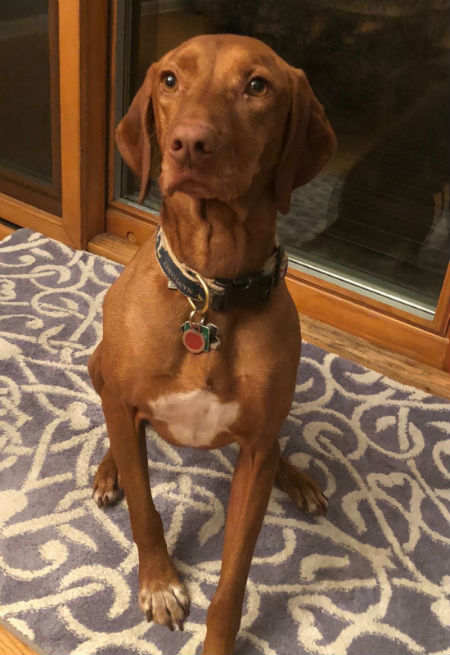 This is Sylvie our six year old Vizsla. Had her since she was a puppy. Not the smartest dog but knows lots of commands and keeps our yard free of evil squirrels and rabbits. Best friends with anyone that will scratch her hips. Yawrate
Sometimes there are trade offs. Smart dog and unsafe back yard or average dog and safety back there. Great dog thanks for sharing today.
***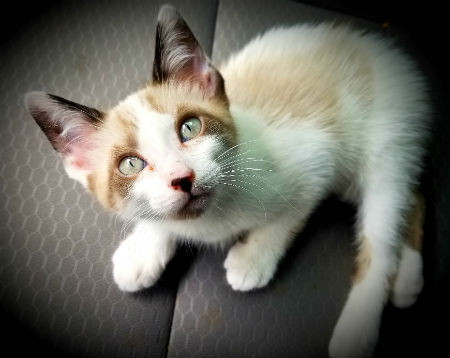 Youngest about to turn 10, has been asking for her own cat. This Craigslist special has blue eyes and points so I guess she's Siamese mixed with tabby but not positive. Also, entirely apart for my input, daughter named her Willow. - Willow is mine (moron Citizen)
What an adorable little kitteh there. I see big things in her future. I hope she brings years of pleasure to you and your daughter. Thanks for the submission today.
***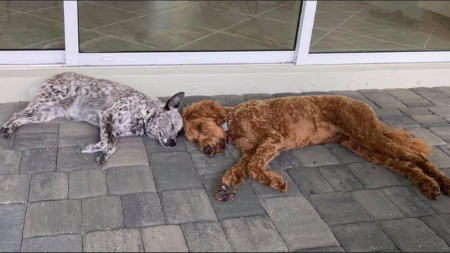 There are several jokes about "two dogs" but I refuse to go there in fear of triggering a snowflake! Attached is a picture of our cattle dog Chicken (the boss on the left) and Our neighbors sooper dooper smart Labradoodle named Lucy, but we call her Goofball, on a trip to Gods waiting room (AKA Florida). Think a gator will eat anything? Ever shack up with a Labradoodle? This beast can stretch out over twelve feet and lick a bread crumb off the top of a refrigerator. Ever use a pooper-scooper? Forget about that, get a backhoe and a 50 yd. dumpster! I estimate there are about 350 million of these "designer" dogs in my subdivision at a cost of several thousand dollars each. Its a status thing don't you know??!!?? - No name provided
Quite the photo you took there. I take it your not a fan of the designer doggeh. Well this Cob doesn't want to start a fight, but spending over $1,000 for a mutt is hard to understand. Thank you for this funny story.
***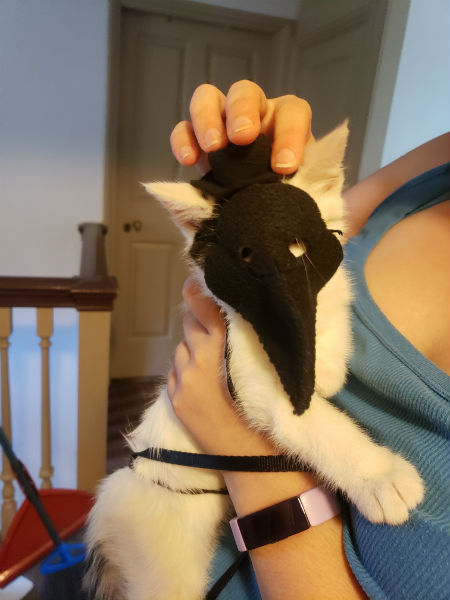 Greetings,

We always enjoy the pet thread in our houses. My daughter in Virginia
recently adopted a new kitten, so to keep her safe she made a Plague
Doctor outfit for Pip. You have brought us many smiles, hope this
brings you one.

Regards, Steve and Stacy
The masked kitty is cute. And it did bring a smile to my face. Thanks for being Pet Thread supporters. Good luck to your daughter and little Pip.
***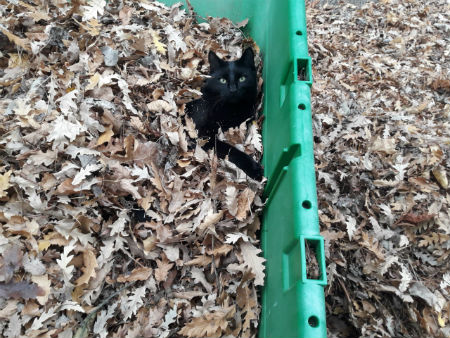 Hi There,
We lost our wee friend today forever, and I was wondering if you would please consider putting up photos of him up in memory of him on the Pet Thread. Kink was and is my wee mate, my little black monster. He was missing for two days before I found him on the road, basically flattened and no way to id him. Vet had to do that.He was only 12 months old. He was the most friendly and funny wee man. Would follow me around like a doggie with his twin sister Blink. Kink was a loving and affectionate monster and was an awesome hunter and for a young cat very strong and muscular. His nickname was The Dude, as he was very chilled but also the Steve McQueen of the cat world. His twin sister Blink and his doggie sister Billie are lost with out him, and keep looking for him, as do I, even though I can see his gravestone from the window. I keep waiting for him to strut into the lounge and see his tail (broken with a Kink) stand up and run towards me when I call him and come for a cuddle. He would wake us up at 0500 hrs so he could go and hunt outside, then call from outside to show us his prize rat or mouse. Such a good wee monster. We are heartbroken, but I am sure that I will see you on the other side. Love ya, my wee mate.

Thanks very much, - NZFrankwithanM2
We are so sorry to hear of Kink's passing. A handsome cat and it sounds like he was loved by everyone in his life. Once again condolences NZFrank.
***
Greetings!!
Thanks, Ace, for keeping us informed and somewhat sane during these crazy times…we appreciate you & your team!! Possibly not as much as Wrigley appreciated this treat for his 4th birthday last week, but darn close! He had a full day: Sniffing interesting stuff on our walk, belly rubs, chasing after the ball and barking at liberals that pretty much wiped him out! Cheers to Wrigley! #whosmygoodboy?!
Best Regards & God Bless!!
Happy belated birthday Wrigley. That's an unusual doggeh name. I'm curious as to how you earned that. Thanks for the wonderful story and photo.
***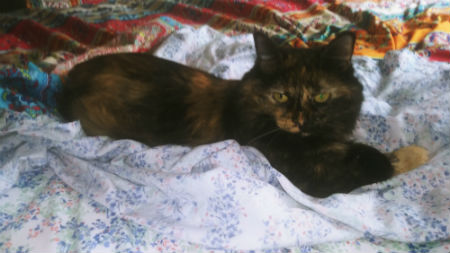 Greetings!

I love your site and I never miss the pet thread. 10 months ago I got a 1.5 year old Tortie named Wilma from a local cat rescue shelter. She was skinny, but sweet and I wanted to send you an updated picture of her (I sent one when I first got her). She is now the Princess of All She Surveys and I've been reduced to a servant in my own apartment, lol. That being said, she was a blessing over the winter and makes me laugh every day. She loves to play "hands under the cover" but only gets to play if I get to cut her claws. Needless to say, she hates having it done. She's been the most amazing cat I've ever had, and I've had a few really good ones. As you can see, she has filled out to the point where I've had to buy "diet" cat food for her! She's fat and sassy and I love her to pieces.

Thanks for all you do. - Kelly
No need to thank us Kelly, we thank folks like you who check out the Pet Thread and submit wonderful stories such as Wilma's. Thank you for the wonderful update.
***

Wonderful pet photos this week. Unfortunately there were some sad stories associated with them. However, death is part of life and we are all better with pets.
If you have something pet or animal related please share with us at petmorons at gmail dot com.
Have a great week!

posted by Misanthropic Humanitarian at
03:00 PM
|
Access Comments