« First-World Problems...Part 1010
|
Main
|
Gun Thread: Never, Ever Volunteer for Anything Edition! [Weasel] »
May 31, 2020
Food Thread: Steak For Dinner? Again?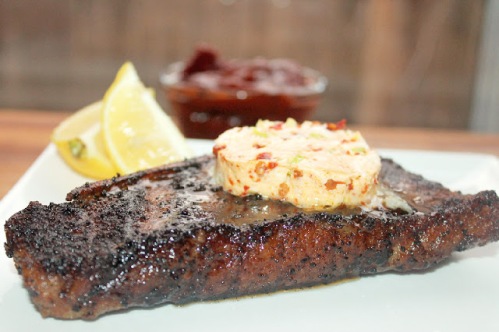 Is anyone else deeply ambivalent about flavoring good steak? I sure am, in spite of the delights of some of those flavorings. compound butters (like the chipotle butter in the photo) usually taste great, and the classic Italian presentation of excellent olive oil and a squeeze of lemon is a marvelous thing. But the flavor of a perfectly cooked piece of nicely marbled beef is so good and pure and simple and...dare I say it...perfect, that it seems a bit of a waste to tart it up with other stuff. It's almost (shudder) French!
Commenter redc1c4 sent along some cooking tips from a high-end butcher in La La Land, and while they are pretty straightforward, I would not consider them the Gospel.
1. Temper the meat.
Yup...I agree. Take it out of the refrigerator about an hour before cooking. I have been doing this for years, and when I can't for some reason I think I have noticed a difference.
2. Season aggressively.
Our second point of agreement, but I season when I take the steak out of the refrigerator. I think that with time, salt penetrates the meat a bit and adds to the experience. And...I hold the steak in one hand and a big pinch of Kosher salt in the other, and sprinkle from up high. That makes it nice and even.
But they also say to use pepper, and I must disagree! I think pepper burns at high temperatures and does not belong on the steak until it is done cooking.
3. Heat.
Preheat whatever method you are using. No argument from me.
4. Patience.
Don't poke and prod and move the steak too much. That's true of all foods!
5. Rest!
Let it rest. Absolutely. This may be the most important bit of advice they provide. Relax, pour yourself a glass of wine or mead or the blood of your enemies or whatever you drink with steak, put up your feet and enjoy the experience of waiting for something glorious. Five minutes won't kill you.
6. The Finish.
They suggest using a thermometer to check the final temperature, and I guess that is good advice. I certainly use my thermometer all of the time, especially on fish. Just not on steak. I think the touch method works just as well, and you get the opportunity to lick your fingers or burn yourself!
7. Plating.
Sure. Why not. Warm the plate. I usually put it next to the grill so it is warmed by the copious quantities of ambient heat, but hot water or a warm oven or a bunch of other ways will work just as well.
I think most people who take steak seriously do all of these things as a matter of course, but if you are just starting out on the road to steak perfection (it is a long road, you'll never get there, but the ride is great!), this advice is a good place to begin.
******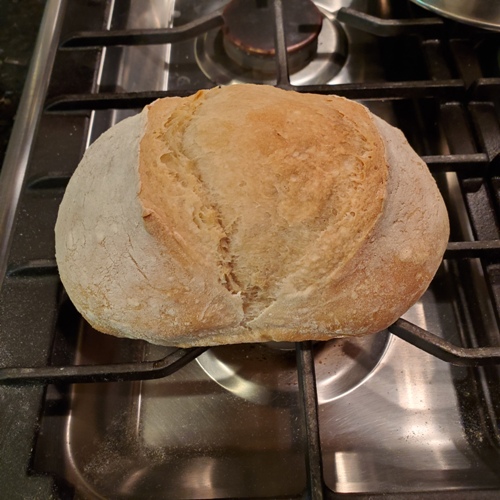 That's the first loaf from a batch of dough made from a no-knead recipe sent to me by Shiv-Master Bluebell. It was really, really easy, and turned out a very nice loaf. Is it fantastic? No, but a fresh-baked loaf of bread is, sort of by definition, quite good eating, especially with butter.
Next time I'll goose it a bit with some sourdough starter, but it is a solid recipe all on its own. And weird too. I am accustomed (as many of you are) to fairly complex bread recipes, with multiple folding and kneading sessions and timing according to the phases of the moon and the ambient temperature divided by your astrological sign times your mom's birth date.
So it was a real pleasure not doing much of anything and still getting a pretty good result.

******
Last night I served dinner for five. Roast chicken, pork ribs, ratatouille, salad, fresh-baked chocolate-chip cookies. Two big eaters, two normal eaters and a child (so pretty typical for many people), and there were leftovers.
Doing a quick accounting yields a total cost of about $40, and that includes a fancy chicken from a local poultry farm. To be fair, that is balanced by the ridiculously inexpensive but excellent quality pork ribs from Costco.
What's the point? Well, I think most people can cook frugally with just a bit of planning. It's not that tough, and it doesn't mean that one has to eat boring crap.
The Smart Cook: Cheap Recipes, Strategies For Affordable Eating, And More.
Some of these recipes are really nice, especially the first one, but I am an absolute sucker for Chicken Picatta. Or flip-flop Picatta.
[Hat Tip: Misanthropic Humanitarian]

******
Remember that chickpea and chorizo dish I linked to? The one that made me suspicious of hard cider as the liquid? Well, a braver Moronette than I gave it a shot, and:
I made it with cider and chickpeas I soaked and pressure cooked. It was delicious and most ingredients are in the pantry. I will make again. I really enjoy the Food Thread. I bought a Sous Vide (Joule).

Covid19 lockdown is a good time for cooking.
Hah! My work is done! I have a convert.
The Joule she mentions is by all accounts a fine piece of equipment, but the one drawback, at least for me, is that it is controlled only through an app. There is no way to run it on the machine itself, unlike the Anova, the one I have.
The note was signed with a name that may or may not be her nic, so in the interests of privacy I will refer to her only as "Reader with fine taste in blogs and cooking technique."

******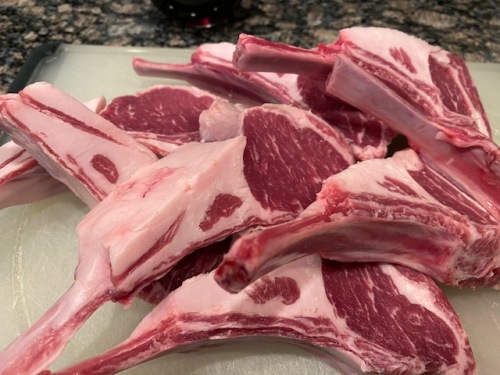 Looks great huh? But look closer. Have I taught you nothing? Frenching bones is a crime against all that is good about cooking and eating. I mean really! It's even named after France. Yuck.
Commenter Mr. Bingley should know better. Although he did redeem himself by serving them (I assume he grilled them) with a red wine reduction/Dijon dipping sauce.

******
Alton Brown. I love the guy. And he likes guns, so that is a big thumb's up. But sometimes he gets so damned fussy that he makes a simple food far too busy and multi-stepped to take seriously.
Lacquer Bacon
sounds really good, but dude, how many extra steps do you need to coat bacon with sugar and pepper?
I'll still make it though.

******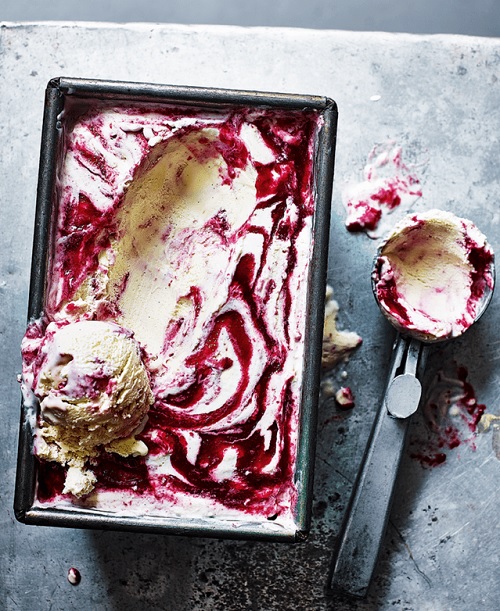 I'm not even a fan of cherries, but their season is approaching, and this looks really good. Too bad they speak European kickball units, but with the internet even that's manageable. Traditional vanilla cherry ripple ice cream.

******
Food and cooking tips, Large-breasted Muscovy ducks, young wild pigs, bartenders who use vermouth in Martinis, crisp bacon (although I am moving toward less crisp), low-temperature-roast chicken, and good tomatoes that aren't square, pale pink and covered with Mestizo E.coli:
cbd dot aoshq at gmail dot com
. Any advocacy of French Toast with syrup will result in disciplinary action up to and including being
nuked from orbit.
And yes, shaking a Manhattan is blasphemy...it's in the Bible!

posted by CBD at
04:00 PM
|
Access Comments