« People's Autonomous Republic of Cap Hill Gets Rid of Evil Presence of Police and Within 24 Hours They Have an Armed Warlord Who Beats People Halfway to Death (On Video!) For Spray Painting Grafitti Messages He Doesn't Like
|
Main
|
The Morning Report - 6/11/20 »
June 10, 2020
Overnight Open Thread (06/10/2020) [Buck Throckmorton]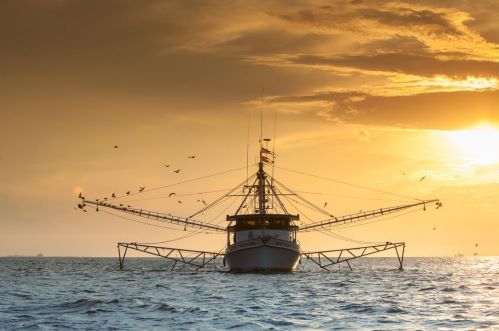 Greetings to the late night denizens of Ace of Spades HQ. I've been given the privilege of pinch-hitting on the Overnight Thread for one night, so here we go.

*****
SOME FOOLS NEVER LEARN
When you decide to end a dysfunctional relationship with a destructive lunatic, shouldn't you avoid jumping right back into bed with someone else who is just as crazy?
Elon Musk says Tesla HQ will leave California

Report - Tesla's Next Factory Will Be in Austin
*****
SPACE FORCE
The Space Force revealed its flag recently, and as cool as it is, I'm more interested in what will be chosen for the Space Force Anthem. My suggestion is to adapt the 80's song Major Tom Coming Home. The tune and the lyrics about countdown and blast off are great. We could just tweak the lyrics a little, changing the part about losing contact with ground control and replacing it with some star-spangled lyrics about blasting commie satellites out of space.
*****
MASS HYSTERIAS
Is the Covid panic your first mass hysteria in which you were at minimal risk? I've lived through several - the Child Day Care Witch Trials, Heterosexual AIDS, Killer Mold, and of course - Global Warming. Mass hysterias are part of the human condition. Did you ever hear about the Seattle Windshield Pitting Epidemic of 1954? It was all a delusion. At least back then, the solution to these panics was not command and control of the economy by power-hungry politicians.
On April 15, 1954, Bellingham, Seattle and other Washington communities are in the grip of a strange phenomenon -- tiny holes, pits, and dings have seemingly appeared in the windshields of cars at an unprecedented rate. Initially thought to be the work of vandals, the pitting rate grows so quickly that panicked residents soon suspect everything from cosmic rays to sand-flea eggs to fallout from H-bomb tests. By the next day, pleas are sent to government officials asking for help in solving what would become known as the Seattle Windshield Pitting Epidemic.

The Anacortes outbreak began early in the morning on April 13, 1954, when car owners noticed the heretofore-unseen pits in their windshields. Losing no time, all available law enforcement officers in the area sped to town in the hope of apprehending the culprits. Roadblocks were set up south of town at Deception Pass Bridge, and all cars leaving and entering the city were given a detailed once-over, as were their drivers and passengers. To no avail. Farther south, cars at the Whidbey Island Naval Air Station at Oak Harbor were discovered to have the same mysterious dings. Nearly 75 marines made an intensive five-hour search of the station. They came up empty. By the end of the day, more than 2,000 cars from Bellingham to Oak Harbor were reported as having been damaged. Two things became abundantly clear: This could not be the work of roving hooligans; and whatever was causing windshield pits and dings was rapidly approaching Seattle.
*****
MARITAL ADVICE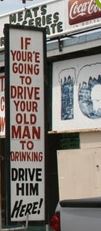 ***
OUR INTELLIGENCE AGENCIES USED TO TARGET FOREIGN ADVERSARIES
Back when America's intelligence agencies were trying to destabilize foreign adversaries rather than overturn US elections, the CIA hostaed a devious scheme to sabotage the Soviet Union's economy and technology. President Reagan approved it and it was a beautiful thing.
In January 1982, President Ronald Reagan approved a CIA plan to sabotage the economy of the Soviet Union through covert transfers of technology that contained hidden malfunctions, including software that later triggered a huge explosion in a Siberian natural gas pipeline, according to a memoir by a Reagan White House official.

"In order to disrupt the Soviet gas supply, its hard currency earnings from the West, and the internal Russian economy, the pipeline software that was to run the pumps, turbines, and valves was programmed to go haywire after a decent interval, to reset pump speeds and valve settings to produce pressures far beyond those acceptable to pipeline joints and welds," Reed writes. "The result was the most monumental non-nuclear explosion and fire ever seen from space," he recalls, adding that U.S. satellites picked up the explosion. Reed said in an interview that the blast occurred in the summer of 1982.
*****
THROCKMORTON'S FIRST LAW OF LIVE MUSIC: IF THERE'S AN UPRIGHT BASS IN THE BAND, IT'S PROBABLY GOING TO BE GOOD
Parker Millsap is a young man with a voice and style that sounds like a much older man.
*****
LIFE CHANGING INVENTIONS
There were several "this changes everything" inventions during my childhood and early adult years – the Microwave Oven, TV Remote, and VCR being prominent. But none was more life-changing for me than the .Weedeater
Like most boys in the '70s, I did my own family's yard work, and I also did "lawn boy" work for neighbors. Just one lawn was a major job back then, with manual edgers and clippers required for the job that string trimmers now do. The Weedeater was invented in 1971 but it didn't become ubiquitous for several more years. It wasn't until the late '70s that I first used one.
What were the most life-changing inventions of your lifetime?
Mr. Ballas got the idea for the Weed Eater, a device also commonly known as a weed whacker, while sitting in a car wash. He wondered whether the idea of spinning bristles, like the ones cleaning his car, could be applied to trimming grass and weeds in areas that a lawn mower could not reach. He experimented with fishing wire that poked through holes in a tin can attached to the rotary of a lawn edger, and found that the spinning wires easily sliced through grass.
*****
CAPTCHA
This never gets old.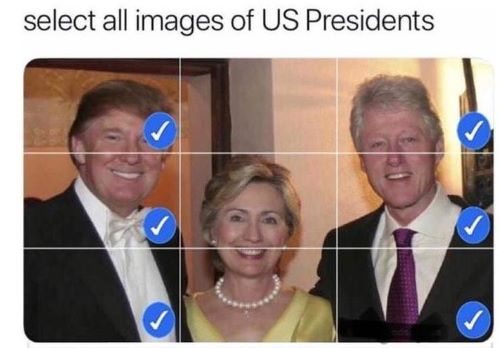 *****
GRANDCHILDREN OF PRESIDENTS
There are 10 persons who get to call our current President their grandfather. There are two men – still alive – whose grandfather is President John Tyler. For real. John Tyler was born in 1790 and became the United States' 10th President in 1841 when William Henry Harrison died. (This was the Tyler of "Tippecanoe and Tyler too" ). I periodically check obituaries and I'm always glad to find that Lyon Gardiner Tyler and Harrison Ruffin Tyler are still among us.
There are two men - still alive - whose grandfather is President John Tyler

*****
Tonight's Overnight Thread has been brought to you by Romantic Gift Ideas.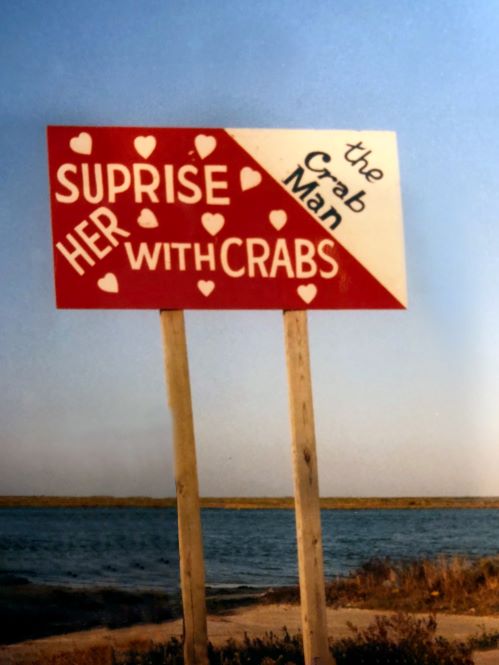 *****
Thanks to the horde for letting me play host for one night. In the event I pinch-hit here again, please feel free to offer me any helpful insults feedback or tips at @BuckThrockmort on Twitter.

posted by Open Blogger at
09:58 PM
|
Access Comments