« Overnight Open Thread (06/10/2020) [Buck Throckmorton]
|
Main
|
Mid-Morning Art Thread »
June 11, 2020
The Morning Report - 6/11/20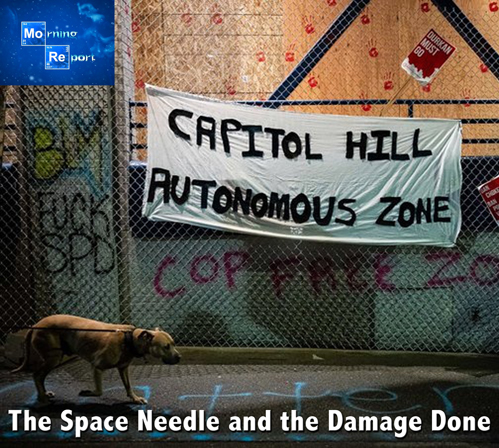 Good morning, kids. Thursday and yet again I have to wonder, is what what we are witnessing the collapse of our society or a last, desperate suicidal banzai charge of the Left? The thing of it is, a banzai charge still leaves a lot of dead GIs and jarheads in its wake. Politically speaking, I think the wave of terror unleashed by some truly evil and nefarious forces - whether openly or tacitly supported by the Democrat Party - and now the actual debate to abolish police forces as if it were a rational, reasonable policy goal will doom the Democrats at the polls this November; the attempts to steal the election by the Left notwithstanding.
Some have compared 2020 to 1968, and while there are definite and in some instances striking parallels, there are major differences. Overall, the violence of the civil rights and anti-Vietnam War protests and riots that reached their climax at the '68 Democrat National Convention in Chicago has the same ideological and generational players, as well as the same anti-American Marxist instigators fomenting the chaos. The key difference is while miraculously there still is a large "silent majority" of normal Americans who reject this madness, many of the institutions that that majority look to for support are lined up against them. Yes, the media have always been anti-American, but 52 years on, our schools, cultural institutions, as well as banks and businesses are either willing participants or silent as we the people and We The People are systematically stripped of our rights. The rot has even consumed many of our churches and synagogues, places where we seek out the strength and comfort of Almighty G-d, but instead are met with apostates, frauds and hustlers whose mere presence in a house of worship is an abomination.
Now, evidently, we are not even allowed to remain silent, for it has been decreed by our executioners on the Left that to remain silent is to approve of "white supremacy" and "systemic racism." You will be made to care. Or else.
I'm not just writing this in the abstract because I have a sinking feeling I'm facing a personal moment of truth. Without giving away too much information -- and the mere fact that I have to go by a nom-de-blog so as not to risk my ability to make a living, or even bodily harm is proof positive that much of the America I believed in is no more -- I have been tasked by a client to craft one of those hideous agitprop letters spouting the Black Lives Matter lies and whitey mea-culpa to its customers. In advance of a 9:00AM phone call, my inbox this morning had a dozen examples from companies like Under Armor, Concordia, Postmates, Union Square Hospitality Group, and others. Along with the crap we've all been inundated with from every other company, each one was more hideous than the last in its complete ignorance about those legendary "root causes" of the misery and pain the Left is always going on about - the pain and suffering that they alone are guilty of and always have been.
Whether it's the utter dissolution of society as embodied in CHAZtopia, or the burning, looting and pillaging of America's cities, there are still a number of people who still think "local crime story" and "more than 10 miles away." Hell, I had looting and rioting a block away from me and in a sense even I had that attitude. No more. The revolution is calling me on the phone this morning. Those that have admonished me and others for not "voting with my feet," all things considered, it's getting to a point where there will be nowhere left to escape. And sooner or later, whether with a Molotov cocktail or more likely, a Sundar Pichai social credit score, it's going to reach out and touch you.


CIVIL WAR 2.0: LEFTIST REIGN OF TERROR, CRIMINALITY
"If you won't do it, I will": President demands Seattle officials take back CHAZtopia, which presupposes Seattle has actual leadership and that it wants to do it. Conflicted on whether he should do this or not. And intellectual superstar Jay Inbreed does a Sergeant Schultz schtick. Elsewhere, San Luis Obispo cop shot during ambush attack that also took the life of a homeless man, Vegas cop mostly peacefully shot in the head now on a ventilator for life, Wretched Whitmer not just a tyrant but a spineless one at that, if Fort Worth drops rioting charges against rioters maybe there is some logic in abolishing the police - and replacing them with real police, uh-oh - one of the Floyd incident cops is out on bail, a look inside CHAZtopia, "in the end, everyone pays for riots," Larry Elder with "a reflection on black lives lost - and dead silence," "from random shootings in Chicago, to the targeting of black neighborhoods for abortion clinics, why don't these black lives matter, too?," hack Letitia James taps crook Loretta Lynch to run NYPD show trial-cum-investigation, after the Confederate generals and Columbus it will be statues of Jesus, "Until now, the FBI at least would have made a half-hearted effort to deny its conversion into a leftist political asset. No more," a call to kick out the invaders that occupied CHAZtopia, the CHAZtopians look to lord of the flies... and rats, and ticks, and lice, meh, if this is what Seattle wants, let them get it good and hard, zombie Bert Kwouk called from the grave and wants Julian Castro to return his face, Heather Mac Donald with "comments submitted to the Committee on the Judiciary of the House of Representatives in response to the Oversight Hearing on Policing Practices," Detroit terrorists want to make the rubble bounce and Detroit's leaders say "how high?" "If we continue on this path, there will be no going back. Our country will be unrecognizable." The Racism-Industrial Complex, or "how to know when appearance correlates with reality - and when it doesn't," and Victor Davis Hanson on not getting what you want and getting exactly what you want.
NOTE: The opinions expressed in some links may or may not reflect my own. I include them because of their relevance to the discussion of a particular issue.
ALSO: The Morning Report is cross-posted at CutJibNewsletter.com if you want to continue the conversation all day.
Follow us on Twitter: @CutJibNews


posted by at
07:18 AM
|
Access Comments