« Former Ukrainian Ambassador and Impeachment Witness "Masha" Yavonovitch Met With Burisma Officials Despite Sworn Congressional Testimony That She Knew Almost Nothing About the Firm
|
Main
|
Ramblin' Man ONT »
May 14, 2020
Get Woke, Go Broke: Buzzfeed Edition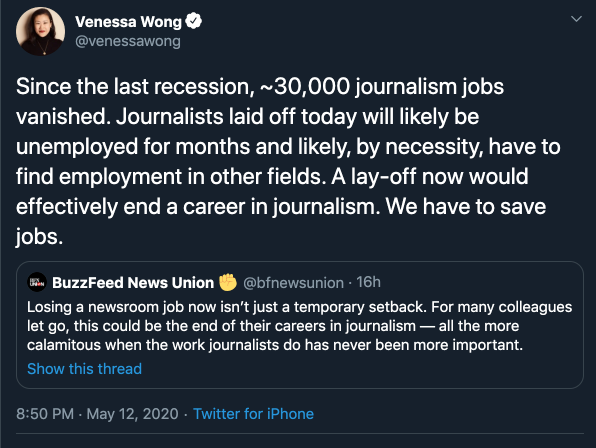 That first post sounds like someone who wants to be added to Nancy Pelosi's list of leftwing constituencies to be given bailouts.
And now, Buzzfeed is shuttering its UK and Australia bureaus.
Yeah I'm shocked they even had those myself.
Online media firm Buzzfeed is to close its UK and Australian news operations.

The US company, which set up its London office in 2013, said the decision had been made "both for economic and strategic reasons".

Buzzfeed said it would be focusing on news that "hits big in the United States during this difficult period".
A Buzzfeed staffer whines "It feels like they are trying to murder us!" as the New York Times poaches any decent reporters they have, leaving them with listicles and debt.
Buzzfeed also claims that the NYTimes steals stories that Buzzfeed has already reported and takes credit for them.
Which I'm sure is true. But then, Buzzfeed got rich on stealing other people's photos, lists, memes, etc.
It's not just that BuzzFeed feels like the Times has a knack for rereporting certain stories and then publishing similar features of their own with minimal or no credit. As Katie Notopoulos joked to Ben Smith a couple months ago when he announced he was stepping down as BuzzFeed News' editor in chief to become the Times' media columnist, "Since you'll be starting at the Times in two months, which BuzzFeed story from this week will you rereport first?" It's a gripe that many journalists who have competed against the Times over the years would commiserate with (and to be fair, the Times has gotten better about giving credit and linking overall).

More frustrating and also more problematic for BuzzFeed is the extent to which the Times has been raiding the publication's "talent" pool.
I added the quotes around "talent." I think that was a clear error in punctuation by Vanity Fair.
Buzzfeed will be spending ten million dollars more than it takes in this year, and six million above income the following year.
And those, of course, are optimistic projections.
Via Tim Pool.

posted by Ace at
07:47 PM
|
Access Comments