« Tuesday Overnight Open Thread (5/12/20)
|
Main
|
Mid-Morning Art Thread [Kris] »
May 13, 2020
The Morning Report - 5/13/20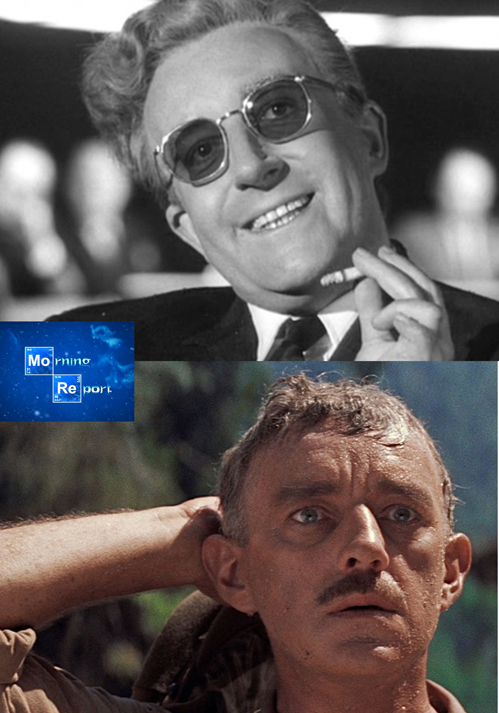 Good morning, kids. Wednesday, and another grim milestone of yet another day of America held hostage.
In thinking about Dr. Anthony "Falsie" Fauci's performance in the Senate yesterday, two movies popped into my head. The first is Dr. Strangelove. Whatever Dr. Falsie's personal politics may be, and there is ample evidence that he is a big-time Clinton booster and all-around leftist of the true-believer variety, he is a technocrat. I think his entire professional life has been so utterly focused on science that he has essentially become blind to the human and societal considerations and consequences of the decisions he makes. But that's where things come full circle because throughout history, and especially in the last century, science has been perverted in the pursuit of political aims that resulted in the deaths of millions. And that has been a foundational principle of Leftist politics here and abroad for a very long time.
No, I am not stating that the good doctor is the second coming of Josef Mengele. But his mindset, and more accurately the mindset of the Left with its deification of all-too-human "experts" in white coats in service of "the greater good" of an all-powerful State ultimately will lead directly to the crematoria of Birkenau if not challenged. These imposed lockdowns, while initially and perhaps grudgingly accepted by all of us, including President Trump, have in short order brought out the absolute worst in many of our political leaders, and not exclusively on the Left (I'm looking right at Mike DeWine).
Millions of individuals like Shelly Luther watched their lives and livelihoods be wiped out in a matter of weeks while at the same time saw plain as day that the reasons and data behind what amounts to mass incarceration in what is effectively a global gulag were completely flawed. And yet the Fauci's and Neil Ferguson's of this world along with the politicians who use them as both shield and cudgel, continue to Chicken Little us to death without the least bit of shame, never admitting they were wrong. For them, it's pride with more than a soupcon of megalomania. It's also zealotry. Far too many scientists have allowed themselves to become the high priests of the temple of the State. The true believers have an unshakable, fundamentalist mindset that government is the cure for all of societies ills; ills which they claim are caused by individuals pursuing their own interests by themselves, for themselves and not towards some "common good."
Yet whenever their multi-trillion dollar social engineering schemes and five-year plans crash and burn, as they always ultimately do and spectacularly so, the blame is always cast on "the bitter clingers" and "deplorables" and not on the apparatchiks, technocrats and politicians whose con game too many have fallen for every two to four years. They can never admit to being wrong; to do so is to concede that their very perception of the world itself is wrong. So the shuttering of churches and the persecution of orthodox Jews now comes into sharp focus (I will assume the Religion of Peace peaceniks have some sort of state-sanctioned dispensation). And that is why I underscored the word "individuals" because it is the individual, his nature as a free being and the rights he is born with - not granted to him by the State - that stand in direct contravention to the Leftist notion of how the world is to be ordered.
And that brings me to the second movie I referenced, Bridge on the River Kwai. After the past two months of this madness, I am waiting for President Trump to look up and say "what have I done?"
Lift the lockdowns. Liberate America.


CHINESE CORONAVIRUS, FICTIONS AND FACTS

NOTE: The opinions expressed in some links may or may not reflect my own. I include them because of their relevance to the discussion of a particular issue.
ALSO: The Morning Report is cross-posted at CutJibNewsletter.com if you want to continue the conversation all day.
Follow us on Twitter: @CutJibNews


posted by at
07:47 AM
|
Access Comments