« Fuck It All Friday Open Thread
|
Main
|
EMT 5/9/20 »
May 08, 2020
Mirror, Mirror On The Wall, Who's The Fairest ONT Of All?
Boy, no wonder Brits think Conservatives are mean!

Of Course, Sometimes We Are

Cruisin'
Satellite Images Show Armadas Of Vacant Cruise Ships Huddling Together Out At Sea
I don't know if the cruise industry will ever come back (personally I can take them or leave them. I've been on some cruises, had fun, but I wasn't blown away), but right now there are hundreds of luxury boats, some that cost more than a billion dollars, aimlessly cruising offshore. It's kind of sad, and kind of creepy.
The Archer's Paradox
Your Mother Puts License Plates On Your Underwear? How Do You Sit?

What Happened to Val Kilmer? He's Just Starting to Figure It Out.
Lotta strange going on here. I will say this. They picked the right reporter to write this story.
Ancient History

Stone tool from Oregon archaeological site could point to oldest human presence in western U.S.
Hear that hammering? It might be the sound of another nail being driven into the coffin of archaeology's "Clovis first" theory.

The theory holds that the oldest cultural tradition in the Americas is that of a prehistoric culture identified from distinct stone tools found near Clovis, New Mexico, in the early 20th century.

However, in the past couple of decades, work at sites such as Monte Verde, Chile, and Oregon's own Paisley Caves has uncovered evidence of human occupation in the Americas that predates the Clovis culture. (While still preliminary and not yet peer-reviewed, some evidence from an archaeological site in Vero Beach, Fla., may suggest humans were present there at least 14,000 years ago.)

I've always thought theories like "Clovis first" were horseshit. Human beings have been explorers since before they were human beings. I guarantee you that there were people stumbling across the "new world" tens of thousands of years before Clovis man. They just didn't leave any traces that have survived for us to find them (yet).

And Now, A Man With Strong Opinions
Normally shy and retreating, Kurt Schlichter surfaced to write these op-eds before scurrying off to the peaceful anonymity he prefers.

'Climate' Hoax Is Another Coronavirus Casualty
America Doesn't Have A Justice System Anymore

Time Lapse

Their Minds Are So Open Their Brains Fell Out
Help! The Sex Resort We Wanted to Try Has a Racist Theme Night
The answer is to make sure that it's a line of actual Jakes railing your lily white ass in front of your cu*k-ass husband, and not fake ones. Then you can go back home to Manhattan and brag to your friends about how non racist you are because you let a couple of dozen black men run a train on you.
Yelp Sucks
I can tell you that from experience. I have a Yelp page, and some of my clients have gone there and given me 5 star reviews. Yelp refuses to display them on my page unless I pay them $300/month. I also tried advertising with their marketing dept., spent hundreds of dollars for not one lead, and had the devil's own time canceling. This doesn't surprise me a bit.

Yelp is Screwing Over Restaurants By Quietly Replacing Their Phone Numbers

Fido Friday

Bits And Pieces
Why I Can't Get Arrested In Raleigh
Funny how the cops arresting everyday Joe protesters refuse to arrest the one guy who has a history of taking on government overreach and winning.
Media Attack Gov. Kristi Noem For Not Panicking And Destroying Her State
I don't know if Gov. Noem has any aspirations for higher office. I do know that anyone who says "The people of South Dakota are the source of the power and legitimacy of our government – not the media, not politicians and not political parties. That's a healthy perspective for any elected official to keep in mind" is someone to take a close look at if she does.

Code Review of Ferguson's Model
I don't know enough about coding to know if this is legit or bullshit. It certainly sounds like he knows what he's talking about, however. If so, the entire justification for all of this damage being done to the country would have to improve five fold to reach the level of "bullshit".
C. S. Lewis on the Coronavirus
The headline is a gimmick, but the article – and Lewis' writing – is spot on.
Tonight's ONT brought to you by peaceful country living: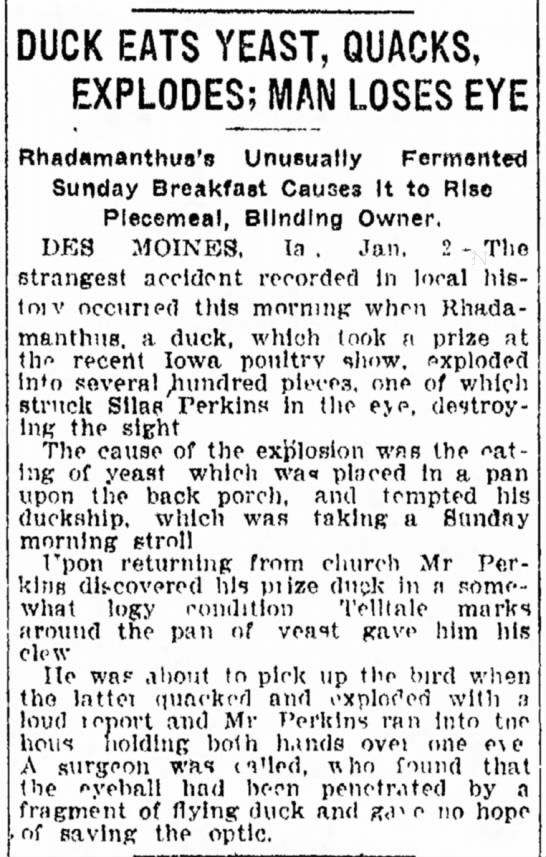 Right click & open in new tab to embiggen, sorry about the poor quality of the scan, I didn't scan it

posted by WeirdDave at
09:45 PM
|
Access Comments