« Power to the People [KT]
|
Main
|
Ace of Spades Pet Thread »
May 02, 2020
Saturday Gardening and Puttering Thread 5/2/20 [KT]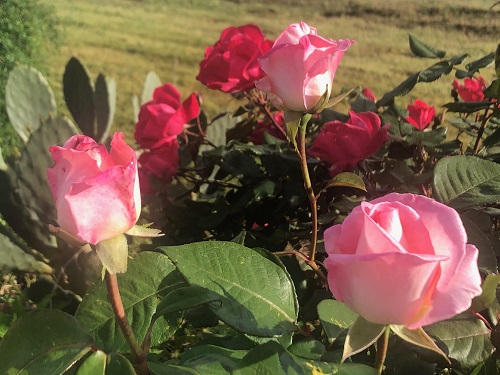 Hello, gardeners, impatient dreamers and putterers. Got anything going outdoors this weekend?
About the photo above:
These pinkish roses are growing up through the middle of the red rose bush providing a natural background. Very convenient.

It has been a cold and extremely rainy spring here in north Alabama (Zone 7). Not conducive to sitting outside while sheltering in place. Bah Humbug.

Le Garde Vieux
Wee Kreek Farm Girl sent in a piece on 11 things you shouldn't do on World Naked Gardening Day. But it's only advice.
I will not be participating, I live in the desert with lots of spiky, pokey plants. Also not into naked gardening but hey if its your thing, have at it.
How is the weather treating YOUR garden? Conducive to naked gardening yet? Have you even been able to get out and look around, or do some work?
Larro sent in the following from Texas, where the amaryllis are already blooming:
Over in cousin's front yard. I've never seen this many amaryllis! I am jealous!
I like the smaller-flowered ones with multiple blooms for landscaping. Beautiful. The flowers are still plenty big. The giant-flowered ones are great in pots.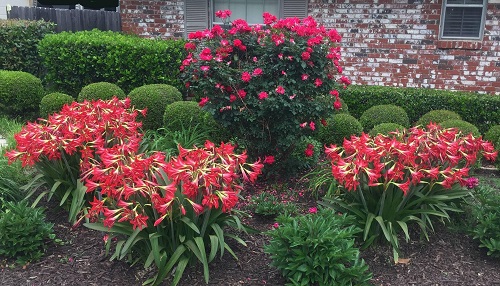 Colombia
Last week, we posted information and photos from Colombia, courtesy of rld77. Coffee processing, coffee trees, bananas, aloes, and a waterfall on the farm. You have waterfalls on your farm, don't you?
Well, this week, we have more. How great is this?
Background: The farm, or Finca in Spanish, is around 40 acres. We have two active springs that are our water sources, in addition to the stream where the waterfalls are. Altitude is around 5600' to 6250'. Normal Temperatures year round are about 58F to 78F . Day/night split is 12 hours.

The farm has around 45,000 coffee trees, 100 citrus -- lemons, tangerines, grapefruit, navel and Valencia oranges, several types of avocados, innumerable banana and plantain trees, aloe vera, lots of bamboo, and several other types of exotic fruits.
Wow. Now for the photos.
Highway closest to the farm, taken from a mall in town. Looks Colombian.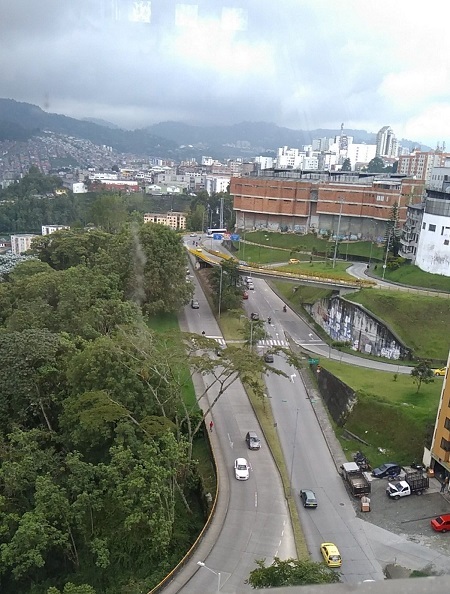 Coffee tree with ripe coffee cherries.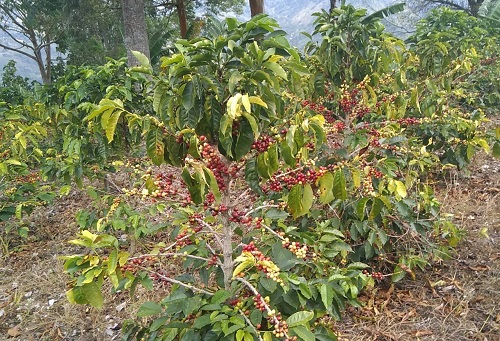 A couple of coffee pickers, viewed from afar.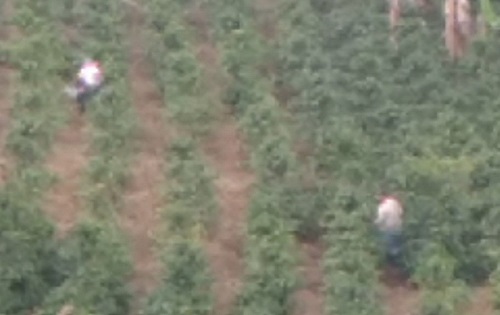 One of the waterfalls on the farm. Amazing.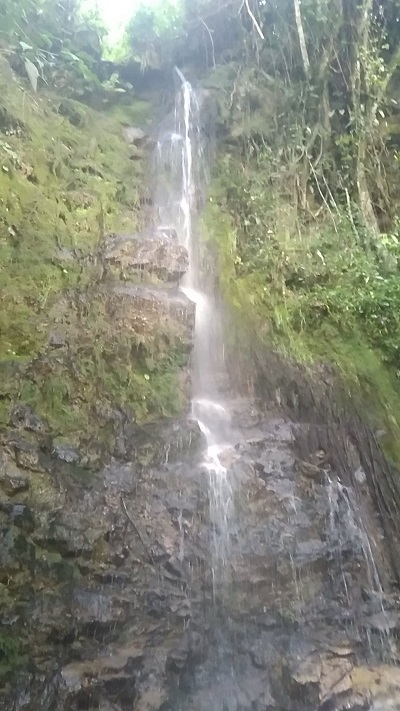 "Our Flag"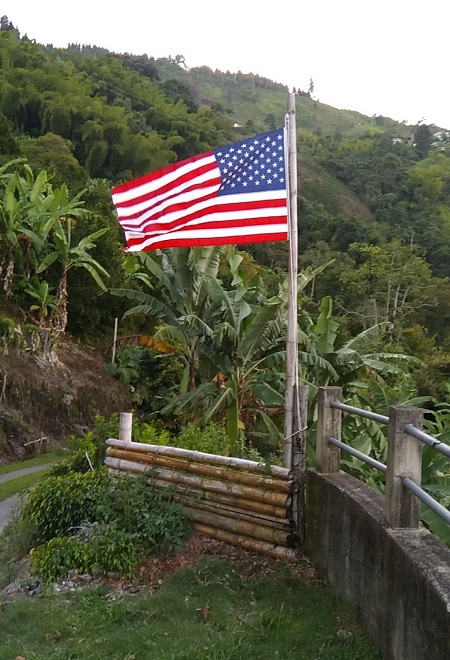 In Colombia! Looks kind of dreamy.
Thank you so much, rld77. We are enjoying the virtual trip to Colombia.
Got any questions for rld77? From either this week or last week?
Critters
We can grow aloes outdoors in parts of the USA, too. CSMBigBird has one:
Seems the hummingbirds dig the Aloe blooms in the spring.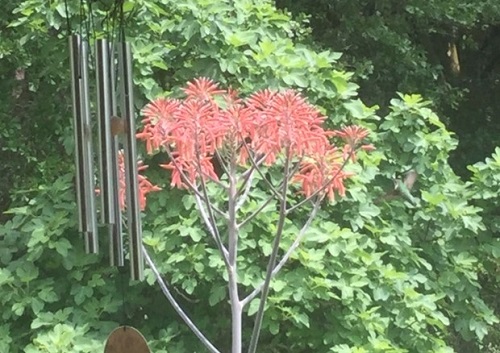 Have the hummingbirds made it to where you live yet?
From Illiniwek:
Giant daffodils planted last fall came up nicely ... geese eating something on the bottom ... red wind blackbird on shore between them.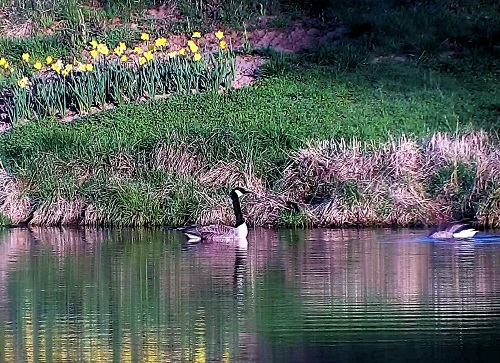 Puttering
Larro is back in the quilt cave:
This is a small part of a larger quilt made by a process called English Paper Piecing.

There's 5-6 different shapes/colors hand sewn together to make a block, then blocks sewn together...a gob of pieces!

You cut the paper, then the fabric, then fold and glue fabric over paper leaving a 1/4" rollover/seam allowance.

I think this will be a king size.

This is much better than a 5000 piece jigsaw puzzle!!!

Of course, after sewing face together, then add batting, backing, long arm quilting, then sew the binding on.

I think.

I'm almost an apprentice. Almost.
Wow.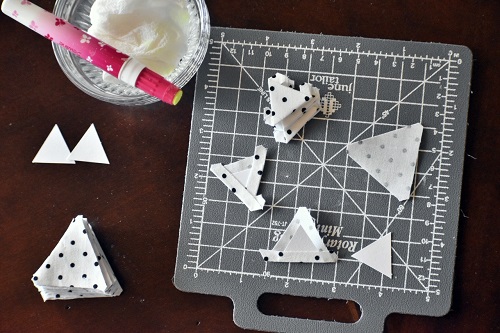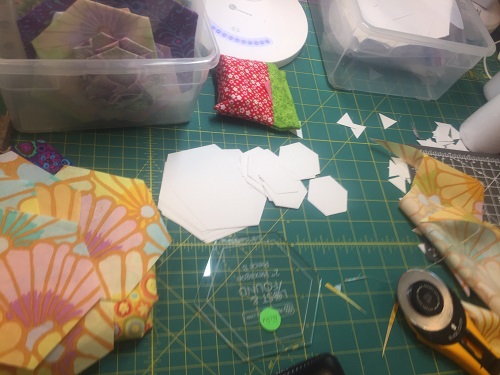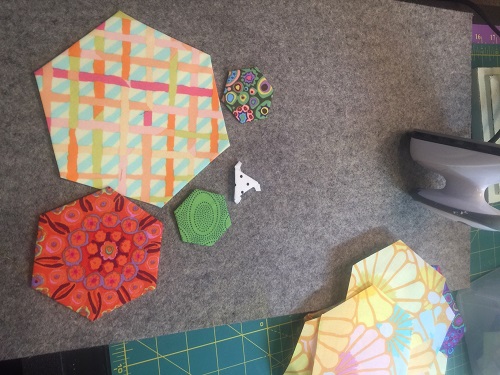 Here's a quilt that was just finished by another Texas quilter, a friend. She had put it on hold 4 times because it was such a big project. And it's not king sized. Shown hanging on a fence. Does this kind of thing still count as puttering?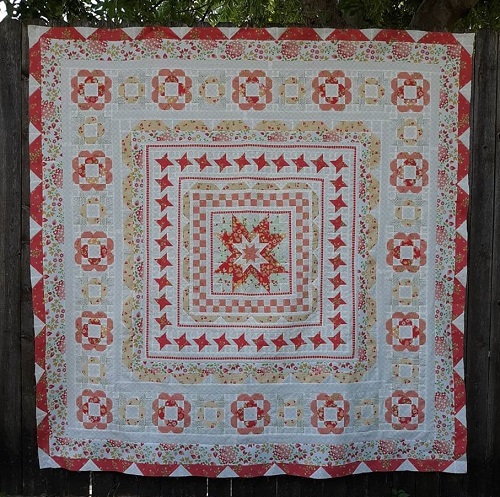 The Edible Garden
Seems the hummingbirds dig the Aloe blooms in the spring.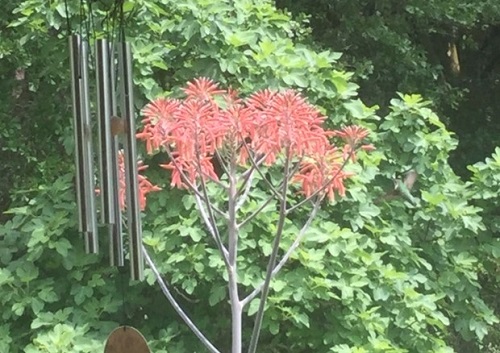 From Illiniwek:
Found an article in an old book, coupons for food in 1943, might be of interest, as they speak of food shortages.
Ever had canned grapefruit? I'm not too wild about it. Planning on putting any garden produce by this year?
Wee Kreek Farm Girl sent in the following recently:
In our neck of the woods it is garlic scape season, so of course, I harvested and made some garlic scape pesto. Definitely not for date night but delicious all the same. I thought it was a fitting subject since everyone has been talking about herb gardens. Just make it like normal pesto, except don't add any fresh garlic, these are garlicky enough. I think I am going to use some it the pesto to do a take on a caprese salad tonight. I think it will be delicious and also a good thing to eat in a time of "social distancing".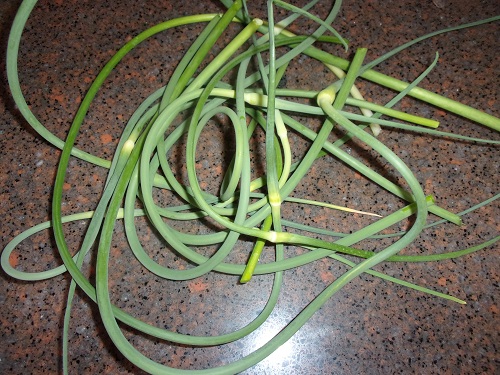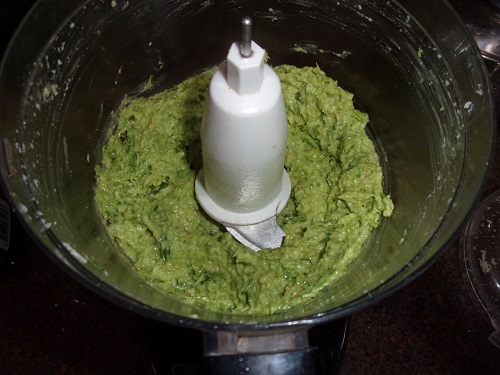 Ever tried it? Potent?
Weeds
Here, it is time to do battle with foxtails, to protect pets. You battling any weeds?
Here, part of a series of weeds people in Florida love to hate. Gardeners elsewhere will recognize the spurge family. But Japanese Climbing Fern is a new weed to me.
Although an attractive plant, its winding vines and feathery leaves quickly grow in, through and over nearby plants. As a true fern, its spores are dispersed by the wind over large areas and purchased pine straw is a possible vector for this noxious weed as it commonly grows in pine forests.
Challenges and control recommendations at the link above.
Gardens of The Horde
Two weeks ago:
I was so excited because they multiplied like crazy from last year. Now this. - NaughtyPine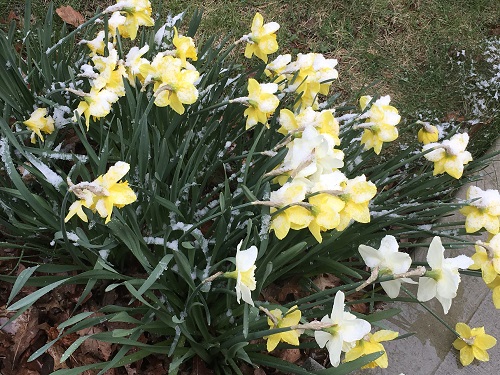 Hope they recovered. They are lovely even in the snow.
If you would like to send information and/or photos for the Saturday Gardening Thread, the address is:
ktinthegarden
at g mail dot com
Include your nic unless you want to remain a lurker.

posted by Open Blogger at
01:05 PM
|
Access Comments