« Sunday Overnight Open Thread (4/2/20)
|
Main
|
Mid-Morning Art Thread »
April 27, 2020
The Morning Report - 4/27/20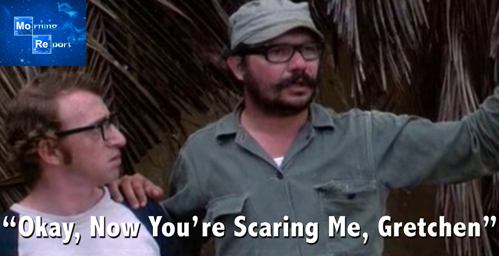 Good morning, kids. Monday, and another grim milestone of yet another day of America held hostage. Once again, the more real data that comes in to show that the total lockdown was not necessary, the more the Democrat-Media Complex digs in its heels to keep the shackles on. On the plus side, the more this continues the more people everywhere are seeing this as the most egregious act of political opportunism in American history. The citizenry in Wisconsin have had it up to here with the Tony Evers junta:
Wisconsin stay-at-home orders were supposed to expire Friday. Instead, thousands of disgruntled Wisconsinites descended upon the capitol in protest after the Evers administration extended the Dairy State's so-called Safer at Home order another month...

April 16, on joint letterhead with Democrat[ic] Gov. Tony Evers, Department of Health Services acting Secretary Andrea Palm unilaterally decided the stay-at-home order would continue through May 26, ensuring schools, many houses of worship, and "nonessential" businesses will remained shuttered for more than another month at least. Republican state lawmakers on Tuesday filed a lawsuit to block the latest order, asking the state Supreme Court to take the case directly, which would bypass lower courts to get a faster ruling.

As of April 20, a total of 5,350 people in Wisconsin have tested positive for the Wuhan coronavirus, with 262 fatalities. Wisconsin has 5.8 million residents, meaning positive cases are 0.09 percent of the state population...
Meanwhile, the Imelda Marcos of Michigan, Gretchen Whitmer is visibly drunk on power:


After the announcement from Governor Whitmer that she is going to extend the stay at home order in Michigan until May 15th, lawmakers in the state have had enough.

A group of Michigan lawmakers from both chambers are fed up and they are stepping in to curb the totalitarian governor. When Whitmer found out and was asked about lawmakers' plans she sounded like Joseph Stalin.

There are two ways Republicans are attacking Whitmer, first, they are going to pass bills that limit her authority, which would require her signature.

"I'm not going to sign any bill that takes authority away from me," she gasps.

"Of course, I will veto bills that they send over to limit the executive power. I've been very clear about that from day one," she said Thursday. "Those blatant power grabs are bad in good times and dangerous in times of crisis..."
You said it, tootsie. And then of course there's the People's Republic of California, and its President for Life Gavin Newsom:
...Since March 4, Katy Grimes reports, Newsom has signed - count 'em - 29 executive orders, including one to make local elections vote-by-mail only. Newsom has shut down businesses he deems "nonessential," and suspended court proceedings. The California economy is in freefall but Newsom wants $75 million in taxpayer funds for foreign nationals living in the state illegally.

The millions of illegals in California, automatically registered to vote when they get a driver's license (even though that "isn't supposed to happen"), now serve as the Democrats' imported Electoral College. Democrats give illegals protection through sanctuary laws and in return the illegals vote for Democrats. Newsom may be thinking that voting by illegals, voting by mail, and ballot harvesting will enhance his chances for a run at the presidency in 2024.

Meanwhile, the San Francisco Democrat already thinks he runs a country. If embattled Californians thought Gavin Newsom was acting like a dictator it would be hard to blame them.
If only California was an independent nation state, as Newsom pompously declared it a few weeks ago. It isn't, yet culturally and politically, it is a major source of the cancer that is rotting America from within. And with 55 guaranteed electoral votes, Newsom's fever dreams of nation statehood, aided and abetted by his Godfather aunt Malig-Nancy Pelosi, might engulf America itself.
This is why I stand solidly with Georgia Governor Brian Kemp, and why the President's rebuking of his decision to open his state - following the guidelines of Trump who deferred to the governors to make that decision - was just flat out wrong. In any case, with the pressure mounting to lift the lockdowns, other Republican governors will no doubt get behind Kemp and follow suit in short order. And if the dead-ender Democrat dictators continue to imprison their citizenry, it may very well backfire against them, and spectacularly.
... In their determined oppression of their own citizens under the claim of saving them from body bags, the Democrat officials are giving their subjects a dramatic demo of who they really are. Like the aliens in the Men in Black films, they have shed their normal-looking human skin to reveal the fanged, scary authoritarian within...

Americans will not tolerate their lives frozen by government when the disease statistics don't justify the severity of the shutdown. We chafe against edicts that we can see are irrational, unreasonable, and often simply preposterous, just as the colonists chafed against the laws of George III. These rallies across the country give voice to the American spirit - energetic, industrious, hopeful, and freedom-loving - reawakening from its coma.

We are not stupid, and we are not reckless. We see that in California, a state of 40 million people there are only 1,072 deaths and about 29,000 reported cases. Yet California has probably been dealing with the virus, unseen and unknown, since November, with thousands of likely infected Chinese flying into LAX during those months. But what Gavin Newsom calls "home isolation" has been in effect only since March 20. At that time, the Democrat governor predicted from "models" that over half the state's population - about 25.5 million - would be infected in the next eight weeks. He was spectacularly wrong...
Bingo. And you can extrapolate those figures to the rest of the country and this whole thing just adds up to a colossal fraud as cover for the greatest smash-and-grab robbery in history: steal the election and the future of the nation in the bargain. I can't for the life of me think Trump does not see this. He sure isn't acting that way.
Lift the lockdowns. Liberate America.


STRUGGLE FOR LOCKDOWN LIBERATION

NOTE: The opinions expressed in some links may or may not reflect my own. I include them because of their relevance to the discussion of a particular issue.
ALSO: The Morning Report is cross-posted at CutJibNewsletter.com if you want to continue the conversation all day.
Follow us on Twitter: @CutJibNews


posted by at
07:28 AM
|
Access Comments