« Saturday Gardening and Puttering Thread 4/25/20 [KT]
|
Main
|
Saturday Afternoon Chess thread 04-25-2020 »
April 25, 2020
Ace of Spades Pet Thread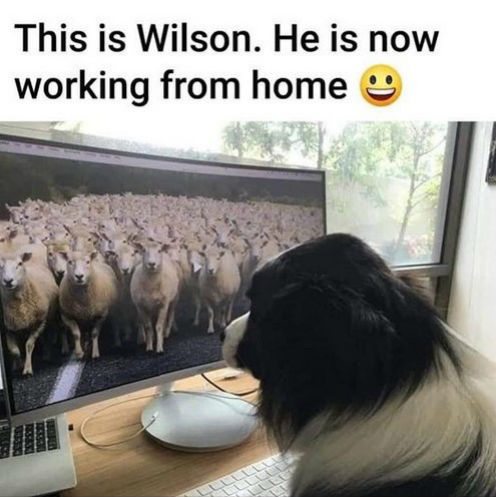 (H/T ladyl)
***

Good afternoon and welcome to the almost world famous Ace of Spades Pet Thread. Let's kick back and enjoy the world of pets.
***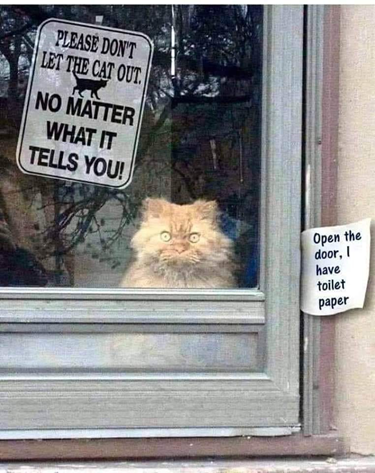 (H/T ShainS)
***
A Little of This. A Little of That.
This is a good version. I first saw David with a blue tick - -I think it was, may have been orange sunshine,

The version I remember did not have a harmonica.

Enjoy. A dog that sings better'n me! ( I'm still lookin for the hound)-
Larry
***

Cats do pose for some unusal photographs. H/T Shibumi
***

April submitted this and I agree with her. Bison are nothing to mess with.
***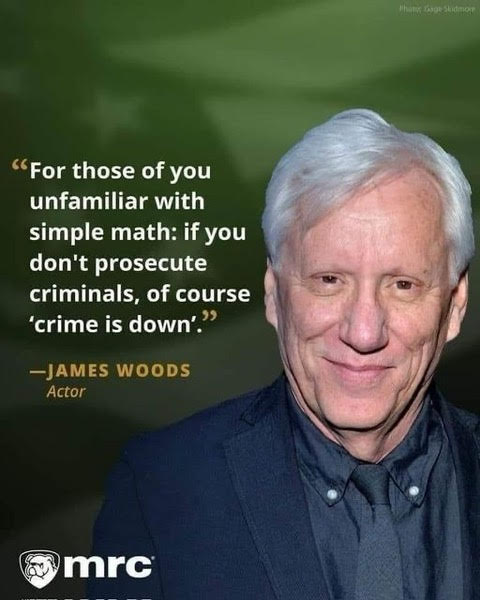 (H/T Blake)
***
Meet The PetMorons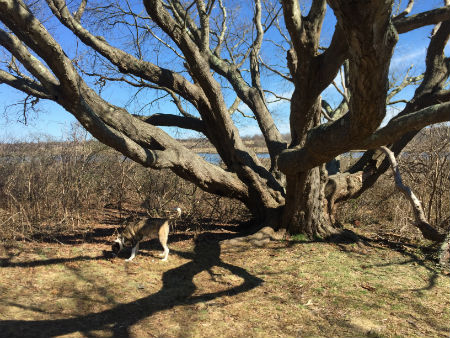 Mis Hum-

Here's a shot of Elvis on our social distancing walk. First time I took him on a walk here he treed a squirrel in this tree and now every time we pass he has to stop and try and find the squirrel.

He's a good boy. - JackStraw
Apologies JackStraw somehow your email ended up in the spam in-box. Elvis looks like he has a fun place to explore, social distancing or not. Thank you.
***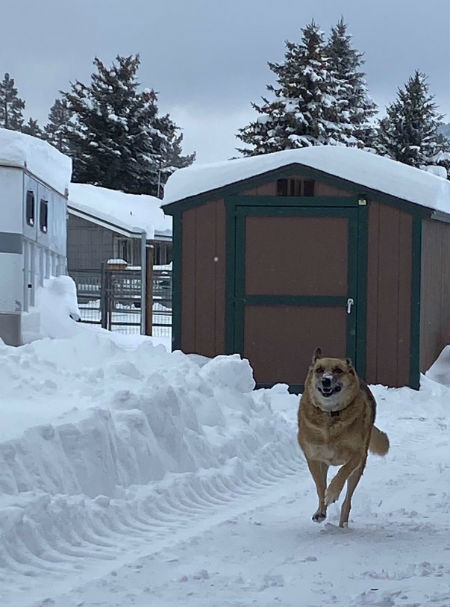 With an April Spring snow here in the mountains Lexi is getting her last snowplay for the year - Robert
April snow showers bring what? Awesome action shot of Lexi. Do dogs get as depressed as their humans when it comes to snow?
***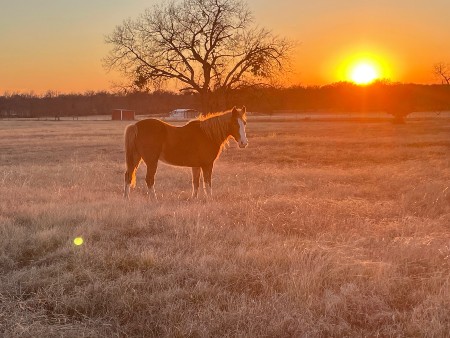 Mis Hum,
Our 11YO Lab/Weimaraner watching a local white tail from the patio.
Sadie is my Velcro dog. With the great lock in, she has come to expect 4 walks a day.
Stay safe, Greg in Ohio
What a good puppeh. There is no way mine would watch a deer in the backyard as Sadie is doing. Great job of training! Thanks for the submission.
***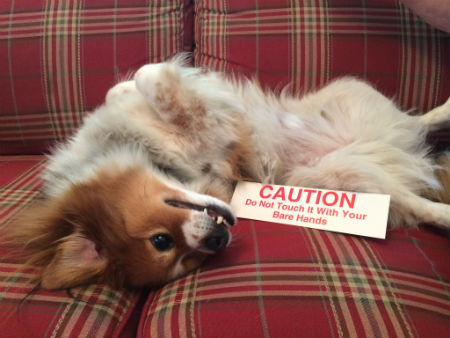 This is Kitty's older brother Luke.
The sign is there per our attorney's advice.- George
And what law firm would that be George, Dewey, Cheatem & Howe? Great photo. Looks like Luke has a really life there at your home. Thank you for sharing.
***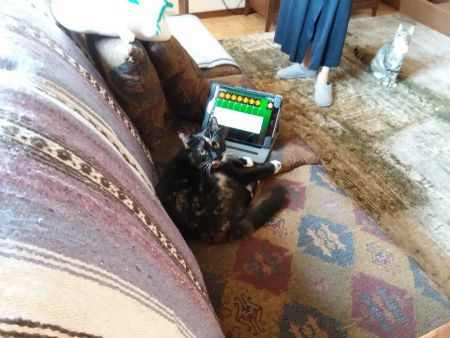 Flame was featured a while back in her safe space frying pan on top of the refrigerator. This morning Mrs. Oldgeezer came out and discovered Flame doing Solitaire on her tablet. I've always suspected either she or Snuggles (our 6 toed cat) using my computer when we are at work. Shifty little buggers.

I really enjoy the pet thread. A little sanity goes a long ways! - Oldgeezer
We appreciate you helping us with our sanity with your submission of Flame. Glad she can play Solitaire. Thanks for sharing with us today.
***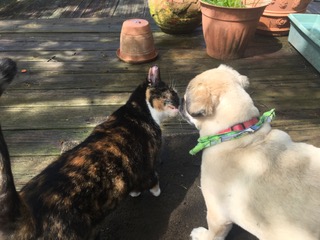 Easter morning, Mittens giving Pugsy an unwanted kiss! Mittens is about 12 years old showed up and stayed much to my delight. Pugsy is about 7 and was surrendered to my vet about 5 years ago. Pugsy loves to go for walks and mittens loves to follow. We leave her in the house most days. Since we live in the county on a dead end lane with only a few cars and trucks going by, it's safe. Fortunately, everyone knows them and gives them the right of way. Happy Belated Easter everyone! From beautiful East Texas - Annie

Quite the moment you captured there Annie. Your pets sound adorable and live a comfy life with you in Texas. Thank you for your contribution today.
***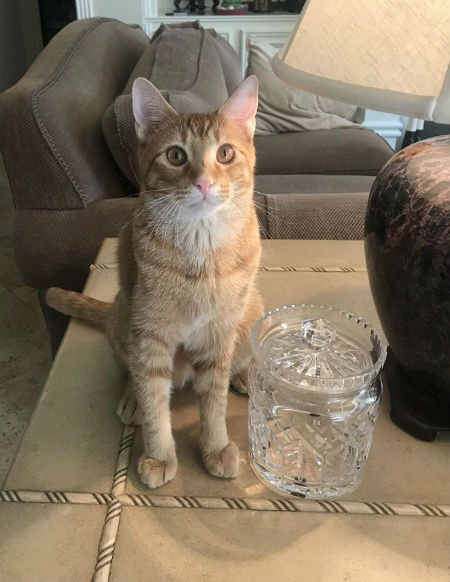 This is Cheeto our orange tabby. My wife rescued him from a abandoned house, his big mouth is what saved him.
.... the third photo taken 9 months later next to the same biscuit barrel He was so young when he was rescued, he will still "nurse" a soft blanket. He still has a big mouth!-No name provided.

What a handsome lad! It sounds like he hit the jackpot with his vocals. Good on you folks for rescuing him and giving him a nice life. It was nice to hear from you. Thanks.
***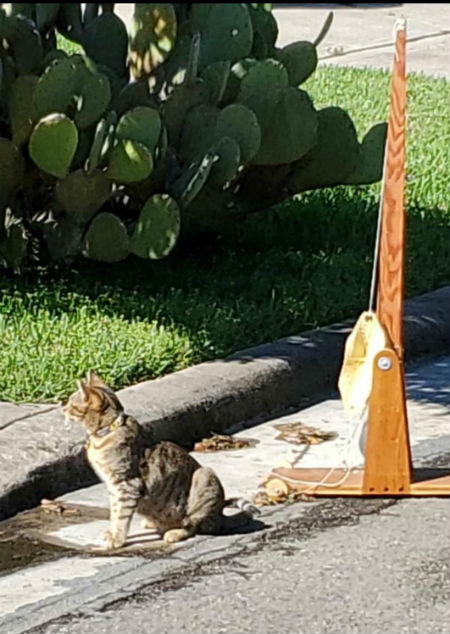 While out walking came upon a neighbor cat and it's trebuchet; I am unsure of the signs of the end times but when the cats start using trebuchets it must mean something.Thanks for the pet thread! - "Batterup"
We are all safe since the cat doesn't have thumbs, amirite? Thanks for the unusual photo. It is appreciated.
***

Thank you all for the links and your pet stories. Your submissions have been filling up the old in-box. Please be patient and we will get to your pets as soon as possible.
If you have something you wish to submit you can reach us here at petmorons at gmail dot com.
Have a wonderful week!

posted by Misanthropic Humanitarian at
03:00 PM
|
Access Comments