« Monday Overnight Open Thread (4/20/20)
|
Main
|
Mid-Morning Art Thread »
April 21, 2020
The Morning Report - 4/21/20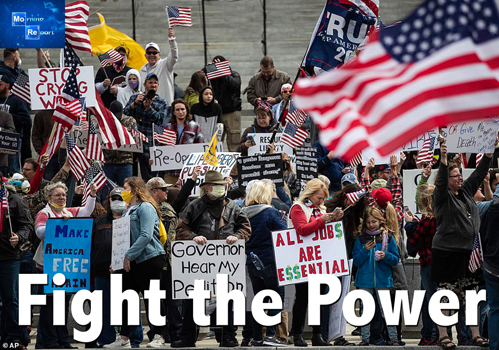 Good morning, kids. Tuesday, and another grim milestone of yet another day of America held hostage. We'll get to the continued state of siege and sabotage of the economy as a result of, and under the pretext of Chinese Lung AIDS in a moment, but there are a couple of stories that broke late yesterday that should be addressed up front.
First, North Korean Premier Kim-Jong Un, affectionately referred to here as Whoa, Fat! is reportedly brain-dead and in a coma after undergoing heart surgery. Learning of the news, Joe Biden has offered to act as an interpreter. All seriousness aside, the pudgy dictator had been mysteriously absent from public view as well as from key political events for the past week or so. What this portends for US-DPRK relations going forward, as well as its key benefactor the Chi-Coms is a mystery, especially given the erratic actions of the hermit kingdom in general.
Closer to home and related to the Peking Pox, President Trump signed an executive order "temporarily" suspending all immigration into the United States due to the Chinese Lung AIDS situation. Brilliant move for a couple of reasons. Aside from the fact that mass immigration of the legal and illegal variety has eroded our national identity and been a drain on us economically and socially, the loudest amnesty and open borders proponents are also now the leaders of cities and states that continue to keep their jurisdictions locked down. Let them try to square that circle with an increasingly angry and disaffected populace. It's also the key issue that got Trump elected in 2016, and one that still resonates with the voters. May the suspension be only as temporary as the Federal income tax which was lifted at the end of the First World War. Nudge-nudge-wink-wink.

NOTE: The opinions expressed in some links may or may not reflect my own. I include them because of their relevance to the discussion of a particular issue.
ALSO: The Morning Report is cross-posted at CutJibNewsletter.com if you want to continue the conversation all day.
Follow us on Twitter: @CutJibNews


posted by at
07:56 AM
|
Access Comments