« Saturday Gardening and Puttering Thread, Easter Weekend [KT]
|
Main
|
I Think Everyone's Had About Enough of This Shit »
April 11, 2020
Ace of Spades Pet Thread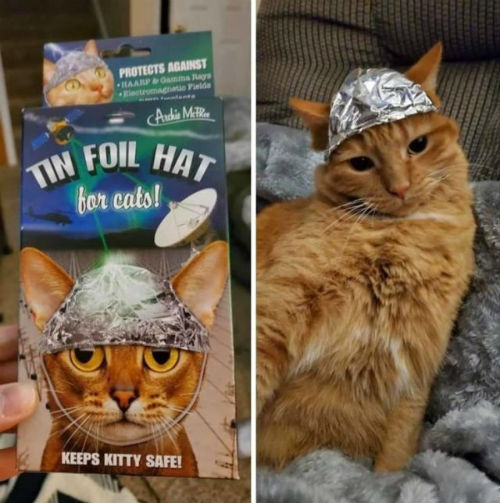 ***
Good afternoon and welcome to the almost world famous Ace of Spades Pet Thread. Curl up and grab a beverage of your choice and enjoy the world of animals.
***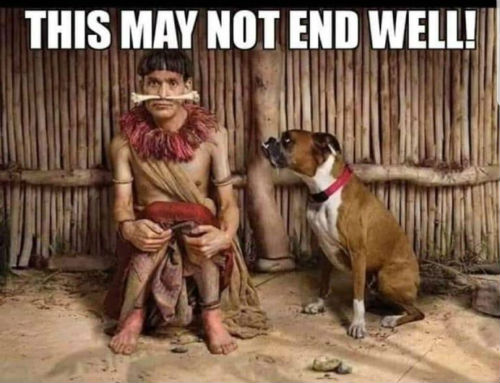 (H/T JT)
Let's get through today's Pet Thread without commenting on the Kung Flu.
***
A Little of This. A Little of That.

This video upset the Misanthropic Setters.............

H/T Winston, dreg of society
Wolves & doggehs not a good mixture......
***
The room got very dusty while I was watching this video about the adoption of a badly abused dog. Funny how having my own rescue has made me so sensitive to dogs. - Northern Lurker
***

From our gardener friend and Open Blogger, KT, Why do cats slow blink at their humans.

Whether they're kneading our flesh like bread or following us into the bathroom, cats are always trying to tell their humans something — most of it involving food. But an animal behaviorist tells Inverse one familiar behavior cats exhibit could be a true sign of affection.

It's often been rumored that a cat's "slow blink" is its way of saying, "I love you." It's even been called a "cat kiss"! The truth is, we'll never truly know what's going on inside a kitty's brain, but there's evidence to suggest a cat slowly wincing at its human means it trusts its companion.

"Cats will typically avoid eye contact when afraid or threatened; when they are being offensively aggressive, they will stare (and staring at them is perceived as a threat)," Mikel Delgado, a cat researcher the University of California Davis School of Veterinary Medicine, tells Inverse. "The slow blink is a demonstration of eye contact without staring, and we interpret this behavior as a sign of relaxation and trust. Some might call that love."
***
God works in mysterious ways. Who would have thought a kitten would save a life?H/T shibumi

"There came a night when I was in a really, really bad place. I didn't want to deal with it anymore," said Josh, who was planning to commit suicide. "I wrote a letter up on my computer and set it there on the desktop. And I walked downstairs and I walked out the backdoor of the barracks. I smoked a cigarette in the rain. It was going to be my last one."

That's when hope came calling in a most unexpected voice — a tiny meow from the bushes. In that dark moment, outside in the rain, a small, black and white kitten came out and started rubbing up against him. "I broke down crying," Josh said. "Maybe he knew there was something I couldn't quite handle."

That started a relationship that would change both of their lives. Josh would feed the kitten a plate of tuna every day, and as time went on they got closer — and Josh kept getting better.

"This cat gave me something to look forward to every day. He didn't see anything wrong with me. He didn't see any sort of flaws or any imperfections. It felt safe," said Josh. "He had a serious effect on me. He helped me realize that I could actually not just care for somebody else but other people could care for me."
***
Meet The PetMorons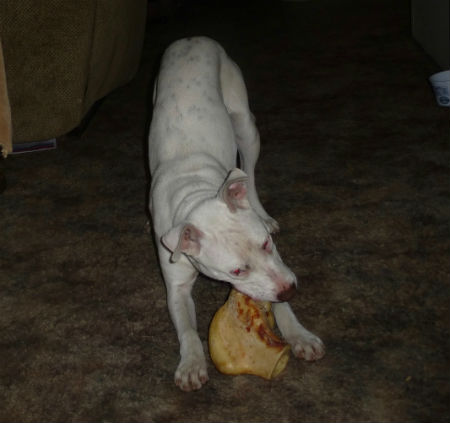 This is Dottie, the 7 yr old neighbor named her. This cutie showed up on our doorstep Mar 12th. Vet appointment on the 20th found out she is 6+ months not the 3-4 I was thinking. She's a bundle of energy and Toby, our Sharpei cross who has been on the pet thread before is very patient with her. He loves to play but she pushes the limits, he has figured out to stay outside when she comes in or come in when she is preoccupied with something outside to get some peace. Having the adult dog who is willing to babysit the twerp is the reason its feasible to keep her.

Since I have yakked so much about her I may as well share her pic, even though I've rather over submitted to the pet thread. - Teresa
Who knew puppies pushed the limit? Dottie is adorable. Best of luck with her in the future. Thanks for sharing today.
***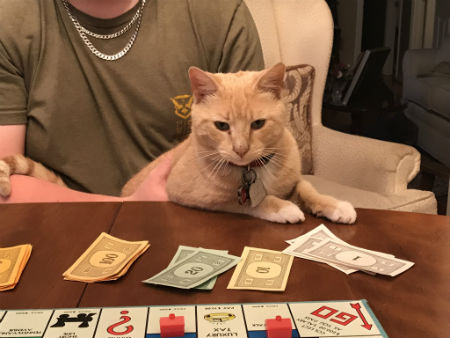 This is our cat "Kitty". We found him hungry and meowing under a bush in our front yard about 8 months ago. Now he acts like he owns the property.
I post under the name "George Kaplan"
It appears Kitty wants to replace the dogs playing poker on velvet. It appears that the acquisition has worked out well.
***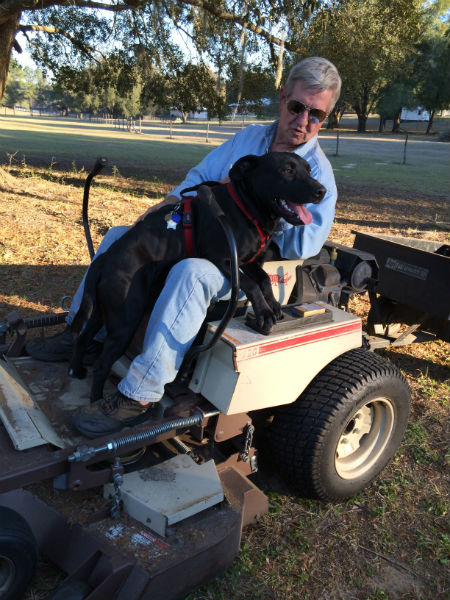 Hi Mis Hum,

This is Sammy. As you can see, Sammy owns his dad. Sammy picked out his dad at the Humane Society in ****** FL. He was found wandering the roads. Sammy is a black lab mix and the vet estimated his age at 1 year old (shortly before the photo). Sammy is the first and only dog his dad ever had as his own and was his constant companion and yes, you could call him his therapy dog. It's five years later and Sammy lost his dad to cancer recently. Sammy was very depressed but seems to be adjusting to being alone with his mom pretty well.

Lurker here and love the Pet Thread - Sammy's mom
I am so sorry to hear of your loss. The photo definitely shows the love between the "boy" and his dog. Boys never grow up they just grow old. Thanks for sharing.
***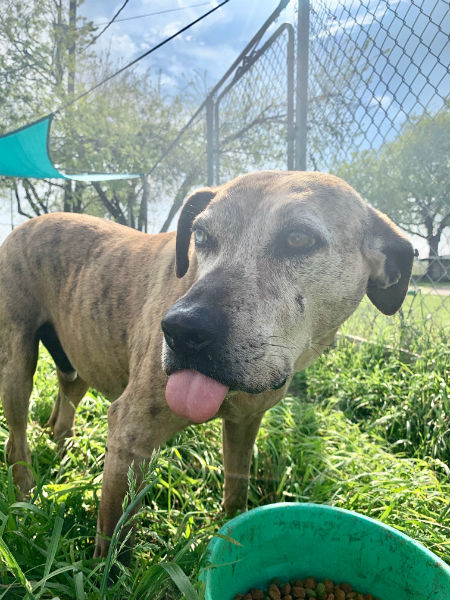 This is my buddy Cuz. He (along with two other dogs and a horse) was rescued from a very loving home in which the owner had stage 4 brain cancer and was on hospice. She was so worried that her pets would end up at the pound that our group drove 3 hours to pick them up. She passed the next day knowing they were in good hands.

Cuz always comes to greet us and shower us with kisses. He feels safest in his pen but everyone once in a while we can convince him to come out and go for a walk. If the hubby would let me bring him home, along with several other animals, I would. - MW in Texas
What the hell is that green stuff by the dog? Whoever says Morons are deplorables never met the big hearted animal lovers. Quite the story MW you're a credit to the Horde.
***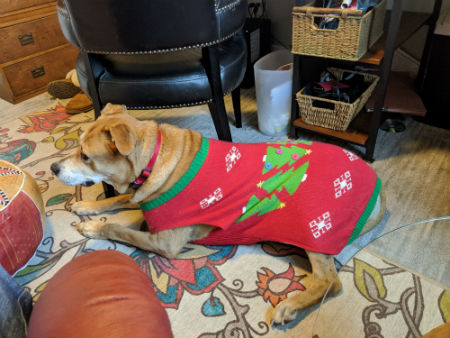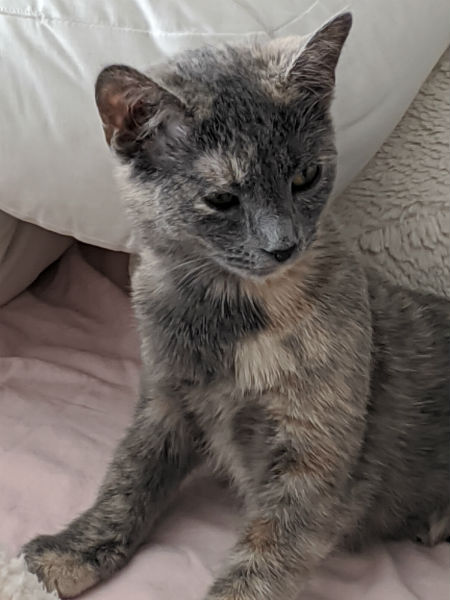 (Photo 2)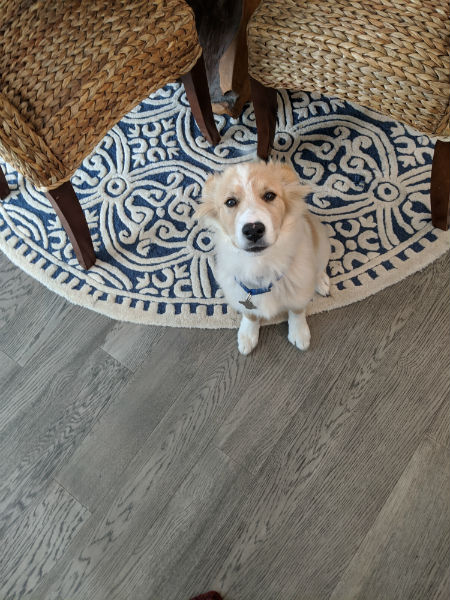 The boy in the Christmas Vest is Leroy. He was my daughter's dog that we adopted. We Had him 11 years. A sweeter dog you will never meet. He had a great smile, and in his younger days would chase the ball till your arm got tired. We lost him on 16 January. He had stopped eating so we said goodby.
The kitty is Cali, a dilute tortoiseshell. She chose my wife as her hooman on Feb 29. About 4 months old. Full of life. When we first got the puppy, she was cautious. After 3 days she figured he was going to stay around and got friendly.
The puppy is Kennewicky, aka Kenney. He joined us March 13. Border collie/ Golden Lab mix. He has the energy you would expect from that mix. Smart as a whip.
We are both retired, so they are our Kung FLu entertainment.
The World Famous pet thread is the highlight of my week.

--
OICC(Officer in Charge of Chicken Coop) and HHH(Head Hive Honcho)
So sorry to hear about Leroy. But, congrats on the new additons!!! So you guys are energetic retirees who like the challenge of babies? Good luck and enjoy!!!
***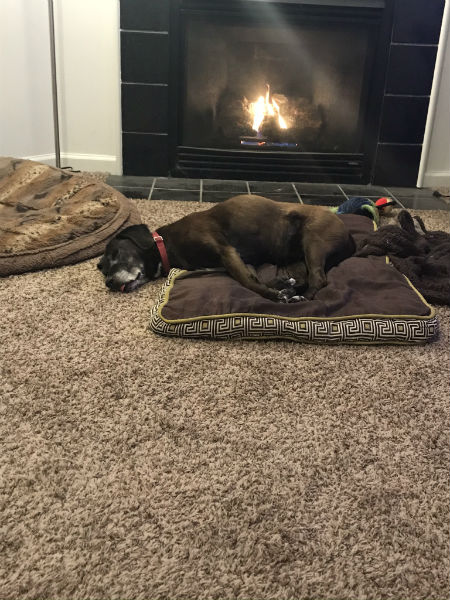 &&&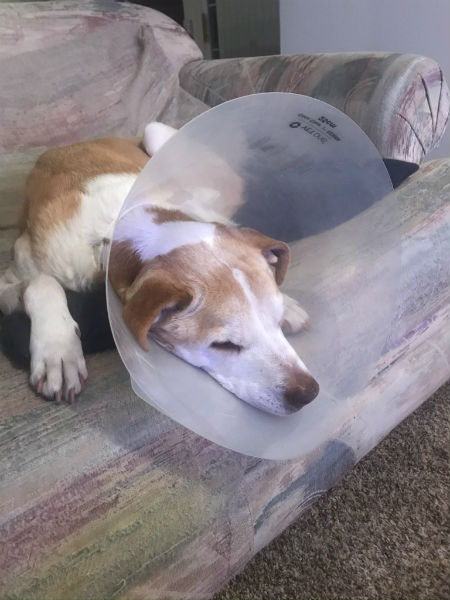 Hello,

This is the first time I've sent anything - I became aware of your thread a few weeks ago. I'm attaching photos of my two pups. The first (dark brown dog) is Consi (short for Consuela). I rescued her form the streets of San Juan Puerto Rico in 2006. She gave me very little choice, as she followed me to my car and gave me the most pathetic, sad look. She obviously had scouted me well. And as you can tell from this photo, she has led quite the comfortable life for over 13 years now.

The second, tan/white dog is Buddy. Buddy came to me also from San Juan, in 2007, courtesy of the folks that helped me get Consi home. He is super friendly, gives kisses to everyone, and for the past 18 months has been fighting cancer. He's in a cone because he had surgery to remove a mass from his leg.

These two are my precious children. I'd be honored if you shared their photos. - John
First of all, we are glad you found the Pet Thread. Secondly we are honored to show case your babies. Lastly, what a big heart you have to adopt these pooches. May you have many years with them.
***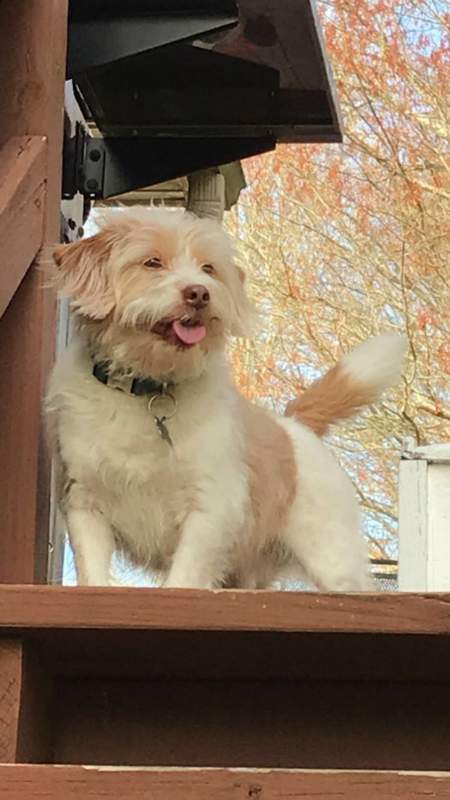 Hey all!

I know I have shared pics of my little guy before, but my daughter got this great shot yesterday and I had to share. God bless! -Jmel
Great shot of Benji. Nothing like being at the right place at the right time. Thanks for sharing.
***
Great photos and stories today Morons. Thanks for sharing.
I hate to admit this but..........There were a couple of PetMoron emails from March that got accidentally deleted. If you sent in a pet photo email and it hasn't been featured yet please let me know. My goal is to showcase everybody's pet on the pet thread.
So you can reach me at petmorons at gmail dot com if you so choose.
Have a great week!!!


posted by Misanthropic Humanitarian at
03:00 PM
|
Access Comments