« First-World Problems...Part III
|
Main
|
Gun Thread: Easter Bunnyocalypse Edition [Weasel] »
April 12, 2020
Food Thread: Xiphias Gladius, I Just Don't Dig You Any More!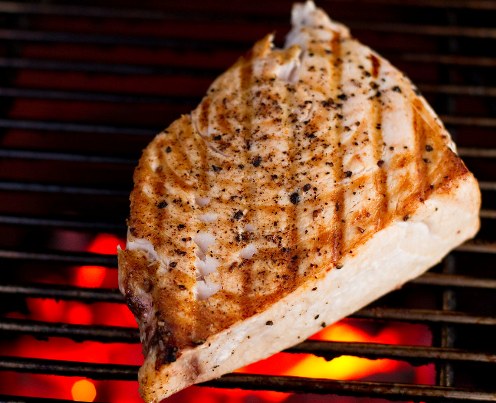 Since take-out is not my cup of tea, I have been cooking...every day since this stupid economy-killing Democrat-wet-dream began. And one advantage of that is the leisure to try new or newish things.
I haven't had swordfish for a few years, ever since I ran into a string of not-very-good pieces, even from my favorite fishmonger. Clearly that was just bad luck, but when it comes to food, I ignore statistics and go right for the illogical.
Anyway, it looked damned good on Saturday, so I got a nice steak, and some big shrimp. Yeah...they looked good too.
A liberal salting, a quick slather of mayonnaise and Dijon mustard, then onto a medium grill for probably six or seven minutes. It turned out perfectly cooked, which for me was quite an accomplishment. Fish and grills and I do not get along!
But I didn't like it all that much, and I don't know why. My wife was content, said all the right words (no, I was not holding her at gunpoint), so it wasn't the fish...it was me. And I have no idea why, especially since I really, really like fish, and can't think of many that I won't eat. I'm not a fan of eel, and you can keep raw blowfish thank you very much, but aside from those, I like 'em all.
So what happened? I have no idea. Maybe there was some deep-seated psychological damage dealt me by my previous experience with swordfish that I have been sublimating for years. Sort of like the eating version of PTSD. Or maybe I am a picky bastard and was expecting better. Who knows, but it was interesting.
******
I have been writing a food thread on AoSHQ for a long time, and aside from the panic on Sunday morning when I wake up and realize that I haven't the faintest fvcking idea what it's going to be about that day, it has been a pleasure. Thank you to all of the people who read it, comment, send me photos of their culinary successes (and failures), and even to the Red Sox fans who can't read but like the pretty pictures.
I hope that some of you have improved your cooking...I certainly have; both from the research to write this post every Sunday and the sometimes fantastic advice and recipes and techniques that you maniacs share.
Sometimes I can't do much more than check that we don't have any trolls, especially when I am on my phone, because it is a chore to comment (how do some of you do it? It's amazing). And sometimes I get to mix it up with you folks. But it is tough to read every comment every week, so please do not be offended if I do not respond. I will often check in late on Sunday evening and read the comments, and I usually think to myself, "Shit! I wish I had read that earlier, because I want to respond."
During the time of Chinese-Lung-AIDS most of us are cooking more, so I hope these posts are helpful, especially for the people who don't obsess over everything that happens in their kitchens and just want to be able to cook something halfway decent and quick. Yeah...I know you are out there. Hopefully you direct all of that unused culinary curiosity to booze!

******
Another entry in the old food competition! This one comes from commenter "lin-duh," and it's an impressive one. It looks like salad dressing, which suggests to me that it was living in the refrigerator...for nine years!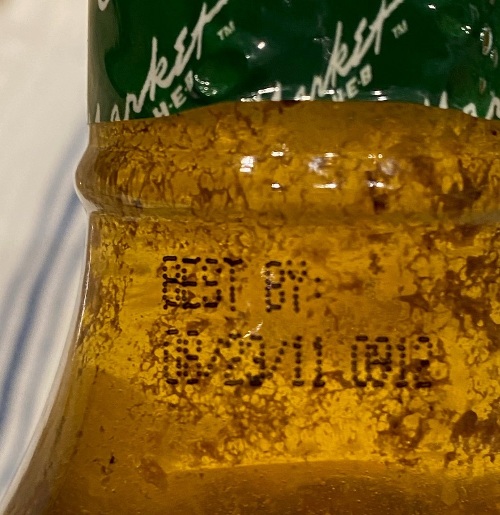 ******
Commenter "ibguy" made matzoh last week, and it sure looks good! he used a pizza stone heated in his gas grill, and got to about 650 degrees, which is a very nice neighborhood for baking that sort of thing. It's tough to see from the photo, but he tells me that he kept them on the soft side, which is perfectly acceptable for matzoh. One reason why commercial matzoh is baked dry is that if it remains soft and a bit moist there is a possibility of secondary fermentation, which is obviously a religious no-no. But for home made matzoh that is going to be consumed within a short time I think the rabbis will cut us a bit of slack.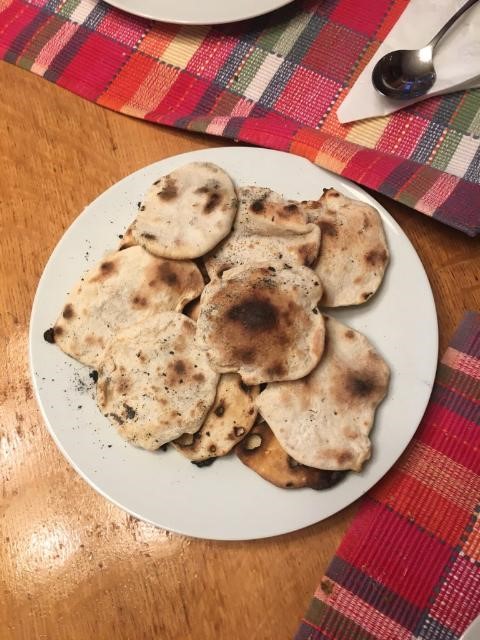 ******
Yeast isn't the only leavening agent, and in a pinch there are other ways to get some loft in your bread. This comes from commenter "Our Country is Screwed...
With the shortage of bread yeast in stores, not to mention bread - thought I'd pass along a recipe my wife uses for beer bread.
He tells me that pretty much any beer will work.
Beer Bread
3 ½ cups all-purpose flour
3 Tbs. sugar
1Tb. Baking powder
1 ½ tsps. salt
12 ounces beer
1 egg, beaten
Adjust oven rack to lower-middle position and heat oven to 375 degrees.
Mix flour, sugar, baking powder and salt in a large bowl.
Add beer (no sips!!!) and stir with a fork until just combined.
Turn dough onto a floured surface; knead quickly to form a ball.
Place bread on a baking sheet and confidently slit an X on top with a serrated or very sharp knife.
Brush loaf with egg wash.
Bake until golden brown, about 45 minutes.
Transfer to a wire rack to cool.
******
This looks like a nice and simple coffee cake recipe, and one that I remember from my youth, and I'll bet I'm not the only one!
LAUSD Shares Legendary Old Fashioned Coffee Cake Recipe Amid 'Safer-At-Home' Orders
Hat Tip: redc1c4

******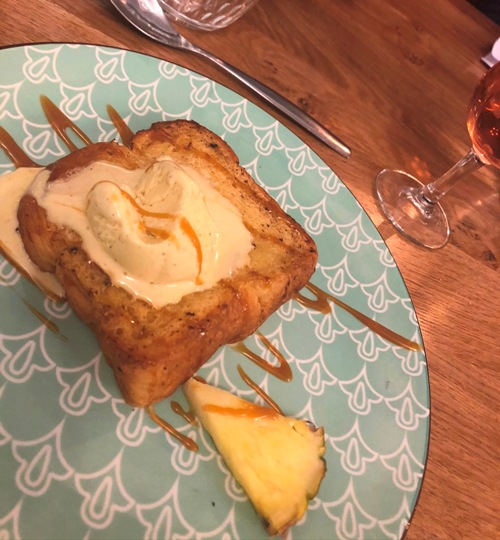 Commenter "LurkerLou Here For Five Minutes"...

I was on my trip of a lifetime to France when the US Euro travel ban was handed down. I say lifetime because I've waited my whole life to go. Fool!

Attached is the dessert I et on my last evening there. Note there is no syrup on the pain perdu, although I believe that is brown butter ice cream.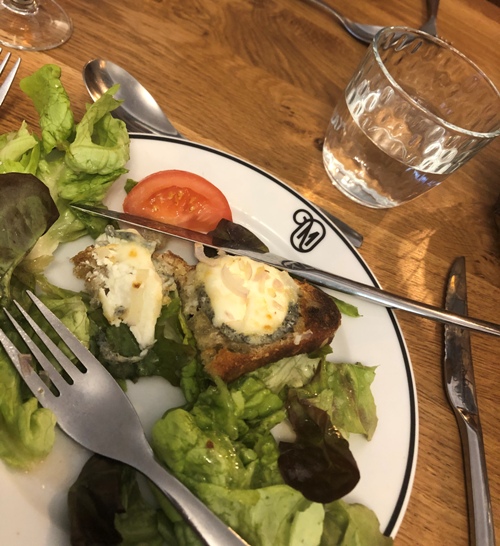 [This seems quintessentially French...at least to me...CBD]
Whilst in France, my heartburn returned and has not left. I hug it close to me like a Linus blanket. It reminds me of some good eats. The food was simple yet fancy at the same time, see, e.g., the attached pic of toasted baguette with pesto and chèvre.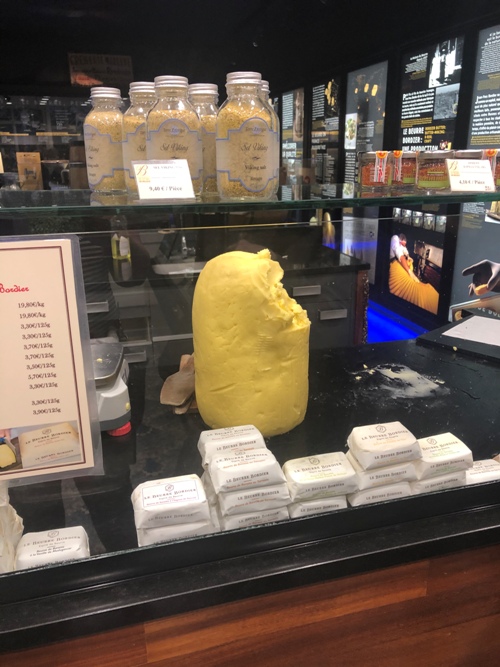 For a special treat I am attaching a pic of the shop selling the best butter in France. It's located in St. Malo. Brought some home in my bag and it was declared, thank you very much.
******
Food and cooking tips, Large-breasted Muscovy ducks, young wild pigs, bartenders who use vermouth in Martinis, crisp bacon (although I am moving toward less crisp), low-temperature-roast chicken, and good tomatoes that aren't square, pale pink and covered with Mestizo E.coli:
cbd dot aoshq at gmail dot com
. Any advocacy of French Toast with syrup will result in disciplinary action up to and including being
nuked from orbit.
And yes, shaking a Manhattan is blasphemy...it's in the Bible!
&topic=world_news">

posted by CBD at
04:00 PM
|
Access Comments