« Fake Tapper Retweets Obese Cu*k Calling Trump "Insane," Then Scrambles to Lecture People About His Nonpartisanship
|
Main
|
"Two Fat Professors" Worry That The Real Damage Caused by Coronavirus Is... An Increased Risk of "Fatphobia" »
April 07, 2020
Poll: 15% of Sanders Supporters Would Vote for Trump Over Biden
If former Vice President Joe Biden secures the Democratic presidential nomination, 15% of Sen. Bernie Sanders' supporters will vote for President Donald Trump's reelection, according to an ABC News/Washington Post poll.

If accurate, that would represent a slightly larger defection than occurred after the bitter battle between Sanders and former Secretary of State Hillary Clinton in 2016, when 12% of Sanders voters broke for Trump in the general election.

The good news for Biden is that in spring 2016, an ABC News poll found 20% of Sanders supporters said they would vote for Trump over Clinton, and far fewer ended up doing so. And 80% of Sanders' supporters said they would back Biden over Trump, according to the poll.

The 15% who said they plan to vote for Trump represents just 6% of Democrats and voters who lean Democratic, according to ABC News. Trump won 8% of Democrats in 2016.
But... see... The Bernie or Bust people aren't the only Democrats who support Trump, which is what ABCNews is implying when they compare the 6% of Democrats of the Bernie or Bust subgroup voting for Trump vs. the 8% of all Democrats who voted for Trump in 2016.
You add on the rest of the disaffected Democrats on top of that 6%.
Joe Rogan, who called himself a Bernie supporter (Bernie was forced to repudiate the endorsement, because Rogan doesn't believe that men should be beating the shit out of women in contact sports), now says he'd support Trump over Biden.
And he doesn't even hem and haw or make lots of noises of reluctance. He just states, straight up, that Biden is mentally incapable of being president.
And he makes a point that should be made more: "And we don't even know what he'll be like after a year," noting that most presidents (except Trump) age quickly -- they nearly wither -- during their presidency.

Amusingly, a Biden supporter at New York Magazine has a sound advice as to how Joe Biden can improve his terrible, incoherent podcast: Less Joe Biden.
Funny post by John Sexton. Seriously, this guy has several "suggestions" but they all involve bringing in co-hosts, guest hosts, carton mascots, talking animals.
Anything to keep The Sage of Scranton from any attempts to communicate with voters.
But we're already seeing less Joe Biden every day. They're hiding this frail, decrepit, senile old rapist from the public and, as John Sexton says, only trot him out occasionally not for any purpose of informing the public, but only as a brief "proof of life."
How much less Joe Biden can there be?
Sadly, that's a mystery that only a Cognitive Acuity Test can answer.
Or an actuarial table.
Or a wacky 80s comedy about a dead guy.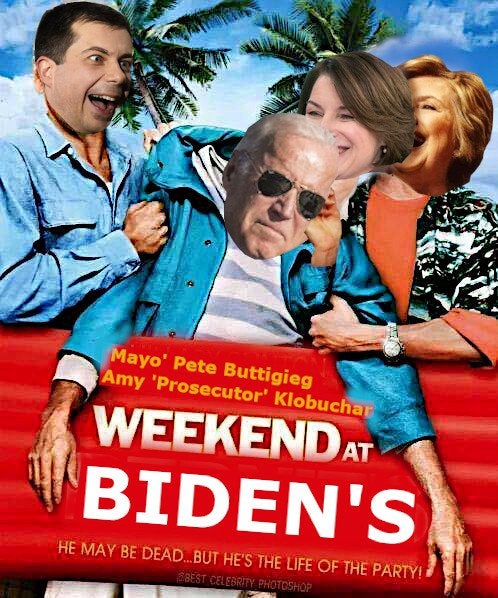 People understand that with aging and senility that you just don't "get over it," right?
It seems that the Party of Science (TM) and the very liberal-leaning and science-based NeverTrumpers expect Joey Fingers' age-related dementia to just pass as if were a common cold. He just needs some bedrest and some chicken soup and he'll be the ignorant moron he was at age 38 again.
The Bernie Bros at the Hill's podcast discusses the growing NeverBiden movement, Joe Rogan, and Biden's "Wall Street/suburban coalition."
Tangentially related:

posted by Ace at
06:08 PM
|
Access Comments