« Monday Overnight Open Thread (3/23/20)
|
Main
|
Mid-Morning Art Thread »
March 24, 2020
The Morning Report - 3/24/20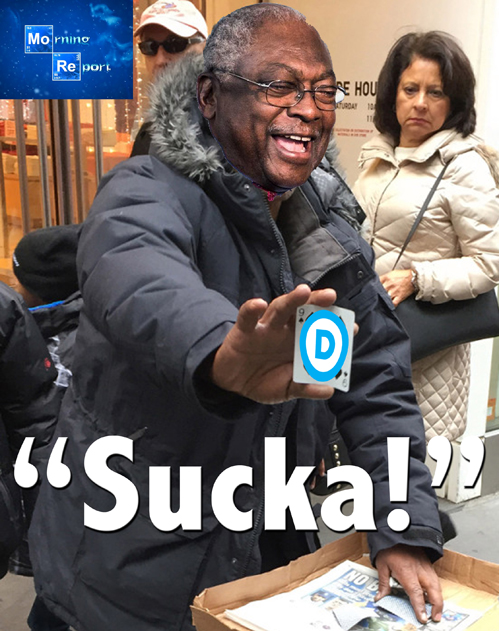 Good morning, kids. Tuesday and I am here to warn you that there is a deadly disease that is afflicting this nation. It's eating at the vitals, to paraphrase Lincoln; a cancer that has metastasized for decades that is on the verge of destroying every man, woman and child unless the most radical and drastic measures are done, and soon.
No, I'm not talking about the Wok-in Pneumonia from a Fledermaus Raw Stew. I'm referring to the Democrat Party and its house organ propaganda wing, the American media. To whatever degree this COVID-19 Chinese coronavirus poses a mortal health risk to the entire nation or is merely a more than typically virulent strain of flu virus, the fact of the matter is our President is using his executive branch authority to mitigate the impact of the current "pandemic," hampered by the massive incompetence and negligence of the previous administration during its mishandling of the 2009 Swine Flu epidemic, while responsible leaders in Congress (99.999% not Democrat) are attempting to stave off an economic catastrophe caused by the shutting down of virtually all commerce.
Whatever our divisions are, and for my money they are deep and most likely irreconcilable, you would think that the Democrat Party - in the face of the constant drumbeat by said party and it's media arm that this is an absolute incontestable existential threat to our way of life and life itself - would put everything aside and get together to alleviate the damage. You would think. But no, they didn't. At the last moment, Malig-Nancy Pelosi, who is now arguably the most horrid human being in this country and among the top five in the world, has spit up a giant ball of virus-laden catarrh in the face of the American people by holding the emergency aid package hostage; an aid package that she, her cohort in evil Cuck Schemer and GOP leadership had hammered out and agreed upon over the previous few days.
Like the not-so-cunning stunt of ripping up the President's SOTU speech, this was also a premeditated act. Rejecting the Senate bill that she herself helped craft because it supposedly has secret codicils to help Trump and his advisors' businesses profit from it - a provable lie - she then magically whipped out a 1,400 page monstrosity that contains every Leftist radical policy wet dream that soaks the American taxpayer and derails the MAGA agenda. The calculus is that the American people, desperate for relief will blame the President and the GOP for playing politics and prolonging their agony. So far, from everything I've seen, it has enraged and galvanized a usually wobbly GOP behind the President whose approval rating is rising even in the face of this challenge. No doubt, he is going to go on the warpath against the Democrats, and justifiably so.
Whether this Too Wong Flu really is a plague of catastrophic proportions or just hyped to make headlines and political hay, or some combination of both, I stand by my opening assertion. The Democrat Party and the media are at best behaving in a seditious manner during a time of national crisis or indeed ginning up a crisis in order to gain political advantage. Either way, it's monstrous and evil. Loathsome toad James Clyburn admits as much by boasting that the virus gives his party a "tremendous opportunity to restructure things to fit our vision." I thought that's what elections were supposed to do, but hey, what the hell do I know, right?
In any case, my response to Mr. Clyburn is a simple one: Go To Hell. And take your goddam party with you.
But the bloated tick does have a point. In the spirit of never letting a good crisis go to waste, the President has the opportunity to point out the horrendous deficiencies in bloated central government bureaucracies, the insanity of how they have all been corrupted to advance socialist/social justice transformation of American society, and the even more insane trade policies from corporatist sell-outs that shipped our manufacturing sector and millions of jobs overseas. Most alarmingly to a nation that is a mortal enemy and hell bent on global domination.
Here's my vision, Mr. Clyburn:
Putting America on the moral and legal equivalent of a war footing and enacting legislation that suspends every DC agency's regulatory power in order to expedite the building of new factories here in the US.
Tax incentives for investment firms and companies to build said plants.
Mandating the hiring of American citizens only.
Suspension of union-only shops and onerous regulations.
Tax penalties for companies who ignore the previous two items.
Incentives for the establishment and expansion of trade/technical schools, as well as for students and older Americans to learn a trade.
Consigning "diversity" and all other "social justice" garbage that hampers business to the rubbish heap.
Opening up of all federal and state lands for energy exploration while killing green energy boondoggles.

That's just for starters. Of course these are all temporary measures, much like the federal income tax was "temporary" until the end of World War One (wink-wink). I'd like to put at the top the dissolution of the Democrat Party but let's stick with some attainable goals for the present. I'm sure we all can think of all kinds of ideas that can go into this battle plan or manifesto for the future. We're going to need it. There are a few flies in the ointment, not least of which is going to be the almighty shrieking from the Left in opposition as well as the corporatist traitors and sell outs at the Chamber of Commerce who were instrumental in getting us into this mess in the first place.

Even if the President eases up on the lockdown as he is indicating he may do in the next week or so, our economy has taken a massive hit. We are going to need bold measures not to further encumber and enslave us with more bureaucracy but ones that liberate us from it and get us back on the track of economic independence as individuals and as a nation. That is what MAGA is all about. In that spirit, we can overcome this crisis and turn catastrophe into a boom that will make the past three years seem like a drop in the ocean.

The only thing that stands in the way of course is the Democrat Party and the Globalists. Having exhausted every means they could think of to get rid of Trump and us, they are now poised to commit national suicide. That cannot be allowed to stand.


CHINESE CORONAVIRUS, FICTIONS AND FACTS
Still much conflicting stories about the severity of this disease and the prognosis for its dying out and what it will leave in its wake. Also, several links about the promise of chloroquine to treat those afflicted, Trump cutting through the red tape to get it administered, a former HHS official blows the whistle on the CDC lying about virus tests, with this lockdown, is the cure worse than the disease itself, a look at what Ron DeSantis is doing in Florida and Amy Klobuchar's husband is diagnosed.
NOTE: The opinions expressed in some links may or may not reflect my own. I include them because of their relevance to the discussion of a particular issue.
ALSO: The Morning Report is cross-posted at CutJibNewsletter.com if you want to continue the conversation all day.
Follow us on Twitter: @CutJibNews


posted by at
07:43 AM
|
Access Comments