« 'Rona Roundup: President Considering Mask-Wearing Guidelines; NYC Hospitalizations Fall; President Considers Quarantining NY and NJ
|
Main
|
Saturday Afternoon Chess thread 03-28-2020 »
March 28, 2020
Ace of Spades Pet Thread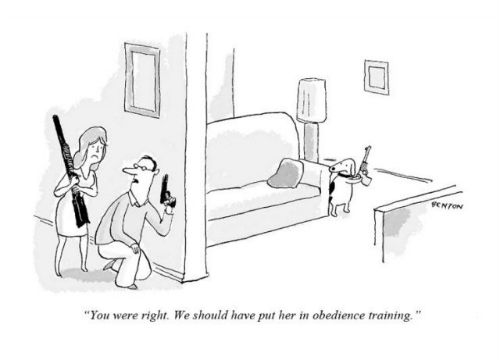 Good afternoon and welcome to the almost world famous Ace of Spades Pet Thread. Last week I mentioned the In-Box was a little light. You folks certainly didn't disappoint me.
So please kick back, enjoy a beverage or two heck maybe three and enjoy the world of pets. They are guaranteed to clear your head while this thread is up.

Please, no virus chatter. Show the world Morons can stay on topic.
***
A Little of This. A Little of That.

According to 'ette Shibumi 30 hilarious co-worker updates.
***
It all sounded good in his mind.................

***
A really cool play on the phrase, Give Peace Pee A Chance.
Thanks Isophorone Blog
***

Completely seasonally inappropriate. Super-Duper Cute. H/T Hank Curmudgeon
***

Covid-19 and animals. H/T TSgt Ciz

Please remember the earlier admonition about virus chatter.
***
Meet The PetMorons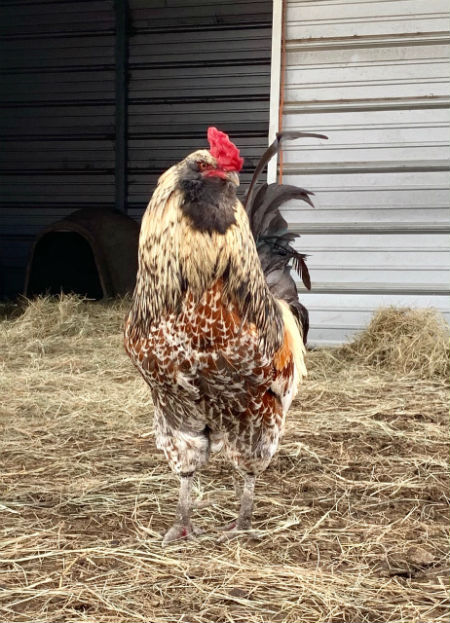 I can see the jokes already...

This is Chester. He is an awesome rooster and a complete gentleman. If we have some treats (French fries, apples, bread, etc), we will toss him a bite and will he call over his harem of hens and let them eat first. If one of the other roosters is giving us a hard time, we just have to yell "Chester!!!" and he strolls right over and chases them away. - MW in Texas
An interesting pet and a beautiful one at that. Who knew that chickens like french fries? Thanks for sharing.
***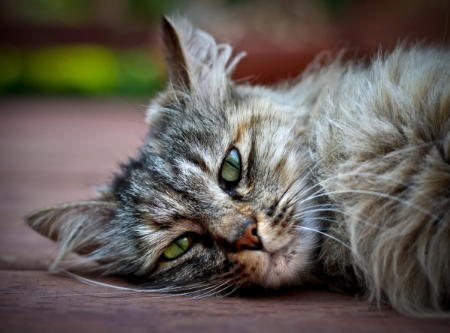 I'm attaching some pics of "Dorkie Dork", a stray cat who used to visit my backyard and whine at me for food but refused to come anywhere near me (unlike the 3 other strays who did). After 4 years, and a miserably cold week by SF standards, Dorkie Dork finally came up to me for food. Once I rubbed her head, it was absolute love. I couldn't let her move in at the time because one of those other strays (a 15#, street-fightin' tabby who made me his beeyotch) was afraid of her. (Considering she weighed less than 7 lbs....) I had to euthanize that tabby about 7 mos later (liver/pancreas cancer, ugh) and the little girl moved in. She was the sweetest kitty EVER. I wish I knew what breed(s) she was. - SFGoth

Adorable kitty. And a story that shows you have a huge heart. You're a typical Moron aren't you? Thanks for sharing.
***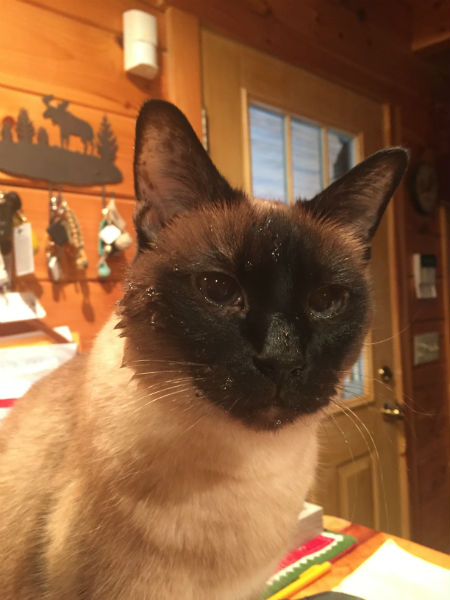 MisHum, this is the cat that occasionally swims. Not on purpose. -RI Red
So, do you care to share any swimming stories about this sweet looking cat? We appreciate your submission today. Thanks.
***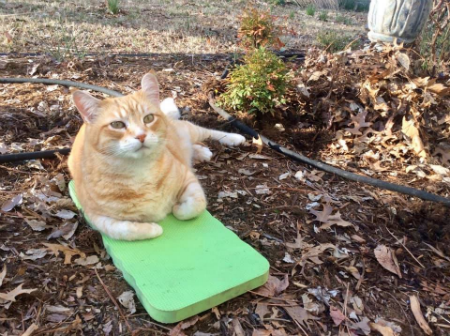 This is Julius, the best cat ever, we found out he had cancer on 3/15 and had to tell him goodbye on 3/16, he crossed the rainbow bridge with me telling him I loved him and he was a good good cat. I pasted my wife's eulogy since she said it so well.

Sir Orange Julius (aka OJ, JuJu, Orange Boy, Your Orangeness), 12 years of age, longtime member of the Lonely Hearts Club of the Humane Society due to crooked ear, paint-streaked back, and gangly appearance, proved himself worthiest of all cats by loyally following us everywhere, making himself comfortable on our laps after a patiently awaited invitation—touching both of us at once if possible, acting as middleman between Hazel Atlas and Oliver Cromwell (siblings) and lifetime protector of Hazel, welcoming every stranger. The most lovable lug gratefully repaid us a million-fold as comforter and unassuming friend. The only thing you didn't do for us, Julius, is outlive us, and we will miss you every day until our time comes. You were a good, good cat. We love you and will be forever grateful you chose us.

We are so sorry to hear of your loss. Your Orangeness appears to have been a handsome cat even though your description says otherwise. A wonderful eulogy. Take care. Thank you.
***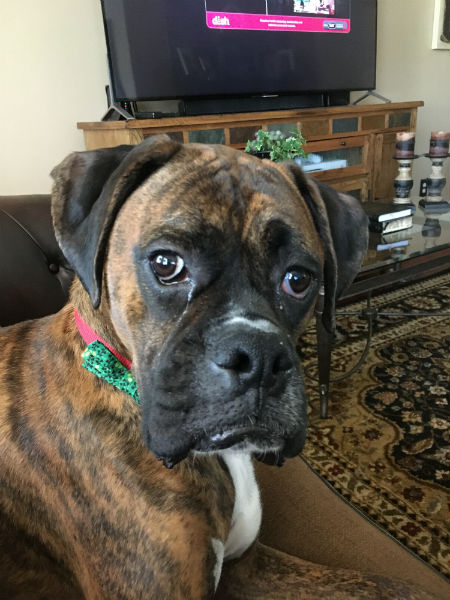 Greetings:

Longtime pet thread lurker "RS" here. Attached is a photo of my "nephew" whom I "dog sat" overnight recently while his "dad" was getting inpatient chemo. He was a good boy, of course, though he insisted on crawling into the recliner with me instead of sleeping in his bed. He missed his dad, but was on his best behavior. I told my wife, sleeping with the boxer, as opposed to at home, involved more hair and more licking.

Her response?

"Yes, but how did the dog behave?"

Keep up the good work.

Cheers!

"RS"
Awesome story RS. You're another good Moron serving others with a big heart. We're glad that the lap dog didn't hurt you.
***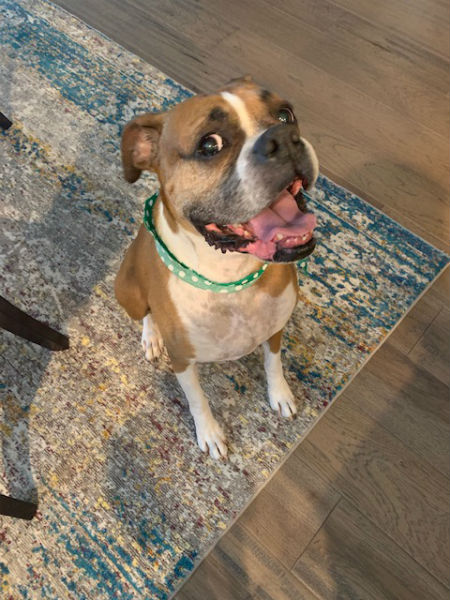 Good afternoon,

This is Tosh, a nine year old boxer and its his birthday. This picture was taken on St. Patrick's Day after a trip to the groomer.

Tosh has been gifted to us by our daughter to watch as they move into a new home in Michigan.

Always ready for a treat, a walk and a nap he has been in our life since he was a puppy.

Love your site and have been lurking for many years! Keep up the great work!

Mimi and Poppa in North Carolina
Back to back Boxers. A fine looking birthday boy. I bet this one gift that is not returned. Thanks for sharing today.
***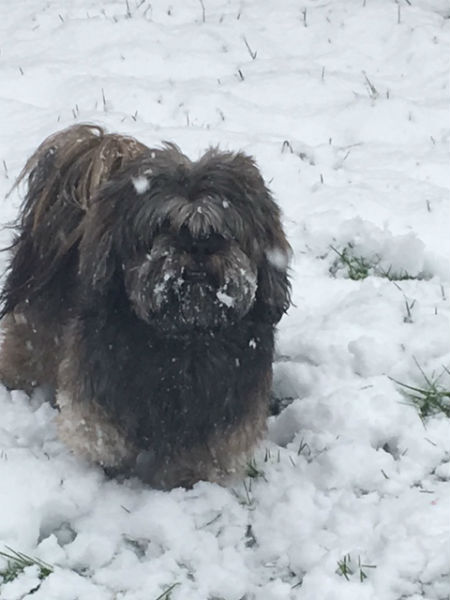 Yeti Dog was in a pet thread 2 winters ago. All grown up now at 18 lbs. Still beastly and the terror of the neighborhood...Yeti Dog was in a pet thread 2 winters ago. All grown up now at 18 lbs. Still beastly and the terror of the neighborhood... Yeti-self enjoying the snow. - Euro
Beastly and terrorist? Nah, couldn't be she's too adorable to be that, amirite? Good to see her again in the Pet Thread.
***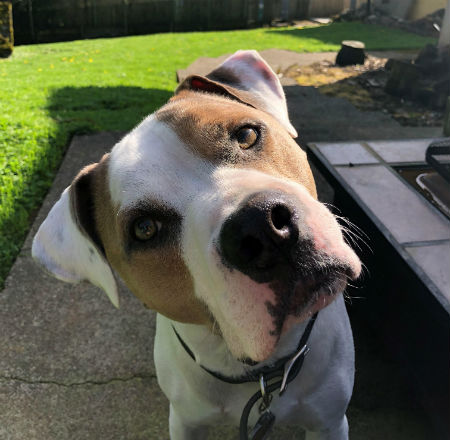 Hodor is unsure what the hell I'm telling him his orders are. - TSgt Ciz
The good old quirk head routine. It appears that Hodor at least pays attention even if he doesn't know what's going on. We appreciate you taking the time out to share your pet.
***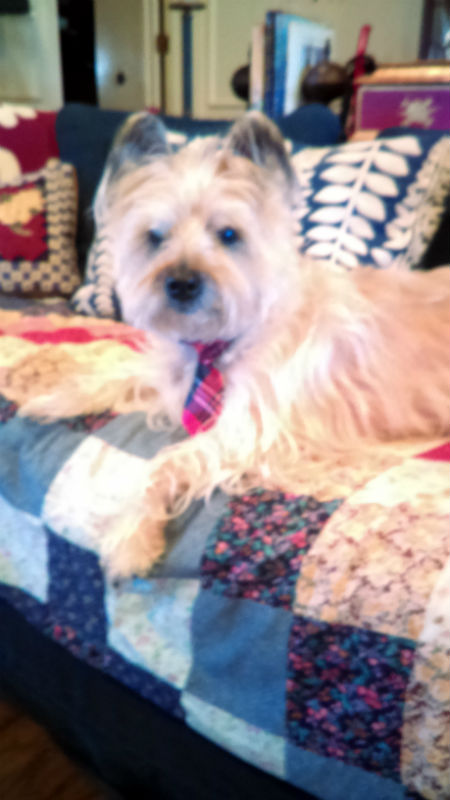 Hi, lurker and occasional commenter here; so rarely do I comment, in fact, I can't remember my nic (is that what you call it?). Anyhow, here is my beloved cairn terrier, Toby, working from home in the time of corona virus. He is a very good boy. Doesn't do social distancing very well, tho. He's always right by my side. He likes carrots, green beans, back rubs and chilling on the sofa. - Name withheld
Thanks for sharing Toby's story with us. He sees to have this self-lockdown down pat. He looks like he has a difficult life.
***
Earlier in the thread I stated that you guys and gals came through with pet stories and photos. There were so many I couldn't get to them all. So be patient. If you submitted a pet story, I'll get to it.
You guys stay safe and have a good week!!!


posted by Misanthropic Humanitarian at
03:00 PM
|
Access Comments