« DHS Secretary Wolf: Claims That We're on the Verge of a "National Lockdown" Are Fake News
|
Main
|
Virus-Free ONT »
March 20, 2020
The Chinese Word For Crisis is the Same As The Word for Opportunity
That's not true, but a lot of assholes like Al Gore like claiming it is.
But every crisis is an opportunity.
Video embedded at end of post, too.

Thanks to Hogmartin for hosting that. I don't know who did it-- it's being sent around as an email attachment with no attribution.
More: Italian doctors now say they were seeing "strange" pneumonia cases in December, even November, before anyone even heard of coronavirus.
A friend has been wondering for days: Do NBA players have a higher-than-the-mean infection rate for coronavirus precisely because they played in China in late October?
Senator Thom Tillis throws his fellow NC senator -- the Deep State Inside Man Richard Burr -- three quarters of the way under the bus:
Extremely fat soyboy c**k Brian Stelter whines that no one can criticize the media:
Should we trust those dire predictions pumped out by an institute with a major line in Climate Alarmism?
Dr. Faucci is a big fan of Hillary Clinton's POWERING THROUGH a 2013 illness (not her 2016 "walking pneumonia"):
This man is serious about his GAINZZZZ:
Finally, another one of those Panic Texts that people are sending around: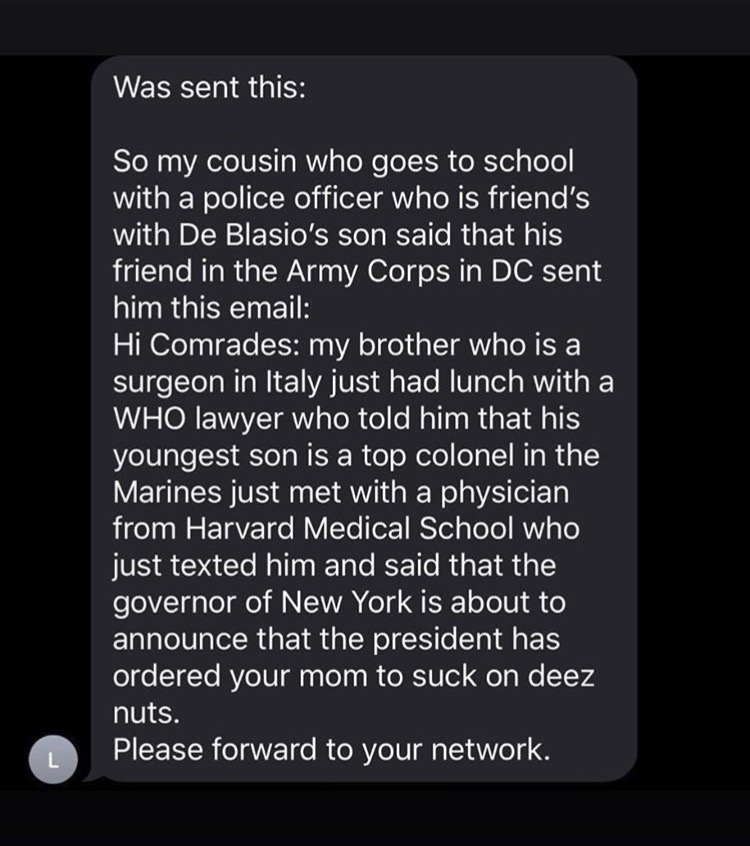 And now here's that guy turning crises into wonderful things:

posted by Ace at
08:15 PM
|
Access Comments