« Due To The Scarcity Of ONTs, Tonight's ONT Costs One Meellion Dollars
|
Main
|
Mid-Morning Art Thread »
March 20, 2020
The Morning Report - 3/20/20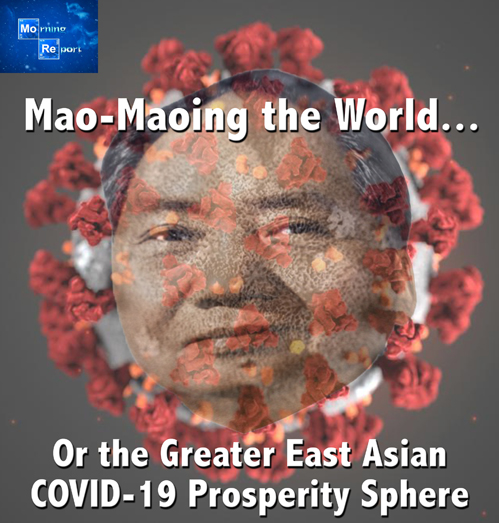 Good morning, kids. The weekend is here and I've become almost numb to the madness brought about by the Chinese Communist Lung March Yellow Peril. That said, while I am heartened by some of the news coming from the President and his team, or at least desperate to be heartened by even some glimmer of hope, it's difficult to not be alarmed by the potential consequences to me personally and the life of the nation. Whether or not this disease, which originated in and spread out from China, has the potential or will wipe out vast swathes of the populace (and as each day passes I doubt that more and more) the eagerness of the media to intentionally frighten the public is beyond irresponsible or criminal; it's monstrously evil. The most egregious so far have been the editorial board of the New York Times and Little Big Gulp Bloomberg and his media empire. I think it's more than just Trump-hatred and America-hatred. I think they are both paid operatives and agents in service to spread propaganda and disinformation and sow unrest. The fact that they, and most of the rest of the media, are parroting almost word for word and almost in real time the abject lies coming out of Beijing and the Central Committee makes them literally treasonous.
Even before this outbreak, it's an undeniable, well-established fact that China seeks absolute global domination within the next 30 years. The election of Donald Trump and the MAGA agenda's central pillar of anti-globalist pro-American trade policy, coupled with Chinese economic stagnation, a flat-lining birthrate and serious internal unrest exemplified by the Hong Kong protests threatened their hegemonic goal. But with the unleashing of Sino Sinus Syphillis, the Chi-Coms may have gotten some breathing space (no pun), but America and the world are now taking a long, hard look at their relationships with China, and collectively saying "Sum-Ting-Wong," followed in short order by "Ho-Lee-Fook."
And that is why you are seeing the Chinese along with their ventriloquist dummies in the American media and elsewhere desperately trying to place the blame elsewhere, even to the point of blaming - who and what else? - Trump and America, while casting themselves as paragons of virtue and victims of racist xenophobia. Now you understand why Trump makes a very big deal of saying "Chinese virus." If the Chi-Coms succeed, the world will be once again lulled to sleep before being My Pillowed in the opium den of history.
If on the other hand, as I hope and pray we do, repatriate with all speed our manufacturing and distribution capability that was shipped over there courtesy of greedy corporatists, onerous DC bureaucracy and insane trade unionism, the rest of the world will no doubt follow the lead shortly thereafter. And China will collapse in on itself faster than a chain-smoking asbestos miner's lungs after a hot bowl of fledermaussuppe.
It's at this point that I reluctantly draw your attention to a link that a commenter posted yesterday evening. It's from a site called GreatGameIndia, and although I am unfamiliar with it, and really can't attest to their veracity and track record, given what we know about China as outlined above, the article is both extremely plausible and terrifying in its conclusions.
...The ruling Chinese Communist Party considers biological weapons to be the most important weapons for accomplishing their goal of "cleaning up America." [Chinese Defense Minister Gen. Chi Haotian] credits Deng Xiaoping with putting biological weapons ahead of all other weapon systems in the Chinese arsenal: "When Comrade Xiaoping was still with us, the Party Central Committee had the perspicacity to make the right decision not to develop aircraft carrier groups and focus instead on developing lethal weapons that can eliminate mass populations of the enemy country."

It may seem difficult to believe, but Gen. Chi considered himself to be a "humanitarian" communist, and therefore admitted to mixed personal feelings on this matter: "I sometimes think how cruel it is for China and the United States to be enemies." After all, he noted, the United States helped China in World War II. Chinese people remember that the United States opposed Japanese imperialism. But none of that matters now.

"In the long run," said Gen. Chi, "the relationship of China and the United States is one of a life-and-death struggle." This tragic situation must be accepted. According to Gen. Chi, "We must not forget that the history of our civilization repeatedly has taught us that one mountain does not allow two tigers to live together."

According to Gen. Chi, China's overpopulation problem and environmental degradation will eventually result in social collapse and civil war. General Chi estimated that "more than 800 million" Chinese would die in such a collapse. Therefore, the Chinese Communist Party has no policy alternative. Either the United States is "cleaned up" by biological attacks, or China suffers national catastrophe...
I don't know how you say lebensraum in Mandarin but when you read this General's comments, it's chilling in its mirroring of the through-line of Mein Kampf. It's nice that he has regrets about wiping out our population, kind of like some of the more humanitarian attendees of the Wansee Conference who debated the most humanitarian way to liquidate the world's Jews, but I digress. Let me be clear; I am not stating that this pandemic was an intentional act of biological warfare. But given the fact that the disgusting Wuhan "wet market" where this supposedly came from is literally next door to a level 4 bio-weapons research lab, that sets off some serious alarm bells.
Oddly enough, I agree with the good general vis a vis his two tiger one mountain analogy. Except the difference is I do not seek the annihilation of over a billion people. Despite being "1619 Project-ed" to death, America believes in peaceful coexistence. But that is anathema to communism and the PRC, much like it is with Islam, and so because they unleashed this virus - intentionally or not - on the civilized world, we are now forced to confront reality and make some very painful choices.
And one way or another, one of those two tigers is going to have to get skinned.


CHINESE CORONAVIRUS, FICTIONS AND FACTS
I'm heartbroken about Italy, some interesting facts about their circumstances, in-depth analysis of the disease and the numbers which just don't add up to the hyped panic, Bayer offers relief, some good news about yesterday's events, tracking the death toll here, Gavin Newsom locks down California, the Chi-Coms are pure evil, Cuck Schemer opens his cake-hole but his words ring hollow given the fact that even Bro-Fo Omar is praising Trump, still the DNC will persist, Molly McCaughey rips NY State's incompetence and dithering, Julie Kelly on this flattening the curve thing, and more from New York with life in lockdown in New Rochelle while full-time Hamptons residents rip the heartless uncaring wealthy from Gotham for their hideous behavior.
NOTE: The opinions expressed in some links may or may not reflect my own. I include them because of their relevance to the discussion of a particular issue.
ALSO: The Morning Report is cross-posted at CutJibNewsletter.com if you want to continue the conversation all day.
Follow us on Twitter: @CutJibNews


posted by at
07:55 AM
|
Access Comments