ę Saturday Gardening and Puttering Thread 3/14/20 [KT]
|
Main
|
Saturday Afternoon Chess thread 03-14-2020 Ľ
March 14, 2020
Ace of Spades Pet Thread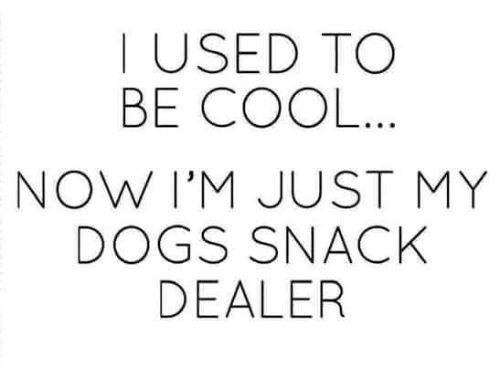 ***
Good afternoon and welcome to the almost world famous Ace of Spades Pet Thread. Drop. Sit. Stay. Enjoy the world of pets.

***
A Little of This. A Little of That.
A neat video submitted by DR.WTF.

***

Who is a good boy? H/T Cheriebebe
***

Kittehs can fit anywhere. H/T Shibumi
***
Interesting story about the origin of a white spot on black cats. H/T Jake Holenhead

A cat on ice chasing fish beneath the ice. H/T Jake Holenhead
***

Corgi pranks. H/T Hank Curmudgeon
***
As we approach spring, just a few things to keep in mind to protect your pooch.
***
Meet The PetMorons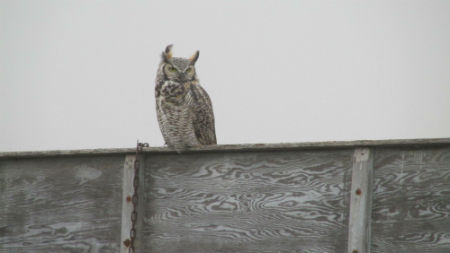 Hey, MisHum

Here is an owl picture, taken in 2014 in my own back yard here in alberta.

AOP

Talk about being at the right place at the right time. Good photo AOP thanks for submitting it.
***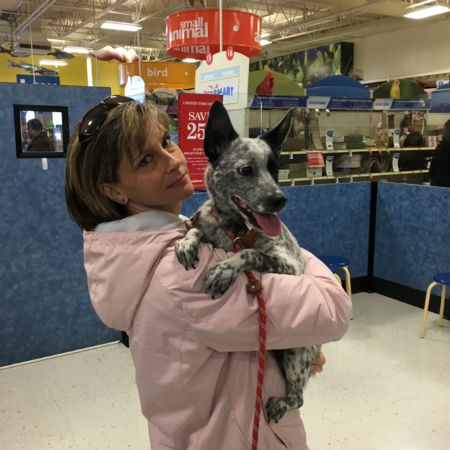 Hi petmorons, this is Chicken! She is a rescued cattle dog that came from Missouri and into Illinois. She likes to smile, well sometimes! We had extreme restrictions on adopting her, including having owned a cattle-dog before (we have been rescued by two) and the proper size yard. We lost three dogs in nine months, and my wife sent me a picture and asked if we could go see her because she missed our other babies so much! (Tuff guy here admits me too!) so I said ok, road trip! So we got there and a van pulled up with all these sweet cattledogs rescued! Some were older and seemed sick. I gave my love to all of them the best I could, hugs and kisses! So we waited for all these sweet dogs to be brought inside. It was actually heartbreaking to me, you know, that tuff guy thing. And we waited. We have never met these people and they had no idea who were were!

The last one out of that van was Chicken! They carried her in, she never touched the ground! They came straight to us and asked us to go to the center area where dogs play. There were no other dogs. They had no idea who we were! This is a picture I hope I can post when my wife first held Chicken! The tuff guy melted away. No Real man on earth could ever say no to Those two, and so it is! Its getting dusty in here, just sayin........thanks. - Bob

What a wonderful story Bob. It looks like you guys have found a wonderful addition to your home. Here's hoping you have many happy years together. Thanks for sharing.
***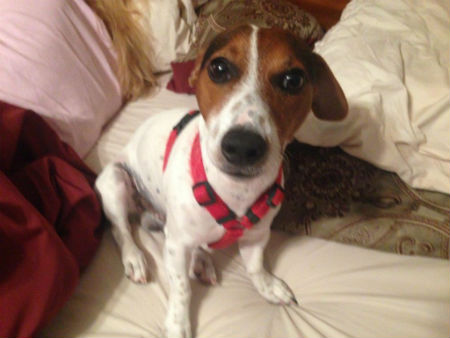 Hey, Iíve been a lurker for years. I posted a couple of times as JerseyDevilRider but not enough to be noticed. Love the site and you are the best on the web. Our Reggie passed unexpectedly about a year ago. I was devastated and still am now and then. My wife insisted we get another Jack Russell about a month later against my wishes. I gave in because I thought she really wanted him. She came clean that she thought it would help me. It didnít but he has grown on me the past year. No Reggie but he is coming into his own. He is Duncan, Duncan MacLoed of the clan MacLeod, born in the highlands of Scotland in 1592. Iíll share pictures of the latest pup in the near future. Thanks for all you do!
A cute photo of Reggie. So sorry to hear of his passing. Can't wait to see photos of the new pup. I appreciate your compliment. Thanks.
***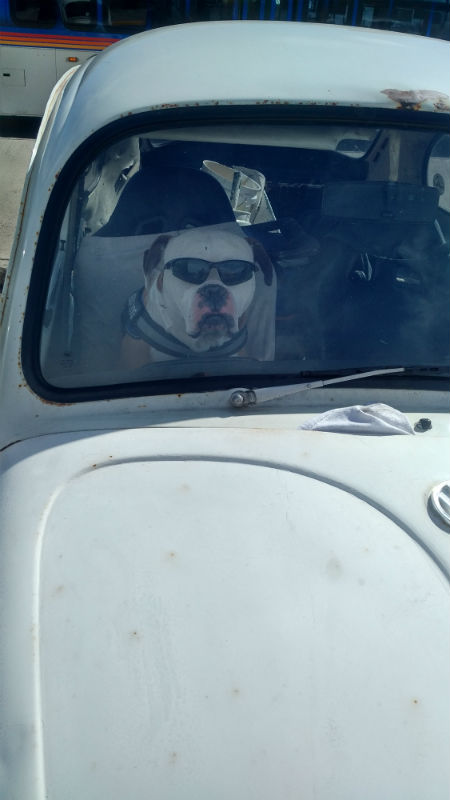 Joe Mannix and I saw this awesome dog at our favorite breakfast joint.

Cheers, Yudhishthira's Dice
Good eye to catch this dog. And a great photo. Thanks YD.
***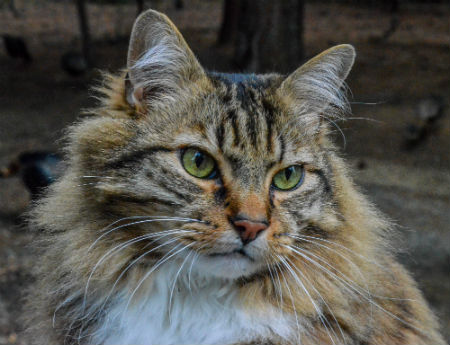 This is Kitty. When we moved into our house in the Sierra Mountains, this poor guy was living under the deck. We think he was abandoned by his previous family and was skinny as a rail. He's fattened up now and and has a forever home. - H.L.
What a beautiful cat. It appears that you folks have done quite a job of rehabilitating Kitty. Great job and thank you for your submission.
***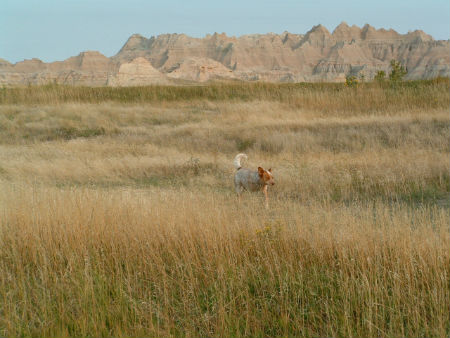 Hello Mis Hum,

Moniker - Lurker Since Before Kaboom (LSBK)

Earlier, I shared a photo of my adventure buddies Mattie and Chief. This is an adventure pic of my red Australian Cattle Dog, Chief.

I call this pic, the Badlands with a shade of red. I took this photo on the Southeast side of the Badlands National Park around 7:00am. The sun rising gave the Badlands, as well as, the tallgrass, a tint of red and my red boy Chief fit in quite well!

Chief was a rescue from the mountains of New Mexico. Chief has an interesting story. He was a great companion. I have an adventure pick of Mattie to share next. -LSBK
An awesome photo you submitted LSBK. Beautiful dog and country. Thanks for sharing with us today.
***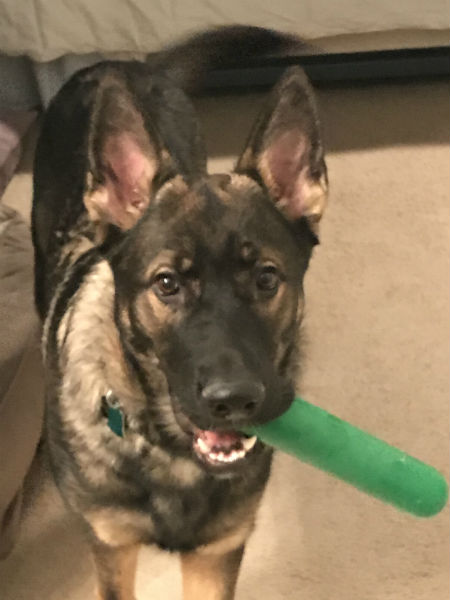 This lovable fellow is Bear. He and his brother were orphaned at 3 weeks old. Once Bear had a taste of the outdoors, he refused to go back in. Now he is the resident barn cat who loves attention. MW in Texas
If you have a barn, you need a barn cat. He's a handsome lad. Glad he keeps the rodent population down. Appreciate your submission today.
***

Great pets today and great links. Thank you Morons.
If you have something to share please submit with your nic and pet's name or link info. The only videos we can use would be YouTube vids.
You can reach us at petmorons at gmail dot com. Have a great week!!!


posted by Misanthropic Humanitarian at
03:00 PM
|
Access Comments