« Tuesday Overnight Open Thread (3/10/20) Content. What Content Edition?
|
Main
|
Mid-Morning Art Thread »
March 11, 2020
The Morning Report - 3/11/20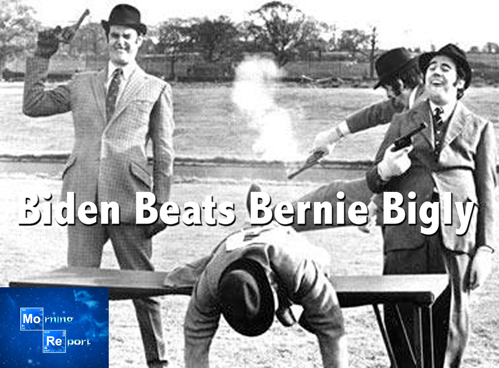 Good morning, kids. Midweek and we'll get to "Not-So-Ancient Chinese Secret" in a moment. Topping the news are the results from yesterday's seven-primary semi-Super Tuesday. Yes, Biden crushed Sanders by taking four of the seven, including the crucial state of Michigan, while Sanders remains ahead in North Dakota and Washington, with the Democrats Abroad race to be announced on March 23rd. But, the really big news from yesterday, which doubtless the agitprop media will not be reporting was that Republicans showed up at the polls, just as they did last week, to vote for Trump in numbers that were either as good or exceeded Biden's and/or Obama's in 2012. These are "races" that are uncontested and meaningless (i.e. Bill Weld), and yet Republican voters showed up as if it was November and the real thing. The press always tried to downplay the significance of Trump rallies in 2016 and 2020 as not translating into votes. Never mind the fact that they are desperate for Trump to stop the rallies putatively to stop the spread of Oriental Too Wong Flu, but it's to staunch the attendance of Democrat voters from catching Trump fever (or is it curing of the socialist cancer?). But for people to go to the polls needlessly just to cast a vote for someone who has the nomination in the bag is something that cannot be spun as an insignificant act. Not in those numbers.
In any case, I would much rather have seen Sanders win the nomination as that would most assuredly meant a down-ballot rout of the Democrat Party that would mean a loss of the House and perhaps the dissolution of the party itself. That said, of all the people the Democrats could pin their hopes on, Biden is going to be an absolute disaster. Forgetting for a moment his age, dementia, combativeness and nearly 50-years of scandal and criminality with the cherry on top of his son and Burisma, the Democrats have incessantly proclaimed themselves the paragons of diversity, but are now choosing one of two elderly white men as their nominee. Not that she had a chance early on but Tulsi Gabbard, female, relatively young, attractive, articulate and not a bat-shit crazy Bolshevik might have presented a formidable challenge to both the old geezers and even Trump himself. Alas, liberal - and that's putting it mildly - is nowhere near Leftist enough to satisfy the base, but her open attack on Hillary Clinton was her doom.
So, where does Bernie Sanders go from here? The Infernal Reaches is his ultimate destination but in the here and now, the big delegate states of Florida (219), Illinois (155), Ohio (136) and Georgia (105) are later this month, with New York and it's 281 delegates up for grabs at the end of April. In theory, Bernie still has a shot but with Biden De-Mentum and the DNC machine behind him, Bernie would have to run the board. Even still, the Super Delegates I believe have already stated that they will not be voting for him no matter what happens.
As far as the Democrats and Biden, James Clyburn has now called for the cancellation of all future debates and primaries, and the declaration of Biden as the nominee. The reason for this is obvious; the more time he spends in front of the cameras, the more demented he sounds and acts. They may have feared being tainted by Bernie's socialism but Biden's mental instability could and I think will cause just as much down-ballot catastrophe for them. As far as the ultra-far-Left Marxists in both DC and in the Democrat base, they're also at a crossroads. Do they just bend over and grab the ankles yet again or do they do as they promised and burn Milwaukee and the Democrat Party to the ground? With Bernie spouting off with zero sense of irony that the Democrats suppressed voters in Michigan, he's kind of forcing their hand to revolt and even run third party.
Whatever happens, yesterday I think is yet another example of the Democrat-Media Complex deluding themselves that they are in control of events while everything is collapsing in around them. Pass the popcorn.


SEMI-SUPER TUESDAY PRIMARY RESULTS

NOTE: The opinions expressed in some links may or may not reflect my own. I include them because of their relevance to the discussion of a particular issue.
ALSO: The Morning Report is cross-posted at CutJibNewsletter.com if you want to continue the conversation all day.
Follow us on Twitter: @CutJibNews


posted by at
07:39 AM
|
Access Comments